---
Crew
Director – Don Sharp, Screenplay – Peter Welbeck [Harry Alan Towers], Producers – Harry Alan Towers & Oliver A. Unger, Photography – Ernest Steward, Music – Bruce Montgomery, Makeup – George Partleton, Art Direction – Frank White. Production Company – Anglo-Amalgamated/Seven Arts/Hallam Productions/Fu Manchu Films.
Cast
Christopher Lee (Fu Manchu), Douglas Wilmer (Sir Dennis Nayland Smith), Howard Marion Crawford (Dr Petrie), Tsai Chin (Lin Tang), Rupert Davies (Jules Merlin), Heinz Drache (Franz Palmer), Marie Versini (Marie Lentz), Carole Gray (Michel Merlin), Salmaan Peer (Abdul), Harald Leipnitz (Nicky Sheldon), Roger Hanin (Inspector Pierre Grimaldi), Kenneth Fortescue (Sergeant Spicer)
---
Plot
Sir Dennis Nayland Smith sets out to stop Fu Manchu who has kidnapped the daughters of several prominent industrialists in order to force them to construct a weapon that can beam energy via radio waves.
---
Fu Manchu was a creation of pulp writer Sax Rohmer, a pseudonym of the British journalist Arthur Henry Ward. Rohmer published thirteen Fu Manchu novels between 1913 and his death in 1959. Rohmer specialised in stories playing on exotic (and racist) fears of the mysterious East and ruthless Chinese tongs. The Fu Manchu stories were extraordinarily popular and there were many imitators during the 1920s and 30s, even entire series of magazines featuring similar Asian super-villains. u Manchu had appeared on screens several times before this (see below).
This was the second of the Fu Manchu films produced by Harry Alan Towers (see below for all the other titles). Towers brings back many of the elements that made the first film The Face of Fu Manchu (1965) a success – director Don Sharp and stars Christopher Lee, Howard Marion Crawford and Tsai Chin. Although this entry is bereft of Nigel Green, Face of Fu Manchu's wonderfully authoritative Nayland Smith, with Douglas Wilmer proving a stodgy replacement. The plot is also very similar to the first film – Fu Manchu again out to bring down the British Empire by kidnapping scientists and using hypnosis to force them to create a death weapon.
However, the way that The Brides of Fu Manchu moves, hurtling its large cast of characters from subplot to subplot without let-up, makes for a highly entertaining blend of pulp super-science, period melodrama and Yellow Peril that is almost as good as the first film. The opening scene is fabulous with a girl hung over a pit of snakes, prevented from falling only by her bound hair, where Fu Manchu forces one of the hypnotised daughters to cut the hair in front of her dumbstruck father and then threatens to make the daughter remember if the man does not cooperate. The title however is a sensationalistic cheat – there being nothing in the film whatsoever to indicate that Fu Manchu is married, let alone multiply so.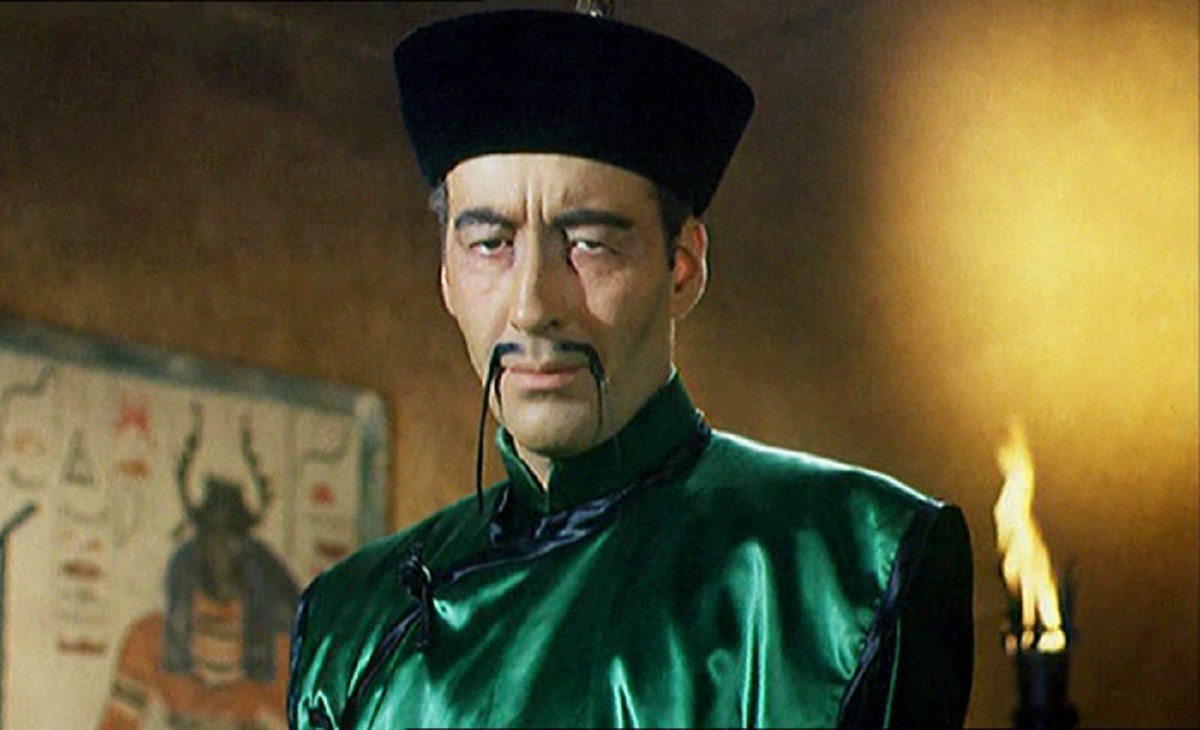 The other entries in the Harry Alan Towers/Christopher Lee Fu Manchu series are:– The Face of Fu Manchu (1965), The Vengeance of Fu Manchu (1967), The Blood of Fu Manchu/Against All Odds/Kiss and Kill (1968) and The Castle of Fu Manchu (1969).
Elsewhere, Fu Manchu was incarnated by Warner Oland in the early talkie era in three films, The Mysterious Dr. Fu Manchu (1929), The Return of Fu Manchu (1930) and Daughter of the Dragon (1931). There was then the excellent The Mask of Fu Manchu (1932) with Boris Karloff in the title role. This was followed by a serial Drums of Fu Manchu (1940) starring Henry Brandon and a very cheaply made tv series The Adventures of Fu Manchu (1955) starring Glenn Gordon that lasted only thirteen episodes. The film were later subject to a comedy send-up by Peter Sellers in The Fiendish Plot of Dr Fu Manchu (1980).
Don Sharp's other genre films are:- the Hammer vampire film Kiss of the Vampire (1962), Witchcraft (1964), Curse of the Fly (1965), the Hammer historical horror Rasputin The Mad Monk (1966), the period sf comedy Jules Verne's Rocket to the Moon/Those Fantastic Flying Fools/Blast Off (1967), the psycho-thriller Dark Places (1973), the undead biker film Psychomania (1973) and the lost world film Secrets of the Phantom Caverns/What Waits Below (1984).
---
---