---
Crew
Director – Don Sharp, Screenplay – Ed Brennan & Joseph Van Winkle, Producer – James Hannah Jr., Photography – Ernest Steward, Music – Wilfred Josephs, Art Direction – Geoffrey Tozer. Production Company – Glenbergh Limited.
Cast
Robert Hardy (Edward Foster/Andrew Marr), Joan Collins (Sarah Mandeville), Christopher Lee (Dr Ian Mandeville), Herbert Lom (Prescott), Jane Birkin (Alta), Jean Marsh (Victoria Marr), Carleton Hobbs (Old Andrew Marr)
---
Plot
Following the death of Andrew Marr, an aging inmate at the St Columba's asylum, Edward Foster travels to the small town of Marr's Halt and claims ownership of the Marr's Grove estate in the will. Sarah Mandeville, sister of the town doctor, volunteers to be his housekeeper so as to inveigle herself into Foster's trust, later becoming his lover. Unknown to Foster, Sarah and her brother Ian are seeking to obtain the £210,000 that is supposed to have been hidden somewhere in the house. They contrive to fake a series of hauntings to make Foster doubt his sanity. As he begins to 'see' things around the house, Foster becomes overrun by memories of what happened the past, of how Marr was planning to leave his wife with the babysitter Alta only to befall a terrible fate.
---
Dark Places is a largely overlooked entry amid the Anglo-horror cycle of the 1960s and 70s. The film was produced and written by James Hannah Jr. for Glenbergh Limited, neither of whom ever went on to make anything else, and sits outside the usual output of Hammer and Amicus films. Certainly, it seeks to employ Christopher Lee, one of the centrepieces of the Hammer Films' success, and Austrian-born Herbert Lom who was Hammer's The Phantom of the Opera (1962) and had a number of other credits in the cycle. However, it never enjoyed widespread success or has attained much of a reputation among fans. Part of this is due to the fact that the film has not enjoyed general release in either the video or dvd markets.
Hammer had made a successful series of psycho-thrillers beginning with A Taste of Fear/Scream of Fear (1961), while Amicus and various other companies made several of their own efforts. Most of these involved someone being on the receiving end of a highly contrived scheme to convince them they were going mad or kill them off usually in order to obtain an inheritance. vfalls into the same vein with a plot about the quest for a sum of money hidden in a big old house.
More so than the 1960s psycho-thriller though, Dark Places holds an allegiance back to far earlier to films like The Cat and the Canary (1927) and The Ghost Breakers (1940), which had similar highly contrived plots usually set in big old houses involving people faking hauntings and the like to drive someone crazy. The ghost story, though it has a long British tradition, is one sub-genre that Hammer never touched and seldom made any appearance elsewhere throughout the Anglo-horror cycle.
Even though Dark Places does feature a group of people faking a haunting, it feels awkward when it comes to these elements. The scheme about the faked haunting is soon forgotten – there is even a scene where Christopher Lee and Joan Collins discuss the fact that they didn't do anything and wonder where the hauntings that Robert Hardy experienced came from but this is never mentioned again.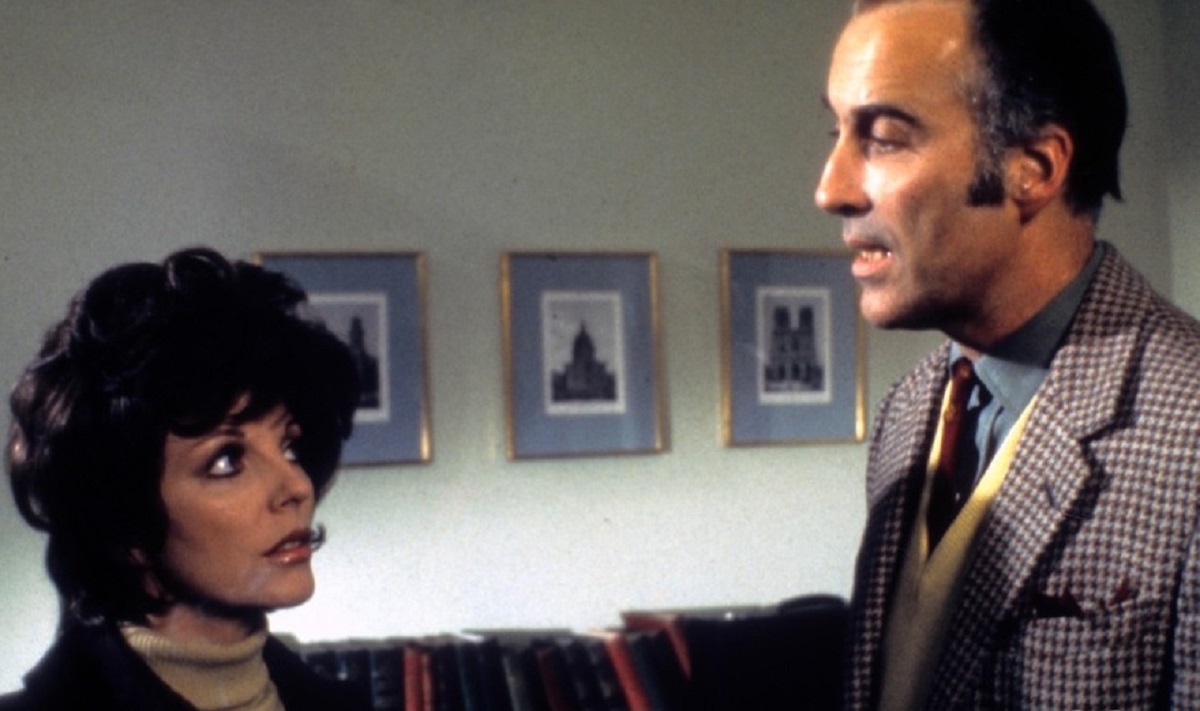 Although director Don Sharp has done some exemplary work elsewhere in the Anglo-horror cycle, in particular with The Face of Fu Manchu (1965) and Hammer's Rasputin The Mad Monk (1966) – see below for his other credits – his pace here seems sedate and uninvolving. Though he is making a work that could variously be slapped with labels like horror film, thriller or a semi-ghost story, there is nothing that creates atmosphere or generates tension apart from a couple of jolt killings at the end.
The other problem is the unusual plot structure where we have a story taking place in the present and then, as Robert Hardy becomes overwhelmed by memories, a parallel one taking place in the past that leads up to an eventual explanation of the disappearance of the children and what caused Marr to be placed in an asylum. In these flashback scenes, the younger version of Marr is also played by Robert Hardy. As the present-day Hardy becomes more embroiled in the house, he appears to be re-enacting events. You keep wondering throughout this why he is experiencing someone else's memories – is he one of the children? Is there some twist in store where we learn his key relevance to the events? Unfortunately, the answer turns out to be none of the above – he has no connection to the events other than sharing an asylum with Marr and by the rules of narrative logic should not be in a position of experiencing someone else's memories.
Dark Places mounts a well worthwhile cast, including even names like Jean Marsh and Jane Birkin in small roles. Though Christopher Lee and Joan Collins are top-billed, it is Robert Hardy, then an unknown actor, who carries the bulk of the show. The complaint one would make is that despite employing names that have collateral with the Anglo-horror crowd such as Christopher Lee and Herbert Lom, the film fails to do anything interesting with them. Lee lends his gravitas, scheming in the background with Joan Collins, but crucially never gets to deliver any real villainy. Even more so, Lom is shuffled off into a negligible supporting role as a lawyer. While we tend to remember Joan Collins from her grandly campy work in tv's Dynasty (1981-9), less well known is her earlier career as an Anglo-horror starlet, appearing in works such as Fear in the Night (1972), Tales from the Crypt (1972), Tales That Witness Madness (1972) and The Devil Within Her (1975). Here she does rather well, playing with a calculating allure.
Australian-born Don Sharp who later became a regular director within the British horror industry making the likes of Hammer's Kiss of the Vampire (1962), Witchcraft (1964), Curse of the Fly (1965), the first two of the Christopher Lee Fu Manchu series The Face of Fu Manchu (1965) and The Brides of Fu Manchu (1966), Hammer's Rasputin The Mad Monk (1966), the period sf comedy Jules Verne's Rocket to the Moon (1967), the undead biker film Psychomania (1973) and the lost world film Secrets of the Phantom Caverns/What Waits Below (1984).
---
Trailer here
Full film available online here:-
---