---
Crew
Director – Tad Stones, Screenplay – Mark McCorkle, Bill Motz, Bob Roth & Bob Schooley, Producers – Mark McCorkle, Bob Schooley & Tad Stones, Music – Adam Berry, Animation – Jade Animation (Supervisor – Qung Chung Kong). Production Company – Pixar Animation Studio/Disney.
Voices
Tim Allen (Buzz Lightyear), Nicole Sullivan (Mira Nova), Stephen Furst (Booster), Larry Miller (XR), Wayne Knight (Emperor Zurg), Adam Carolla (Commander Nebula), Diedrich Bader (Warp Darkmatter), Patrick Warburton (The Little Green Men)
---
Plot
After his partner Warp Darkmatter is killed in an encounter with the Emperor Zurg, Buzz Lightyear swears that he will never have another companion again. Zurg then steals the Unimind, the gestalt brain that links the Little Green Men as one mind, and corrupts it, allowing him to infect every person in the universe with evil. It is up to Buzz, who has to reluctantly accept the assistance of the precocious Princess Mira Nova, the Star Command janitor Booster and the malfunctioning robot XR, to stop Zurg.
---
Buzz Lightyear of Star Command: The Adventure Begins is a spinoff from the Toy Story films. There, one should remember, Buzz Lightyear was the toy that failed to realise he was a toy and believed he was a space hero. This video release spins off from the popularity of the films and charts the adventures of the space hero Buzz (as opposed to the toy Buzz).
The Adventure Begins is produced by Disney and Pixar Animation who partnered on the theatrical films. Here however Pixar has shipped the animation out to a Chinese animation house and the film is disappointingly made in the limited handdrawn style of Saturday morning cartoons (with the exception of a brief, unfunny prologue where the characters from the films introduce the video) rather than the fluid CGI animation that has become Pixar's trademark. Moreover, the film is directed and produced by people more used to making cheap video-released sequels to Disney animated classics, indicating it has been designed as no more than a video throwaway.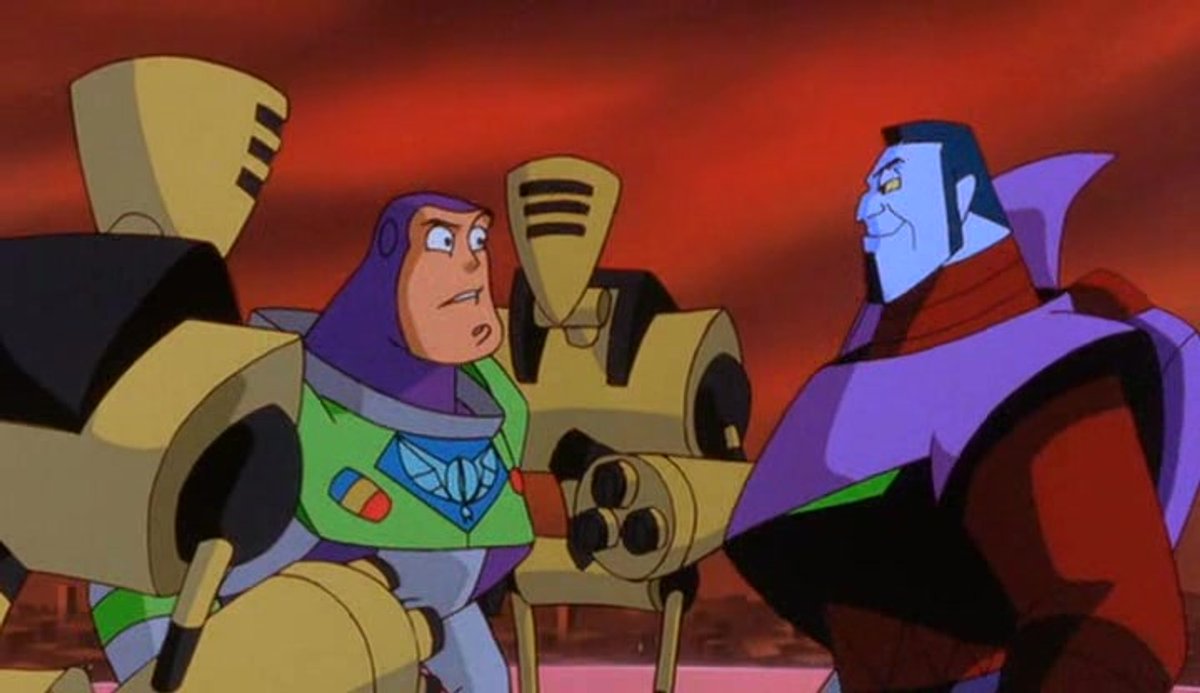 There is not much to the film. It seems written down to an audience of around ages 5-6. The jokes are lame and nothing ever amounts to anything exciting. What is direly missing is any of the humour associated with the Buzz Lightyear in the films. What this film fails to see is that the Buzz in the films was written as a parody of Flash Gordon heroism. Without that level of irony and heroic deflation, all the posed heroism only comes out as something juvenile when played straight.
As the promo after the end credits reveals, the film was only made as a dry run to drum up interest for the Buzz Lightyear of the Star Command (2000-1) Saturday morning cartoon series, which ran for 62 episodes.
The Toy Story films are Toy Story (1995), Toy Story 2 (1999), Toy Story 3 (2010) and Toy Story 4 (2019). Buzz was later given a standalone film of his own by Pixar with Lightyear (2022).
---
---