aka The Cars That Ate People
---
Crew
Director/Screenplay – Peter Weir, Story – Piers Davies, Keith Gow & Peter Weir, Producers – Hal McElroy & Jim McElroy, Photography – John McLean, Music – Bruce Smeaton. Production Company – Australian Film Development Corporation/Royce Smeal Films/Salt Pan Films.
Cast
Terry Camilleri (Arthur Waldo), John Meillon (Mayor Len Kelly), Melissa Jaffer (Beth Kelly), Chris Haywood (Darryl), Kevin Miles (Dr Midland), Bruce Spence (Charlie), Max Phipps (Reverend Ted Mulray)
---
Plot
Arthur Waldo is driving along a lonely stretch of Australian back highway with his brother George when they are flagged down by someone waving a light and crash. Arthur comes around in hospital in the nearby town of Paris, where he is informed that George has died. He is invited to stay and become a Parisian. As Arthur settles into the community, he learns how at night the Parisians go out onto the highway and flag passing vehicles down, causing them to crash. The cars and the motorists' belongings are then stripped for use by the townspeople and any survivors are given to the local doctor for experimentation. In an attempt to curb the joyriding ways of the town's youths, a new job is created for Arthur – that of parking warden. But this instead provokes the youths in their armoured vehicles to rebellion.
---
The Cars That Ate Paris was the first feature film from Australia's Peter Weir. Weir later went on to international success in the US market with the acclaimed likes of The Year of Living Dangerously (1983), Witness (1985), The Mosquito Coast (1986), Dead Poet's Society (1989), Green Card (1990), The Truman Show (1998) and Master and Commander: The Far Side of the World (2001), which have brought him a number of awards nominations. But before he gained an international name, Weir made a trilogy of genre films in Australia, all of which fall within genre guidelines. These include The Cars That Ate Paris, the classic The Picnic at Hanging Rock (1975) about an unexplained disappearance and The Last Wave (1977) about an Aboriginal prophecy, as well as the tv movie The Plumber (1978) about a sinister handyman. These films are much more artistic and considerably less commercial than Weir's later successes and are all well worth tracking down.
In The Cars That Ate Paris, Weir displays a rare sense of black humour – the only other times he has adopted such a surrealistically absurd tone is in The Plumber about an uncouth plumber who takes over a woman's apartment and his debut short 50-minute film Homesdale (1971) concerning a lodge where strange things start happening to the guests.
Both the blackness of Weir's sense of humour and its deadpan presentation make The Cars That Ate Paris an initially quite bewildering experience – the humour is so subdued you sit wondering what on Earth is going on. Terry Camilleri talks about the traumatic experience of his killing a man behind the wheel to which mayor John Meillon replies in perfect straight face, "Yes these old pedestrians are a problem." Some of the images of the society at work – old ladies polishing hubcaps, shoes being bartered for groceries, a housewife lugging a tire to a door to swap – are striking, all the more so for the realist matter-of-fact manner they are shot by Weir and played by the cast.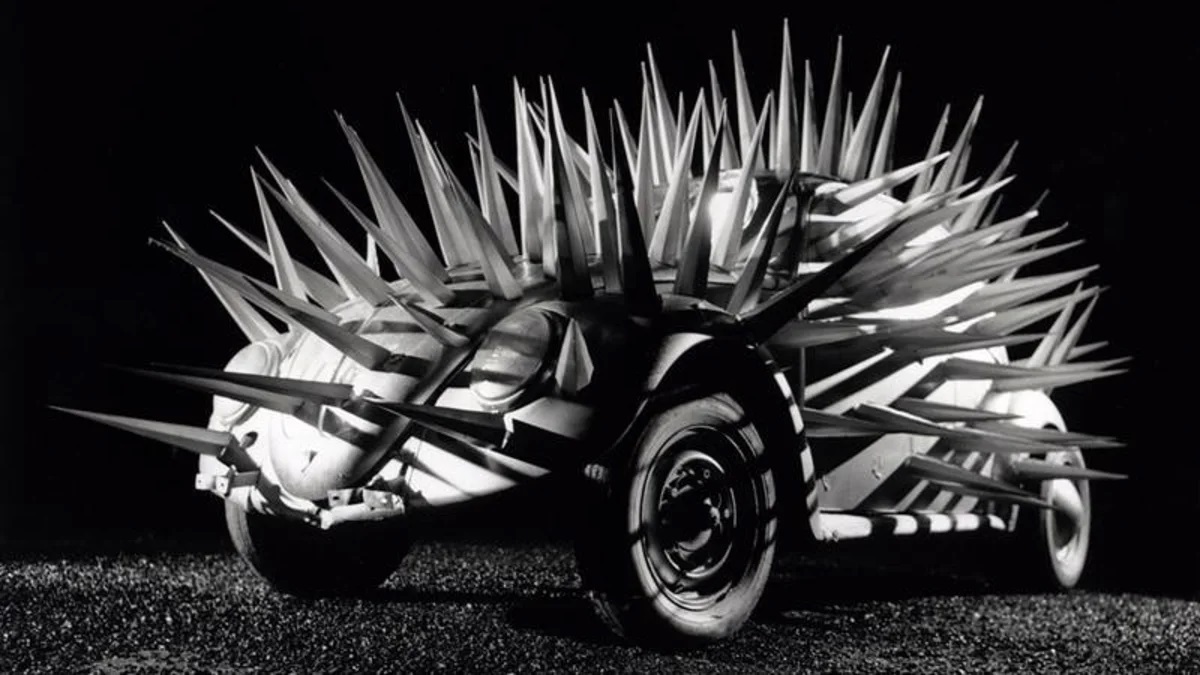 There has been a tendency to review The Cars That Ate Paris as a science-fiction film – particularly the much reprinted image of a spiked and armoured VW prowling the streets. However, it is not a film that is easily pigeonholed as such unless one stretches soft science definitions to view the film's picture of a contemporary community eking out a subsistence based on causing car crashes as science-fiction. Rather the film is more of a surrealistic satire/allegory on Australia's car culture – a strange relationship that haunts a large part of Australian cinema, see also Mad Max (1979) and sequels and Dead-End Drive-In (1986).
What strikes one is the coolly quiet obliqueness of Weir's approach, his insistence on viewing the entire situation as perfectly normal. If one compares this to how an American film would have approached the idea – with the milieu spelt out so everybody could understand what is going on and turned into a thriller so that it is a big dramatic shock revelation to the audience what the Parisians are up to, one just gains a grasp of how oddly offbeat Peter Weir's approach is. On the minus side, there is not much drama to the film and Weir's pace is slow.
John Meillon gives a good performance. With his little boy looks and soft voice, Terry Camilleri seems the perfect lost puppy dog every mother would want to adopt. The film is definitely shot on a low budget with unconvincing gore makeup and the car crashes only being depicted in still photos. Bruce Smeaton contributes a very offbeat score.
---
---