aka The Road Warrior
---
Australia. 1981.
Crew
Director – George Miller, Screenplay – George Miller, Brian Hannant & Terry Hayes, Producer – Byron Kennedy, Photography – Dean Semler, Music – Brian May, Special Effects – Jeffrey Clifford, Makeup – Bob McCarron, Art Direction – Graham Walker. Production Company – Kennedy-Miller.
Cast
Mel Gibson (Max), Bruce Spence (Gyro Captain), Vernon Wells (Wez), Emil Minty (Feral Kid), Mike Preston (Papagallo), Kjell Nilsson (Humungus)
---
Plot
Max wanders the highways of post-holocaust wasteland in his interceptor along with his dog where he fights for survival against the anarchic crazies and tries to get enough petrol to keep going. He saves a wounded man who comes from a small community that has its own oil rig and agrees to take him back in return for a tank of gas. However, when the man dies, the community makes Max a prisoner. They are under siege from the crazed wasteland warlord The Humungus. As the community bickers over what to do, Max steps up to promise to provide them a truck and tanker and to drive it to safety past the cordon of crazies.
---
If you had to choose one film that has had more influence over the modern science-fiction boom than any other, the field would of course be completely dominated by Star Wars (1977). However, if you were to limit it to films that had had been directly copied by others, Star Wars becomes somewhat less strong a contender. It is interesting choosing which then would be the most influential – there would of course be Alien (1979), Blade Runner (1982), The Terminator (1984). Far and away leading the field would have to be Mad Max 2. Mad Max 2's creation of the post-holocaust action film has been endlessly imitated. Its clothing styles have become almost de rigeur for any post-holocaust or decayed future setting and was even copied in music videos by 1980s pop bands like A-Ha and Duran Duran, while the junkyard society of the future look has become a setting so prevalent it is almost taken for granted in the modern science-fiction action film.
The first Mad Max (1979), made by debuting director George Miller, had been a modest worldwide hit. Its' success had led Miller, producer Byron Kennedy and star Mel Gibson to return for this much better budgeted sequel. Mad Max 2 is one of the few occasions where a sequel makes a dramatic improvement in quality over its predecessor. Mad Max 2 is an altogether different film to Mad Max. Mad Max's ancestor was fairly much Death Wish (1974) – its storyline was a futuristic extension of the grim avenging vigilante cop films begun with Dirty Harry (1971). By contrast, Mad Max 2 is a much more kinetic comic-book of a film – it falls somewhere between the exhilarating action of Raiders of the Lost Ark (1981) and the satiric future of the Judge Dredd comic-book.
Mad Max had a soundtrack that was murky and difficult to listen to; Mad Max 2 has a soundtrack that comes with the revving engines pumped up in full Dolby stereo (it was in fact the first Australian film to be mixed in a Dolby soundtrack). And director George Miller has certainly polished his directorial style tenfold between the two films – Mad Max comes with several exciting set-pieces but tends to fall apart between; Mad Max 2 is an exhilarating non-stop rollercoaster ride of a film that contains some of the most exciting stunts and car crashes ever put on screen.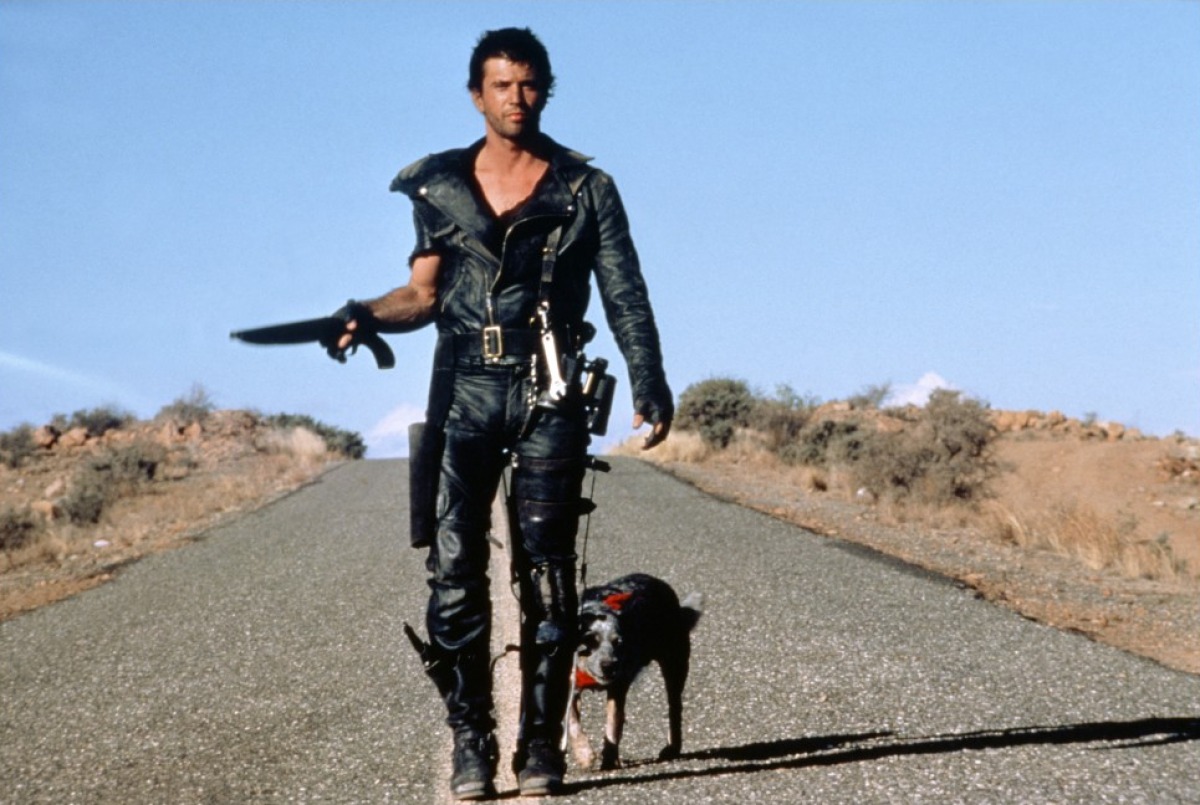 None of the Mad Max 2 imitators ever came anywhere near the exhilaration and kinesis there is here. The extended climactic tanker chase sequence is one of the most thrilling of all movie chase sequences. Miller's camera is rarely ever still, it is always tracking between vehicles – the film is a pure poetry of slams, bangs and vrooms. The film is breathtakingly shot for the widescreen by Dean Semler, the finest of the new generation of Australian cinematographers who makes full and dazzling use of the desert locations.
Even though Mad Max spent more time on characterisation scenes, Max here is a much stronger character on screen where both Miller and Mel Gibson have stretched him into an archetypal Clint Eastwood-styled grim loner. Gibson gets some good support from the range of bizarre characters, notably Bruce Spence as the barmy Gyro Captain and eight year-old Emil Minty who proves a scene-stealer as the boomerang-wielding Feral Kid.
Of course, there had been post-holocaust films before Mad Max 2 – you can point to examples such as Planet of the Apes (1968), Beneath the Planet of the Apes (1970), No Blade of Grass (1970), Glen and Randa (1971), A Boy and His Dog (1975), The Ultimate Warrior (1975), Damnation Alley (1977) and Ravagers (1979). Only Damnation Alley and in particular The Ultimate Warrior show an emerging sense of what Mad Max 2 would coalesce into – the post-holocaust action film. The majority of these are centred around the grimness of the fight for survival in a world where civilisation had been obliterated – Mad Max 2's ingenuity, however, was to transform the post-holocaust landscape into the equivalent of a Western frontier.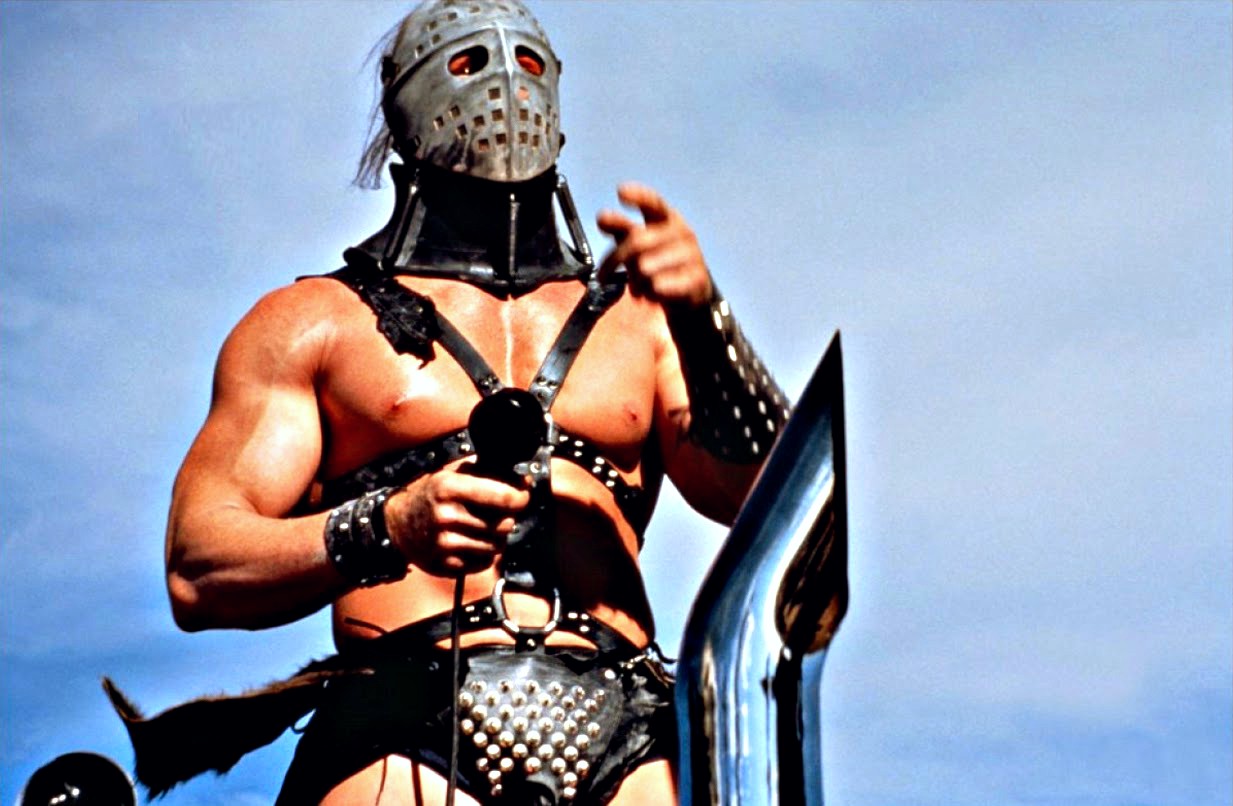 The Western was always a fantasy that drew on a nostalgia for never-were values of men living in a wild land where they had to carve their own justice against marauding Indians and horse rustlers. They were myths of individualist heroism, of men standing up to defend common decency in a lawless world. The Western died as a genre in the 1970s, fairly much as a result of the changing morality of the times. During this period, cinema blurred the black and whites of the Western towards a greater historical realism that showed cowboy heroes were no more than drunken murderers. As this happened, the Western lost its mythic function.
That was until Mad Max 2, which reinvigorated the Western by transplanting its tropes into the post-holocaust landscape – thus you can see that Mel Gibson's Max could easily be Clint Eastwood's tight-lipped Man With No Name in a Spaghetti Western, riding a black V8 instead of a horse; the community of fuel-hoarding good guys are surely the Western equivalent of a small town of decent frightened folk who need someone to step up and claim the badge of the sheriff and deal with the bad guys; Humungus and his band of wasteland bikers are simply marauding Redskins – indeed, the Western analogy seems to be self-conscious employed here as many of them have Mohawks; and the climactic tanker chase is the equivalent of a cattle stampede. It is no surprise that the next few years would see a host of Mad Max 2 imitators resurrect and transplant the plots of Westerns such as Shane (1953) and A Fistful of Dollars (1964).
After Mad Max 2, it was almost impossible to find any post-holocaust scenario that did not feature races in reconditioned dune buggies or people in scrapyard leather chic. The post-holocaust venue was never the same – it had been recolonised from a world of grim survivalism to a new frontier where a decent, if lone, individual could carve their own moral destiny. Above all, in contrast to mid-1980s films such as The Day After (1983), Testament (1983), WarGames (1983) and Threads (1984), Mad Max 2 and imitators were a handful of dissenting cinematic voices that did not look to the Ronald Reagan nuclear rearmament campaign with horror and trepidation but greeted it with enthusiasm. Indeed, what these post-holocaust films said was that what was needed for men to feel like men again was that the whole of this namby-pamby liberal civilisation be brought crashing down, wiping out all those not strong enough to survive by getting their hands dirty, leaving men to earn their destiny by fighting for it and letting hard-won decency triumph.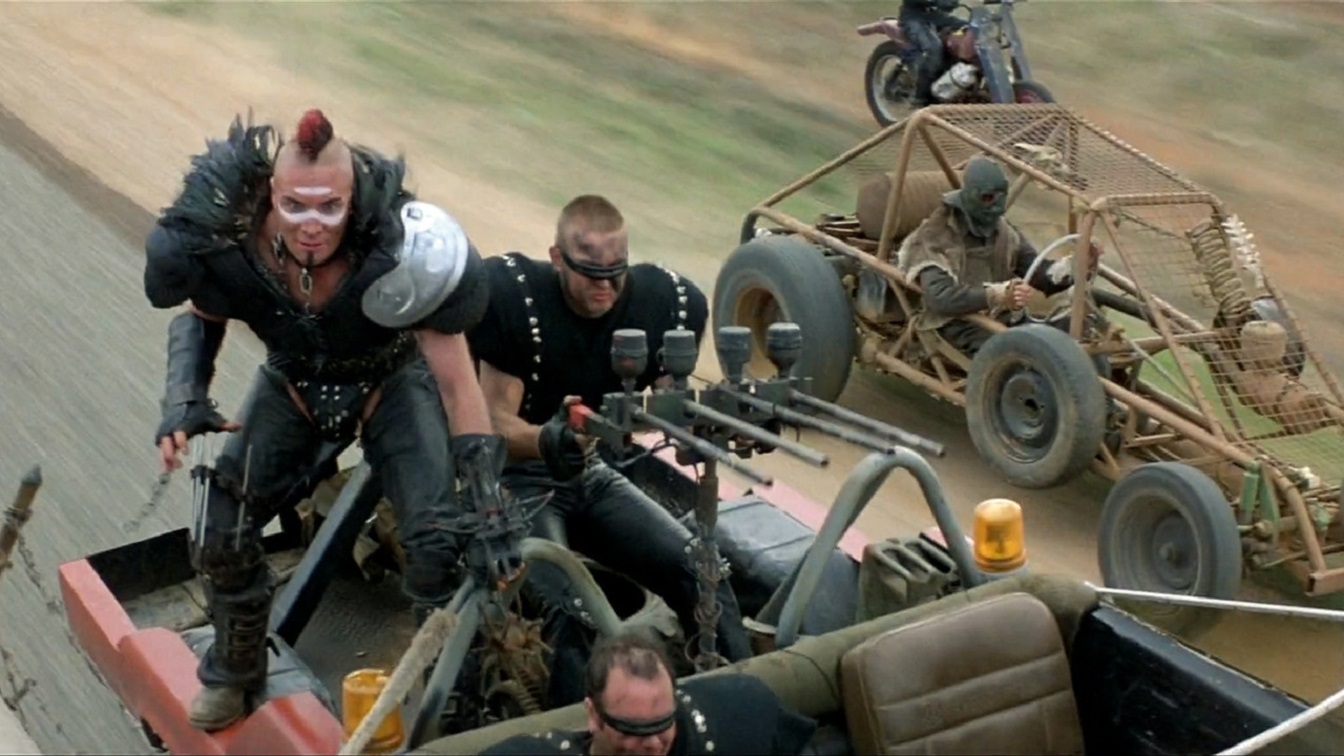 One of the more subversive things about Mad Max 2 is the way that George Miller and costume designer Norma Moriceau have modelled the wastelands crazies and their costumes on the gay leather scene. There is more leather and bondage gear worn in Mad Max 2 than in a fetishist's wet dream. The influence is unmistakable too – there are for example no women among the wasteland crazies and there are unambiguous images like the mohawked rider and his blonde boyfriend. It is an amusingly subversive touch that went over the head of a good many mainstream reviewers at the time.
George Miller co-directed a further sequel Mad Max Beyond Thunderdome (1985), also featuring Mel Gibson and Bruce Spence. In the decade since there have been persistent rumours of a fourth Mad Max, even the mooted idea of a Mad Max tv series, although none of these have ever emerged off the drawing board. This finally emerged with thr astonishing Mad Max: Fury Road (2015) with the Mel Gibson role recast with Tom Hardy. Also of interest is the excellent Bellflower (2011) about two friends who are obsessed with Mad Max 2.
George Miller's directorial career blossomed following the international success of Mad Max 2. He was next invited by Steven Spielberg to direct an episode of Twilight Zone – The Movie (1983) and his contribution (the fourth episode) was the best in the film. Miller then went onto make the eminently enjoyable The Witches of Eastwick (1987). Miller's career however flagged in the 1990s with boringly respectable films like Lorenzo's Oil (1992) and Babe: Pig in the City (1998). During this time, Miller had greater success as producer of other people's films, the nuclear accident thriller The Chain Reaction (1980), and most notably Philip Noyce's yachtboard psycho-thriller Dead Calm (1989), which introduced Nicole Kidman to the world, and the talking animals fantasy Babe (1995). In the 00s, Miller made a triumphant return with the hit animated film Happy Feet (2006) about tap-dancing penguins and its sequel Happy Feet Two (2011), and the djinn film Three Thousand Years of Longing (2022). He has been announced as director of numerous other projects such as a film based on the comic-book team-up Justice League: Mortal and an adaptation of The Odyssey. Miller should not be confused with the other Australian director, also called George Miller, who has directed the likes of The Man from Snowy River (1981) and The Neverending Story II: The Next Chapter (1990).
---
---