---
Crew
Director/Screenplay – Mark Hartley, Producers – Veronica Fury & Brett Ratner, Photography – Garry Richards, Music – Jamie Blanks. Production Company – Ascot Elite Entertainment Group/Ratpac Documentary Films/Wildbear Entertainment/Melbourne International Film Festival Premiere Fund/Screen Queensland/Film Victoria/Screen Australia/Celluloid Nightmares.
With
Michael Armstrong, John G. Avildsen, Martine Beswick, Pieter Jan Brugge, James Bruner, Richard Chamberlain, Greydon Clark, Luigi Cozzi, Olivia d'Abo, Sybil Danning, Boaz Davidson, David Del Valle, Bo Derek, Lucinda Dickey, Danny Dimbort, Michael Dudikoff, Richard Edlund, Harrison Ellenshaw, David Engelback, Quentin Falk, Sam Firstenberg, Robert Forster, Diane Franklin, Gary Goddard, Mark Goldblatt, Elliot Gould, Mark Helfrich, Lance Hool, Tobe Hooper, Just Jaeckin, Alain Jakubowicz, Yiftach Kazur, Laurene Landon, Roy Langsdon, Rusty Lemorande, Avi Lerner, Sheldon Lettich, Tom Luddy, Dolph Lundgren, Christopher Malcolm, Charles Matthau, Gary Nelson, Franco Nero, Ted Newsom, David Paulsen, Cassandra Peterson, Edward R. Pressman, Albert Pyun, Adolfo Quinones, Molly Ringwald, Alan Roderick-Jones, Mark Rosenthal, Al Ruba, William Sachs, Jerry Schatzberger, Barbet Schroeder, Robin Sherwood, Jim Shooter, Marina Sirtis, Catherine Mary Stewart, William Stout, Oliver Tobias, Stephen Tolkin, Pete Walker, Alex Winter, David Womark, Frank Yablans, Rony Yacov, Frano Zefferelli)
---
Mark Hartley is an Australian director who specialises in films that unearth and delve into the fascinating niches of exploitation cinema. Hartley started out directing films to accompany for dvd releases of classic Australian films before he made the feature-length documentary Not Quite Hollywood: The Wild, Untold Story of Ozploitation! (2008) about the Australian exploitation genre of the 1970s/80s. Hartley next went onto make Machete Maidens Unleashed! (2010), a documentary about the Filipino exploitation genre of the 1970s. He broached fiction with the remake of the Ozploitation classic Patrick (2013), which was an unqualified disaster, and then returned to documentary here. He subsequently went on to make the original thriller Girl at the Window (2022).
With Electric Boogaloo, Mark Hartley focuses on Cannon Films, the distribution chain that was purchased by producers Yoram Globus and Menahem Golan during the 1970s. Golan and Globus were cousins that grew up in Israel. Both huge film fans, they started making films together in the 1960s. Hartley does not spend a huge amount of time focusing on their beginnings – we briefly see some footage from one of the films Golan directed in Israel and interviews with some of their associates during this time. Instead, Hartley begins with their first international success Raid on Entebbe (1976), which they made to capitalise on the real-life rescue of the Israeli hostages at Entebbe Airport in 1976, and then the domestic hit of Lemon Popsicle (1978), which formed the template of the modern teen make-out comedy.
Lemon Popsicle gave Golan and Globus enough financial clout to purchase the Cannon distribution chain and relocate to Hollywood in 1979. There they began making films with prolific regard, all designed with an eye towards the box-office. These included everything from a couple of slasher films, several sexploitation films featuring Sylvia Kristel, their essentially inventing the modern ninja film and making the first breakdance film. Then came the growing success with in-house stars like Chuck Norris and Charles Bronson who had substantial  careers in a string of action films for Golan-Globus films throughout the 1980s. Oddly, the one film that is not mentioned during this period is the one that gives the documentary its title – Breakin' 2: Electric Boogaloo (1984).
Numerous of the interviewees talk of Golan and Globus's penny-pinching regard – of how an offer of Chinese food ended up being a takeout meal purloined from one of the employees, while Bo Derek even makes the claim that they rifled her luggage and took publicity photos and then used them to promote the film. Unlike Machete Maidens, you do suspect that Hartley's quite substantial line-up of interviewees are holding back on all the stories they could have told, possibly fearful of legal comeback given that both Golan and Globus were alive at the time Electric Boogaloo was made. Notedly, neither Golan nor Globus themselves are interviewed. The most amusing of the interviewees is Laurene Landon who takes a cigarette lighter and burns her sole dvd copy of America 3000 (1986) at protest against Golan and Globus's refusal to properly pay workers.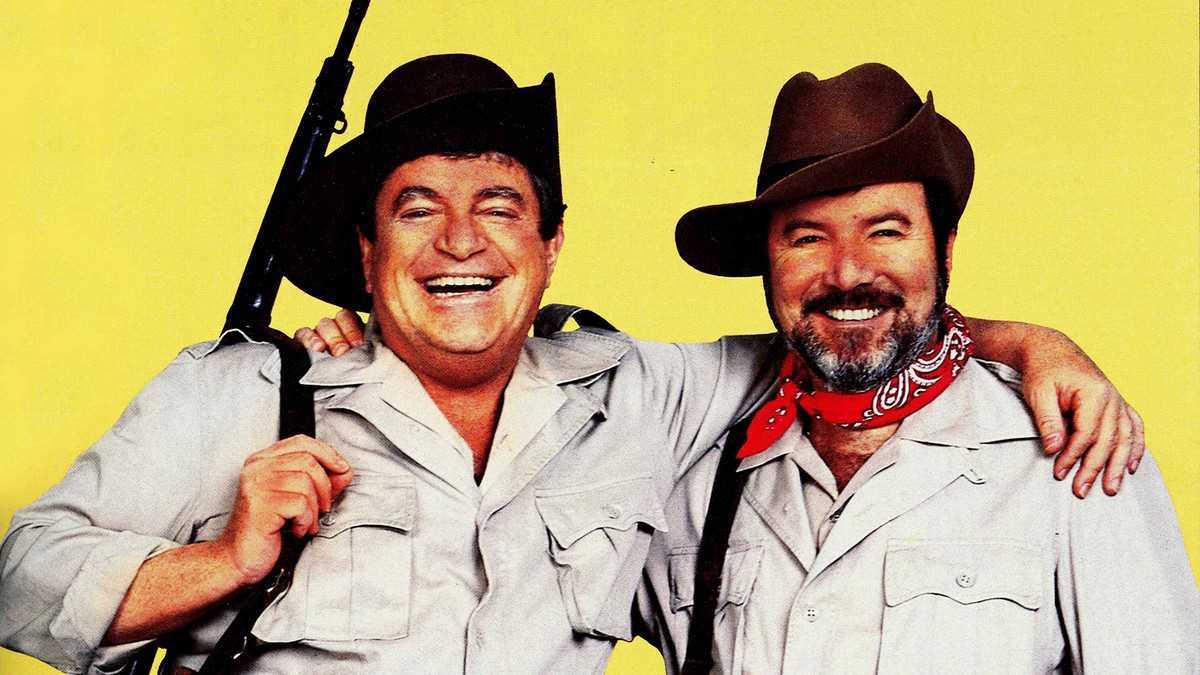 Almost all agree on both Golan's rapid-fire ability to come up with premises for films and the generally poor quality of the product that resulted. It is said of Golan by Richard Kraft that "Menahem loved the intersection of ideas that should never meet each other so he assembles like Frankenstein parts from other movies and creates a disaster." We get Frank Yablans, the head of MGM, decrying the partnership that Cannon made with the studio, which was dissolved a few years later, principally it is seen because they were turning out such crud – including their certain belief that Brooke Shields-starring turkey Sahara (1983) would be worthy of an Oscar.
Golan and Globus became the masters of presell, taking out huge advertising space at the Cannes Festival and selling proposed ideas to investors to raise capital to then go and make the films, which was an unusual approach back then but has become commonplace now. They were so successful at this that one of the writers recounts how he was constantly writing press releases for films that didn't exist yet or where sometimes all that existed of a title was a poster.
Hartley also gives time to the other side of Cannon where, seemingly in a desire to be taken seriously, Golan and Globus placed money into prestige and arthouse productions such as Jean-Luc Godard's King Lear (1987) and Barbet Schroeder's Barfly (1987), while time is appropriately given over to recognition of Andrei Konchalovsky's Runaway Train (1985), which I am of the opinion is the best film that Cannon ever produced. Hartley even interviews an aging Franco Zefferelli who talks about the version of Otello (1986) he made for Golan-Globus and surprisingly called them the best producers he has ever worked for and Otello the best film he has ever made.
One of the joys of Mark Hartley's films is that he devotes serious time and discussion to a host of forgotten (and forgettable films) by all but fans of bad cinema (and places like this site). There is discussion of Menahem Golan's directorial outing, the science-fiction film The Apple (1980), which one interviewee aptly describes as "the Everest of bad movies". There is appropriate celebration of one of Cannon's most bizarre films Ninja III: The Domination (1984), which mashes up a female ninja, a possession theme and Flashdance (1983).
There is director Luigi Cozzi trying to defend his spectacularly awful version of Hercules (1983), while time is given over to other bad films like America 3000 and Bolero (1984). We even get both Rusty Lemorande and Albert Pyun discussing what happened with Journey to the Center of the Earth (1988) where essentially Pyun was handed a film that was left uncompleted by Lemorande because funds ran out and told to finish it with no effects budget.
There is time given over to possibly the worst film Cannon ever made – their remake of King Solomon's Mines (1985) – where the one thing that comes through, including from star Richard Chamberlain, is how everyone hated working with Sharon Stone. One of the film's most amusing anecdotes concerns the casting of the then unknown Stone where Menahem Golan is purported to have said "Get that Stone woman [for the lead actress]" with everyone unaware that what he was meaning was Kathleen Turner, the lead in Romancing the Stone (1984). Electric Boogaloo is fairly exhaustive – about the only things left uncovered are their string of cheap fairytale adaptations and tatty sword-and-sorcery films they made.
The film arrives at the eventual Chapter 9 financial collapse of Cannon in 1989. This was seen as being due to financial overreach – Globus buying cinema chains around the world, while Golan was taking on far more ambitious productions than they could afford such as paying of Sylvester Stallone a then unprecedented $12 million to star in the arm wrestling film Over the Top (1987) and the attempt to continue the Christopher Reeve Superman series with Superman IV: The Quest for Peace (1987), which disastrously had its budget slashed from $30 million to $17 million and was a box-office flop as a result of its sub-par effects.
The hilarity of the Golan-Globus story even continues after the splitting up of Cannon with the two of them going their separate ways but making two competing lambada films – Globus's Lambada (1990) and Golan's Lambada: The Forbidden Dance (1990) – that both premiered on the same day. Or how, when Mark Hartley started making Electric Boogaloo, the two of them reunited to make their own documentary The Go-Go Boys: The Inside Story of Cannon Films (2014) and released it three months before Hartley's film.
---
---