---
USA/United Arab Emirates. 2017.
Crew
Director – James Ponsoldt, Screenplay – Dave Eggers & James Ponsoldt, Based on the Novel by Dave Eggers, Producers – Anthony Bregman & Gary Goetzman, Photography – Matthew Libatique, Music – Danny Elfman, Visual Effects Supervisors – Brandon Flyte & Roger Nall, Visual Effects – Base FX (Supervisor – Varun Hadkar), Crafty Apes (Supervisors – Robin Graham, Chris LeDoux & Tim LeDoux), 11:11 Mediaworks, Legion Studios (Supervisor – James David Hattin) & Stewart VFX (Supervisor – John Stewart), Special Effects Supervisor – Sal Rose, Production Design – Gerald Sullivan. Production Company – Image Nation Abu Dhabi/IM Global/Parkes + MacDonald Productions/Route One Entertainment/Playtone/Likely Story/1978 Films.
Cast
Emma Watson (Mae Holland), Tom Hanks (Eamon Bailey), Karen Gillan (Annie Allerton), Ellar Coltrane (Mercer), John Boyega (Ty Laffite), Glenne Headly (Bonnie Holland), Bill Paxton (Vinnie Holland), Patton Oswalt (Tom Stenton), Nate Corddry (Dan), Smith Cho (Gina), Amir Talai (Matt), Judy Reyes (Congresswoman Olivia Santos)
---
Plot
Tired of working in a call centre, Mae Holland is delighted when her friend Annie Allerton gets her a job interview with The Circle, one of the top tech companies in the world. She is accepted for a help desk position. There she finds the work environment completely different to everything she has experienced before – open and enthusiastic with a campus that promotes almost every type of recreational and social activity among employees. Circle CEO Eamon Bailey introduces SeeChange, a series of tiny, thumb-sized cameras that can be placed anywhere and provide hi-def video and metrics. An upset Mae steals a kayak to go kayaking whereupon she is nearly hit by an oncoming vessel but is saved due to SeeChange monitoring. Bailey then uses her as an example of how SeeChange can save lives. Mae becomes a company spokesperson, agreeing to have her entire life broadcast online by cameras. As part of a demonstration of how the SeeChange system can be used to locate anyone anywhere, the audience push her to reunite with her friend Mercer who lives off the grid. She reluctantly does so – only for Mercer to be killed in an accident while trying to flee. Mae starts to see that allowing complete openness in every aspect of people's lives is actually something filled with sinister possibilities.
---
The Circle (2013) was a novel from Dave Eggers. Eggers gained enormous acclaim with his first book A Heartbreaking Work of Staggering Genius (2000), a quasi-fictionalised autobiography recounting how at the age of twenty-one he was left having to support his two younger siblings after both his parents died of cancer. The book was acclaimed for Eggers' unique style in having characters break the fourth wall and engage in conversations with the author. It was on the best-seller lists and nominated for a Pulitzer Prize. I have always resisted reading it – it is a title that becomes utterly off-putting in its self-proclamation even when you try and view it in ironic quote marks.
Eggers has worked in film before, writing the screenplays for Away We Go (2009), Where the Wild Things Are (2009) and Promised Land (2012). A Heartbreaking Work of Staggering Genius has been optioned as a film but equally I have also seen it mentioned on several lists of the most unfilmable novels. One of Eggers' books was previously adapted to the screen by Tom Tykwer as A Hologram for the King (2016), also starring Tom Hanks, but this met a middling reception (and is not a science-fiction film despite its SF-sounding name). Eggers himself adapts the screenplay for The Circle, which is directed by James Ponsoldt who had previously made films such as Off the Back (2006), Smashed (2012), The Spectacular Now (2013) and The End of the Tour (2015).
The Circle wants very much for you to watch it and think of Microsoft. Or Facebook or Apple when Steve Jobs was still alive. Or any of the other contemporary technology leaders. The film spends a good deal of its time detailing the Circle campus and the utopian openness of life there where the possibilities, particularly in contrast to Emma Watson's cubicle job at a call centre, are made to seem endless. Tom Hanks gives inspiring speeches about the promise afforded by the perpetual surveillance society.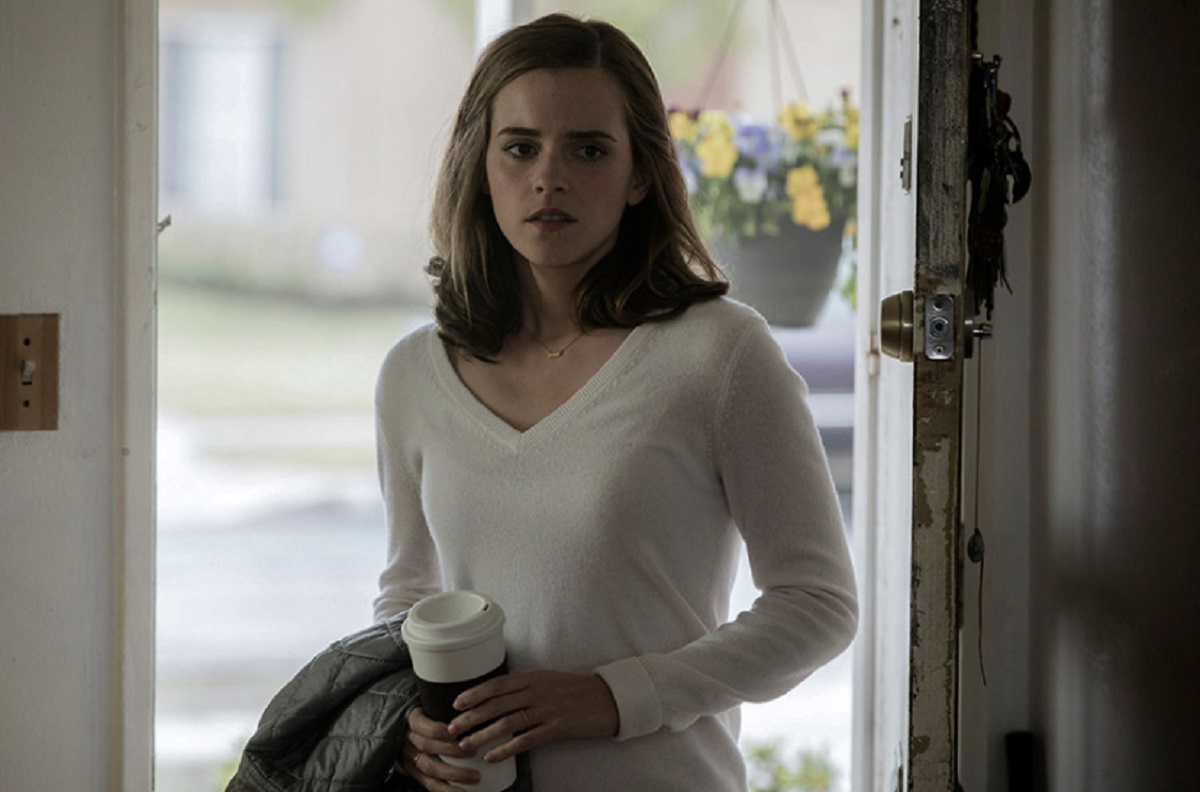 However, underneath this you can see all is not well in utopia from The Stepford Wives (1975)-like portrayal of the two unnerving assistants who come to ask why Emma Watson hasn't participated in the social network yet but of course doing so is entirely her own choice, or how during an argument between her and Ellar Coltrane in the foyer employees stand around and film the conversation with their tablets.
Or John Boyega who serves no real purpose in the film than to act as the crazy old conspiracy theorist who takes the hero aside to offer warnings – I kept flashing back to Martin Landau in The X Files (1998) during all of Boyega's scenes. Even more so, Ellar Coltrane's character serves no other point in the film than to represent a Luddhite point-of-view and constantly remind Emma Watson that there exists a life outside of social media. That and the tragic end he meets in the middle of the film, which serves to make a big moment where Emma Watson abruptly pulls back and thinks "OMG, maybe online surveillance could be a bad thing."
The Circle has been intended as a big red neon warning about the dangers of online surveillance. This is one of the great social concerns of the 2010s – how personal data of your online interactions is mined and sold by companies such as Google and Facebook; how (an issue that the film neatly avoids any mention of) every single email and phone message you make is scooped up and intercepted by the NSA, while most other governments of the world and now even routine police departments have followed suit.
The Circle disingenuously avoids any of the wider political discussion and simply keeps its discussion to a fictionalised perpetually-on videocamera system and socially connected network that can locate people anywhere in minutes. It makes a reasonable if passable point at the end – who has oversight over the watchers? – which Emma Watson solves by uploading every email and online document that The Circle founders have made. (In reality, Julian Assange did not a dissimilar thing with Wikileaks but rather than be regarded as the hero that Emma Watson is has been regarded as a dangerous seditionist and was kept in enforced detention the Ecuadorian embassy in London between 2012 and 2019).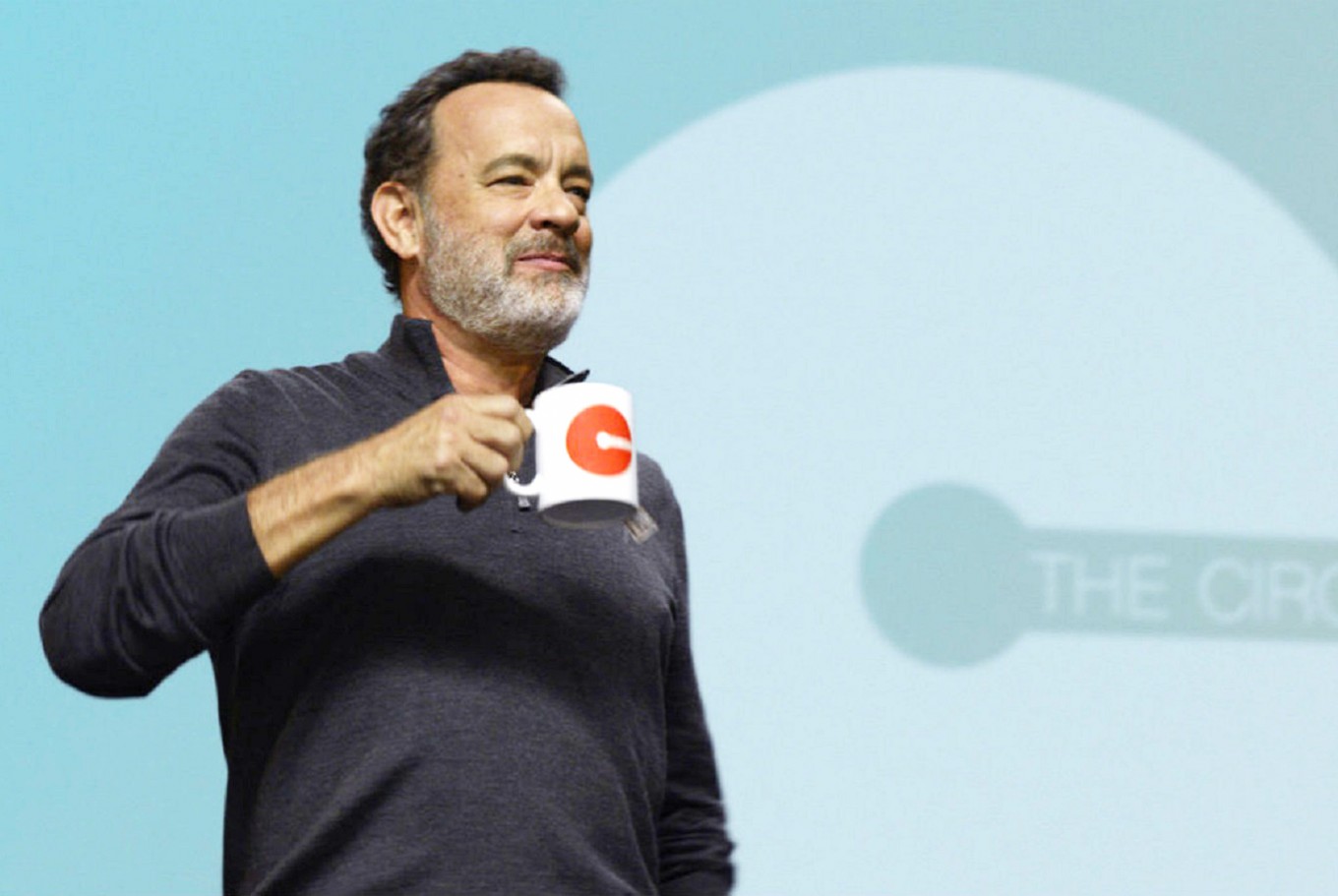 Crucially, while the film's big argument is that perpetual online surveillance is a bad thing, it never offers any particular argument as to why, excepting that it is conducted by companies without oversight. The only other argument it seems to make against surveillance seems to be "well if people pursue others with drones and cameras, it might cause them to drive over a bridge," which could be considered the archetypal example of a straw argument.
The film also seems oblivious to the idea that people might actually not want to have every aspect of their lives, their secrets, their fetishes etc, broadcast online – for instance, would someone who is in the closet with an ultra-conservative family background really want to have every detail of their life broadcast online? Would those in the fetish community want their private lives broadcast to work colleagues, knowing they could lose their jobs?
Even more crucially, while much of the film seems set up to suggest that too much surveillance and online interaction is a bad thing, it has no suggestions for what people might do to replace it. Indeed, the end of the film with Emma Watson back in her kayak being surrounded by drones and the pullback to show her image surrounded by a myriad of others on tv monitors, is a point where the film seems to arrive at a resigned shrug that says "oh well, I guess we might as well accept that this is life now."
In reality, there is much about The Circle and its attempt to make a big point that seems to exist in a bubble removed from reality. For one, the film seems unaware that there have been people that have allowed their entire lives to be broadcast to the internet (what are called 'lifecasters') ever since Steve Mann in 1994 and the mass attention enjoyed by Jennifer Ringley in 1996. By contrast, the film treats this as a phenomenon that is happening for the first time and has Emma Watson's life followed by the entire world. The other amusing thing about her fan following is how everyone seems so nice – in reality, there'd be people calling her an idiot for some decision she made, slamming her for real or imagined political opinions, and others going "I want to see her get her tits out."
We are also shown how the social network is harnessed to find a fugitive from justice but what never seems to occur to Eggers is how this would automatically turn into online vigilanitism with people enacting their own witch hunts and mob justice on dubious evidence as was the real-life case in the aftermath of the Boston Bombing or people such as Justine Sacco whose life was ruined after a single ill-advised tweet.
Equally, I'd like to see any real world setting where governments were willing to turn over voting to a private corporation and mandate it be tied to a social media account without there being a massive outcry or protest over the natural question of what would happen to the sixty percent of the world who are not connected to the internet – how would such a system, for example, be subject to something like a recount?
The Circle reminds of films such as WarGames (1983), Hackers (1995), The Net (1995) and Antitrust (2001) and to a lesser extent Sneakers (1992). These were films that sought to be cutting edge for the time they were made in tackling big issues about the internet couched in the form of a thriller. The Circle wants to be a thriller but never actually constructs any of itself in thriller mode. Like all of these others, it serves less as a potent warning of the future than in hindsight becomes serves more as a dated work illuminating the technological anxieties of the age.
Among the cast, Emma Watson is serviceable. Her American accent is variable but without too many glaring errors. I am yet to be convinced she has the skill to be a major actress as opposed to one who is merely riding the crest of the wave from the Harry Potter films. Tom Hanks presents charisma with effortless ease in his scenes on screen. Perhaps the saddest aspect of watching the film is seeing Bill Paxton and Glenne Headly as Emma Watson's parents and knowing that both had died by the time one came around to watching the film (Paxton two months before the film came out, Headly two weeks after it went into general release).
---
---