---
Crew
Director/Screenplay – James Gunn, Based on the Comic Book Created by Dan Abriett & Andy Lanning, Producer – Kevin Feige, Photography (3D) – Henry Braham, Music – Tyler Bates, Visual Effects Supervisor – Christopher Townsend, Visual Effects – Animal Logic (Supervisor – Paul Butterworth), Framestore (Supervisor – Jonathan Faulkner), lola VFX (Supervisor – Trent Claus), Luma Pictures, Method Studios (Supervisor – Nordin Rahhali), Scanline VFX, Technicolor Creative Services, Trixter (Supervisor – Alessandro Cioffi & Adrian Corsei) & Weta Digital (Supervisor – Guy Williams), Special Effects Supervisor – Dan Sudick, Prosthetics & Makeup Effects – Legacy Effects (Supervisors – Lindsay MacGowan & Shane Mahan), Production Design – Scott Chambliss. Production Company – Marvel Studios.
Cast
Chris Pratt (Peter Quill/Star-Lord), Zoe Saldana (Gamora), Dave Bautista (Drax the Destroyer), Bradley Cooper (Voice of Rocket), Vin Diesel (Voice of Groot), Kurt Russell (Ego), Karen Gillan (Nebula), Michael Rooker (Yondu Udonta), Pom Klementieff (Mantis), Elizabeth Debicki (Ayesha), Sylvester Stallone (Stakar Ogord), Chris Sullivan (Taserface), Sean Gunn (Kraglin), Laura Haddock (Meredith Quill)
---
Plot
The Guardians of the Galaxy battle a monster to retrieve a collection of valuable Anulax Batteries. These are needed to trade with The Sovereign for Gamora's sister Nebula so that she can be taken back to face charges. However, Rocket Racoon steals the batteries, sparking an interstellar incident. Pursued by The Sovereign in a furious battle, the Guardians crashland on the planet Berhert. They are saved by Ego who defeats the Sovereign attackers and takes them to his planet. There Ego reveals that he is Peter's father and an aeons-old godlike being known as a Celestial. As Ego introduces Peter to the powers he too has, the others discover secrets that Ego is withholding from them.
---
The first Guardians of the Galaxy (2014) was a wonder among the deluge of Marvel Cinematic Universe films we have seen since the late 2000s. It was something different to the usual Marvel superhero formula, more in the vein of a space opera. What made the film was the eccentric and undeniably appealing sense of humour that James Gunn and his cast brought to the exercise. The result came out a winner and there have been few people that have disliked Guardians of the Galaxy.
On the other hand, there is Guardians of the Galaxy: Vol. 2 where all of the charms of the previous film are promptly buried under overkill. Certainly the sequel was a box-office success and I am certain that there will be a bunch of people that feel otherwise, but for me Guardians of the Galaxy: Vol. 2 felt badly a case of people taking something that had worked with effortless charm the first time around and trying to repeat it while adding more, resulting in a bloated film where all of said charms either disappear or are thinly drawn.
I think James Gunn is a talented director. I have a liking for his previous directorial outings – Slither (2006) and Super (2010) – less so for his script work with Scooby-Doo (2002), Dawn of the Dead (2004) and Scooby Doo 2: Monsters Unleashed (2004). When it comes to Guardians of the Galaxy: Vol. 2, you suspect that Gunn was given his marching orders by the Marvel higher-ups. (The first film was an occasion where he was given carte blanche by the studio to play around with one of their less popular properties and nobody was suspecting the result to be a huge audience pleaser).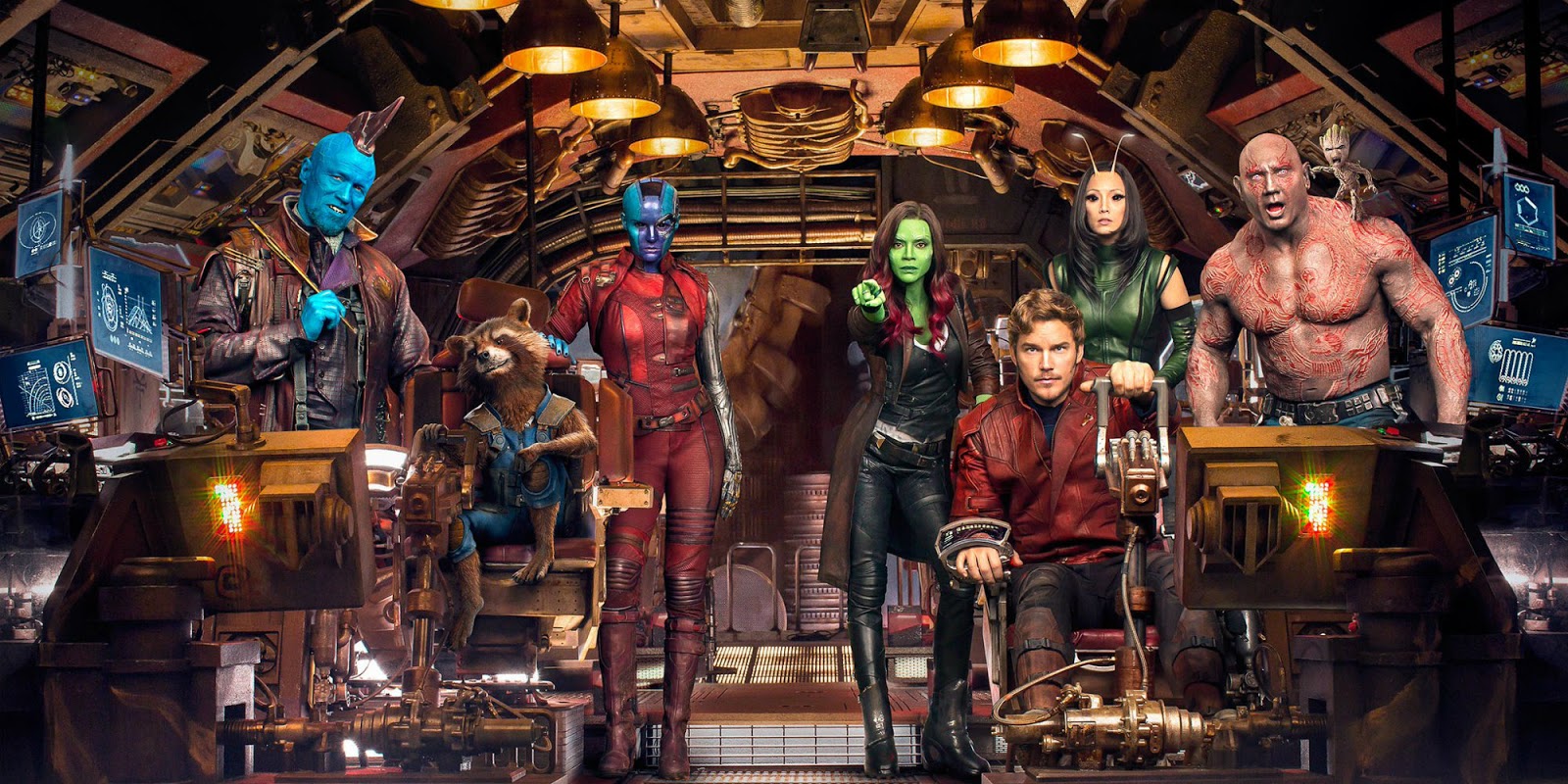 The entire show here feels buried under production overkill. We get colossal scenes of mass destruction as the party bury down to planetary cores, a ridiculously over-the-top battle with a monster in the opening scenes, multiple scenes with crashlanding spaceships, flights through a 'quantum asteroid field' (whatever that might mean – quantum usually refers to the sub-atomic), and massive sets that dwarf the dramatic scenes. Even the tragic funeral that ends the film is distracted by the image of the body being surrounded by flames every colour of the rainbow.
In all of this, you keep thinking how ridiculous everything you are seeing is. Certainly, Guardians of the Galaxy inhabits the same science fantasy realm as the Star Wars films so you don't go in expecting scientific realism. On the other hand, what happens has to have some grounding in plausibility in order for you to suspend your disbelief in the first place. I won't quibble too much with the visions of planets all in alignment and seemingly within only a few miles distance of one another. However, a scene where Dave Bautista hangs out the end of a spaceship that has its tail blown off and not only survives re-entry but also a crashlanding in the jungle is something that exists in the realm of "oh reallllly????".
Similarly, there is a scene where Karen Gillan comes down from orbit in a spaceship and crashes it into the mouth of a cave where Zoe Saldana is taking refuge. This is not a scene where the laws of physics would allow spaceship or either sister to emerge from alive. The upshot of this is that you switch off caring why anything should matter in this ridiculous eye candy heavy show being put on around you. When the characters are not affected by normal damage and having a seemingly magical invulnerability, all you are watching is a fantasy made up of arbitrary rules.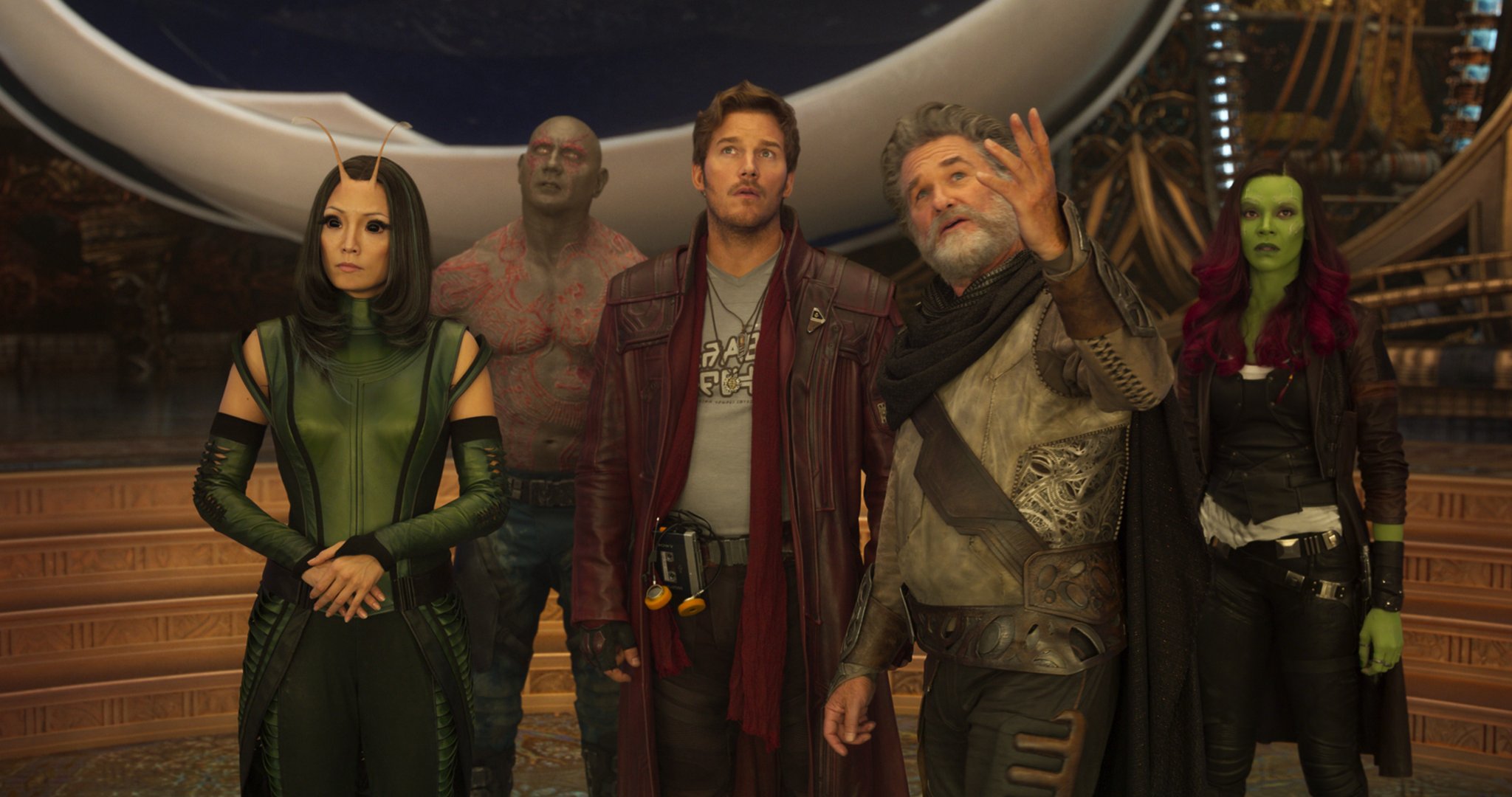 Another aspect that James Gunn totally overdoes is the cute culture reference. Everybody loved the mixtape aspect of the first film. We get a similar soundtrack here, even if the songs are never as memorable. On the other hand, Gunn now uses this as an opportunity to go overboard on 1980s pop culture jokes. There is Kurt Russell, an indispensably iconic figure of 80s pop culture, in a major role as Chris Pratt's father, as well as an ongoing joke about Pratt telling people that David Hasselhoff was his father, which includes requisite Knight Rider (1982-6) in-jokes and a cameo from Hasselhoff himself. We even get Pac Man references, while Howard the Duck is promoted from a post-credits cameo in the first film to an actual talking part here. However, by the time it gets to Chris Pratt trying to explain his attraction to Zoe Saldana in terms of Ted Danson and Shelley Long's perpetually unresolved relationship in Cheers (1982-93), you can almost see James Gunn standing there putting cute-ironic quote marks around the dialogue.
Guardians of the Galaxy, Vol. 2 works in many places. It is just that the characters don't shine as much as they did the first time around. It is not helped either by a plot that separates them out to different locations and planets for much of the middle of the show. When they do come together, it is amid much bitching and slinging insults at one another that seems more tiresome than it feels like warm camaraderie and cocky banter. The one who emerges the best is Dave Bautista's Drax who gets much running humour throughout the show, especially with his odd attraction (or possible lack of) to Pom Klementieff's Mantis.
The Guardians of the Galaxy next merged with the wider MCU universe in Avengers: Infinity War (2018), Avengers: Endgame (2019) and Thor: Love and Thunder (2022). The future of the Guardians films seemed in doubt for a time following Disney's firing of principal creative force James Gunn following a series of bad taste tweets, although this was rescinded some time later and Gunn returned to the franchise to make Guardians of the Galaxy: Vol. 3 (2023).
Subsequent to this, James Gunn went on to direct The Suicide Squad (2021).
---
---