---
Crew
Director – Michael Winterbottom, Screenplay – Frank Cottrell Boyce, Producer – Andrew Eaton, Photography – Alvin Kuchler & Michael Zyskind, Music – The Free Association, Digital Effects – Smoke and Mirrors (Supervisor – Tony Lawrence), Production Design – Mark Tildesley. Production Company – United Artists/UK Film Council/BBC Films/Revolution Films.
Cast
Tim Robbins (William Geld), Samantha Morton (Maria Gonzalez), Om Puri (Bahkland), David Fahm (Damian Alekan), Jeannie Balibar Nina Wadia (Hospital Receptionist), Shelley King (William's Boss), Toho Igawa (Driver), Nabil Elouahabi (Vendor), Nabil Massad (Jebel Ali Hotel Owner), Natalie Mendoza (Sphinx Receptionist)
---
Plot
It is in the future where strict laws have been brought into effect worldwide to govern genetics. One of these is Code 46, which attempts to control interbreeding between people of 25% or higher DNA similarities. William Geld is sent to Shanghai to conduct an investigation for The Sphinx corporation. William has been implanted with an empathy virus that makes him extraordinarily intuitive and able to deduce information simply by asking people random questions. He is assigned to determine who in The Sphinx has been producing fake papelles – identity papers that allow people to travel between regions. William deduces that the guilty employee is Maria Gonzalez but chooses not to report her. Instead he follows her and they meet on the subway, have drinks and she invites him back to her place for the night. William returns to Seattle where he rejoins his wife and son, only to be sent back to Shanghai a few days later. He returns to see Maria to find that she has been placed in a hospital. Going to see her, he discovers that she became pregnant but the pregnancy has been terminated because of a Code 46 violation. As William realises that he was the father, he also discovers that the hospital has blanked all memory of him from Maria's mind. He takes Maria with him and tries to re-educate her about the time they spent as they head to the free port of Jebel Ali to defy the laws that prevent them from being together.
---
One of the finest directors to have emerged in recent years is Britain's Michael Winterbottom. Winterbottom first appeared on cinema screens with Butterfly Kiss (1995), an incisive and underrated venture into the lesbian lovers/killers sub-theme. Over the next decade, Winterbottom made a variety of hit and miss British films – Go Now (1995), I Want You (1998), Wonderland (1999), With or Without You (1999) and the excellent 24 Hour Party People (2002) about the 1980s Manchester music scene. Winterbottom has alternated classic literary adaptations – Jude (1996) and Trishna (2011); with American period dramas – The Claim (2000); edgy relationship dramas – the Sundance hit 9 Songs (2004); eccentric meta-fictions like Tristram Shandy: A Cock and Bull Story (2005); and the disturbing psycho film The Killer Inside Me (2010). Winterbottom's films have become increasingly political in nature with the likes of Welcome to Sarajevo (1997) set during the war in Bosnia; In This World (2002) about people smuggling; The Road to Guantanamo (2006) about three prisoners at Guantanamo Bay; A Mighty Heart (2007) about the murder of journalist Daniel Pearl in Pakistan by Islamic militants; and The Shock Doctrine (2009), a documentary critique into neo-liberalism. Code 46 was Michael Winterbottom's first venture into science-fiction.
If one is looking for other films that you could aliken Code 46 to, you could point to Gattaca (1997) with its portrait of criminals trying to defy a dystopian future that had rigid laws based on genetics. The surprise twists that come in the middle of the story put Code 46 in the same category as a bunch of other films that came out the following year concerned with the editing of memory, as in Eternal Sunshine of the Spotless Mind (2004), The Final Cut (2004), The Forgotten (2004) and The Manchurian Candidate (2004).
Frank Cottrell Boyce, a screenwriter who has penned six of Michael Winterbottom's films, creates an exceptional script that has considerable cleverness in its twists. Cottrell Boyce immediately throws us into a uniquely different world. There is a wonderful cool to the scenes where we see Tim Robbins employing his empathy virus, asking the Sphinx employees random questions about themselves and being able to deduce vast amounts of information from them as a result, or asking the receptionist at the front desk a question that allows him to guess the access password to the building.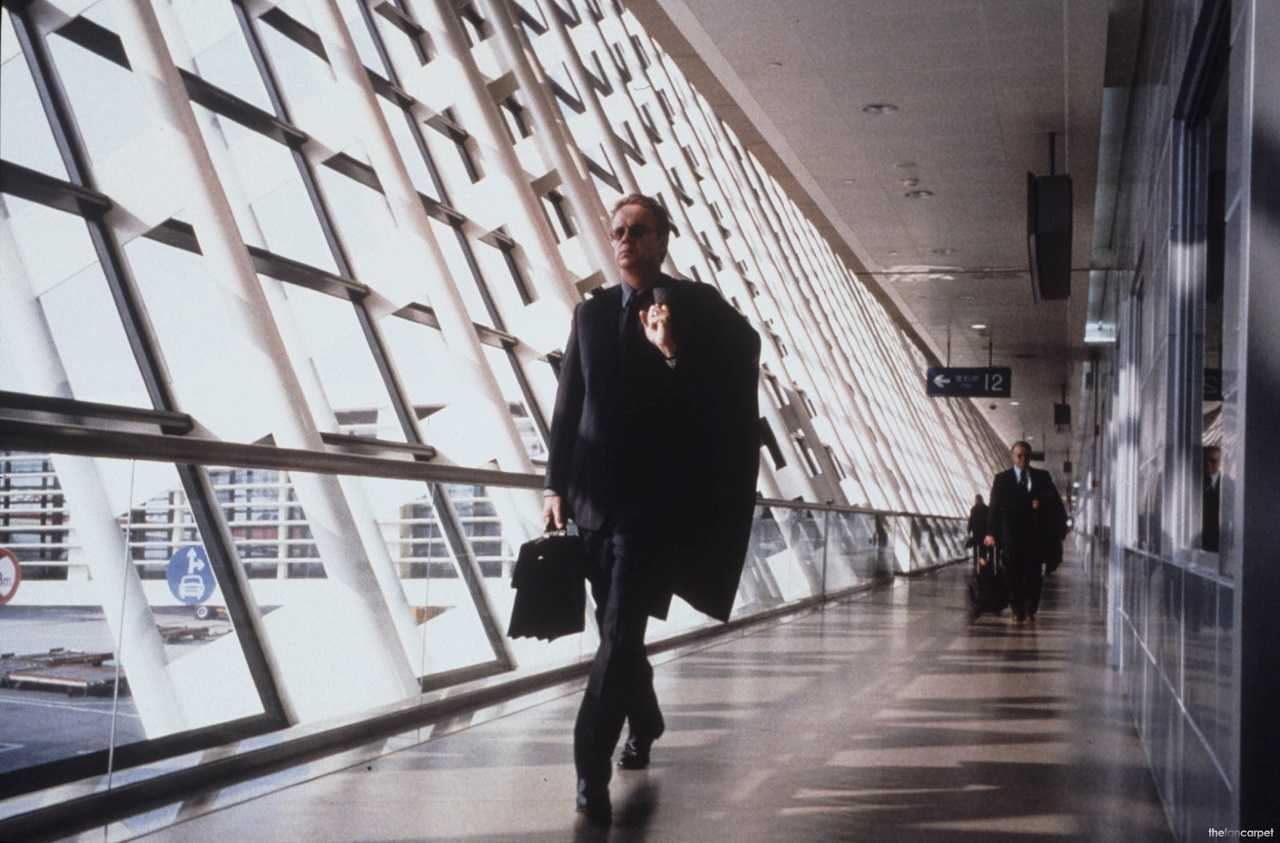 There are marvellous little throwaway scenes like where Robbins goes to use his empathy virus on the receptionist at the hospital, only to learn that the hospital has defences that have instead turned the virus into a harmless common cold. Or where Cottrell Boyce makes the assumption that few science-fiction films ever do – that the day-to-day jargon spoken in the future will be a evolved blend of argot from multiple languages, where everybody seems to use a casually littered mix of English, Spanish and Chinese.
The one other film that Code 46 reminds of is Wim Wenders' Until the End of the World (1991) with its journey through multiple countries of the world that came richly littered in futuristic detail. The background of the film here is full of tiny pieces of similar throwaway texturing – Tim Robbins' hotel room where tv is projected on the windows of his rooms; he doing his daily exercise using a Virtual Reality boxing simulator; or the journey outside Shanghai, which is not a bustling metropolis but peculiarly located amid a desert, where Tim Robbins has to pass checkpoints where refugees gather hoping to get inside or be able to sell something.
There are wonderfully littered little Cyberpunk details throughout the film that immediately suggest all sorts of changes to the familiar – Samantha Morton coming out with curious comments like how one of her fingers is 'younger' than the other one to which Tim Robbins responds "I was thinking of getting a younger face" and we realise they are talking about grafts; she showing him her book of family photos – where all the pictures are moving clips; and a delightful sequence where Samantha Morton talks about how she took a virus that allowed her to speak Chinese and while she could speak it perfectly she couldn't understand a thing she was saying.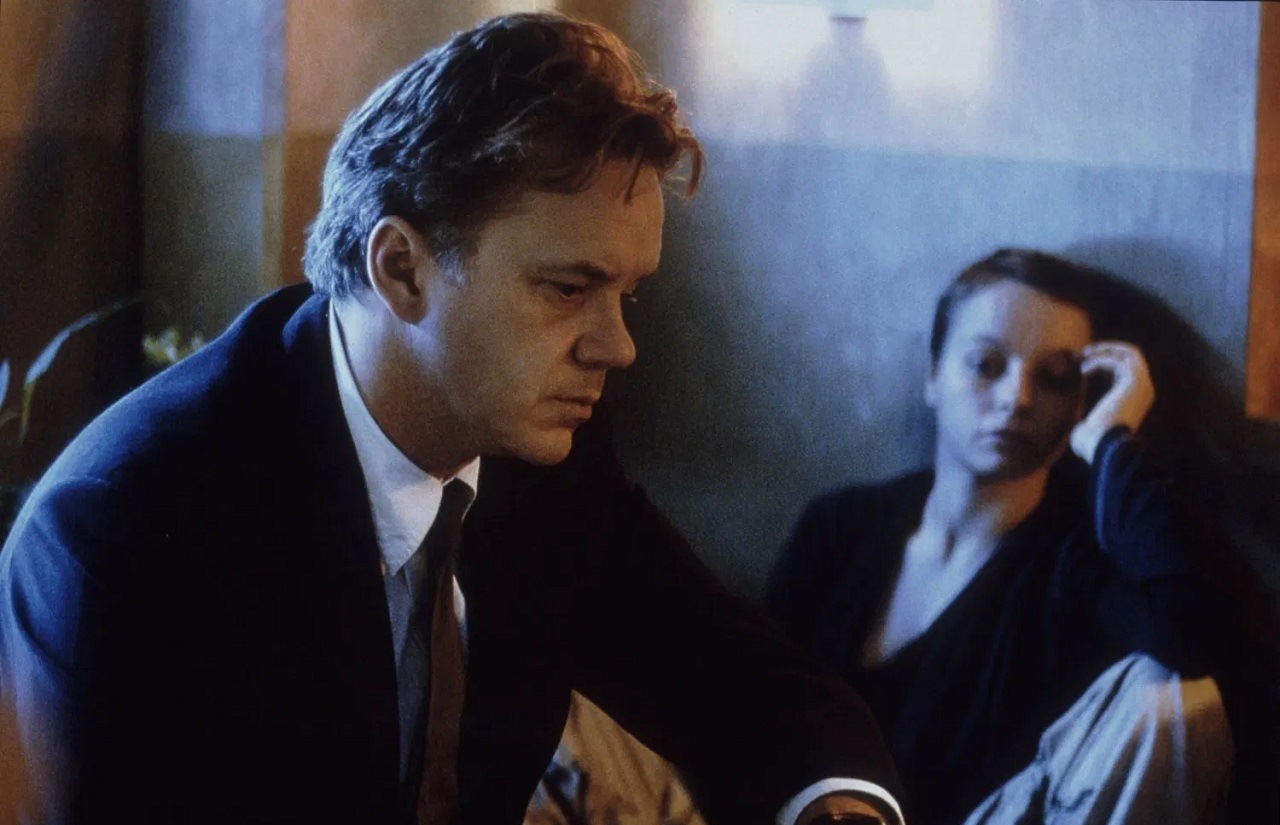 Some of Frank Cottrell Boyce's twists are stunning [PLOT SPOILERS] – like where Tim Robbins tracks Samantha Morton down again and we find that all memory of him has been deleted from her mind because of the Code 46 violation; or where she gets up after her night with him in Jebel Ali and calmly walks downstairs and picks up a phone to report a Code 46 violation due to an implanted command. There is a strikingly perverse scene where we see Robbins and Morton consummating their relationship in the Jebel Ali hotel room where he must tie her down to the bed to have sex with her because the memory wipe has planted a block that causes an irrational fear of the person who impregnated her. Samantha Morton plays the part with a fragile asexuality that garners considerable sympathy. The ending, which reverses the mid-film twists, and has Tim Robbins returned to his life in Seattle with his wife and children unaware of anything that happened regarding Samantha Morton, while she remembers the whole thing, has a haunting sadness.
Frank Cottrell Boyce delivers some beautifully cool and thoughtful dialogue. Especially haunting is the story that Samantha Morton narrates over the first few minutes of the film – how she had a dream each birthday that she was running down a train carriage towards someone and that each birthday she came one carriage closer and that this is the final carriage and so she is staying up all night in order to find what her destiny will be.
One is startled to find that Michael Winterbottom managed to make Code 46 on a budget of only $7.5 million, largely by filming in various international locations around the world. It is a testament to how creative ingenuity and a great script can provide far more than occasions when Hollywood has thrown mega-budgets at a project.
(Winner in this site's Top 10 Films of 2003 list. Winner for Best Original Screenplay at this site's Best of 2003 Awards).
---
---