---
Crew
Director/Story/Producer – Eirini Konstantinidou, Screenplay – Robin King & Eirini Konstantinidou, Photography – (Near Future: Jeanette's Story) Mirko Beutler, (Mid Future: Nicholas's Story) Richard A.S. Thomas & Far Future: Robyin's Story Petros Nousias, Music – Corey Zack, Visual Effects/Animation – Lauren O'Connell, Production Design – (Near Future: Jeanette's Story) – Kalliopi-Ismini Xekalaki. Production Company – Eirini Konstantinidou.
Cast
Near Future: Jeanette's Story:- Freya Berry (Jeanette Harper), Michael Buckster (Richard), Cally Lawrence (Tessa Fox), Gary Cargill (Jim). Mid Future: Nicholas's Story:- Robin King (Nicholas Morgan), Dominic O'Flynn (Michael Murphy), Lisa Carucco Came (Anna Lyons), Jamie Laird (Will Hall), Angela Peters (Keri Taylor), Stephen Hope-Wynne (David Quinn). Far Future: Robyin's Story:- Robert Milton Wallace (Charlie), Tallulah Sheffield (Robyin)
---
Plot
Near Future: Jeanette's Story:- Jeanette Harper has entered into group therapy for mnemophrenia, a psychological condition produced by the use of virtual reality where artificial memories become unable to be distinguished from real memories. She has had a companion Robert since a young age who was more real to her than her real world relationships but is suffering after he broke things off. Mid Future: Nicholas's Story:- Nicholas Morgan has perfected a neural chip they call Total Cinema that allows a wearer to experience complete sensory immersion and replay the memories of others. However, research then shows the chip more markedly affects those with mnemophrenia. Far Future: Robyin's Story:- Robyin, a descendent of Jeanette, agrees to have a neural chip implanted and is able to access past memories. As Robyin receives medical diagnosis of a terminal condition, her partner Charlie raises concerns about how much the artificial memories are affecting her personality.
---
Mnemophrenia was the first full-length film from Eirini Konstantinidou. Konstantinidou comes from Greece where she made some short films. From the 2000s, she has been resident in the UK and passed through various Film Studies programs and is currently Senior Lecturer at the University of Essex. Her PhD was in "science fiction films about memory and technology," which is clearly a field of interest that comes together in Mnemophrenia.
Konstantinidou had earlier made the basics of this with the 25-minute short film Mnemophrenia: The Beginning (2013), which has been recycled in the scenes here that are now called Near Future: Jeanette's where a woman (Freya Barry) recounts to a group therapy session about a virtual relationship that became more real than reality. The title Mnemophrenia – which is pronounced throughout as 'nemmo-phrenia' – is incidentally one that has been made up for the film by Eirini Konstantinidou.
One of the things that always got me about Total Recall (1990) was the whole idea of the implantation of memories. Arnold Schwarzenegger wakes up after being given artificial memories of being an interplanetary spy. However, given that these are unable to be distinguished from real experiences, how does he reconcile these with the memories of his actual life? How does he tell the difference between real and artificial memories? What if he were to confuse aspects from the fiction with events in his real life? Mnemophrenia feels as though that it has been created to address these questions with the Near Future: Jeanette's Story in particular asking the question of what happens when the artificial memory becomes more vivid than the real world.
Eirini Konstantinidou has an interesting way of directing the film. It takes place across three eras – the near future segments dealing with Freya Berry's artificial relationship; the mid-future segments about the development of a new Virtual Reality process that produces artificial memories; and the far-future segment where a dying woman receives an implant that allows access to these memories. The film keeps cutting back and forward between the three stories.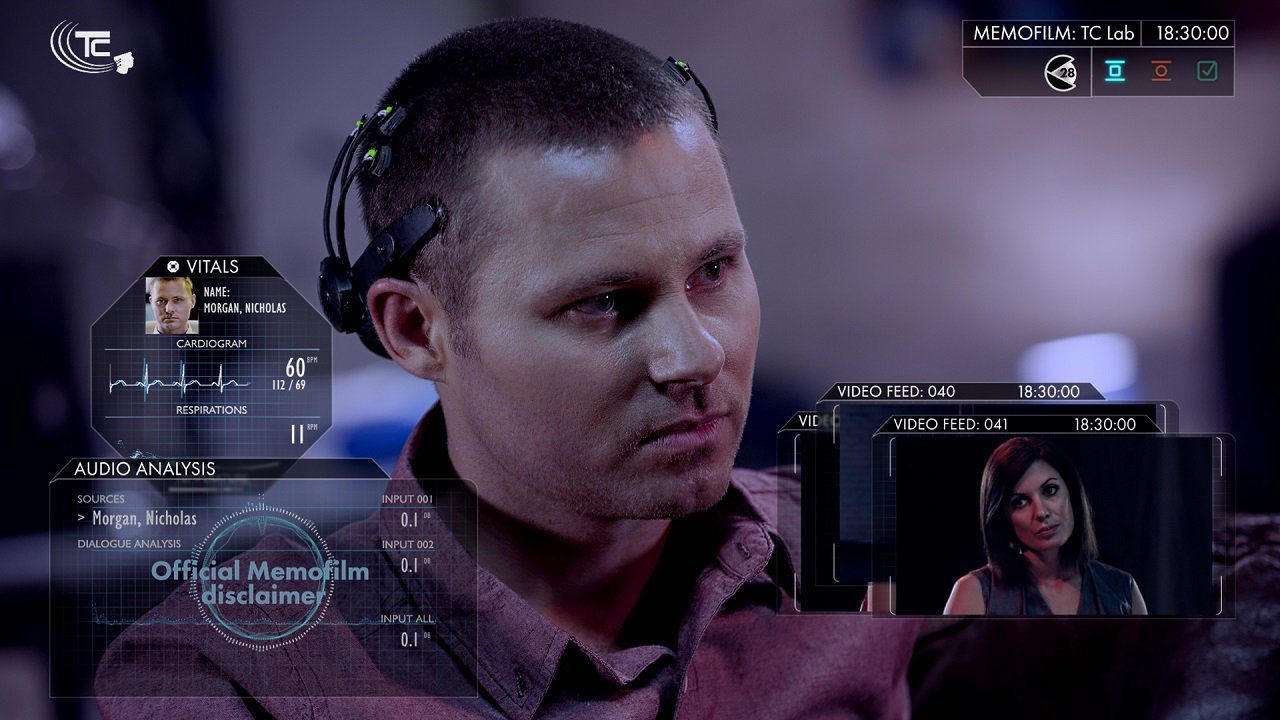 Most of the film was made in an improvisational process between Eirini Konstantinidou and her cast where they were encouraged to develop their own characters and dialogue. At almost all points, the screen is broken up by pop-ups, information displays, mini-windows and biographical data of the subjects on screen. It turns the film into a multi-media display of sorts – one keeps being reminded of the madcap visuals you get in a Peter Greenaway film,
The downside of this is that Mnemophrenia is less a dramatic work that one where people sit about and simply talk to each other. It is not a particularly dramatic film and never comes with anything in the way of twists, turns and plot developments. The nearest it does is during the mid-future segments where Robin King finds that co-worker Dominic O'Flynn is playing games with the corporate heads to get promoted and where the girl he is seeing turns out to be a member of a radical organisation. On the other hand, you suspect that a more mainstream film would have built these up in far more dramatic ways rather than simply people talking.
The other issue I would raise is that the film is not always clear about what some of these developments mean. I did like the idea in the Jeanette's Story scenes where she has a virtual relationship with Robert that proves more real than her real ones. On the other hand, while we do have several scenes where we meet Robert, Eirini Konstantinidou is not exactly clear who or what he is – someone she has been having a relationship with at a distance? Some kind of simulated presence or A.I.? – and how either of these lead to artificial memories. For instance, I don't quite see why a virtual relationship would make memories any less real than a flesh and blood relationship. Or if Robert is a virtual creation, why he suddenly decided to leave her. That said, the film does raise some interesting points before reaching an ending that seems positively utopian in greeting the idea of what artificial memories mean for humanity, even suggesting the idea that we are on the cusp of becoming 'homo mnemonicus'.
---
Trailer here
---