---
Crew
Director – Pearry Teo, Screenplay – Keith Collea & Zhang Pingli, Based on the Comic Book The DNA Hackers Chronicles by Pearry Teo, Producer – Keith Collea, Photography – Anthony G. Nakonechnyj, Music – Scott Glasgow, Additional Music – Combichrist & Ronan Harris, Visual Effects Supervisors – Simon Asenov, Keith Collea & Vesselina Georgieva, Digital Effects – Worldwide FX, Special Effects Supervisor – Eddie Surkin, Production Design – Brian Ollman. Production Company – Middle Link.
Cast
Bai Ling (Michelle), Alec Newman (Christian), Parry Shen (Jackie), Robert David Hall (Abraham Hayden), Daniel Zacapa (Randall), Michael Shamus Wiles (Solemn), Ethan Cohn (Mouse), Faye Dunaway (Dr Josephine Hayden)
---
Plot
It is the future in the city of Olympia. Working for Hayden Technologies, the scientist Christian created The Transcoder, a device called that is capable of instantly reprogramming one's DNA and could be used to eliminate all illness. The Transcoder had wildly unpredictable side effects, including having turned CEO Dr Josephine Hayden into a tentacular mass, blowing up Hayden Industries and poisoning the atmosphere of Olympia. This led to the establishment of the city of Demeter where only the genetically pure are admitted. In Olympia, Michelle is an assassin hired to eliminate DNA Hackers who are using knockoff copies of The Transcoder. She is angry to find that her brother Jackie has taken her stash of earnings that she was saving to buy them travel documents to Demeter and has blown it all gambling. Jackie is also in debt to the casino owner Randall and Michelle inflames the situation by eliminating the goons Randall sends to deal with him. Christian is one of Michelle's neighbours. Jackie breaks into Christian's apartment and steals The Transcoder, thinking it some tech he can sell. This brings Michelle and Christian into the midst of a fight to obtain The Transcoder where they are pursued by Randall's thugs and Dr Hayden's brother Abraham who wants the device back to heal his sister.
---
The Gene Generation was the first film from Pearry Teo (also credited as Pearry Reginald Teo) who has since become a genre regular. Teo has also directed Necromentia (2009), Witchville (2009), Dead Inside (2011), Dracula: The Dark Prince (2013), The Curse of Sleeping Beauty (2016) and Ghosthunters (2016), as well as produced Tekken: A Man Called X/Tekken 2: Kazuya's Revenge (2014), Strange Blood (2015), Bethany (2017), Stasis (2017) and Day of the Dead: Bloodline (2018).
The credits claim that the film is based on Teo's comic-book The DNA Hackers Chronicles, which would appear to have been published for six issues, although a search for the scanty information available shows that the cover date for #1 was March 2008, meaning that it would have been published after the film came out.
Among those viewed so far, Pearry Teo's films have left me feeling fairly indifferent. That said, The Gene Generation kicks in with a captivating intro that immediately pushes it into being the most interesting of Teo's films to date. In the introductory scenes, we learn of the future world and developments of gene editing and hacking, including scenes where an accident reduces a cameoing Faye Dunaway to a tentacular mass. There's a fine scene where an operative enters a club, spills a man's drink and then quickly wipes him off with a tissue coated with genetic material that causes the man to instantly meltdown.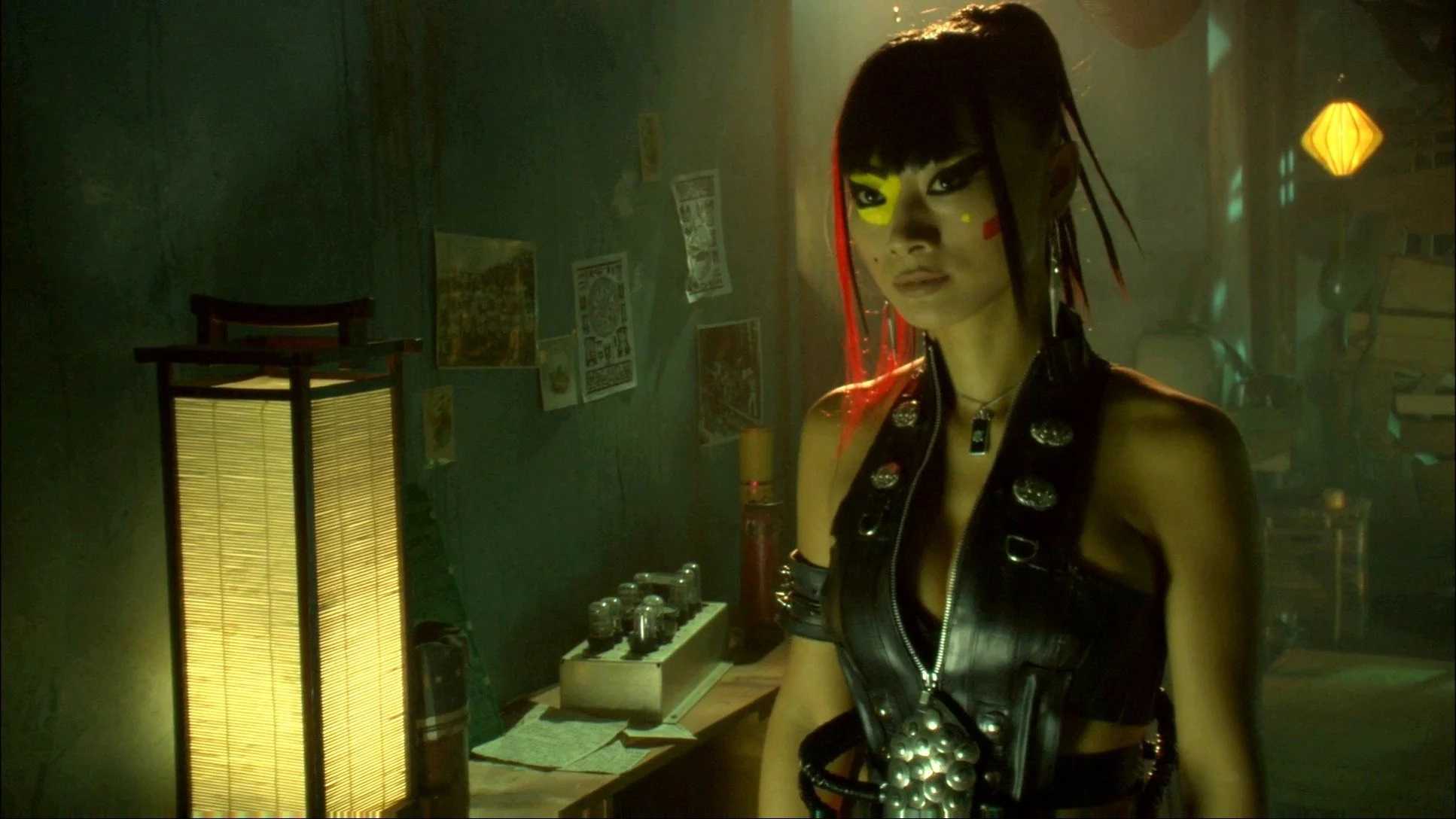 For the depiction of his world, Pearry Teo dips into the book of Cyberpunk cliches. He and his production designer do a fairly impressive job of creating a dense, gloomy rundown world where hi-tech sits alongside grit and decay. There has been a clear effort to make the world look lived in and textured. There are imaginative touches like having the Blade Runner (1982)-styled dirigibles with advertising screens replaced by flying junks with tv advertising screens. The costuming is impressive, particularly the variety of bondage outfits and PVC boots that Bai Ling is outfitted with, not to mention the exotic looking makeup schemes that she undergoes throughout.
On the downside, after a great start that promises something imaginative, the film slows down and never hits such a height again. The main problem is that The Gene Generation is not so much a science-fiction film as a film noir plot in disguise – the story is concerned with the hunt for a McGuffin, there is much focus on greedy interests and the threats of smalltime hoodlums, while the character of Bai Ling's assassin could be a gumshoe detective without too much rewriting. Far too much of the plot is given over to Parry Shen's loser brother and his various dealings.
The film also gives Pearry Teo one of the most high-profile casts he has worked with, including Alec Newman, Robert David Hall from CSI: Crime Scene Investigation (2010-15) and no less than 1970s It Girl Faye Dunaway as the corporation head who undergoes a meltdown. One of the best pieces of casting is Chinese actress Bai Ling. I had noticed her ever since her memorable role as the seer in The Crow (1994) and most hilariously in the Hong Kong horror Dumplings (2004). Here she gets a kick-ass action role and all one can say is that she is great and should have been given this sort of part long before now. When she gets into the action scenes, she kicks ass with a real lethality despite the low-budget action choreography. (The only scene I had an issue with here was one where she is surrounded by four thugs with guns pointed at her and somehow miraculously avoids being hit and allows them to eliminate each other instead).
---
---