---
Crew
Director – Peter Lehner, Screenplay – Gordon Chavis & Peter Lehner, Producers – Andres Pfaeffli & Christina Schmidlin, Photography – Zoltan David, Music – Stacy Widelitz, Production Design – Milo. Production Company – White Noise Productions/Heritage Entertainment, Incorporated.
Cast
Billy Zane (Raymond Palinov/Jensen), Daniel J. Travanti (Duprell), J.C. Quinn (Newman), Kristen Cloke (Christina), Grace Zabriskie (Mrs Palinov), Stefan Gierasch (Dr Vogel), Raymond O'Connor (Taylor), Vincent F. Guastaferro (Hotel Clerk), Hamilton Camp (Dr Stutnik), John Lantz (Heller)
---
Plot
In the future city of The Hemisphere, Raymond Palinov works for the Media Force. Their job is to crack down on illegal media – old tv and movies broadcast from the neighbouring city of Megaville – which are banned in The Hemisphere. Raymond's mother pushes him to apply for a job with the CKS security forces. There Raymond is personally selected by the city's controller Duprell to go on a mission to Megaville and obtain rights to the distribution of the Dream-a-Life Virtual Reality device. He is chosen because of his resemblance to an underworld dealer Jensen. Posing as Jensen, Raymond travels to Megaville and becomes wound up in the dealings between criminals and those responsible for the assassination of Megaville's President, which is being blamed on Dream-a-Life.
---
Megaville is an obscure 1990s video release. The quick capsule description that came to mind is that it feels like Total Recall (1990) rewritten as an episode of Miami Vice (1984-90). I was unable to ascertain whether Total Recall or Megaville came out first – both films premiered in the same month (May 1990) but Megaville did not receive general release until some time later. Megaville can however be seen as a work that was anticipating the high-profile Total Recall's themes of artificially implanted memories and seems to be trying to talk about Virtual Reality, albeit in a muddled way.
Megaville wants to be a work set a dystopian future. There is a nicely satiric image as the film opens with people sitting watching an old black-and-white tv with all the reverence of a religious service before the meeting is broken up by security forces in riot gear. Part of you smiles and thinks "This is the download piracy police before the advent of the internet." However, the film has hardly even started before its handful of token anti-censorship cliches are forgotten. Nor does it much seem interested in being a science-fiction film – there is an almost complete lack of effort gone into disguising the present.
The Total Recall plot is poorly sketched out – Billy Zane is asked to pose as a man before finding he actually is that man but that his memories were erased. Exactly why this ruse was conducted is never made clear. Billy's character also has a mother back in The Hemisphere and appears to have been part of their security forces for some time – it is never made clear if these are all part of an elaborate charade to maintain his alternate identity.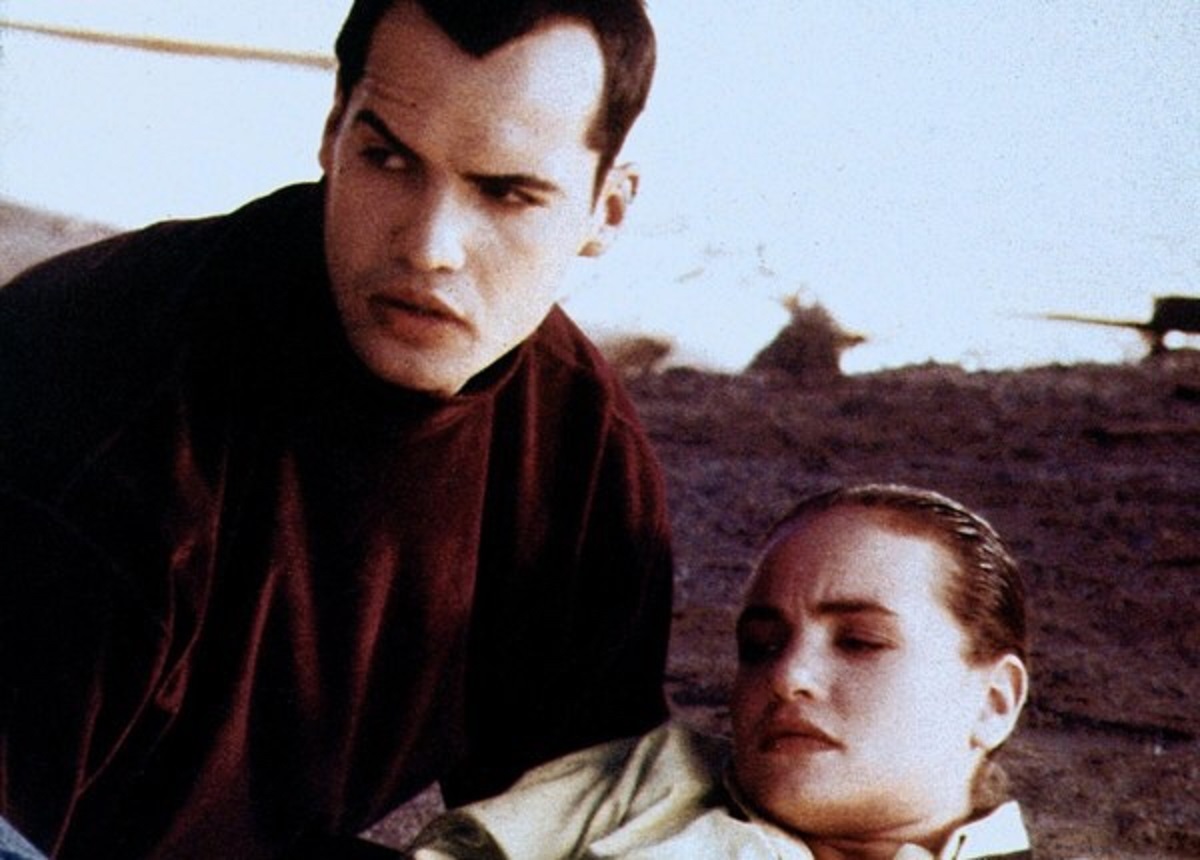 The scenes with Billy Zane signing into the hotel and dealing with various underworld figures in search of the tech feels like a tawdry crime thriller or film noir plot and fail to engage in the slightest. The rest is peppered with scenes of Billy Zane driving around in a sports car. There are long sections of the film where you don't know where the plot is going and then sit back and realise that there is so little about the film that engages you that you don't care. On the other hand, there is a wonderfully sardonic ending that makes it almost worth watching where J.C. Quinn shoots Billy Zane in the middle of the desert only to find Zane has handcuffed himself to his ankle.
Singularly the worst thing in the film is Daniel J. Travanti. This hurts me. I was real fan of Travanti as the straight-laced Captain Furillo on Hill St Blues (1981-7), one of my favourite tv shows. Indeed, Travanti won a Best Actor Emmy for the role two years running and was nominated three other times. It seems as though Travanti was running low on finances by this points. Here he looks like a badly overacting corpse in an advanced state of terminal cancer and/or auditioning for the role of Ebenezer Scrooge. He spends much of the latter half of the film in a hospital bed, barking orders down to the phone to Billy Zane and subordinates.
Megaville is the only film ever directed by Peter Lehner who appears to have since vanished.
---
Trailer here
Full film available here
---