---
Crew
Director – Mark Hamill, Producers – Mark Hamill, Jess Harnell, Eric Mittleman, Roger Rose, Billy West & Scott Zakarin, Photography – Jason Cooley, Music – John McKinney & Billy West, Animation Design – Mark Teague. Production Company – Creative Light Entertainment/Amazing Invisible, Inc.
Cast
Mark Hamill (Donald Swan), Billy West (Leo Matusik), Roger Rose (Taylor Donahue), Jess Harnell (Ricky), Lori Alan (Anita Levin), Tom Kenny (Derek Sprang), Daran Norris (Bruce Easley), Donna D'Errico (Papaya Smith), Debi Derryberry (Debby Newman), Jill Talley (Jill Sprang), Mac Kenny (Mac Sprang), Sid Caesar & Jonathan Winters (Old Army Buddies). With (as themselves): Jeremy Bulloch, Bruce Campbell, Jim Cumming, Peter David, Paul Dini, Mark Evanier, Matt Groening, Edd Hall, Ray Harryhausen, Hugh Hefner, Lloyd Kaufman, Stan Lee, Chase Masterson, Peter Mayhew, Phil Morris, Bill Mumy, Greg Nicotero, Gary Owens, Ron Perlman, Kevin Smith, Maggie Thompson, Bruce Timm
---
Plot
High school teacher and ardent comic-book fan Donald Swan is the world authority on the Command Courage superhero comic-book that was created by Jackson Whitney in the 1940s. With the news that Hollywood is about to make a Commander Courage film, the production company hire Donald as an advisor to the film. However, the producers are planning to adapt the modern revamped version of Commander Courage, an ultra-violent, gun-toting avenger known as Codename: Courage, which is hated by Donald and the fans of the original. Donald goes along with the plan in attempt to persuade the producers to see sense and return to the classic version. Donald travels to the San Diego ComicCon convention with production executive Taylor Donahue to make the announcement about the film, taking along the cameraman Ricky to shoot documentary footage for the dvd extras. As they arrive, Donahue, who knows nothing about the comic book, finds that Donald is hijacking the production, having hired an actor and had a suit made in the classic style to promote the film. Moreover, Donald has uncovered Jackson Whitney's only living relative, small-town sheet metal worker Leo Matusik, and brought him to the convention. This places the studio executives into a spin, fearing that Leo will want to exert control over the rights.
---
Almost certainly, Comic Book: The Movie was inspired by the twin successes of Trekkies (1997) and GalaxyQuest (1999), which both went into general release within a few months of each other, the first poking fun at Star Trek fandom, the second a documentary charting the eccentricities of fannish behaviour. With Comic Book: The Movie, director/star Mark Hamill has attempted to do the same for comic book fandom.
While Trekkies was a documentary, Hamill has gone one step beyond and made Comic Book into a mockumentary about fandom. The results fall somewhere between Trekkies and one of Christopher Guest's dryly deadpan mockumentaries – Waiting for Guffman (1996), Best in Show (2000), A Mighty Wind (2003). Comic Book: The Movie was shot around the real-life 2002 San Diego ComicCon where Hamill has a variety of fictional characters interacting with fans and real-life celebrities (who are often canvassed on their opinions regarding the fictional Captain Courage and upcoming movie).
Of course, Mark Hamill is best known as an actor and will always be remembered for the role of Luke Skywalker in the original Star Wars trilogy. What many do not know is that Mark Hamill is a lifelong comic book fan – he insists that the role of Don Swan is an earlier version of himself – and has even co-written his own superhero comic-book The Black Pearl (1996). Since Star Wars (1977), Hamill's acting appearances have been sporadic and not particularly high profile. The majority of his paycheques have come from voiceover work in animation where he has played notable ongoing roles in various animated series, mostly as villains in comic-book adapted superhero shows, including The Joker in Batman (1992-5) and its spinoffs, The Hobgoblin in Spider-Man (1994-8), Gargoyle in The Incredible Hulk (1996-7) and Solomon Grundy in Justice League (2001-6), as well as Blair in the various Wing Commander videogames, among a lengthy list of others.
In Comic Book: The Movie, Mark Hamill works in appearances from a range of fannish celebrities, including Batman animated creators Paul Dini and Bruce Timm, The Simpsons (1989– ) and Futurama (1999-2003) creator Matt Groening, legendary stop-motion animator Ray Harryhausen, Hugh Hefner, Troma head Lloyd Kaufman, Star Trek: Deep Space Nine (1993-9) actress Chase Masterson, Lost in Space (1965-8) star and comic-book writer Bill Mumy, K.N.B. EFX makeup man Greg Nicotero, actor Ron Perlman, Marvel Comics legend Stan Lee, and numerous others. Many of these appear to be people who were passing at the convention and were shanghaied in; while others allow themselves to be interviewed and get in on the joke.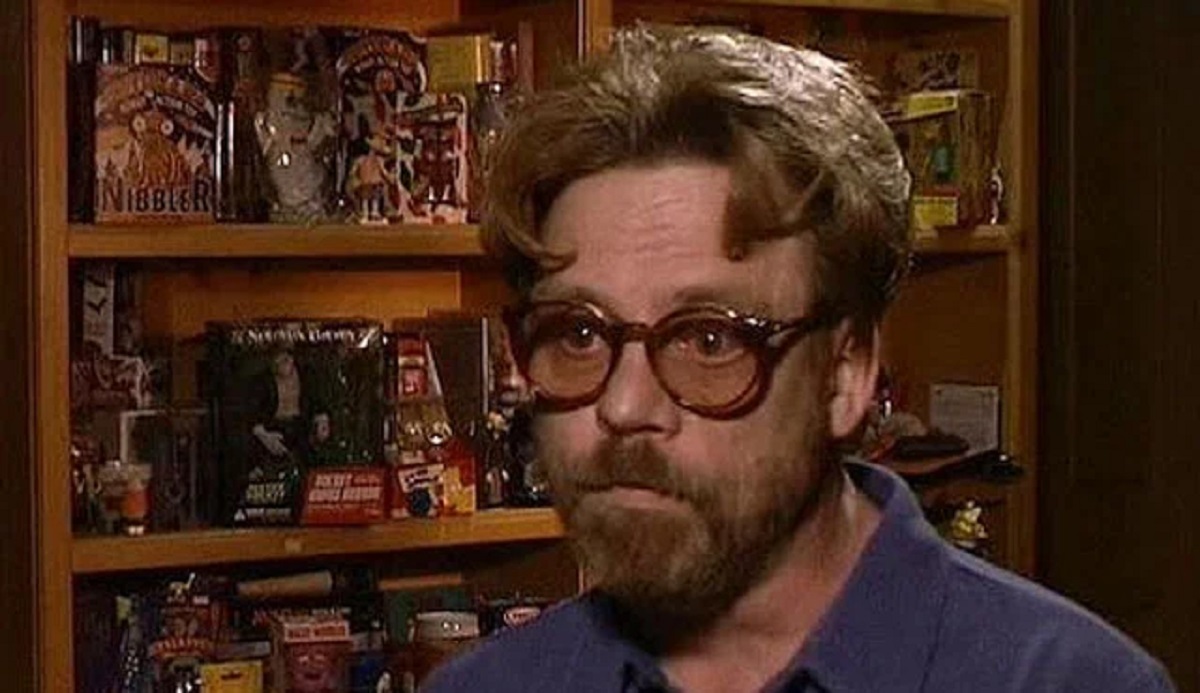 Director/actor Kevin Smith does a monologue that sidetracks off into some lame jokes trying to question Swan's sexuality then discusses Smith's supposed script work on the Command Courage movie, which is all taken from stories about Smith's own work on the unmade Tim Burton Superman Lives – for which see the documentary The Death of "Superman Lives": What Happened? (2015). Bruce Campbell amusingly gets into the spirit of the show with a hilarious performance as the actor potentially to be cast in the role of Commander Courage. The cameos even have a number of in-jokes – like where Mark Hamill goes to sit down at a table with some actors and is then told to go away by Dave Prowse, Peter Mayhew and Jeremy Bulloch, none other than the actors who played Darth Vader, Chewbacca and Boba Fett in the original Star Wars trilogy.
The film comes with numerous pieces of sly fannish humour. Especially funny are the scenes with the kid who is dragged about the convention by his parents, even while falling asleep, and is given a Captain Marvel toy as a present but stops to point out the misnomer in referring to Captain Marvel as Shazam and refuses to open the box lest it ruin the resale value, while his parents tell how he now even refuses to open his Christmas presents. There are some hilarious satiric jabs at pieces of comic-book history – glimpses of mocked-up 1940s comic books like All Negro Funnies or the parodies of 1970s animation – in particular shows like The New Adventures of Batman and Robin (1977-8) – when it comes to the Command Courage animated series. Stan Lee discusses the attempts to make Commander Courage fit various styles in comic books and we see some amusing attempts to reshape Courage variously as a romance comic, an EC-styled horror comic and a Western comic. There is even a rather funny attempt to wind in Frederick Wertham's famous work of anti-comic book moralism Seduction of the Innocent (1954) and poke fun at the constant homoerotic readings of the Batman and Robin relationship.
Mark Hamill's cleverness as a director is in presenting everything in deadpan. Like the reaction to the Commander Courage costume's codpiece; or the merciless attempts of Roger Rose to get Donna D'Errico to play with a cartoon lisp. The humour is often highly sophisticated. The film has to be constantly watched around the side of what is going on to fully get some of the gags – like the background of the party with Daran Norris trying to pick up an actress by noting that he too "is studying under Stella Artois" and the meeting with a rapper named Ice Tray.
Mark Hamill creates Don Swan as the instantly recognisable kind of BNF (Big Name Fan) uber-nerd that hangs around almost any convention. He has an hilarious series of monologues that set him up with a know-it-all pomposity. An equally amusing performance comes from Billy West who emerges from being an owlish nerd knowing nothing by the time he appears to turning everything on its head with hilarious results by the end of the film. The performances are all very well done and the characters crafted with some finesse.
In recognition of the often underappreciated role of the voice-artist, Mark Hamill has almost all of the live-action roles in the film played by voice-over artists, some of them making their first ever live-action appearance on film. These include Billy West, known for Fry in Futurama, as well as Jess Harnell, Roger Rose, Lori Alan, Tom Kenny, Arleen Sorkin, Debi Derryberry, Jill Talley and Kevin Michael Richardson. Jess Harnell's horndog performance is amusing – he offering some clever impressions of The Beatles' voices and a funny scene attempting to show Billy West how to pick up chicks.
What would appear to be the cleverest aspect of all is that there is no screenplay credit for the film. One does not know the reasons for this but the probable suggestion would be that the majority of the film was improvised. That such a sophisticated and knowing level of parody, not to mention spot-on comic timing, could be conducted off-the-cuff shows a level of improvisation by all involved that is phenomenal. It is certainly a wittier and far more knowing take on the San Diego Comic-Con than the one that we saw in Morgan Spurlock's far more serious-minded straight documentary take Comic-Con Episode IV: A Fan's Hope (2011).
---
---