---
Crew
Director – Sam Liu, Screenplay – Alan Burnett, Eric Carrasco & Jim Krieg, Story – Eric Carrasco, Producers – Sam Liu & Amy McKenna, Music – Kristopher Carter, Michael McCuiston & Lolita Ritmanis, Animation – Dr Movie (Directors – Sungdae Kang, Jae-Eui Kwak, Joung-Gil Lee, Kyung-Duk Yeom, Jae-Ha Yu & Seunghun Yu). Production Company – Warner Bros. Animation.
Voices
Diane Guerrero (Jessica Cruz/Green Lantern), Elyes Gabel (Thomas Kallor/Star Boy), Kevin Conroy (Batman), George Newbern (Superman), Susan Eisenberg (Wonder Woman), Daniela Bobadilla (Ms Martian), Kevin Michael Richardson (Mr Terrific), Peter Jessop (Tharok), Matthew Yang King (The Persuader), Philip Anthony Rodriguez (Mano), Sumalee Montano (Emerald Empress), Noel Fisher (Brainiac 5), Tara Strong (Saturn Girl), Bruce Timm (Two-Face), Tom Kenny (Bloodsport)
---
Plot
In the 31st Century, three of the Fatal Five burst into the Legion of Super-Heroes headquarters seeking the Time Sphere. After they activate it, Star Boy jumps onto the outside the sphere and is taken along too. The sphere lands in Gotham City in the present. There Star Boy's lack of supply of the 31st Century medicines he needs to stabilise his mind causes him to lose his memory. He is apprehended by Batman and placed in Arkham Asylum. At the same time in Portland, Jessica Cruz is attending therapy to deal with post-traumatic stress. She has been bequeathed a Green Lantern ring but is unwilling to use it despite entreaties from the Justice League. The Justice League examine the Time Sphere and open it, bringing four of the Fatal Five out of stasis. The Fatal Five immediately create a wake of destruction as they seek to force Jessica to surrender to them so that they can free Fatal Five member Emerald Empress from imprisonment on Oa.
---
Justice League vs the Fatal Five was the 34th of the DC Universe Original Animated Movies. The others in the series consist of Superman: Doomsday (2007), Batman: Gotham Knight (2008), Justice League: The New Frontier (2008), Superman/Batman: Public Enemies (2009), Wonder Woman (2009), Batman: Under the Red Hood (2010), Justice League: Crisis on Two Earths (2010), Superman & Batman: Apocalypse (2010), All-Star Superman (2011), Batman: Year One (2011), Green Lantern: Emerald Knights (2011),Batman: The Dark Knight Returns Part I (2012), Justice League: Doom (2012), Superman vs. The Elite (2012), Batman: The Dark Knight Returns Part II (2013), Justice League: The Flashpoint Paradox (2013), Superman Unbound (2013), Batman: Assault on Arkham (2014), Justice League: War (2014), Son of Batman (2014), Batman vs. Robin (2015), Justice League: Gods and Monsters (2015), Justice League: Throne of Atlantis (2015), Batman: Bad Blood (2016), Batman: The Killing Joke (2016), Justice League vs Teen Titans (2016), Batman and Harley Quinn (2017), Justice League Dark (2017), Teen Titans: The Judas Contract (2017), Batman: Gotham By Gaslight (2018), The Death of Superman (2018), Suicide Squad: Hell to Pay (2018), Batman: Hush (2019), Reign of the Supermen (2019), Wonder Woman: Bloodlines (2019), Justice League Dark: Apokolips War (2020), Superman: Man of Tomorrow (2020), Superman: Red Son (2020), Batman: Soul of the Dragon (2021), Batman: The Long Halloween Part One (2021), Batman: The Long Halloween Part Two (2021), Injustice (2021), Justice Society: World War II (2021), Catwoman: Hunted (2022) and Green Lantern: Beware My Power (2022).
The Fatal Five don't exactly stand out as one of the great nemeses of the Justice League. That's because they actually come from another comic-book – where they are one of the most prominent nemeses of the Legion of Super-Heroes in the 30th/31st Century. The Legion of Super-Heroes was created in 1958 as part of a Superboy adventure where they travelled back from the future to appeal to him to join their ranks. They continued to appear in various stories in Adventure Comics before receiving their own title in 1973. The Legion has undergone various reboots and reshuffles since then but still remain a core DC superhero team. The Fatal Five made their first appearance up against the Legion in 1967.
The Legion of Super-Heroes have appeared on screen several times in sporadic episodes of the animated Superman (1996-2000) and Justice League Unlimited (2004-6) before gaining their own animated series Legion of Super-Heroes (2006-8). The Legion appeared in live-action in episodes of Smallville (2001-10) and the third season of Supergirl (2014- ). The Fatal Five had made occasional appearances on screen in episodes of Justice League Unlimited and Legion of Super-Heroes, although have not appeared in any of the DC Original Animated Movies before this.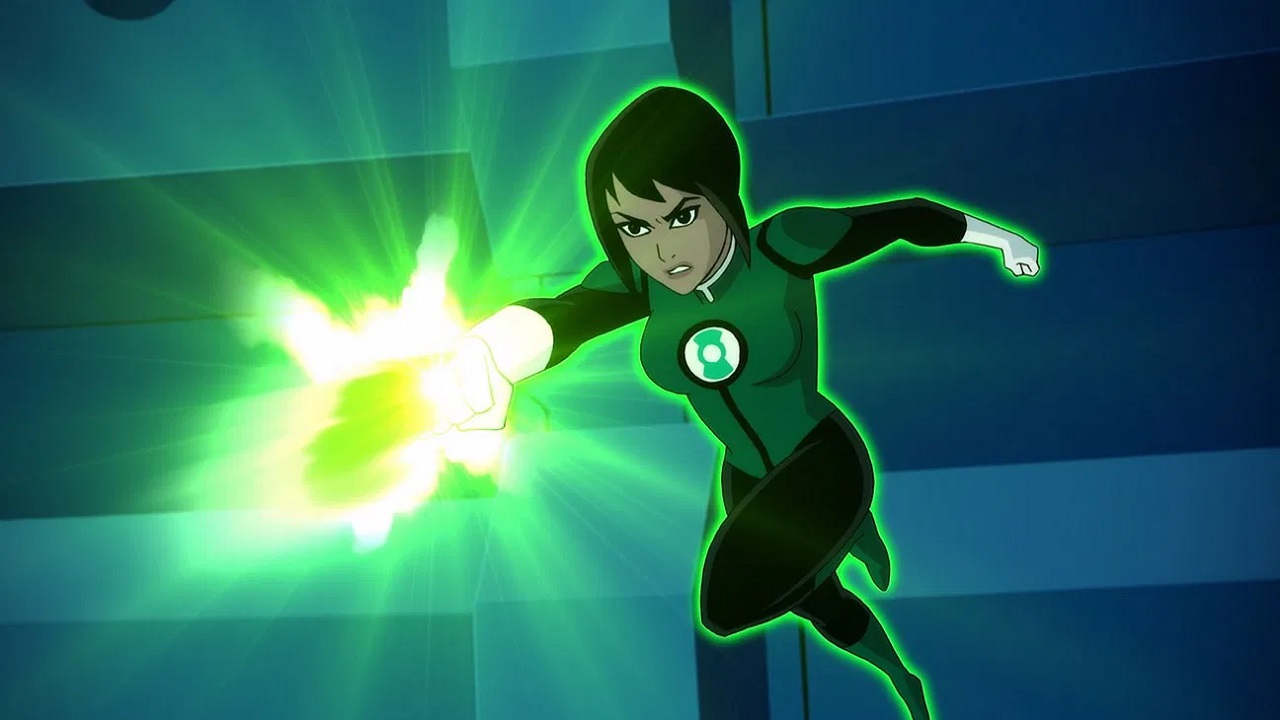 One was hoping that Justice League vs Fatal Five might have been a way of the DC Original Animated Movies making a Legion of Super Heroes film by shoehorning it in on the more high-profile Justice League name in much the same way as they introduced the Teen Titans in Justice League vs Teen Titans (2016). This is sort of but not quite the case. The character of Legion member Star Boy is introduced, is given the mental illness characteristic he gained in the 2006 incarnation, although gets a different eventual fate than he does on the comic-book page. A handful of other Legionnaires appear of which only two – Brainiac 5 and Saturn Girl – get speaking roles, although a number of faces familiar from the comic-book appear in the background but are not identified.
The Fatal Five also end up being the Fatal Three for the most part – Emerald Empress is imprisoned on the Green Lantern homeworld Oa, while Validus only makes sporadic appearances. There is also nothing done to explain who The Fatal Five are or differentiate them one from the other – I, for instance, had difficulty identifying which one was which without doing a Google search on the characters.
Aside from The Legion of Super-Heroes and Fatal Five, Justice League vs the Fatal Five also introduces a bunch of other characters. Most notedly, it brings in Jessica Cruz, a Mexican-American wearer of the Green Lantern ring who was introduced on the comic-book page in 2014. Her character comes with the interesting twist (something preserved in the film) in that she is suffering from post-traumatic shock and does not willingly accept the ring. Miss Martian aka M'gann M'orzz was introduced in 2006 as a female equivalent of the Martian Manhunter J'onn J'onnz and has been a regular member of Teen Titans, while making live-action appearances in episodes of Supergirl. Mister Terrific, introduced in 1997, is a genius inventor who wears a T-shaped mask and goes into action with a series of inventions of his own design. He had previously appeared on screen in live-action in episodes of Arrow (2012-20).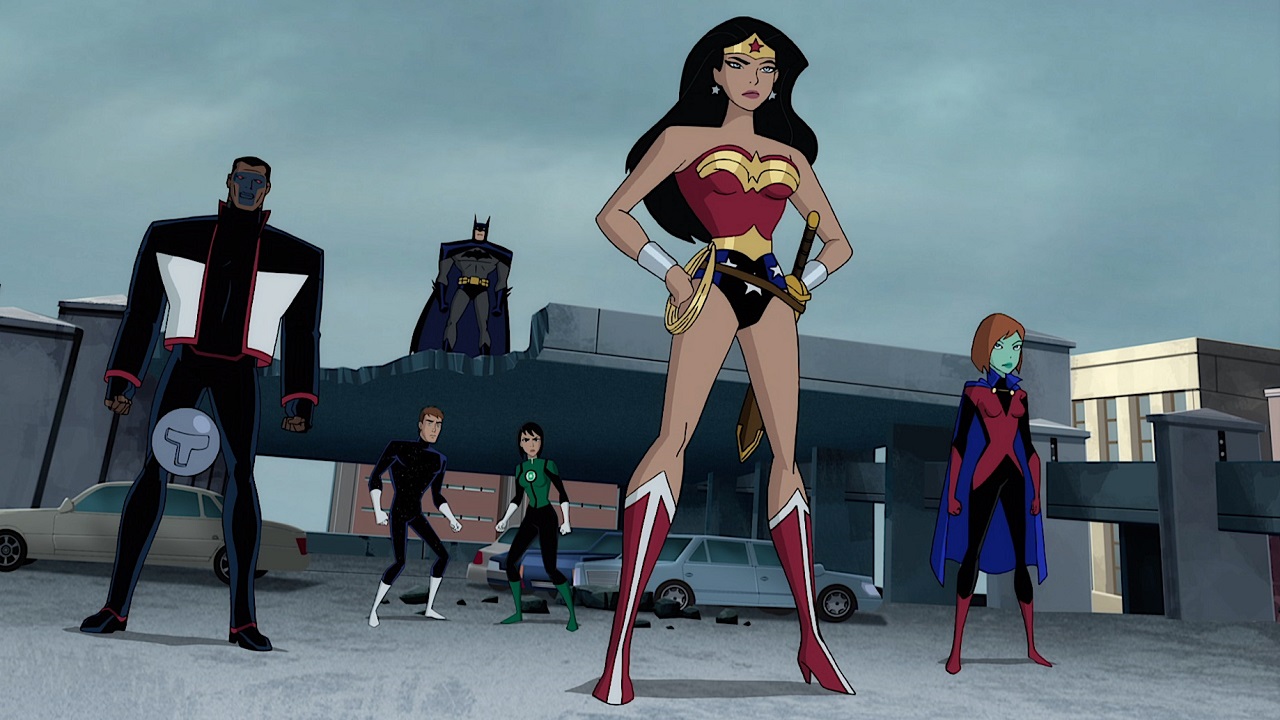 You can see that the inclusion of and focus on characters like Jessica Cruz, Ms Martian and the African-American Mr Terrific, all minor DC characters and Justice League members, is part of the push for wider diversity inclusion that has overtaken Hollywood since 2017. For the most part the characters come across well, especially Jessica. On the other hand, you feel that the film is cramped. In trying to introduce Star Boy, the Fatal Five and three new Justice League members, it ends up with a busy juggle of plots. Jessica and Star Boy come out the best. Even then Jessica's background feels condensed – you are unclear why she has a Green Lantern ring, why she is in therapy and what exactly happened in the woods unless you are familiar with the comic-book character. Even less is explained about who Mr Terrific and Ms Martian are, of whom we get nothing about their respective backgrounds – there is not even any mention of the fact that Mr Terrific is a genius inventor who creates his own gadgets. Not to mention the film never explains what has happened to the regular Green Lantern and Martian Manhunter.
The plot feels like it is juggling many balls in the air without fully doing all of them justice. Sometimes things a little conveniently stretched – like why Jessica (as opposed to any other Green Lantern) is so crucial to the Fatal Five's plans. Nevertheless, Sam Liu – the most prolific of the directors of the DC Original Animated Movies – is on good form. His superheroics have not always been the best in some of his films but he does fine work here and stages some exciting battles between the Justice League and Fatal Five.
---
Trailer here
---