---
Crew
Director– Greg Mottola, Screenplay– Nick Frost & Simon Pegg, Producers– Tim Bevan, Eric Fellner & Nira Park, Photography– Lawrence Sher, Music– David Arnold, Visual Effects Supervisor– Jody Johnson, Animation Supervisor– Anders Beer, Visual Effects– Double Negative, Special Effects Supervisor– Larz Anderson, Creature Effects– Spectral Motion, Inc., Paul Puppet– Mike Elizalde, Production Design– Jefferson Sage. Production Company– Working Title/Big Talk Pictures/Universal/Relativity Media/Dentsu Inc.
Cast
Simon Pegg (Graeme Willy), Nick Frost (Clive Gollings), Seth Rogen (Voice of Paul), Kristen Wiig (Ruth Buggs), Jason Bateman (Agent Lorenzo Zoil), Bill Hader (Haggard), Joe Lo Truglio (O'Reilly), John Carroll Lynch (Moses Buggs), Blythe Danner (Tara Walton), David Koechner (Gus), Jesse Plemons (Jake), Sigourney Weaver (The Big Guy), Jane Lynch (Pat Stevens), Jeffrey Tambor (Adam Shadowchild), Nelson Ascencio (Jorge), Brett Michael Jones (Keith Nash)
---
Plot
Graeme Willy and Clive Gollings, two best friends and science-fiction fans from England, travel to the San Diego Comic Con to fulfil a lifelong dream. Afterwards they rent an RV and plan to travel across the US visiting famous UFO sites. While passing through Nevada near Area 51, a car crashes in front of them. Rushing to help, they encounter a small green alien and are surprised when it speaks perfect English and demonstrates a rude, smartass manner. It introduces itself as Paul and insists on them taking it with them. Agent Zoil and his associates are ordered to set up a roadblock and recapture Paul. Paul has the ability to turn invisible when he holds his breath and they pass through. However, Zoil deduces who they are and heads in pursuit. At a camping ground, they are forced to abduct the owner's daughter Ruth Buggs after she sees Paul. Paul's existence causes Ruth to realise that her Christian beliefs are false. The four of them head across country to a rendezvous with Paul's spaceship pursued by government agents, rednecks and Ruth's crazed father.
---
The duo of Simon Pegg and Nick Frost first came to attention on the short-lived British tv sitcom Spaced (1999), which Pegg also wrote, about the lives of a duo who were comic-book fans/artists. The series came filled with jokes and witty asides to the fan audience– in much the same way as Paul does. Pegg and Frost then went onto star in the international cult success of Shaun of the Dead (2004), spoofing the George Romero zombie film, which Pegg again wrote, and this was followed by their pairing again with director Edgar Wright in the cop show parody Hot Fuzz (2007) and the alien body snatchers film The World's End (2013).
The two gained an international name as a result and went onto appear in other works, particularly Simon Pegg who played in films such as Mission: Impossible III (2006) and Mission: Impossible – Ghost Protocol (2011), wrote/starred in Run Fatboy Run (2007), became the new Mr Scott in Star Trek (2009), Star Trek: Into Darkness (2013) and Star Trek: Beyond (2016), while writing the third film Star Trek: Beyond (2016), voiced Reepicheep in The Chronicles of Narnia: The Voyage of the Dawn Treader (2010) and Thompson of Thompson and Thomson fame in The Adventures of Tintin (2011).
Paul is essentially an extension of the fannish in-joking that we saw in both Spaced and Shaun of the Dead. We have seen a number of films about or that play off being science-fiction film/comic-book fans over the last decade with the likes of Trekkies (1997), Free Enterprise (1998) and GalaxyQuest (1999) about Star Trek fandom; Mark Hamill's hilarious mockumentary Comic Book: The Movie (2004) and the documentary Comic-Con Episode IV: A Fan's Hope (2011) also about the San Diego Comic Con; Fanboys (2008) and the documentary The People vs. George Lucas (2011) about Star Wars fandom; Proxima (2007) where a science-fiction fan is taken on an intergalactic adventure, the similar Frequently Asked Questions About Time Travel (2009) about British fans caught up in a time travel adventure, and The Last Lovecraft: Relic of Cthulhu (2009) with fans caught up in the H.P. Lovecraft mythos, Rise of the Fellowship (2013) about Lord of the Rings fans and gamers, even an entire tv series The Big Bang Theory (2007-19) set around fans and fannish in-jokes.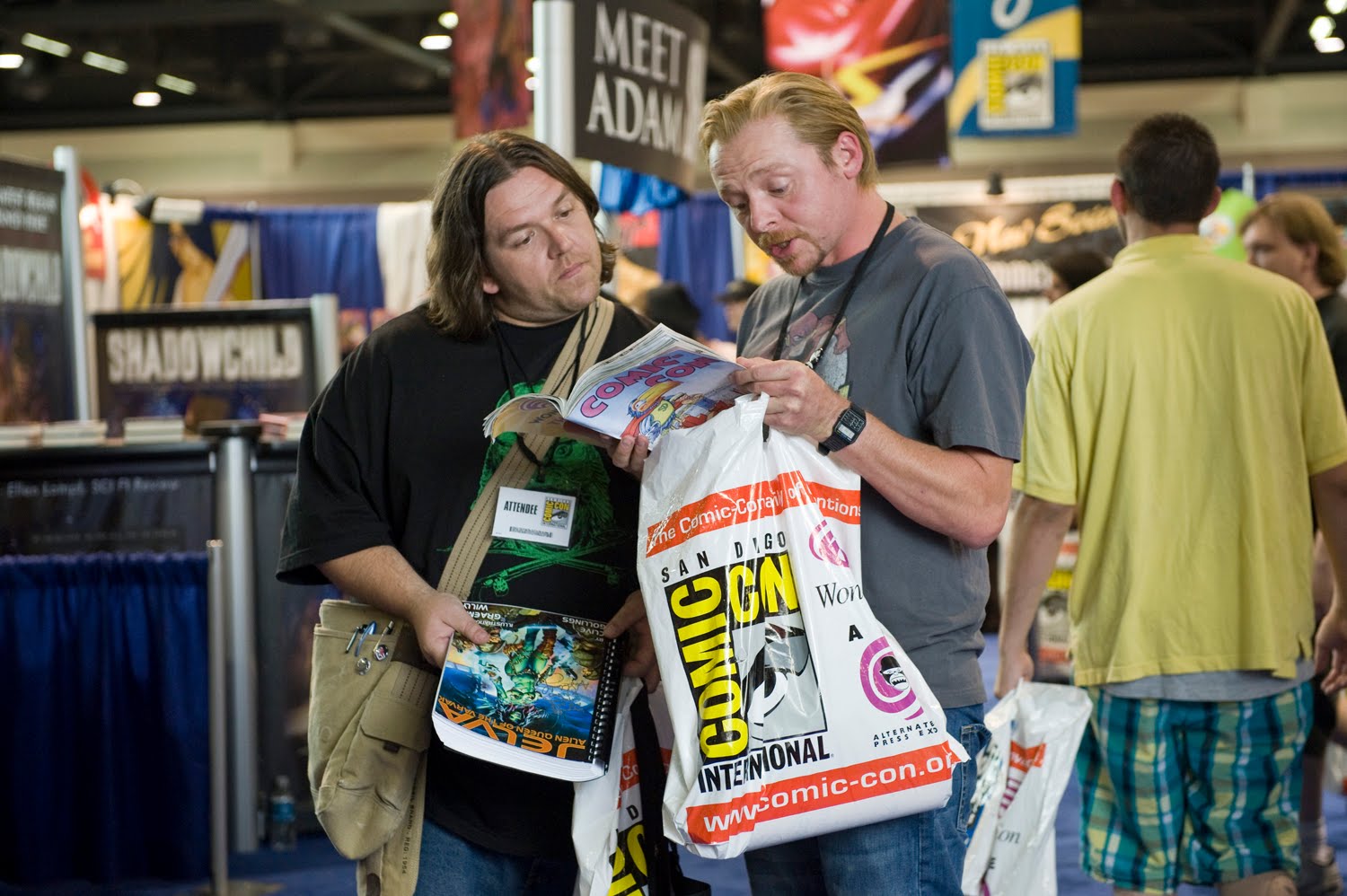 As it plays out, Paul feels akin to a fanboy version of Starman (1984) where instead of Karen Allen heading to a starship rendezvous with alien Jeff Bridges, we have two fannish nerds journeying with an alien. This comes with all the requisite in-jokes about classic alien visitor films. Imagine perhaps the alien road movie of Starman recast with two fanboys and the smartass one-liner quoting alien out of tv's ALF (1986-90).
For someone who has been raised on science-fiction most of their life, I found Paul hilarious. Simon Pegg and Nick Frost are around the same age I am so it felt like it was a film being made just for me. The film even opens with perfect fannish obeisance as Pegg and Frost make a trip to the San Diego Comic Con, the annual Mecca of contemporary fannish activity. There are hilarious little fannish in-jokes – Pegg and Frost staging a recreation of the Star Trek episode Arena (1967) in the desert with a lizard mask; the alien mimicking the Predator mouth or making jokes about them picking up some Reece's Pieces when they pull up at a gas station for supplies; a cute flashback where we see Paul on the phone at Area 51 giving phone advice to Steven Spielberg for the idea for E.T.'s magic finger; while Nick Frost even squeezes in a reference to Mac and Me (1988).
The funniest scenes come towards the end of the film with a homage to Close Encounters of the Third Kind (1977) including a visit to Devil's Tower, Wyoming; scenes quoting the backlit pursuit through the trees by the government agents in E.T.– The Extra-Terrestrial (1982); and the highly amusing revelation of the identity of the agency head as none other than Sigourney Weaver whom Kristen Wiig gets to deck while uttering the immortal line from Aliens (1986): "Get away from her, you bitch." Surprisingly, in being a principally British film, we get no references to Doctor Who (1963-89, 2005– ) anywhere throughout.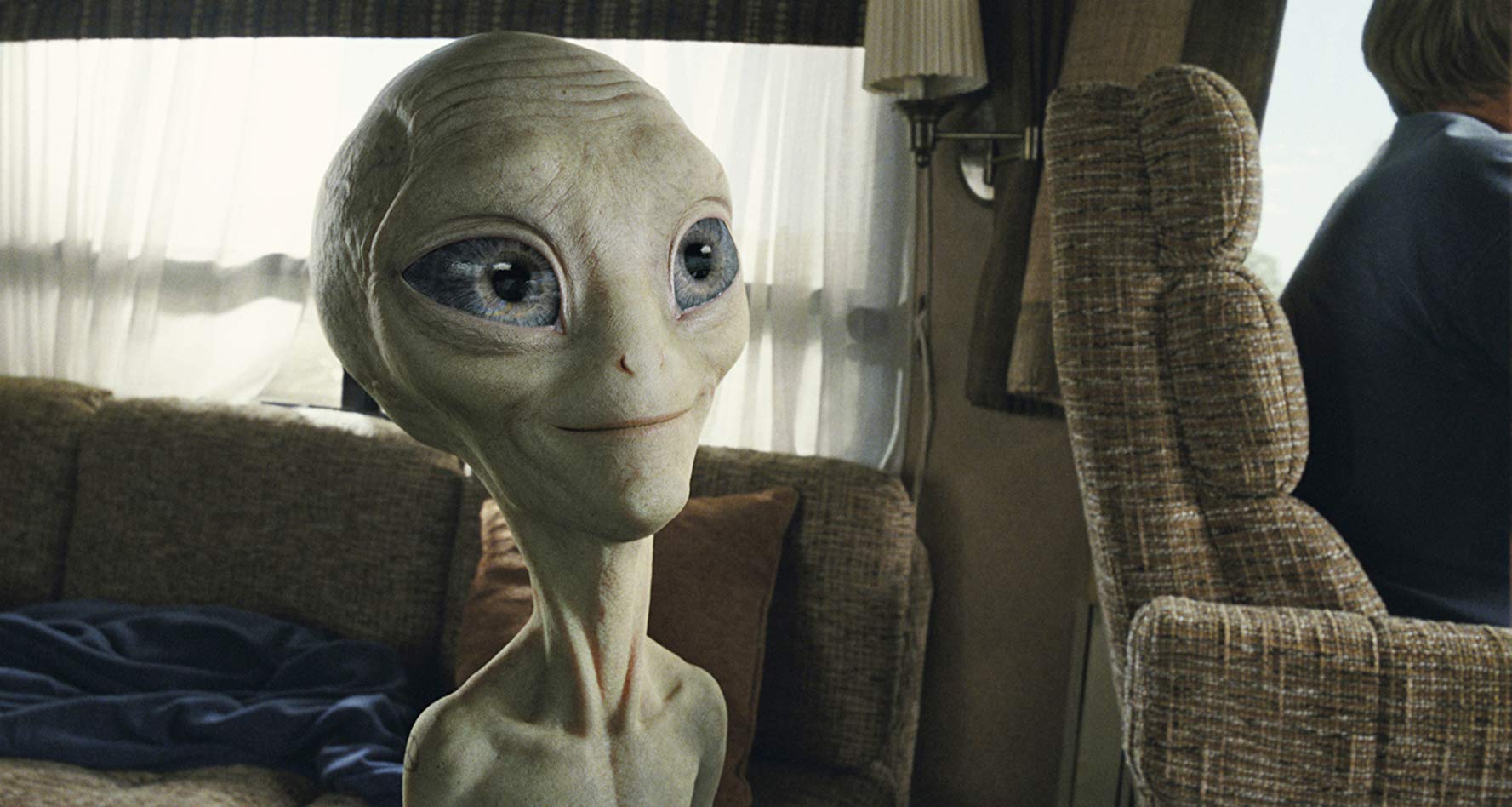 Paul comes with a great deal of warm and very funny humour – be it Paul deconstructing human obsession with anal probings, just the way that Latino hotel employee (Nelson Ascencio) says "What do you mean aliens?" or Simon Pegg and Paul's exchange "Dylan is dead?" "Are you sure about that?" Simon Pegg and Nick Frost slot into proceedings like a well-oiled comic duo who have been working together so long that each of them knows the others' moves before they do. They play off each other's established personas with an exceedingly naturalistic humour.
The scene stealer of the film manages to be the vastly underrated Kristen Wiig whose discovery of foul-language and attempts to conduct various permutations on this or just the awkward way that she and Simon Pegg navigate around a mutual attraction is hilarious – there is an especially funny scene where she smokes some experimental marijuana and passes through all the stages of being stoned in about thirty seconds flat. (Her scenes are also underscored by a running theme where Simon Pegg sticks his neck out in favour of atheism, throwing a number of barbs against evangelical Christianity, something you would never get an American film daring to do). Jason Bateman also gives a highly amusing performance, moving beyond his usual nice guy persona to play a hard-ass government agent (even if the character makes a difficult to believe change of alignment at the end).
The idea of a wisecracking, smartass alien was irritating on ALF and equally takes some getting used to here. Behind the motion-capture animation, Paul's voice is provided by Seth Rogen in full frat boy mode. Rogen has an everyperson charm in his various Judd Apatow appearances but this overran its appeal by the time of The Green Hornet (2011) where the Rogen persona ended up entirely misconceiving the original material and creating a disaster. Eventually though, embedded in Simon Pegg and Nick Frost's script and under the direction of Greg Mottola (who previously made Superbad (2007) from a Rogen script), Rogen's persona emerges with a raucous and wryly, sarcastic charm.
---
---