---
Crew
Director – Vincenzo Natali, Screenplay – Andre Bijelic, Graeme Manson & Vincenzo Natali, Producers – Mehra Meh & Betty Orr, Photography – Derek Rogers, Music – Mark Korven, Digital Effects/Animation – C.O.R.E. Digital Pictures (Supervisors – John Mariella & Bob Munroe), Mechanical Effects – JJamb, Makeup/Physical Effects – Caligari Studio, Production Design – Jasna Stefanovic. Production Company – The Feature Film Project.
Cast
Maurice Dean Wint (Quentin), Nicole de Boer (Leaven), David Hewlett (David Worth), Nicky Guadagni (Dr Helen Holloway), Andrew Miller (Kazan), Wayne Robson (Rennes)
---
Plot
Six strangers – Leaven, a mathematics student; Holloway, a doctor; Worth, an architect; the autistic Kazan; Rennes, a famous criminal; and Quentin, a cop – find themselves inside a vast labyrinthine structure. Each room is a perfect cube that has a door in each face with each doorway leading into an identical cube-shaped room. However, some of the rooms contain lethal death traps. As the group try to stay alive and work out the purpose of the labyrinth, Leaven realizes that the rooms are formed according to a mathematical puzzle. They also realize that each of them has been chosen because they have unique talents that will help them navigate the labyrinth and that they need to cooperate in order to get out. However, tensions and angers within the group threaten to split them apart.
---
Cube was a sleeper that emerged on the arthouse circuit in 1998. With most multiplex releases focusing on killer robots, explosions and disaster, it is welcome to find a work that derives its impact from carefully etched characters and the playoff of their tensions. Cube is a beautifully constructed puzzlebox of a film – a work of strikingly original intelligence.
Cube has many similarities to Andrei Tarkovsky's masterwork Stalker (1979), which was also about a group of people traversing an inexplicable alien terrain. Both Cube and Stalker are transcendental stories where the alienness of the landscape that the characters are in eventually allows them to achieve a conceptual breakthrough in understanding. Here the puzzling out of the mathematical nature of the labyrinth and the unfolding of how each character has a part to play in the solution makes for a fascinating mystery. In either case, the agency behind the creation of the labyrinth is left deliberately vague.
For Tarkovsky in Stalker, the alien landscape was a desolate metaphor for existential faith. In Cube, the alien landscape is construed as Kafka-esque in nature. The film echoes Franz Kafka's ideas of people trapped inside vast systems that seem to operate devoid of or with purposes that seem to circle around one another. There is the scene where the character of David, the group's cynic, explains his part in the design of the project: "It's a headless blunder under the illusion of a masterplan. This is a forgotten perpetual public project." (Although, the sense of nobody being in control fails to explain how people are chosen to take place in the complex).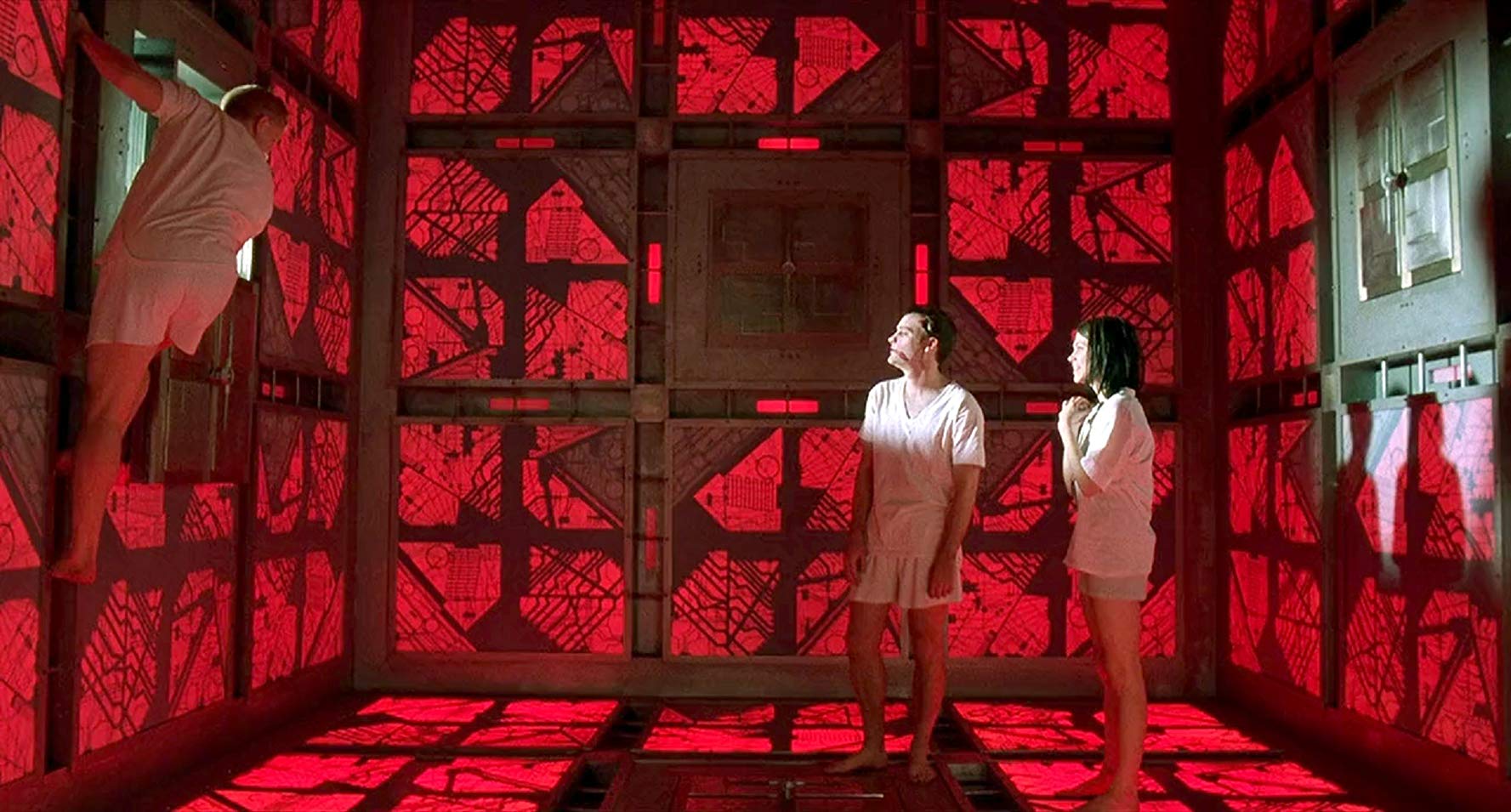 Later the film digs some potent barbs at The X Files (1993-2002, 2016-8) type government cover-up conspiracy paranoia with Nicky Guadagni believing they are in a giant military machine before Maurice Dean Wint turns on her: "The military-industrial complex? Have you ever been there? They're just ordinary guys like you and me."
The characterisation is beautifully written and acted. There is a haunting scene where the group consider the intellectually handicapped Kazan a liability and want to leave him behind, saying "We'll come back for him" and Nicky Guadagni turns on them "You know that's a lie." Maurice Dean Wint's disintegration is well written and acted, with the scenes where he conducts deliberate murder coming as a considerable shock. Nicole de Boer, a Canadian actress who had previously worked in tv, gives an interesting performance. This was the part that had her chosen to go on to play the regular part of Ezri Dax in the final season of Star Trek: Deep Space Nine (1993-9) – her part in Deep Space Nine was irritating but here one can find some solid acting from de Boer. Andrew Miller gives an excellent performance as the autistic Kazan – the final image of him departing is a delightful touch.
Despite looking far more expensive, Cube is a low-budget film. The filmmakers' ingenuity is to have only built a single set – one of the rooms – and to alter the look of it with the use of multi-coloured lighting.
The film was followed by two sequels Cube2: Hypercube (2002) and Cube Zero (2004). Cube (2021) was a Japanese remake.
Following Cube, director Vincenzo Natali went onto make Cypher (2002), a cool and intelligent thriller about brainwashing and identity; Nothing (2003), a fascinating film about two slackers who suddenly find that the entire world outside of their home has vanished and become an empty white void; the genetically-engineered creature movie Splice (2010); the ghost story Haunter (2013); the U is for Utopia segment of ABCs of Death 2 (2014); and the Stephen King adaptation In the Tall Grass (2019). For a number of years, Natali was originally announced as the director of the adaptation of J.G. Ballard's High-Rise (2015) and more recently has been announced to direct an adaptation of William Gibson's seminal Cyberpunk classic Neuromancer (1984). Natali also executive produced the Found Footage surveillance stalker film 388 Arletta Avenue (2011), the dream horror Come True (2020) and the William Gibson adapted tv series The Peripheral (2022- ) and the dream horror Come True (2020). These confirm Vincenzo Natali as one of the most promising directors of the 2000s and beyond. Co-writer Graeme Manson later co-created the hit cloning tv series Orphan Black (2013-7).
(Winner in this site's Top 10 Films of 1997 list. Winner for Best Original Screenplay, Nominee for Best Production Design at this site's Best of 1997 Awards).
---
---