---
Crew
Director/Producer – Kurt Neumann, Screenplay – James Clavell, Based on the Short Story by George Langelaan, Photography – Karl Struss, Music – Paul Sawtell, Photographic Effects – L.B. Abbott, Makeup – Ben Nye, Production Design – Theobold Holsopple & Lyle R. Wheeler. Production Company – 20th Century Fox.
Cast
Patricia Owens (Helene Delambre), Vincent Price (Francois Delambre), Al [David] Hedison (Andre Delambre), Herbert Marshall (Inspector Charas), Charles Herbert (Philippe Delambre)
---
Plot
The dead body of scientist Andre Delambre is found at his factory, his arm and head having been crushed by a hydraulic press. His wife Helene admits to having killed him. Andre's brother Francois presses her and finally gets the incredible story. Andre was experimenting, trying to create a matter teleportation device. After initial failures, he was able to teleport inanimate objects and then lab animals. Next, Andre insisted on locking himself in the lab, saying something had gone wrong and keeping his head covered by a cloth. Communicating with Helene only by written notes, Andre told her it was vitally important that she find a white-headed fly. She eventually discovered the horrible truth – how Andre had decided to transmit himself through the device, not realising that a fly was caught in the booth with him. The two bodies emerging fused, meaning that Andre ended up with the fly's head and one of its claws attached to his body, and the fly with Andre's head and one of his arms attached to it.
---
The Fly is one of the most memorable of all fifties sf/horror crossovers. The film has become a classic of the era, one that is often unjustly laughed at and held up to ridicule. It is however a classic and a fine monster movie.
The film features a script from James Clavell. Up until his death in 1994, Clavell was better known as the author of best-selling Asian themed novels like Tai-Pan (1966) and Shogun (1976). Not many seem to know that James Clavell spent his earlier pre-novelistic career as a film screenwriter – writing films such as Watusi (1959), The Great Escape (1963), 633 Squadron (1964) and The Satan Bug (1965) and even director, most notably of To Sir, With Love (1967). The Fly, adapted from George Langelaan's short story, which first appeared in Playboy in 1957, was James Clavell's first screen credit.
Clavell certainly makes some basic errors in reason. The physiological problems that might be presented by a fly with a human's head on its body and in particular a human with a fly's head on its' body are never addressed. You keep wondering how Andre is able to think and clearly draw on his own memories and scientific expertise while he has a fly's head attached to his shoulders. There are also the practical, scientific problems – a fly ingests air through its legs via a pressure system but these only work at microscopic levels and would need the force of a hurricane to be able to absorb air in order to breathe with a head at human size.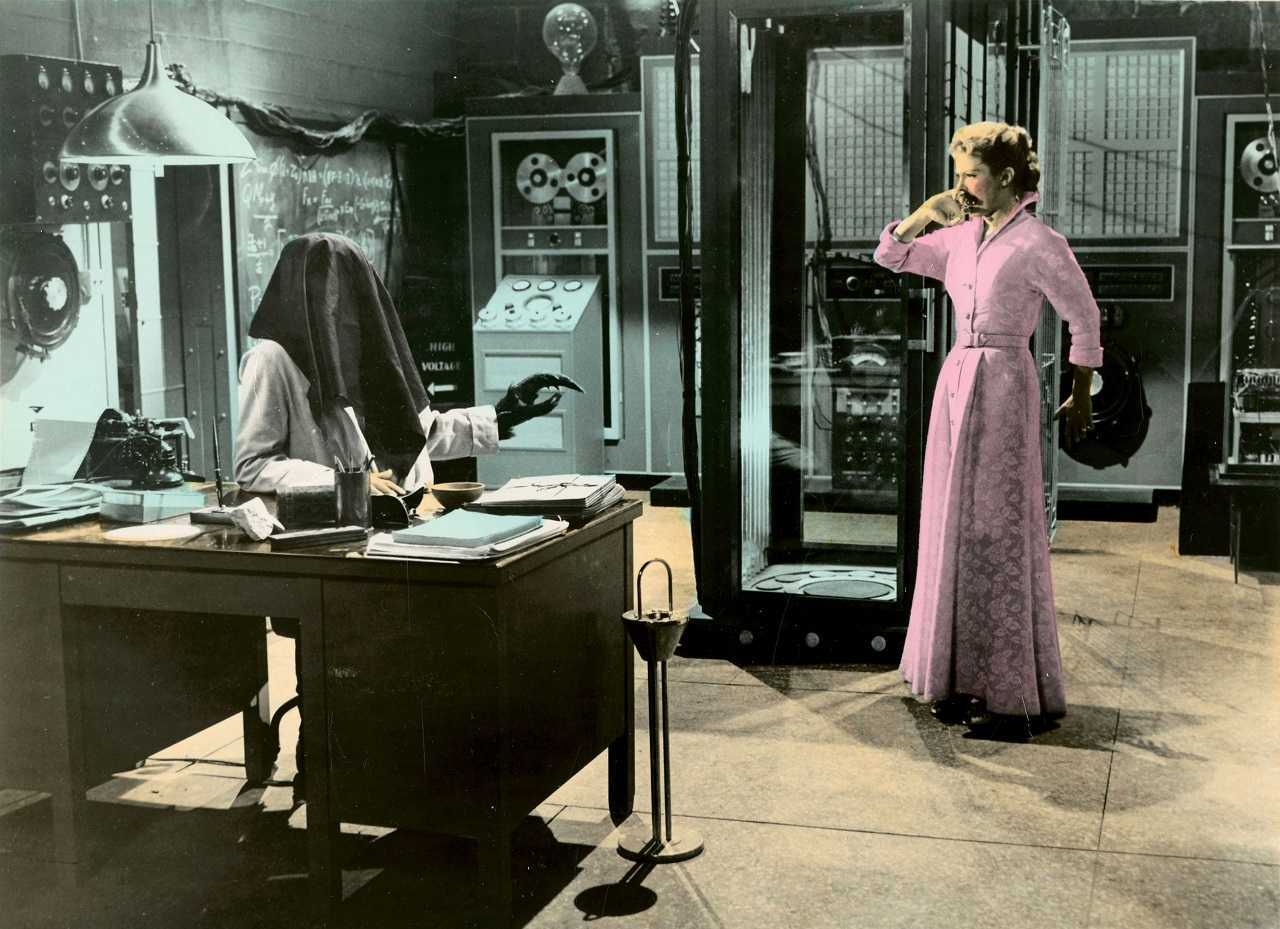 Major suspension of disbelief is something critical to enjoying The Fly. That said and done, one finds an excellent little film. What James Clavell may lack as an entomologist or logician, he certainly does not in the ability to construct a strong and suspenseful story. The story is narrated as a flashback from the point-of-view of the wife.
The lead up to the introduction of the titular mishap is sustained with great suspense – using the flashback framework, with notes left outside the forebodingly closed laboratory door and Al Hedison only communicating with his face hidden under a cloth suggesting something has gone seriously wrong inside. In fact, James Clavell is so successful in building a sense of foreboding that the actual introduction of a not-too-frightening fly's head is anticlimactic. The only misstep the script makes is in stopping for a momentarily heavy-winded dialogue on the ethics of science.
The film was directed by Kurt Neumann who made a number of other genre films in the 1950s. (See below for Kurt Neumann's other titles). The Fly is the best of Kurt Neumann's films. Neumann's direction has that pedestrianness of all 50s science-fiction films but there remain scenes that hold a particularly unnerving eerieness – the disembodied meow of the teleported cat that fails to re-materialise; the desperate chase around the sitting room to catch the white-headed fly; the always remembered, often-laughed at ending where Herbert Marshall and Vincent Price sit not hearing Al Hedison's pathetic cries of "help me", trapped in a web before an oncoming spider.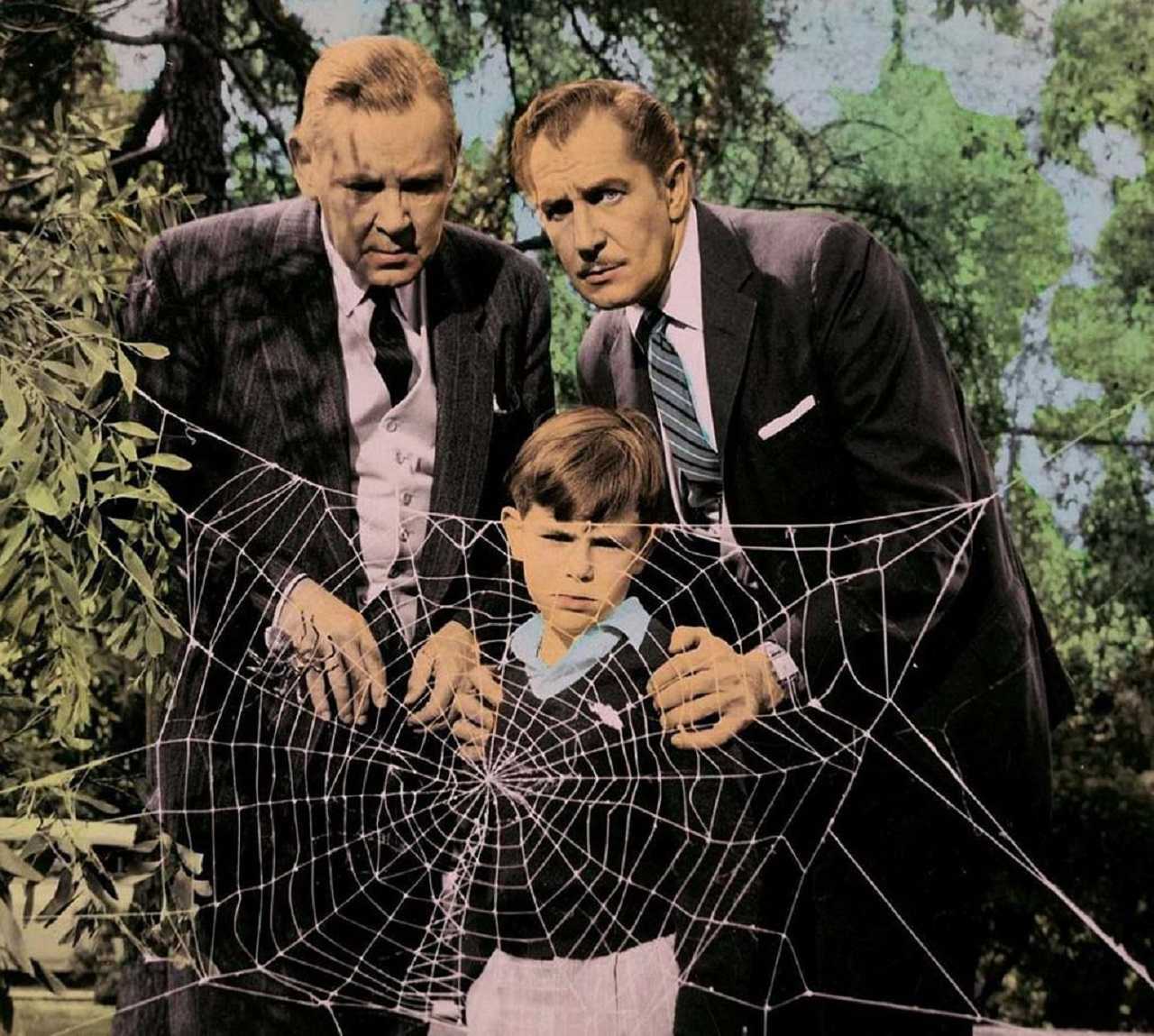 There were two ho-hum sequels Return of the Fly (1959) and Curse of the Fly (1965). The remake was The Fly (1986), directed/written by David Cronenberg who reworked the story to make it a much more logically feasible study of a man mutating into a fly hybrid. This produced a mediocre sequel The Fly II (1989). The Fly was also spoofed in Monsters vs Aliens (2009) and Hotel Transylvania (2012).
Director Kurt Neumann made a number of other genre films, along with light comedies and Westerns. He made several of the Johnny Weissmuller Tarzan films – Tarzan and the Amazons (1945), Tarzan and the Leopard Man (1946) and Tarzan and the Huntress (1947) and one with Lex Barker Tarzan and the She-Devil (1953). In the 1950s, Neumann made Rocketship X-M (1950), one of the earliest films of the 50s science-fiction boom; the Arabian Nights fantasy Son of Ali Baba (1952); the mad scientist cheapie She Devil (1957); and Kronos (1957) about an alien energy-devouring machine. Neumann died the same year that The Fly came out.
---
---