---
Crew
Director/Photography – Bradford May, Screenplay – Michael Colleary & Mike Werb, Producer – David Roessell, Music – Randy Miller, Themes – Danny Elfman, Visual Effects – Joel Gajdecki Visual Effects (Supervisor– Jon Campfens), Special Effects Supervisor – Brock Jolliffe, Makeup Effects – Kurtzman, Nicotero & Berger EFX Group Inc, Art Direction – Ian Brock. Production Company – Renaissance Pictures.
Cast
Arnold Vosloo (Peyton Westlake/Darkman), Jeff Fahey (Peter Rooker), Roxann Biggs-Dawson (Angela Rooker), Darlanne Fluegel (Dr Bridget Thorne), Nigel Bennett (Nico), Alicia Panetta (Jenny Rooker), John Novak (Ryan Mitchell)
---
Plot
As Darkman, Peyton Westlake infiltrates and breaks up a major drug sale by steroid dealers. He is followed down into his hideout by Dr Bridget Thorne, one of the doctors present during the operation after his accident. She offers him an operation to restore his nerves and a DNA sequencer to perfect his artificial skin. Westlake discovers that Bridget is working for Peter Rooker, the kingpin behind the steroid dealing operation. Rooker wants to bottle Westlake's strength as a new type of steroid and use it to create an army of supermen. During the operation, Rooker has Throne secretly insert a control device into Westlake's body that will inflict pain whenever a remote is activated. Westlake then adopts Rooker's face to break in and get the formula for the artificial skin from the safe in his home. Mistaken for Rooker by his wife Angela, Westlake finds himself emotionally connecting with and coming to have feelings for her.
---
Darkman III: Die Darkman Die was the second sequel made to Sam Raimi's cinematically released Darkman (1990). Raimi's production company Renaissance Pictures oversaw two video-made sequels, Darkman II: The Return of Durant (1995) and Die Darkman Die, both shot back-to-back by director Bradford May starring Arnold Vosloo in the title role. Die Darkman Die was originally planned as Darkman II, however The Return of Durant was bumped up in release order to capitalise on the return presence of Larry Drake.
While Darkman II was relatively so-so, Darkman III: Die Darkman Die is a far better effort. On one hand, it has many of the drawbacks that Darkman II had – the low budget shows through at times, there are a number of plot improbabilities and frank unbelievabilities (like a scene where Darkman manages to outrun a rocket on a railcar) and another earnestly bland performance from Arnold Vosloo.
However, where Die Darkman Die does work is in the central character conflict it sets up. The story twists about on a unique dilemma – that of Darkman wearing a mobster (Jeff Fahey)'s face as a disguise but in so doing coming to provide the care and attention the mobster never gave his wife and child and ending up falling for them but then being caught in the quandary of never being able to reveal his true face to them.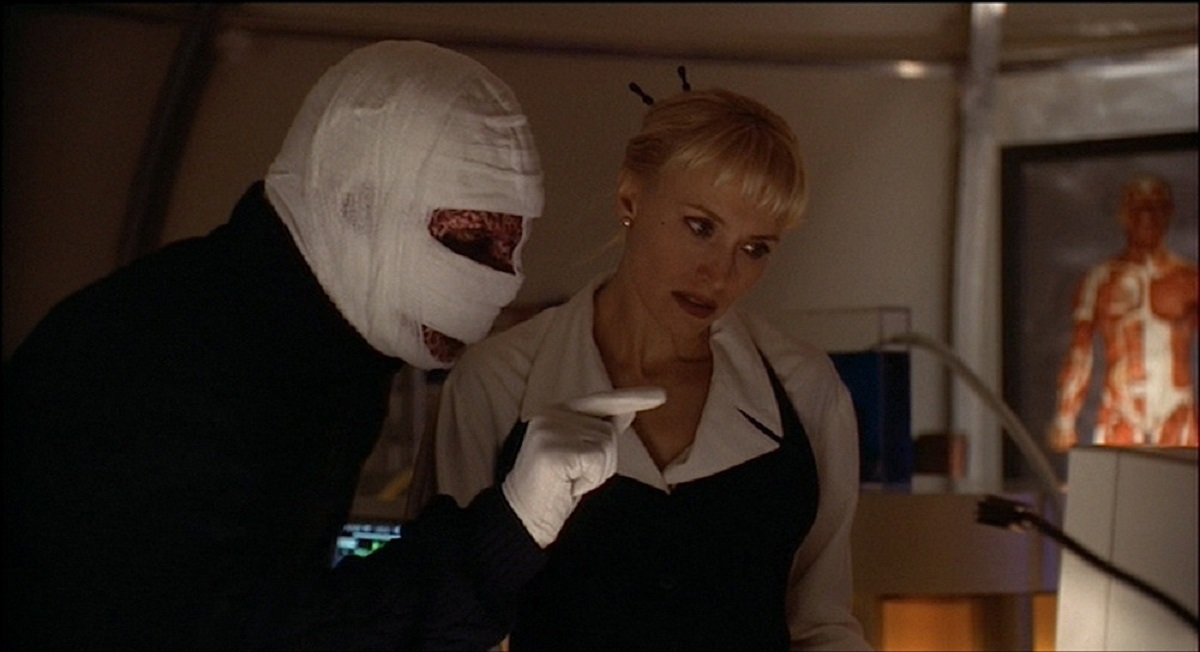 There is a scene in the middle that twists about this with considerable ingenuity – Darkman entering the house disguised as Jeff Fahey to find a surprise birthday party awaiting for him, he having to sit and perform a duet with the daughter then being caught as the police conduct a raid on the house, the wife thinking he wants a divorce and trying to confront him just as his face starts to melt.
Jeff Fahey makes for a better dual character than one might think. On the other hand, Darlanne Fluegel takes the opportunity to camp her role up, accompanied by some rather dreadful lines – "Life's a bitch – and so am I." Playing the role of the mobster's wife is Roxann Biggs-Dawson (also known variously as Roxann Biggs and Roxann Dawson), who was cast as a regular as Lieutenant Torres on tv's Star Trek: Voyager (1995-2001) just before Darkman III: Die Darkman Die premiered.
---
---