---
Crew
Director/Screenplay – Kevin Munroe, Based on the Comic Book Teenage Mutant Ninja Turtles Created by Kevin Eastman & Peter Laird, Producers – Thomas K. Gray, Galen Walker & Paul Wang, Photography – Steve Lumley, Music – Klaus Badelt, Music Supervisor – Julianne Jordan, Visual Effects Supervisor – Kith Ng, Animation Supervisor – Kim Ooi, Production Design – Simon Murton. Production Company – The Weinstein Company/Mirage Studios/Imagi Entertainment.
Voices
James Arnold Taylor (Leonardo), Nolan North (Raphael), Mitchell Whitfield (Donatello), Mikey Kelley (Michelangelo), Chris Evans (Casey Jones), Mako (Splinter), Sarah Michelle Gellar (April O'Neil), Patrick Stewart (Max Winters), Zhang Ziyi (Karai), Kevin Michael Richardson (General Aquila), Laurence Fishburne (Narrator)
---
Plot
At Splinter's bidding, Leonardo has departed to South America for training. Back in New York City, the rest of the Teenage Mutant Ninja Turtles are in disarray without his leadership. Donatello has become an IT phone support technician and Michelangelo a children's party costume performer, while Raphael leads a mysterious double-life none of the others know about, secretly going out at night as the masked vigilante The Nightwatcher. April O'Neil tracks Leonardo down in the jungle and persuades him to return to the city. Meanwhile, wealthy businessman Max Winters has employed the remnants of The Hand to track down thirteen monsters. Winters is in fact a warrior who made a deal with another dimension for immortality thousands of years ago only to find that this meant that his most loyal lieutenants were turned to stone and the monsters unleashed. Now the Turtles and The Hand come up against one another as Winters intensifies his efforts to capture the monsters in order to re-open the dimensional gateway.
---
The Teenage Mutant Ninja Turtles phenomenon was one of those fads that was an essential aspect of 1980s pop culture. The Teenage Mutant Ninja Turtles were originally created by Kevin Eastman and Peter Laird in an eponymous comic-book that they published themselves in 1984. In a very short space of time, the Turtles spread to become a phenomenon. This went stratospheric with the animated tv series Teenage Mutant Ninja Turtles (1987-96) (renamed Teenage Mutant Hero Turtles in the UK because censors decided that ninjas were too violent a concept for a children's series). This resulted in a mass-market phenomenon that included toys, costumes, T-shirts, videogames, lunchboxes, even a concert tour featuring musicians that played while in Turtle costumes.
There was a film adaptation Teenage Mutant Ninja Turtles (1990), which did a fine job of translating the characters into live-action and became for a time the most successful independent film of all time. This was followed by two disappointingly banal sequels Teenage Mutant Ninja Turtles II: The Secret of the Ooze (1991) and Teenage Mutant Ninja Turtles III (1993).
The idea of a fourth live-action Turtles film was bandied about for a time but never emerged. There were several revivals subsequently including the OVA anime Mutant Turtles: Chojin Densetsu Hen (1996), a much-disliked live-action tv series Ninja Turtles: The Next Mutation (1997) and a new animated tv series Teenage Mutant Ninja Turtles (2003-9). Subsequent to this there was a live-action reboot with Teenage Mutant Ninja Turtles (2014), which produced a sequel Teenage Mutant Ninja Turtles: Out of the Shadows (2016), the animated crossover film Batman vs Teenage Mutant Ninja Turtles (2019); a further animated tv series Rise of the Teenage Mutant Ninja Turtles (2018- ), which led to one film spinoff with Rise of the Teenage Mutant Ninja Turtles: The Movie (2022). Turtle Power: The Definitive History of the Teenage Mutant Ninja Turtles (2014) is a documentary about the Turtle phenomenon.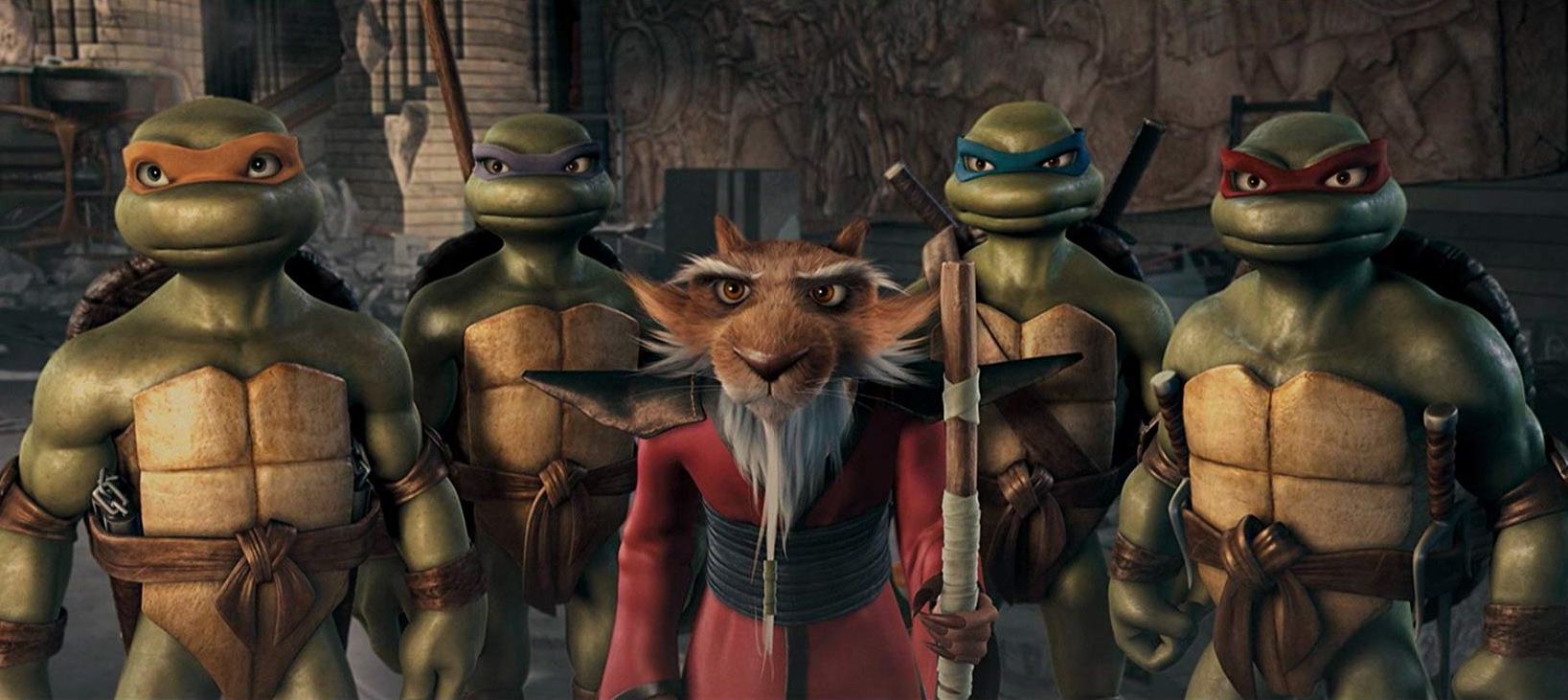 Director/screenwriter Kevin Munroe said that he saw TMNT as a fourth Teenage Mutant Ninja Turtles film. Munroe's Teenage Mutant Ninja Turtles are immediately much darker and grittier in tone that any of the other films and tv series – in fact, this film brings the Turtles back towards something of the original Kevin Eastman-Peter Laird comic books. In fact, you could easily mistake TMNT for one of the dark, gritty avenging superhero films that came out in the immediate aftermath of Tim Burton's Batman (1989).
What we have now is a much more character-driven version of the Teenage Mutant Ninja Turtles. All of the Turtles are more clearly delineated and given individual identities, whereas in the other films they were never easily able to be told apart except by remembering what colour headbands each was associated with. More to the point, TMNT portrays a rift and sense of soul-searching among the Turtles, which in the film's most striking scene emerges into outright conflict between them.
TMNT comes in finely rendered computer animation, thanks to the Hong Kong-based Imagi Entertainment studio. In particular, the street scenes come in superb 3D animation that depicts the grit and texture in great detail. In fact, the background of the film is shown in far more detail than the human characters where no real effort has been made to show them as photorealistic – although this is not a particular problem as most of these are peripheral to the non-human characters.
The action comes with a fast paced and kinetic kick to it. It is fun seeing the Turtles back in action once again – the first sequence where they head off into action against the monster on the construction site is satisfyingly exhilarating. Especially good is the fight between Leonardo and Raphael, first as The Nightwatcher and then unmasked, a sequence that is standout for Kevin Munroe having gone to the extent of pitting two of the Turtles at each other's throat in a bared confrontation. The big climactic fight between the Turtles and the stone monsters is disappointingly banal and seems like nothing more than flashing lights and big creatures taken from the book of cliches invented by Ghostbusters (1984).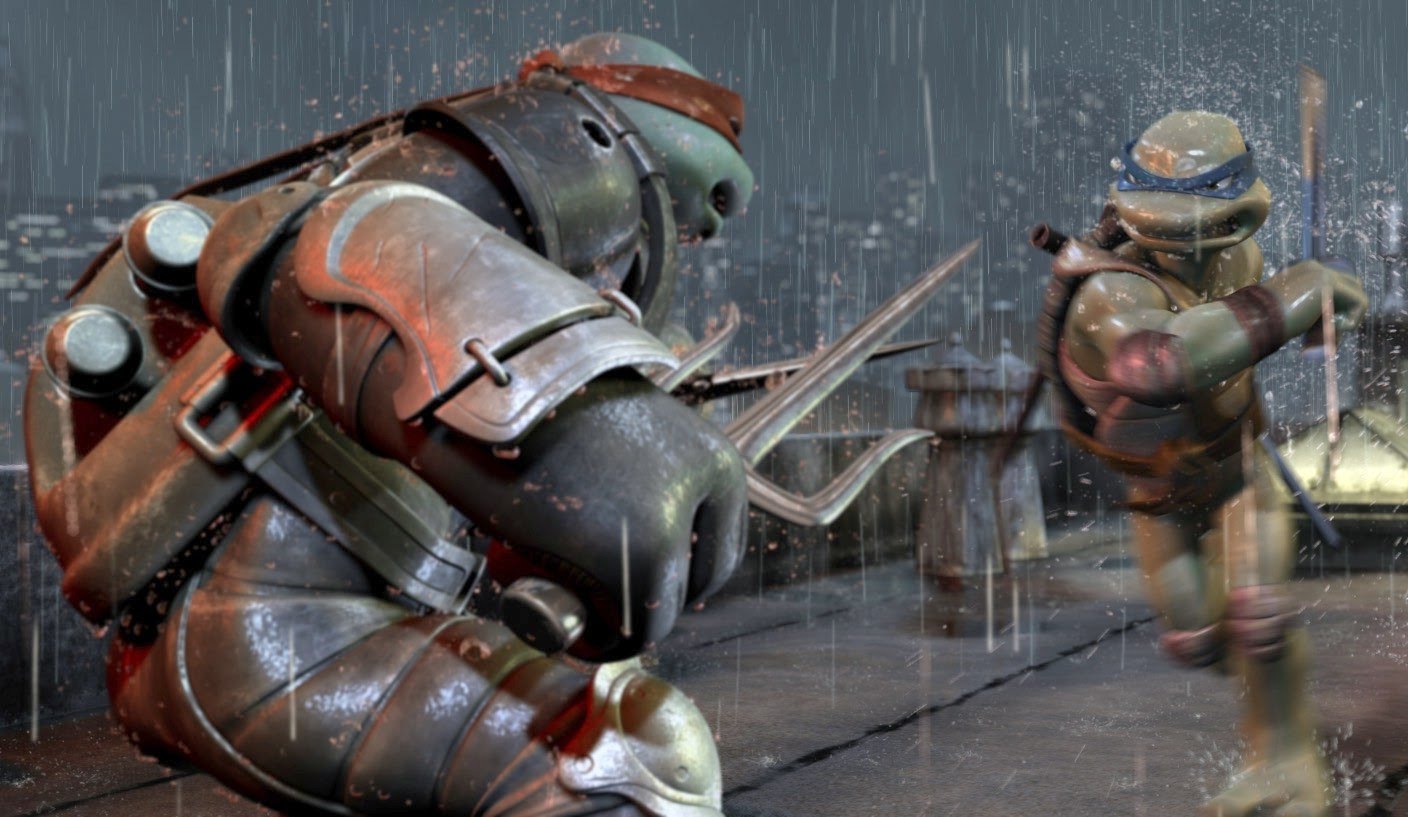 While TMNT does a fine job in bringing the Turtles back on fine fighting form and giving them a much darker, character-driven edge, it falls down is being able to find a worthy enough nemesis for them. (In fact, outside of Shredder, all of the films have been decidedly lacking in any of the animated series' equivalents of Krang or the invaders from Dimension X). Here we get an immortal villain (voiced by Patrick Stewart) and much by-the-numbers talk about gateways to other dimensions, monsters unleashed, immortality pacts yada yada. The script comes with numerous randomly contrived conditions that are there solely to create suspense – the need to have to recapture all thirteen monsters before the gateway can be reopened, the warrior's friends having been turned to stone. Still, it is welcome to see the Turtles back on screen again and TMNT is certainly a whole world better than any of the live-action sequels.
TMNT was the first film from Imagi Animation Studios. Imagi Animation next went onto make the big-screen version of the Japanese anime Astro Boy (2009). Kevin Munroe next went onto the live-action Dylan Dog: Dead of Night (2010), followed by the animated Ratchet & Clank (2016) and Troll: The Tale of a Tail (2018).
---
---