aka Darkman II: Durant Returns
---
Crew
Director/Photography – Bradford May, Screenplay – Steven McKay, Story – Robert Eisele & Lawrence Hertzog, Producer – David Roessell, Music – Randy Miller, Themes – Danny Elfman, Visual Effects – John Gajdecki Visual Effects (Supervisor – Jon Campfens), Special Effects Supervisor – Brock Jolliffe, Makeup Effects – Kurtzman, Nicotero & Berger EFX Group, Art Direction – Ian Brock. Production Company – Renaissance Pictures.
Cast
Arnold Vosloo (Darkman/Dr Peyton Westlake), Larry Drake (Robert G. Durant), Kim Delaney (Jill Randall), Renee O'Connor (Laurie Brinkman), Jesse Collins (Dr David Brinkman), David Ferry (Eddie), Lawrence Dane (Dr Alfred Hathaway), Rod Wilson (Ivan Druganov), Jack Langedijk (Rollo Latham)
---
Plot
Robert Durant emerges from the coma he has been in since the helicopter crash and immediately announces plans to take back control of his crime empire, which has lost its grip under his lackeys. His idea is to start manufacturing particle-beam weapons to sell to right-wing anti-crime vigilante groups so that they will eliminate the competition, at the same time as making a profit. Meanwhile, Peyton Westlake reads in a scientific journal about Dr David Brinkman who is near developing a permanent artificial skin that would get around the 99-minute instability that Westlake experiences with his own formula. While contacting Brinkman, Westlake becomes caught in the midst as Durant's hoods try to forcibly commandeer his factory for the manufacture of the weapons.
---
This was the first of two direct-to-video sequels to Sam Raimi's dark avenging superhero film Darkman (1990). In fact, The Return of Durant was shot back-to-back with the subsequent sequel, Darkman III: Die Darkman Die (1996), both using the same director and cast. The Return of Durant was originally intended as the third film in the series but was released before the other film on the reasoning that the return of Larry Drake's villain from the first film would be a bigger drawcard.
Such was an astute decision as Larry Drake is the best thing about the film. Not that Darkman II: The Return of Durant is a particularly bad film – on the whole, it is an entirely average effort. However, Larry Drake's presence is excellent – he is even better here than he was in the first film. The scheme the plot outfits him with – to regain control of crime in the city by selling particle beam weapons to right-wing vigilante groups so they will wipe out the opposition – is positively ingenious.
Unfortunately, Darkman II: The Return of Durant never rises to the potential brimming inside it. Director Bradford May gives it the frustratingly banal look of a made-for-tv movie. It lacks any distinctive flair – although there is one good scene where Renee O'Connor tries to escape in a taxi, only to be caught in a traffic jam and unable to decide which hood – the real one or Darkman wearing his face – running along on either side of the car is the one to trust.
The plot does also has an annoying number of holes and outright implausibilities – journalist Kim Delaney conducts an amazing intuitive leap where she tries to trace the fingerprints left by Darkman on a cup, finds that he has none, tracks down his post office box and then deduces from this that he is Westlake. The climax of the film rather unbelievably has Darkman being able to put on a pursuing hood's face after just popping behind a crate.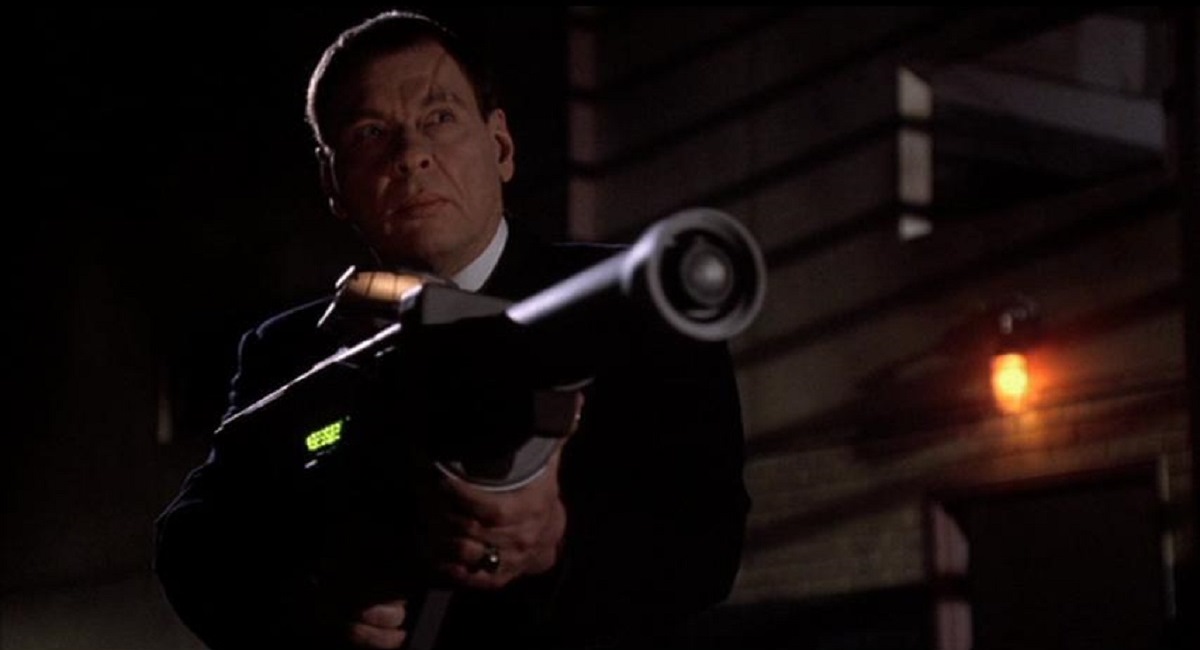 Various campy one-liners are served up – hoods noting "that's what violence in cartoons does" in the midst of beating people up; one hood being crisped until all that is left is his steel hip joint whereupon Drake is given to comment: "Hip-hip-hooray." One should not complain too much as this is only following in the first film's footsteps. (Larry Drake does have the amusingly quotable line: "Paranoia is total awareness"). One of the sillier aspects of the first film that the sequel chooses to copy are the zooms inside Darkman's brain every time he gets angry – but done here on a low-budget and represented by montage footage of A-bombs and skulls, it is an effect that is even sillier than the first time.
Arnold Vosloo, replacing Liam Neeson from the first film, is poorly cast. He comes with what sounds like a South African accent and where he should be projecting heroic stature or dark intensity, his Westlake is annoyingly bland. The subsequent sequel, Darkman III: Die Darkman Die, is an altogether better film.
The film is notable for the casting of Arnold Vosloo, later to become the title character in The Mummy (1999) and of Renee O'Connor, who shortly after was cast as the sidekick Gabrielle in Renaissance's hit tv series Xena: Warrior Princess (1995-2001) and here plays a stripper.
Director Bradford May has worked as a cinematographer and director mostly in tv. He has directed numerous episodes of shows ranging from Hawaii Five-O to The Twilight Zone, JAG and NCIS, as well as tv movies like Lethal Lolita: The Amy Fisher Story (1992), Marilyn and Bobby: Her Final Affair (1993) and Madonna: Lost Innocence (1994). His other ventures into genre material include the disaster mini-series Asteroid (1997), the monster movie Gargantua (1998), the killer cyborg film Millennium Man (1999), the occult film Devil's Prey (2001) and The Storm (tv mini-series, 2009) about weather control.
---
---