---
Crew
Director – Steve Barron, Screenplay – Bobby Herbeck & Todd W. Langen, Story – Bobby Herbeck, Based on the Comic-Book Created by Kevin Eastman & Peter Laird, Producers – David Chan, Kim Dawson & Simon Fields, Photography – John Fenner, Music – John Du Prez, Animatronic Creatures – Jim Henson's Creature Workshop (Creative Supervisor – John Stephenson), Special Effects – Special Effects, Unlimited (Supervisor – Joey DiGaetano), Production Design – Roy Forge Smith. Production Company – Golden Harvest/Limelight Productions/Gary Propper.
Cast
Leif Tilden (Donatello), Michelan Sisti (Michaelangelo), David Forman (Leonardo), Josh Pais (Raphael), Judith Hoag (April O'Neil), Elias Koteas (Casey Jones), Kevin Clash (Splinter), Michael Turney (Danny Pennington), James Saito (Shredder), Jay Patterson (Charles Pennington), Toshishiro Obata (Tetsu), Raymond Serra (Chief Sterns)
Voices
Corey Feldman (Donatello), Robbie Rist (Michaelangelo), Brian Tochi (Leonardo), Josh Pais (Raphael), David McCharen (Shredder)
---
Plot
New York City is struck by a mystery crimewave. Channel 9 newswoman April O'Neil investigates, believing that the crimewave is being conducted by a gang of masked ninja known as The Foot. The Foot respond by attacking her when she comes too close. She is saved and befriended by Leonardo, Donatello, Michelangelo and Raphael, four hip turtles with ninja skills who live in the sewers. They explain that they were ordinary turtles that were mutated into intelligent humanoids after bathing in spilt radioactive waste. They were then then trained in ninja ways by their sensei Splinter, a mutant rat. Shredder, the masked ninja who heads The Foot, is turning the juvenile delinquents of the city into an army. Determining that the ninja turtles are in his way of his plans, Shredder has The Foot abduct Splinter.
---
Dreamed up as a joke by Kevin Eastman and Peter Laird and launched as a comic-book because they "wanted to give cute animals a kick in the ass," the Teenage Mutant Ninja Turtles proved one of those creative wild cards that succeeded far beyond the dreams of its creators. Eastman and Laird initially started parodying Frank Miller's Ronin comic-book, along with elements borrowed from Miller's work on Marvel's Daredevil. They put out an initial single-issue run of 3000 in 1984 using tax refund money. This proved successful and the Turtles were spun out into an ongoing series. Laird and Eastman had put out less than a dozen issues of Teenage Mutant Ninja Turtles when they were approached by marketing people who wished to spin the Turtles off as a toy line. To further this, the marketers approached the animation studio Murakami-Wolfe-Swenson to launch an animated tv series. After an initial five-part mini-series, Teenage Mutant Ninja Turtles (1987-96) continued for ten seasons of 193 half-hour episodes.
It is largely the animated tv series that made the Teenage Mutant Ninja Turtles into the phenomenon they became. The animated series made a virtue of the pop culture humour – the California surfer speak, the pizza, the skateboards – and pitched the Turtles far more to the children's demographic than the comic-book, which was much darker in tone. In a matter of five years, the four hip, pizza-munching chelonians with the names of Renaissance artists were propelled from an independently produced graphic novel to a mass-market comic-book to a cartoon series and a toy and accessory marketing phenomenon to finally three live-action films. The irony of the Teenage Mutant Ninja Turtles phenomenon is that Laird and Eastman's spoof concept managed to not only kick the ass of aforementioned cutsie animals but entirely take over the popular culture niche they previously filled, spawning numerous imitators.
One of the spillovers from the massive popularity of the animated series was this live-action film. It was the first of three live-action Teenage Mutant Ninja Turtles films to be made (see below for the others). The film is a faithful rendering of the comic-book (or perhaps more so of the animated series) onto the screen – mindedly, it would have been a massive failure if it wasn't, for the tv series is nothing without its funky, idiosyncratic style.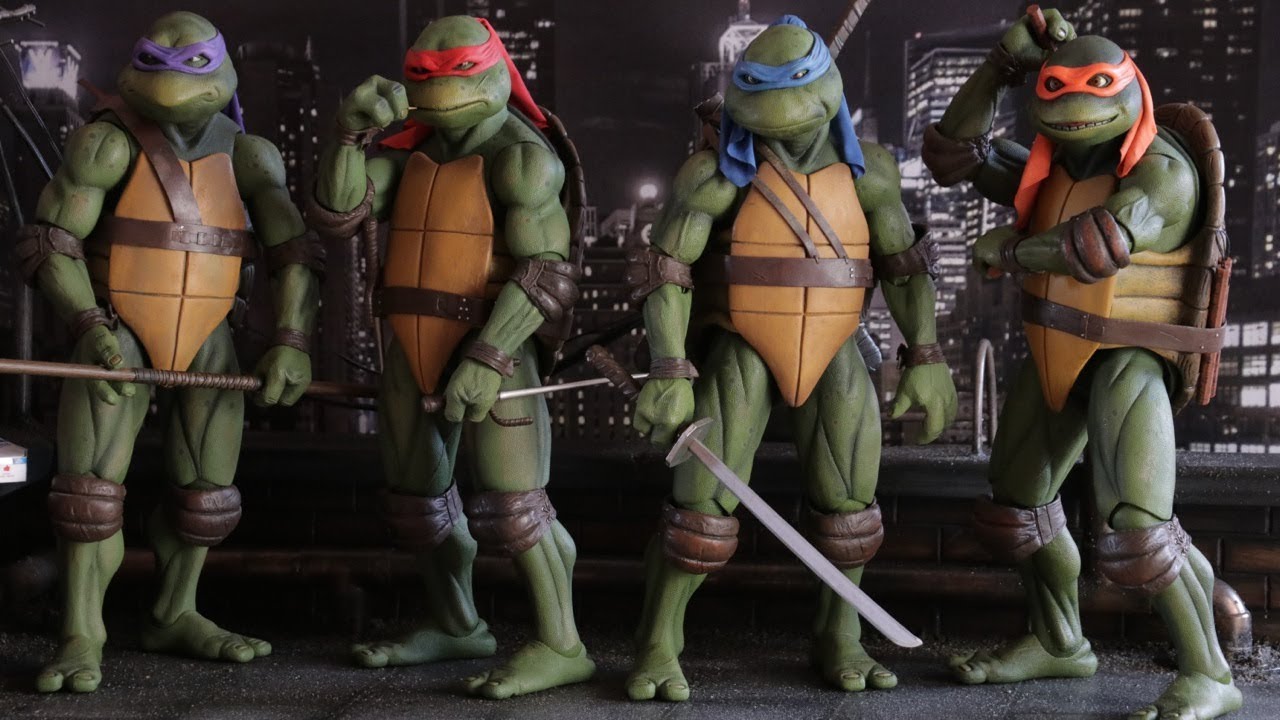 As such, Teenage Mutant Ninja Turtles succeeds far more than just being a film with novelty creatures in costumes, it is an aggressive assault of hip California teenspeak and on-the-ball junk culture margin notes. Well, that is what I wrote back in 1990. Seeing the film again in 2013, it is interesting to see how well it has held up over the years, especially after the Teenage Mutant Ninja Turtles fad peaked and faded. The answer is surprisingly well. There is a certain retro forcedness about the manic barrage of surfer speak, pizza eating, skateboards, even games of Trivial Pursuit and an excruciating Turtle rap song over the end credits. It seems so distinctly late 1980s/early 90s, yet also holds its own undeniable charm.
Teenage Mutant Ninja Turtles is a good deal of fun. The fights come sharp-paced and deliriously silly. The gungily realistic sewer-level and backstreet sets prove a convincing milieu for the infectious lunacy. Especially good are the animatronic turtle costumes, which offer an amazingly versatile range of expressions, while the actors inside perform gymnastics, mid-air flips and martial arts moves that would rival any real master of the art. Through this, the film does a great job of letting the Turtles emerge as distinctive characters. It is largely due to director Steve Barron's ability to handle characters – he coming from experience with the Jim Henson Creature Workshop (who also handle the creature effects here) – and take them seriously that the film works. Think of how badly the very similar Howard the Duck (1986), which failed to do exactly this, was in comparison.
The minus side of the Teenage Mutant Ninja Turtles films is that while they brought the Turtles to life, they failed to come up with any interesting nemeses for the Turtles – there were no Invaders from Dimension X or Leatherheads, never any super-villains like Krang and Lord Dregg. The stories in the films were stuck down at the level of mundane plots, not unlike the superhero series of the 1970s and earlier – see examples like Adventures of Superman (1952-8), The Amazing Spider-Man (1977-9) and The Incredible Hulk (1977-81) – that shuffled their heroes through mundane crimefighting plots and failed to come up with any opponents worthy of their superheroes.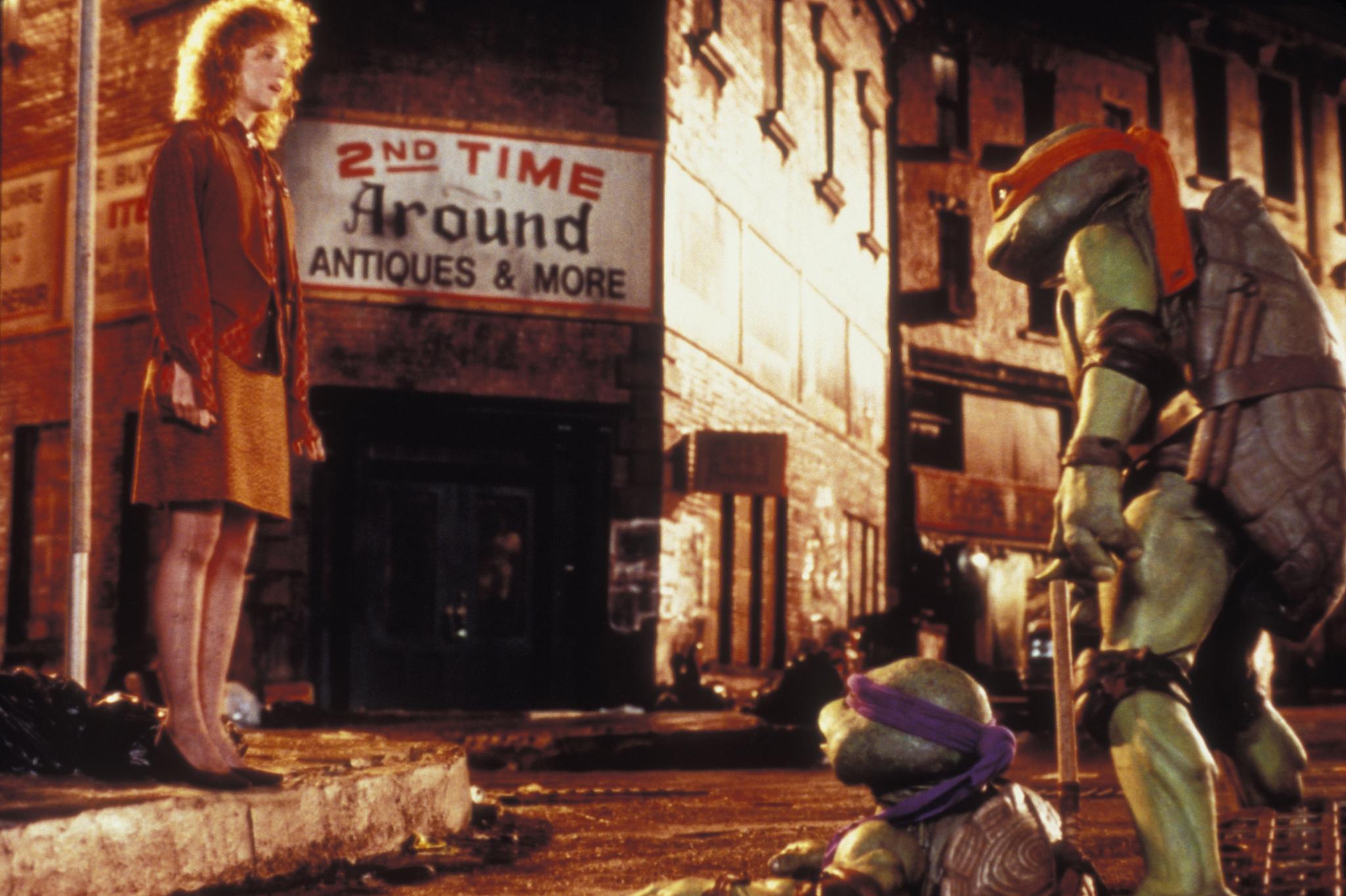 Here we get a dull plot about Shredder organising an army of juvenile delinquents – in the animated series, The Foot was an army of robotic soldiers, which was clearly too expensive an idea for the film to consider. While the Turtles themselves hold up well as characters, the portrayals of juvenile delinquents seem laughably dated now, they seeming like no more than the runaway kids out of a Disney film – ragamuffins with a mild degree of attitude, some grime, and artfully torn clothing who are cute and decent not far beneath the surface.
The other major minus of the film is the irritatingly smartass performance given by Elias Koteas. In the two decades since, Elias Koteas has emerged as a serious actor, delivering sterling character performances in almost everything he has appeared in – see works like Crash (1996), Defendor (2009), The Killer Inside Me (2010) or Shutter Island (2010) and his work with Atom Egoyan. At age 29 here, he was clearly some agent's idea of a hot rising star and cast to appeal to such, however the character's laidback cockiness proves irritating to the max. On the other hand, Judith Hoag makes for a pertly sexy April O'Neil.
The most peculiar thing about Teenage Mutant Ninja Turtles was the moral panic it caused back at the time of its release with various parental groups outraged at the violence. Seeing the film today, it seems laughable that anybody could possibly be upset by the cartoon martial arts. This created an absurd kickback, causing the martial arts scenes to be watered down to a wholly anodyne level in the sequel, while in the UK, the tv series was even renamed Teenage Mutant Hero Turtles as though the idea of a ninja was too offensive for children.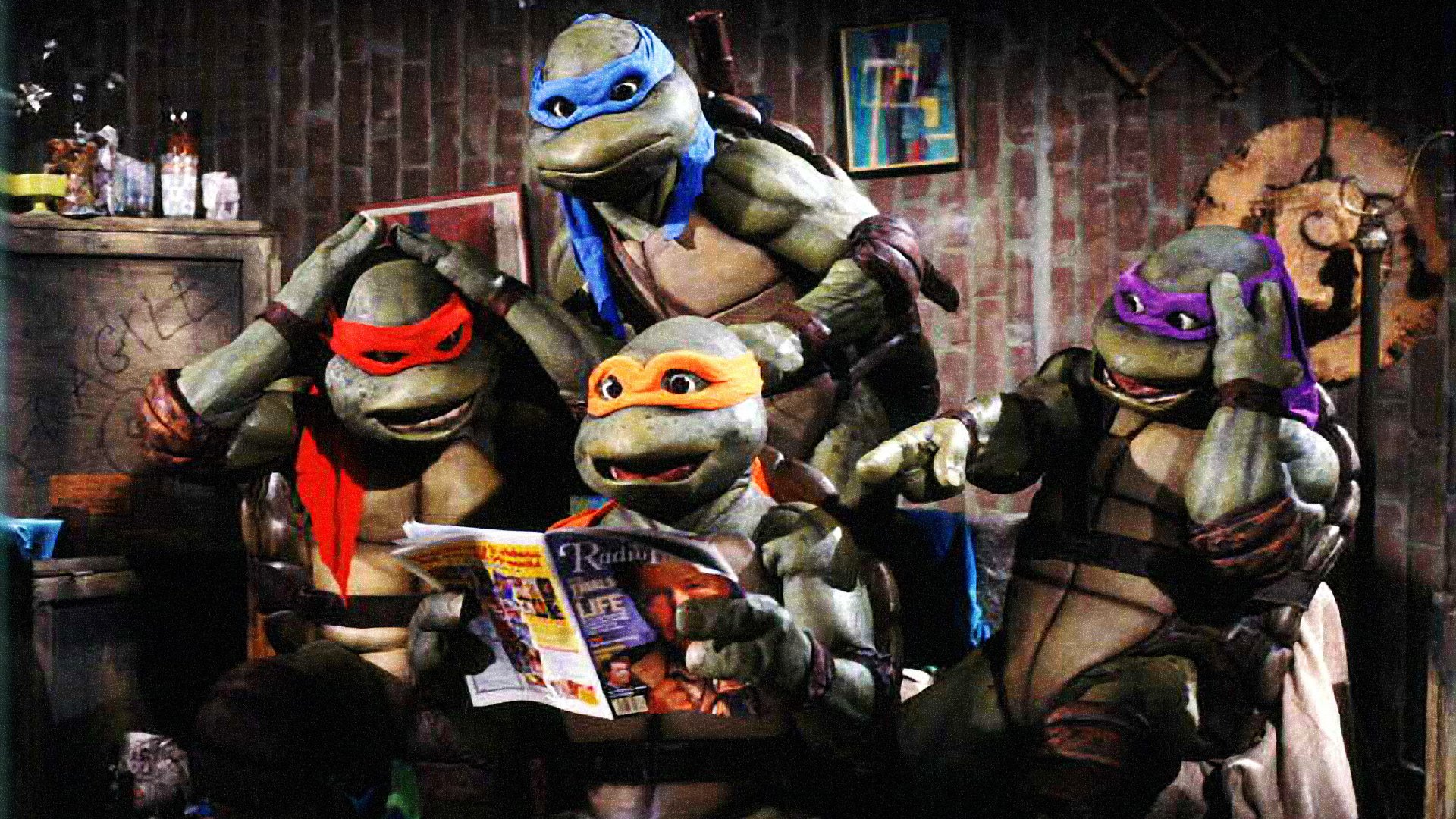 Teenage Mutant Ninja Turtles was directed by Irish born director Steve Barron. Barron emerged during the 1980s with iconic and innovative music videos for artists like Bryan Adams, A-Ha, Dire Straits, The Human League, Michael Jackson, Madonna, Tears for Fears and others. Barron's first feature film was the computer in love tale Electric Dreams (1984) and he then went onto work with the Jim Henson Creature Workshop, directing episodes of the tv series The Storyteller (1988). His experience with the Henson Workshop netted him the assignment of Teenage Mutant Ninja Turtles. He would go onto direct a variety of other creature effects driven films with Coneheads (1993), The Adventures of Pinocchio (1996), Rat (2000), Supervized (2019) and the tv mini-series Merlin (1998), Arabian Nights (2000), Dreamkeeper (2003), Delete (2013) and Around the World in 80 Days (2021), as well as to found Canada's Mainframe Entertainment and produce the world's first computer animated tv series with ReBoot (1994-2002).
There were two live-action sequels, Teenage Mutant Ninja Turtles II: The Secret of the Ooze (1991) and Teenage Mutant Ninja Turtles III (1993). A fourth film was planned but by that point the Turtles phenomenon was waning. The Turtles were subsequently revived in the live-action tv series Ninja Turtles: The Next Mutation (1997-8), which had the novelty of introducing a female Turtle Venus de Milo, but this was highly unpopular and lasted for only 26 episodes; a further animated series Teenage Mutant Ninja Turtles (2003-9); and the animated film TMNT (2007). Teenage Mutant Ninja Turtles (2014) was a live-action reboot from producer Michael Bay and director Jonathan Liesbesman and was followed by a sequel Teenage Mutant Ninja Turtles: Out of the Shadows (2016). This was followed by a further animated crossover film Batman vs Teenage Mutant Ninja Turtles (2019) ; a further animated tv series Rise of the Teenage Mutant Ninja Turtles (2018-20), which led to one film spinoff with Rise of the Teenage Mutant Ninja Turtles: The Movie (2022); and Teenage Mutant Ninja Turtles: Mutant Mayhem (2023). Turtle Power: The Definitive History of the Teenage Mutant Ninja Turtles (2014) is a documentary about the Turtle phenomenon.
---
---