---
USA. 1973.
Crew
Director – Mike Nichols, Screenplay – Buck Henry, Based on the Novel by Robert Merle, Producer – Robert E. Relyea, Photography – William A. Fraker, Music – Georges Delerue, Photographic Effects – Albert Whitlock, Special Effects – Jim White, Production Design – Richard Sylbert. Production Company – Icarus Productions/Avco Embassy.
Cast
George C. Scott (Jake Terrell), Trish van der Vere (Maggie Anderson Terrell), Paul Sorvino (Curtis Mahoney), Fritz Weaver (Harold De Milo), Jon Korkes (David/William C. Conklin), John Dehner (Wallingford)
---
Plot
At his research institute in the Florida Keys, Dr Jake Terrell has spent four years teaching the dolphin Alpha to speak English. While Terrell is away on the mainland, the Franklin Foundation that bankrolls his research comes, removing Alpha and its mate. Terrell discovers the Foundation is in fact a covert government agency. He realises that they intend to use the dolphins to plant limpet mines on the undersides of boats and are now planning to use Alpha and his mate to assassinate The President.
---
The Day of the Dolphin comes with the earnestness of a film determined to make a statement big, loud and with the deadening self-importance of the films beloved of the Oscar awards. The Day of the Dolphin was made by director Mike Nichols, who had just come from making no less than the likes of Who's Afraid of Virginia Woolf? (1966), The Graduate (1967), Catch 22 (1970) and would go onto subsequent works such as Silkwood (1983), Working Girl (1987), Postcards from the Edge (1990), Closer (2004) and Charlie Wilson's War (2007). The film has a script from writer-comedian Buck Henry (who had written the scripts for most of Nichols abovementioned films), as well as co-created tv's Get Smart (1965-70). Henry adapts a 1967 work by French sf/historical novelist Robert Merle.
The Day of the Dolphin is slow-moving, even occasionally impressive. The dolphin scenes are wonderful, with beautiful images of them frolicking, swimming with humans, even some amazing footage of a dolphin giving birth. However, the film essentially hinges on whether or not one is prepared to sufficiently suspend disbelief to accept that a dolphin can talk, squawking as they do like inarticulate Smurfs. This reviewer couldn't.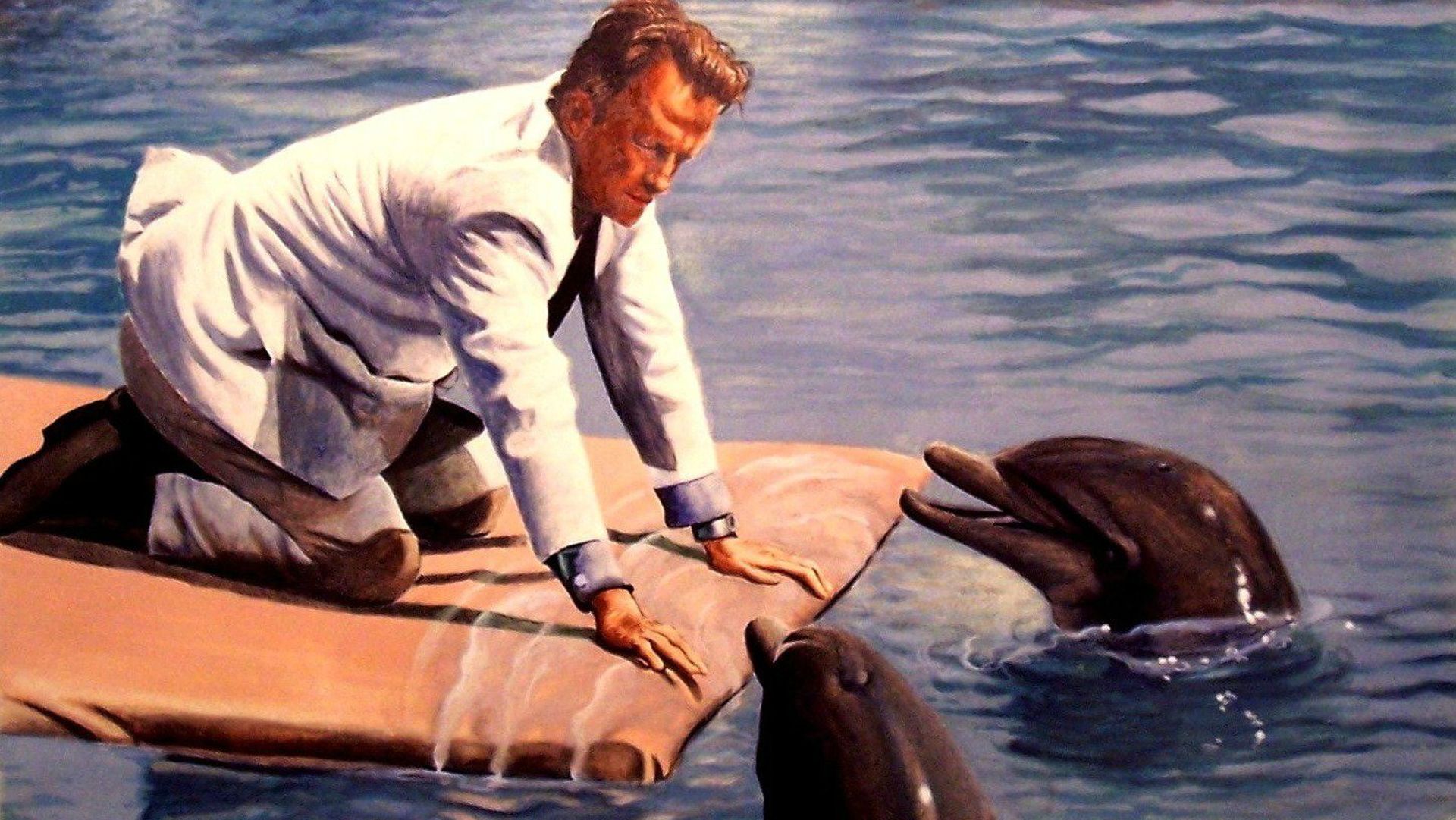 There is however one scene with Fa racing around the pool, battering against the dividing plate, finally saying "Fa want Bee now," which has an eventually triumphant power in a slow, almost-Kubrickian way. However, such evocations of the dolphin's intelligence are few. It is a problem not exactly helped by the story's hurried tossing away of developing the dolphin's intelligence for a suspense plot, leaving the film as little more than Flipper (1964-7) with raised consciousness.
Director Mike Nichols later returned to the genre with the interesting werewolf film Wolf (1994), the unfunny alien visitor comedy What Planet Are You From? (2000) and the stunning AIDS and angels mini-series Angels in America (2003). Intriguingly enough, The Day of the Dolphin was during the late 1960s a project that was to be directed by Roman Polanski, which would almost certainly have resulted in a very different film.
---
Trailer here
---