---
Crew
Director/Story – Kirk DeMicco, Screenplay – Kirk DeMicco & Bob Moreland, Producers – Barry Sonnenfeld & John H. Williams, Music – Chris P. Bacon, Music Supervisors – Joel Sill & Curt Sobel, Animation Director – Adam Wood, Production Design – Bo Welch. Production Company – Starz Animation/Vanguard Animation/Odyssey Entertainment/The Weinstein Company.
Voices
Andy Samberg (Ham III), Cheryl Hines (Lieutenant Luna), Patrick Warburton (Commander Titan), Jeff Daniels (Zartog), Carlos Alazraqui (Houston), Zack Shada (Comet), Kristin Chenoweth (Kilowatt), Omid Abtahi (Dr Jagu), Patrick Breen (Dr Bob), Jane Lynch (Dr Poole), Stanley Tucci (Senator), Kath Soucie (Dr Smothers), Kenan Thompson (Ringmaster)
---
Plot
NASA's Infinity Probe travels through a wormhole and lands on the planet Malgor where it crashes into the home of the cruel Zartog. Zartog finds out how to operate the probe's machinery and uses it to terrorize the other natives. Wanting to find out what happened, NASA decides to send an exploratory mission manned by several chimpanzees through the wormhole. However, the senator in charge decides that the trained chimps they have do not look heroic enough and wants one that has the heroic profile of Ham, the first chimpanzee in space. It is discovered that Ham has a grandson Ham III who is working as a circus cannonball and so they recruit him. Ham III has no interest in the mission or its pompous Commander Titan, although is attracted to the cute navigator Luna. The Horizon is launched through the wormhole with the three of them aboard. It lands on Malgor where they become embroiled in fighting against Zartog who has used the Infinity Probe to become a tyrant.
---
Space Chimps was the third animated film from Vanguard Animation and Odyssey Entertainment, the companies that previously made the amiable talking carrier pigeon film Valiant (2005) and the irritating fairytale parody Happily N'Ever After (2006). Space Chimps was the directorial debut of Kirk DeMicco who previously wrote Frederik Du Chau films like Quest for Camelot (1998) and Racing Stripes (2005). The film even comes produced by Barry Sonnenfeld, the director of The Addams Family (1991) and Men in Black (1997).
Vanguard clearly have ambitions to become one of the studios competing for the box-office animation dollar. Although as yet, they do not quite have what it takes to stand up alongside Pixar or DreamWorks. Their work is more down at the level of other would-be's like Blue Sky Studios. That said, Space Chimps is an amiable, if lightweight, step in the right direction and emerges with an unpretentious good naturedness.
I always wanted to see Space Chimps from the time I heard about its concept in 2006 – an animated film devoted to the exploits of NASA's space chimpanzees. It seemed a particularly novel and unique idea for an animated film. On screen, the basic concept plays out with a degree of predictability. Outside of the talking NASA chimp concept, most of the film's story is constructed from various science-fiction conventions – wormholes, alien tyrants, an exploding volcano, cute aliens. The characters tread fairly conventional arcs – the hero who triumphs through his brash and cocky charm, the tightass by-the-book mission commander, the villainous bad guy, the nerd geeks back at mission control, the self-important senator who wants to shut the program down.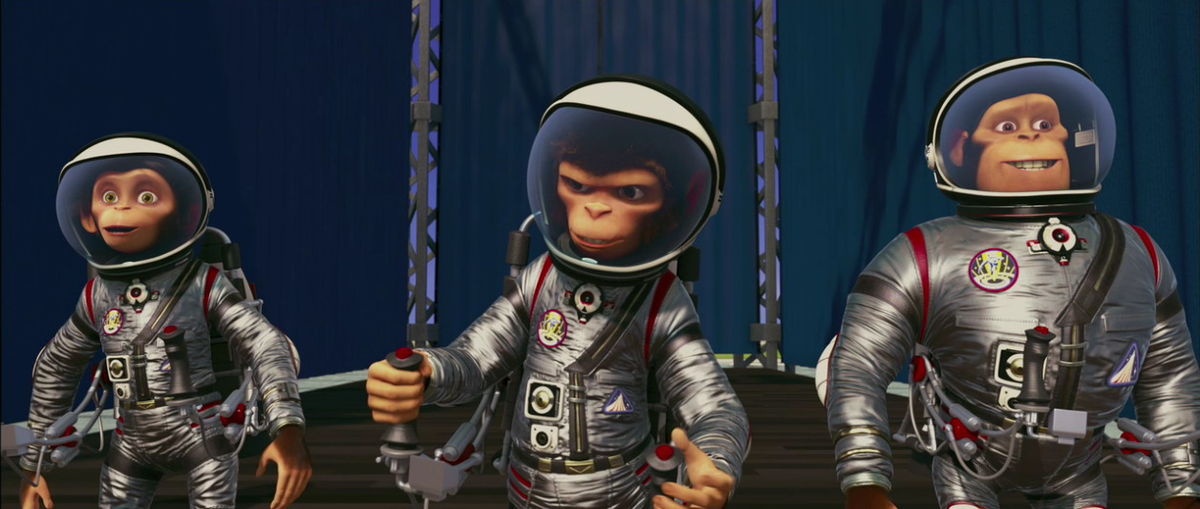 Space Chimps strays an uncertain line between giving into easy popular culture humour that has dragged down a number of recent animated films – the Shrek sequels, the aforementioned Racing Stripes. There are a good many groan-inducing ape-related puns – references to a Primate Directive, about chimp-provising, referring to Commander Titan as "furious george", while the chimps wield banana-berry phones and so on – and pop culture in-joke references to the likes of Star Trek (1966-9) and 2001: A Space Odyssey (1968). Every so often there is one or two of these jokes that amuses you with its cleverness – like when the chimps at mission control say "I picked a bad week to stop eating bananas" – see the disaster movie spoof Airplane/Flying High (1980) to get the joke. Space Chimps treads a wavering line between surrendering to this gag-driven, popular-culture humour but mostly finds its feet and comes out winningly.
One of the minus points is the voicing by Andy Samberg, a popular Saturday Night Live (1975– ) stand-up comedian. Samberg gives the central role of Ham a hip, laidback sarcasm and seems too knowingly cynical in the part. He is buoyed out in the other direction by voiceover regular Patrick Warburton who is near perfect as Commander Titan and by Jeff Daniels who has a ball as the alien tyrant. It is hard not to like a film that manages to deliver the basics with appealingly unpretentious amiability. Certainly, a studio like Pixar could have had one sighing and teary-eyed at the adventure and laughing at the sly gags packed away, but Vanguard do a perfectly commendable job in the delivery.
Space Chimps 2: Zartog Strikes Back (2010) was a sequel. Kirk DeMicco next made the prehistoric animated comedy The Croods (2013) for DreamWorks and Vivo (2021) for Sony Pictures Animation.
---
---