---
Crew
Director – Neil Burger, Screenplay – Leslie Dixon, Based on the Novel The Dark Fields by Alan Glynn, Producers – Leslie Dixon, Ryan Kavanaugh & Scott Kroopf, Photography – Jo Willems, Music – Paul Leonard-Morgan & Nico Muhly, Visual Effects – Comen VFX (supervisor – Tim Carras), Look FX, Inc. (Supervisor – Dan Schrecker) & Zoic Studios (Supervisor – Rocco Rassionino), Special Effects Supervisor – Connie Brink, Makeup Effects – Keith Palmer, Production Design – Patrizia von Brandenstein. Production Company – Relativity Media/Virgin Produced/Many Rivers/Boy of the Year/Intermedia.
Cast
Bradley Cooper (Eddie Morra), Robert De Niro (Carl Van Loon), Abbie Cornish (Lindy), Andrew Howard (Gennady), Johnny Whitworth (Vernon Gant), Tomas Arana (Man in Tan Coat), Anna Friel (Melissa Gant), Darren Goldstein (Kevin Doyle), Brian A. Wilson (Detective), Robert John Burke (Pierce), Ned Eisenberg (Morris Brandt), Patricia Kalember (Caroline Atwood), T.V. Carpio (Valerie Wai), Richard Bekins (Hank Atwood)
---
Plot
Eddie Morra is a would-be writer whose life is a mess. His girlfriend Lindy regards him as a loser and walks out. Eddie then encounters his former brother-in-law Vernon on the street. Vernon is a former drug dealer but now claims to be a pharmaceutical rep. He gives Eddie a sample of a new unlicensed drug called NZT-48 that he claims is able to open up untapped areas of the brain. After taking it, Eddie is astonished – he is able to think clearly, deduce vast information based on scanty clues and completes chapters of his book overnight. When Eddie returns to get more pills, he finds that Vernon has been shot. Taking Vernon's supplies of the NZT-48, he uses them to turn his life around and learn incredible new skills. He devises amazing plans but these need capital and he is forced to take a loan from a Russian thug. He enters the stockmarket and rockets to massive success overnight. His amazing rise brings him to the attention of top financier Carl Van Loon who wants to employ Eddie's insight on a big merger. Eddie is soon being followed by strange people wanting his supplies of the NZT and discovers that Vernon's other customers have all died or become seriously ill. He then finds that the NZT is causing blackouts during which he may have killed a woman. In his attempts to quit the drug, he realises that doing so may destroy his mind.
---
Limitless follows a spate of films that have dealt with the enhancement of the mind, including the likes of Charly (1968) and its remake Flowers for Algernon (2000), Powder (1995), Headspace (2005) and perhaps the film that this most resembles, Phenomenon (1996). Most of these suffer from one crippling flaw – they are depictions of hyper-intelligence written by people of only average intelligence and hold few genuine insights into how a mental superman would think and act.
Limitless gets by somewhat better than these others. The displays of Bradley Cooper's expanded intelligence – how we see him using amazing deductive capacity to deduce his landlady's problem based solely on a book he picked up years ago, write her essay and then seduce her, or where he demonstrates his powers to Robert De Niro by predicting that a garbage truck is about to crash into a taxi just across the street from where they are standing – have an undeniable fascination. The main problem that kept getting me during these early scenes was how the portrayal of down-and-out Bradley Cooper seemed like an over-exaggerated cliche of a loser. Lots of writers (this author also included from time to time) suffer blocks yet lead perfectly functional lives without having to be accused of looking like homeless people.
Not too long in, Limitless sidetracks away from showing us Bradley Cooper's mental super-abilities and becomes a thriller about various people hunting Bradley Cooper and trying to get their hands on his supply of NZT-48. Here the film has to turn up an improbable number of people who are or become hooked on NZT-48 in order to keep its plot turning. Neil Burger seems to be trying to give us Phenomenon by way of Fight Club (1999). There is a certain similarity of themes about men undergoing radical lifestyle transformations.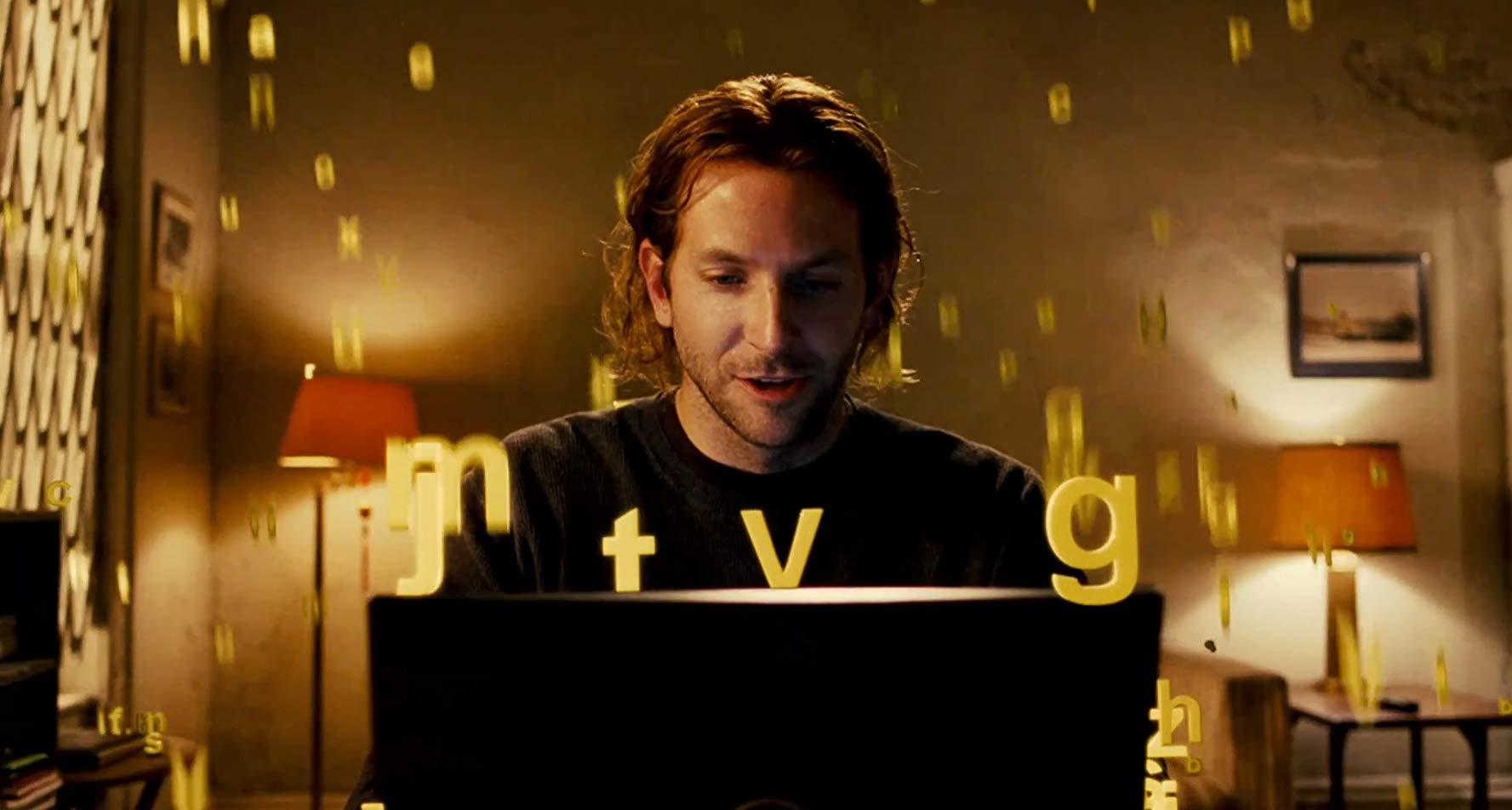 Mostly, Burger co-opts David Fincher's flashy visual tactics – rains of glowing words coming down from the apartment ceiling as Bradley Cooper starts typing his novel, the ceiling tiles whirring like split-flap displays as he starts playing the sharemarket, the camera making infinite zooms across the city at street level and so on. Unfortunately, this only seems gimmickry – it is Neil Burger subsuming David Fincher-styled tactics to show off but failing to do so in a way that adds anything to the film.
Limitless is essentially a film that has been made as a vehicle to take advantage of the A-list status of Bradley Cooper (who also executive produces the film). After having toiled away in bit parts throughout the 00s, Cooper all of a sudden became a big name star with the breakout success of The Hangover (2009). Bradley Cooper is an okay actor but I am yet to be convinced he is one of any great acting skill. His presence is all a piercing intensity as a result of his pure blue eyes, although one that surprisingly comes without a sense of humour. His transformation in the film from messed-up loser to slick, cool super-genius is more one of the fashion groomers creating contrasts between him unshaven and in an unkempt wig and him in a slick haircut and tan than it is a transformation of personality that comes by acting skill.
One of the more irritatingly ill-explained parts of the film is when Bradley Cooper starts to suffer blackouts – a major plot point becomes his apparent involvement in the murder of a woman at a party, but what happened and whether he is guilty is never explained, even though a reasonable part of the latter section of the film has him hauled in by the police and being blackmailed about this by Andrew Howard.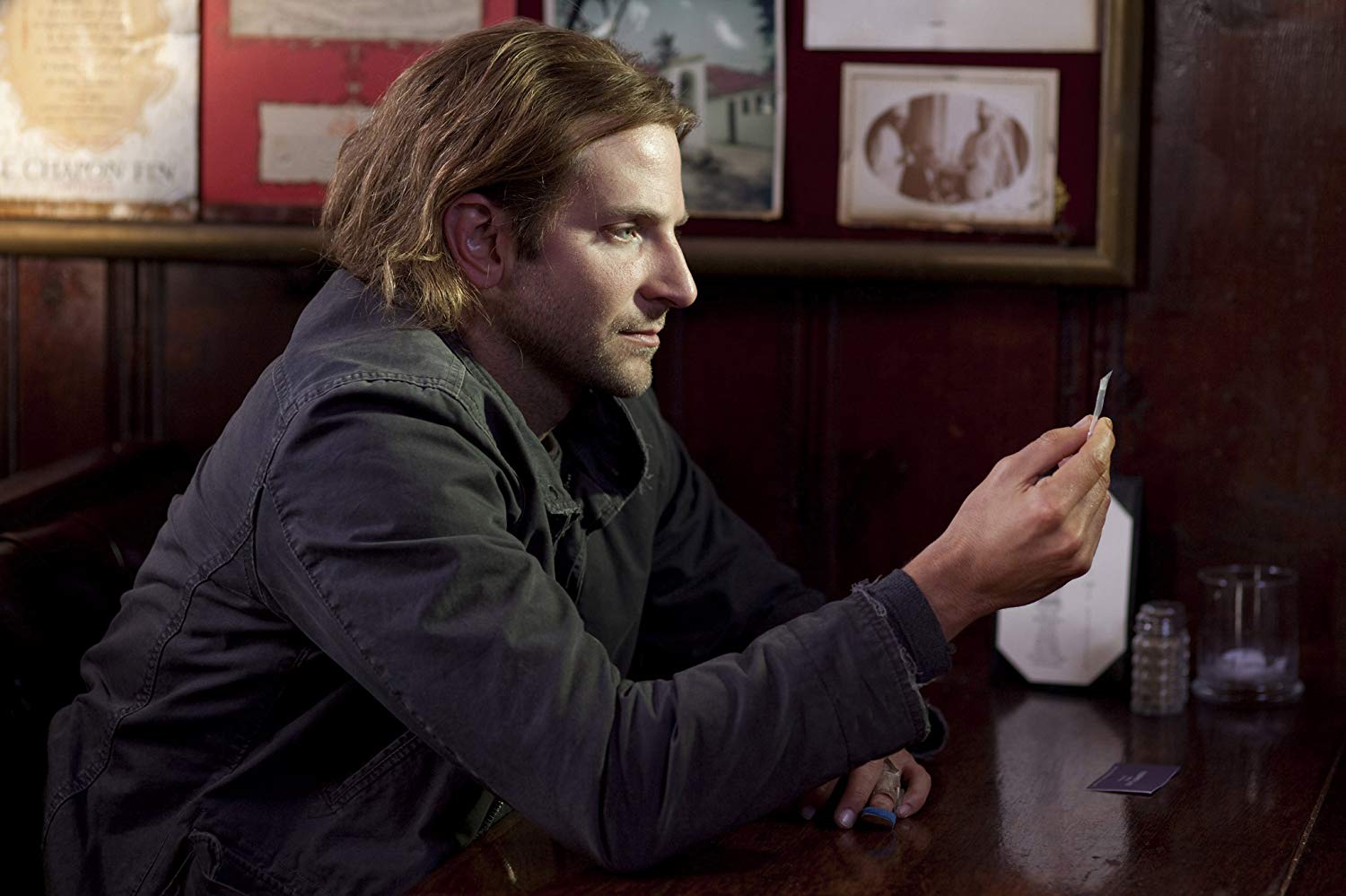 The film also quotes the urban legend that the brain only uses twenty percent of its capacity (the more common figure is ten percent) where people in the pseudo-sciences (psychics and the like) make the common assertion that the other ninety percent is the locus of untapped psychic potential. This is a figure that PET scans and Neural Networking have revealed to be completely untrue – the brain does in fact use most of its capacity.
Limitless could almost be a fantasy of the high-life written by someone with a major coke problem – it is a film about how getting high helps you solve any problem in life and gives you the grandiose belief that you can take over the world. The film even ends with the blissful utopian belief that your drug addiction can be kicked with no side effects and will still leave you with expanded perception and the ability to conquer the world. It is exactly the type of fantasy a cokehead might entertain while completely baked. You also have to regard as ever so dubious a film being made post the 2008 economic recession that regards the world as being able to be saved by playing the stockmarket and an economist who seeks to become President.
The central premise of the film was subsequently developed into a tv series Limitless (2015-6) starring Jack McDorman.
Director Neil Burger previously made Interview with the Assassin (2002), the well-regarded magician film The Illusionist (2006) and The Lucky Ones (2008) about Iraq War veterans. He subsequently went onto make Divergent (2014), the first film in the Young Adult dystopian series; the non-genre The Upside (2017); and the generation ship film Voyagers (2021).
---
---