USA. 2014.
Crew
Director – Rob Minkoff, Screenplay – Craig Wright, Additional Material – Michael McCullers, Based on the TV Series Peabody's Improbable History Created by Ted Key, Producers – Denise Nolan Cascino & Alex Schwartz, Music – Danny Elfman. Production Company – DreamWorks SKG/PDI/Bullwinkle Productions.
Voices
Ty Burrell (Mr Peabody), Max Charles (Sherman), Ariel Winter (Penny Peterson), Allison Janney (Miss Grunion), Stephen Colbert (Mr Peterson), Leslie Mann (Patty Peterson), Stanley Tucci (Leonardo Da Vinci), Patrick Warburton (Agamemnon), Stephen Tobolowsky (Principal Purdy), Zach Callison (King Tut), Lauri Fraser (Marie Antoinette), Guillaume Aretos (Robespierre), Steve Valentine (Ay), Lake Bell (Mona Lisa), Mel Brooks (Albert Einstein)
---
Plot
Mr. Peabody is dog unlike other dogs and is a genius who has made amazing scientific discoveries and mastered multiple disciplines. He has been granted special permission by the courts to adopt a human boy Sherman. With Mr Peabody's invention of the WABAC machine, the two of them are able to travel through time and visit history. It is now time for Mr Peabody to place Sherman into school. There, because he is the brightest in class, Sherman is bullied by Penny Peterson. Threatened with having Sherman taken away by child services, Mr Peabody calls a meeting with Penny's parents. Left alone with Penny while the adults are talking, Sherman shows Penny the WABAC machine to prove he is not making up his claims to have met George Washington. He is then forced to call for Mr Peabody's help when she becomes stranded in Ancient Egypt and engaged to King Tut. In the attempts to rescue her and get back home, the three of them are variously stuck in the midst of Renaissance Florence where they must beg the help of Leonardo Da Vinci and at the Siege of Troy.
---
Mr. Peabody & Sherman is the twenty-fifth animated film from DreamWorks Animation, following the likes of Antz (1998), The Prince of Egypt (1998), The Road to El Dorado (2000), Shrek (2001) and sequels, Spirit: Stallion of the Cimarron (2002), Sinbad: Legend of the Seven Seas (2003), Shark Tale (2004), Madagascar (2005) and sequels, Over the Hedge (2006), Bee Movie (2007), Kung Fu Panda (2008), Monsters vs Aliens (2009), How to Train Your Dragon (2010), Megamind (2010), Rise of the Guardians (2012), The Croods (2013), Turbo (2013), Home (2015), Trolls (2016), The Boss Baby (2017), Captain Underpants: The First Epic Movie (2017) and Abominable (2019).
Rob Minkoff started out in the Disney animation department then, after directing two Roger Rabbit shorts, made his feature-length debut as co-director of Disney's mega-huge The Lion King (1994). This was enough success that it allowed Minkoff began to branch out from animation as a live-action director, first with the CGI/live-action Stuart Little (1999) and its sequel Stuart Little 2 (2002), followed by The Haunted Mansion (2003) based on the Disneyworld attraction, the flop of the Shaw Brothers Wu Xia homage The Forbidden Kingdom (2008) and the non-genre caper comedy Flypaper (2011).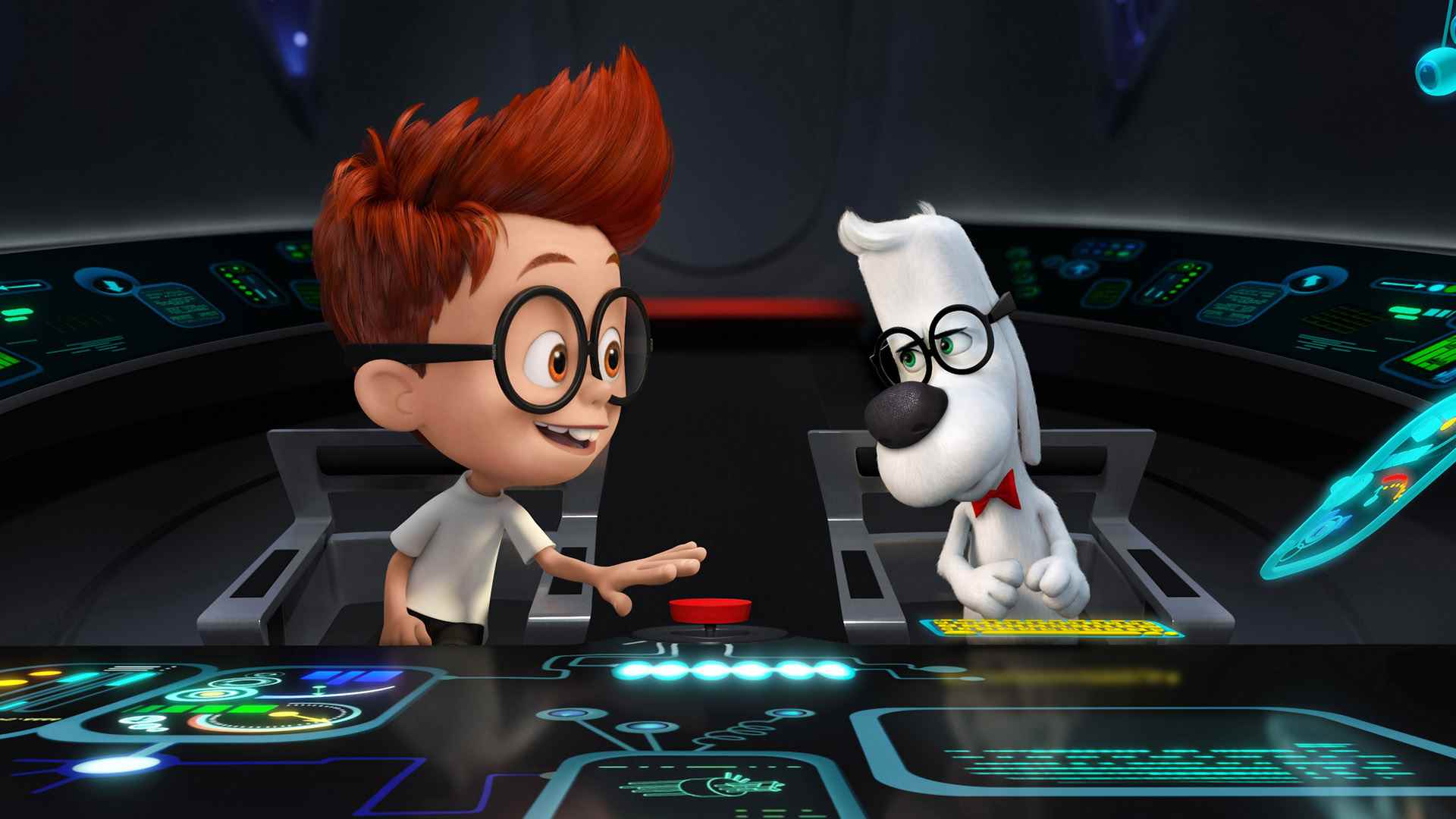 DreamWorks' films have run the gamut between the good and the lightly enjoyable, more recently falling into the increasingly formulaic. DreamWorks clearly set out to follow where Pixar goes but their films emerge as merely light and occasionally amusing rather than hit the cute emotional spots that Pixar films aim for. Now they have even started copying Pixar's habit of prefacing their features with short films, which Pixar introduced as training grounds for new talents – in this case, a forgettable effort called Almost Home (2014) about aliens searching for a new home. It has all the hallmarks of a DreamWorks film – cute, fluffy and lacking anything other beyond being aimed at easy laughs.
Mr. Peabody & Sherman is based on the Peabody's Improbable History segments of The Rocky and Bullwinkle Show (1961-73) in which the dog genius and his adopted human son Sherman take trips through time and encounter various historic personages. Expanded to a film, this is given a dramatic structure with the addition of an annoying girl that initially needs rescuing and the contrivation of the WABAC machine breaking down whenever they need to stop off at a different era.
With probably few modern audiences having seen Peabody's Improbable History, the resulting film cannot help but feel like a host of elements dissembled from other animated films of recent – the adoption of a kid theme reminds of Despicable Me (2010), while the animal hero travelling through time (even the design of the time machine) has more than a few resemblances to the recent Free Birds (2013). Even the redesign given to both the dog genius and his kid makes you think oddly enough of the title hero of Jimmy Neutron, Boy Genius (2001).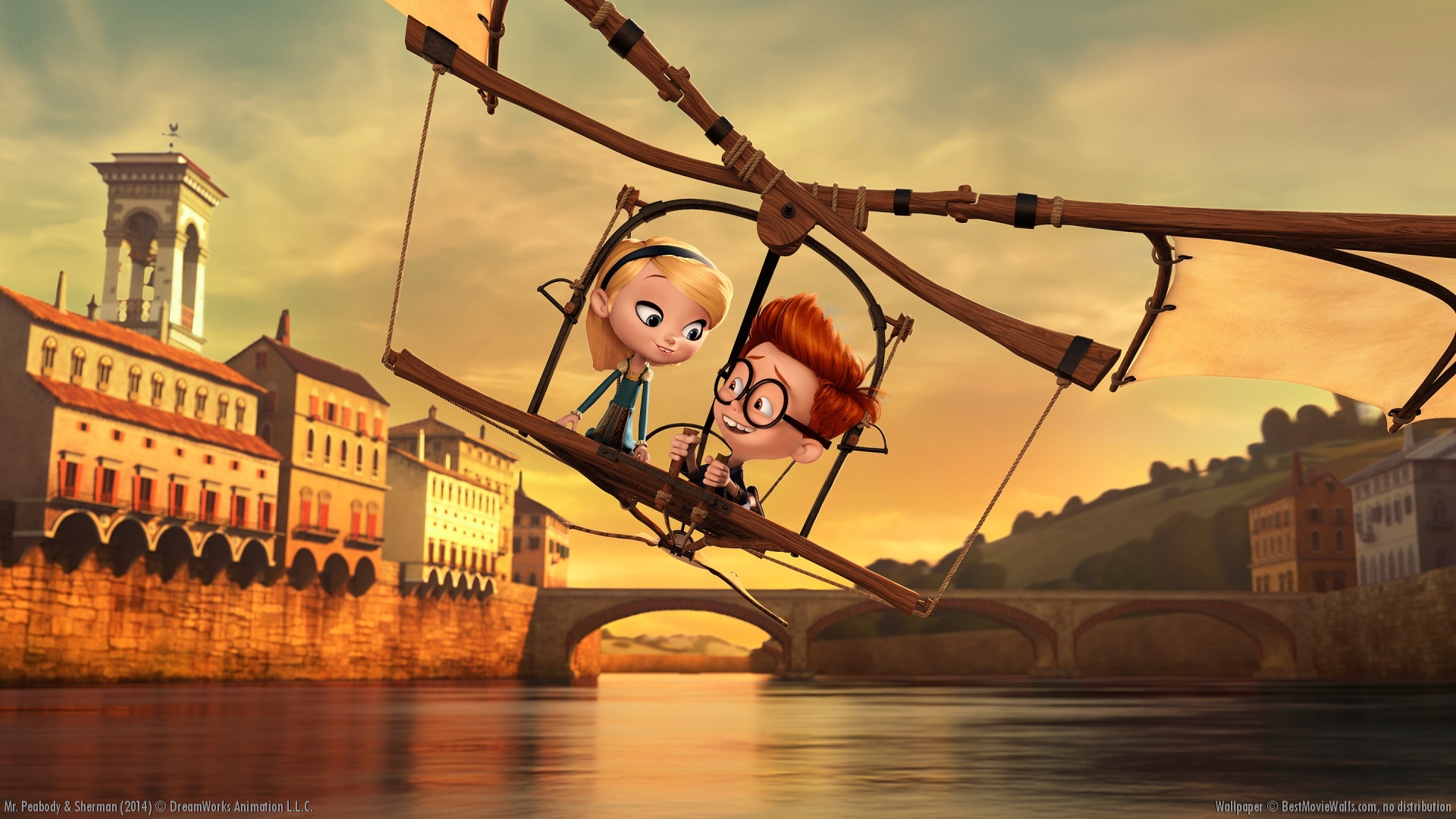 The theme of people travelling through time and having comic adventures with famous historical personages has been used in other children's films before, most notably Willy McBean and His Magic Machine (1965), not to mention was what Doctor Who (1963-89, 2005– ) was originally intended as before it became more of a science-fiction show. The climactic scenes of the film with the historical persons comically encountering the 21st Century has been lifted directly from Bill and Ted's Excellent Adventure (1989).
Mr. Peabody & Sherman suffers the problem that many works about genius do – namely that they are written by people that are less than genius-level themselves. The film quotes Einstein, Plato's The Republic, visits Leonardo Da Vinci, Marie Antoinette and so on, but you wonder if the writers are actually familiar with any of these in any way beyond namedropping popular culture iconography. What it feels like we have ended up with is a work that dumbs history down to a series of giddy 3D slapstick gags – chaos in Ancient Egypt and the French Revolution; the kids going flying on Da Vinci's flying machine; going amok in the Trojan Horse and so on. What you ask yourself at the end of it, is anybody likely to go away knowing more about history than they did before? Hardly. This is a film that takes such a relentlessly content-free approach that what we have is not a work that offers an illustrated version of history but history having been pitched to easy, simplistic gags for people in the single-digit age group.
---
---