---
Crew
Director – David MacDonald, Screenplay – James Eastwood, Based on the Play by James Eastwood & John C. Mather, Producers – Edward J. Danziger & Harry Lee Danziger, Photography (b&w) – Jack Cox, Music – Edwin Astley, Orchestrations – Albert Elms, Special Effects Director – Jack Whitehead, Makeup – George Partleton, Art Direction – Norman Arnold. Production Company – Spartan Productions/Gigi Productions.
Cast
Patricia Laffan (Nyah), Hugh McDermott (Michael Carter), Hazel Court (Ellen Prestwick), Joseph Tomelty (Professor Arnold Hennessey), Adrienne Corri (Doris), Peter Reynolds (Robert Justin/Albert Simpson), John Laurie (Jamie Jamieson), Sophie Stewart (Mrs Jamieson), Anthony Richmond (Tommy), James Edmond (David)
---
Plot
Various people come together at the Bonnie Charlie inn in the Scottish Highlands, including the model Ellen Prestwick; escaped convict Robert Justin who swears he is innocent and has come back seeking the Bonnie Charlie's barmaid Doris who has feelings for him; the inn owner's Mr and Mr Jamieson; and the astronomer Professor Arnold Hennessey, along with Michael Carter from the Daily Messenger, who has come investigating strange atmospheric lightning disturbances in the area. As they sit down to a meal, a flying saucer lands outside. From it emerges the haughty Nyah who announces that she has come from Mars. After a war between the sexes, women now rule on Mars but the male breeding stock is depleted and she has come to Earth searching for men to help repopulate. She surrounds the inn with a forcefield and demonstrates the powers of her robot. She needs four hours to repair her ship before she goes on to conquer London. Trapped inside the inn, the group try to think of a means to stop her.
---
Devil Girl from Mars is a B movie from the classic 1950s era of alien invader cinema. The novelty is that it is an alien invader B-movie from the UK. Though there had been a number of science-fiction films produced in the UK before – the first being the silent High Treason (1929), the most famous probably being Things to Come (1936), Devil Girl from Mars was (as far as I am aware) the first British-produced entry in the great science-fiction boom of the 1950s that was starting to do roaring trade across the other side of the Atlantic. The next few years would see a number of other classic works produced in the UK, including The Quatermass Xperiment/The Creeping Unknown (1955), Quatermass 2/The Enemy from Space (1957), X the Unknown (1956), Fiend Without a Face (1958), The Trollenberg Terror/The Crawling Eye (1958) and Village of the Damned (1960), among others.
Devil Girl from Mars has gained a reputation as a bad film. In truth, though it has its occasionally absurd moments today, it is neither any better nor any worse than any other science-fiction film produced in the same equivalent budget arena during this decade. The film gathers a typical ensemble of characters that are supposed to represent a cross-section of society – a model, a scientist, a journalist, a middle-aged married couple, a single girl, a criminal on the run and the obligatory kid. To their credit, the actors cast all do a credible job of playing their parts and director David MacDonald does an efficient job of heightening the tensions, while economically containing most of the film to a single setting – the barroom of an inn and the garden outside (no surprise given that the film is based on a stageplay).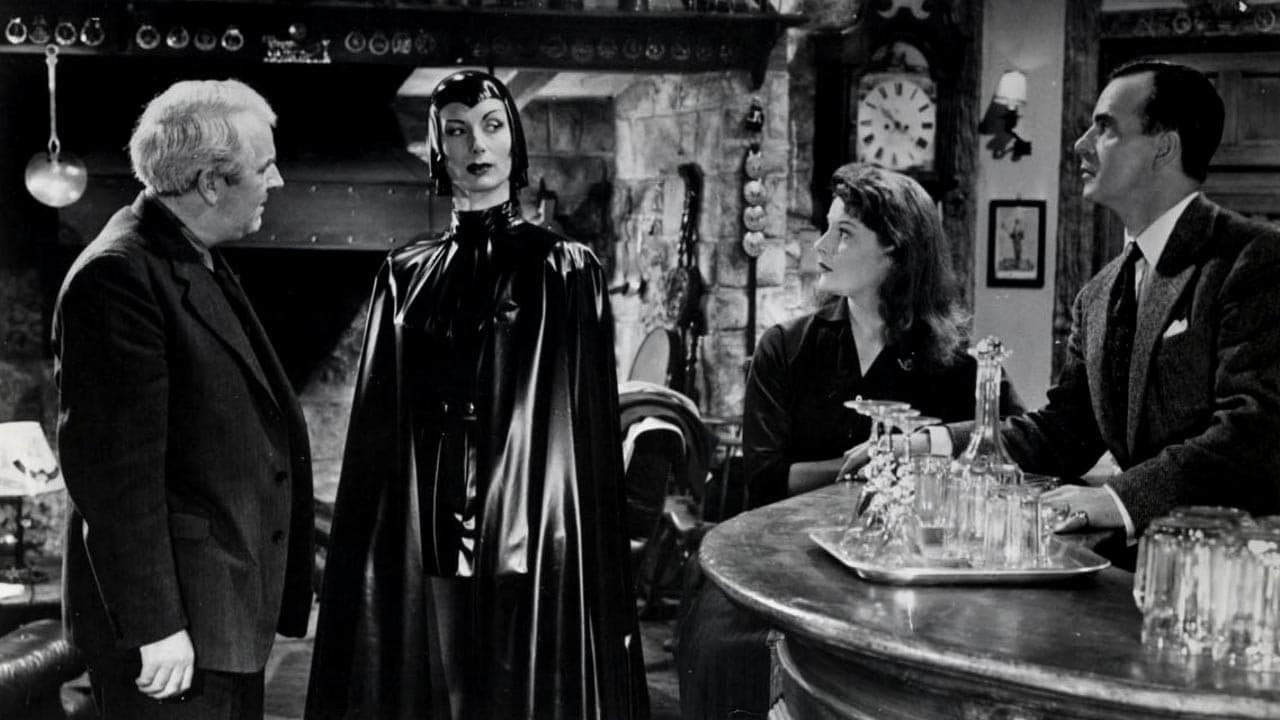 With her cold, haughty demeanour and clad in a PVC mini-skirt and cape, what Patricia Laffan's Devil Girl looks like today is a dominatrix from outer space (which was almost certainly not intended at the time). This in turn taps into another cliche of 1950s science-fiction – the depiction of societies where women have taken over and/or eliminated men altogether, which we see in efforts like Cat-Women of the Moon (1953), Fire Maidens of Outer Space (1956), Queen of Outer Space (1958) and to more comic ends in Abbott and Costello Go to Mars (1953) and Invasion of the Star Creatures (1962). Patricia Laffan comes out with prize lines like: "Meanwhile, I will select some of your strongest men to return with me to Mars."
There is a rather ridiculous seeming alien robot that looks for all the world like a 1950s petrol pump with corrugated arms. This has clearly been modelled on Gort from The Day the Earth Stood Still (1951) – indeed, Nyah and her robot companion has fairly much been construed as an evil version of Klaatu and Gort. We even get a similar scene where the robot blows things up with a raybeam from its eye, although Devil Girl from Mars is operating on a smaller budget and rather than a host of military equipment, all that it disintegrates is a tree and a tractor.
Devil Girl from Mars was a production from The Danzigers, brothers Edward and Harry who were American born. They located to England after World War II and formed New Elstree Studios that operated between 1956 and 1962. Between 1949 and the early 1960s, The Danzigers produced over 70 films and a couple of tv series. All of these were very cheaply made. Most of their works are crime films but there was the odd one that strayed into genre material with Satellite in the Sky (1956) and The Tell-Tale Heart (1960).
---