---
Crew
Director – Bryan Singer, Screenplay – Simon Kinberg, Story – Michael Dougherty, Dan Harris, Simon Kinberg & Bryan Singer, Producers – Lauren Shuler Donner, Simon Kinberg, Hutch Parker & Bryan Singer, Photography (3D) – Newton Thomas Sigel, Music – John Ottman, Visual Effects Designed by John Dykstra, Visual Effects – Cinesite, Digital Domain (Supervisor – Lou Pecora), [Hy*drau*lx], Mels Studio, MPC (Supervisors – Axel Bnami & Anders Langlands), Raynault, Rising Sun Pictures (Supervisors – Tim Crosbie & Dennis Jones), Special Effects Supervisor – Steve Hamilton, Specialty Suits – Legacy Effects (Supervisor – John Rosengrant), Production Design – Grant Major. Production Company – Bad Hat Harry/Kinberg Genre/Hutch Parker/Donner's Company.
Cast
James McAvoy (Professor Charles Xavier), Michael Fassbender (Erik Lensherr/Magneto), Jennifer Lawrence (Raven/Mystique), Oscar Isaac (En Saban Nur/Apocalypse), Tye Sheridan (Scott Summer/Cyclops), Sophie Turner (Jean Grey), Evan Peters (Peter Maximoff/Quicksilver), Kodi Smit-McPhee (Kurt Wagner/Nightcrawler), Ben Hardy (Angel), Alexandra Shipp (Orora Monroe/Storm), Rose Byrne (Moira McTaggart), Nicholas Hoult (Hank McCoy/Beast), Lucas Till (Alex Summers/Havok), Olivia Munn (Psylocke), Josh Helman (Colonel William Stryker), Lana Condor (Jubilee), Tomas LeMarquis (Caliban), Hugh Jackman (Logan/Wolverine), Anthony Konechny (School Jock), Ally Sheedy (Scott's Teacher)
---
Plot
It is 1983. High school student Scott Summers discovers that his eyes can blast powerful beams of energy. His brother takes him to the Xavier School for Gifted Youngsters to find a means of dealing with this. In East Berlin, Mystique rescues Angel and Nightcrawler from where they are forced to fight in underground cage matches. A wanted international fugitive, Eric Lensherr is hiding under an assumed identity in Poland. He is exposed when he uses his powers to stop a piece of machinery falling on a co-worker. In the aftermath, attempts by the authorities to apprehend him end up killing his wife and daughter. In Cairo, CIA agent Moira McTaggart is present as archaeologists uncover the tomb of En Sabah Nur, a powerful mutant who was worshipped as a god an Ancient Egyptians but was buried alive by his followers. Freed, he is shocked to find that mutants no longer rule the world. Recruiting various mutants to his side, En Sabah Nur enhances their powers and sets about rebuilding the world back into the image of the one he came from. Doing so has the potential to destroy the world and pits the X-Men and his enhanced mutants against each other.
---
X-Men: Apocalypse was the ninth of the X-Men films that began back with Bryan Singer's original X-Men (2000). The X-Men series has had a doglegged cinematic path. When Singer made the first film and its immediate sequel X2 (2003), the Marvel Cinematic Universe did not exist. The films were at the vanguard of the cinematic renaissance that created the Marvel Universe, even if their rights were not owned by Marvel Studios but 20th Century Fox. However, after Singer departed the franchise, it started to stagger and the next entry, Brett Ratner's X-Men: The Last Stand (2006), fairly much killed it off.
Problems were also created by the fact that many of the stars associated with the series – Hugh Jackman, Anna Paquin, Halle Berry – had entered into an A-list stratosphere and their salary demands created increasingly difficulty in trying to bring the ensemble back together. The subsequent entries X-Men Origins: Wolverine (2009), X: First Class (2011), this and the subsequent X-Men: Dark Phoenix (2019) and The New Mutants (2020) tried to deal with this by going back into the past, or else spinning off individual characters such as The Wolverine (2013), Deadpool (2016) and Logan (2017), as well as the tv series Legion (2017-9) and The Gifted (2017-9). X: First Class paved the way for a Young X-Men series, which Bryan Singer returned to take up with X-Men: Days of Future Past (2014) and continues here with X-Men: Apocalypse.
In a summer season that felt overloaded with superhero vehicles – Batman V Superman: Dawn of Justice (2016), Captain America: Civil War (2016), Deadpool – most of which seem to involve pitting superheroes against each other (as X-Men: Apocalypse also does) – one started to feel superhero fatigue. It is, one suspects, this that led to X-Men: Apocalypse's lukewarm box-office, coming as it did on the tail of these other juggernauts. The X-Men franchise has also devolved into a lesser cousin to the Marvel Cinematic Universe – one involving a sprawling character ensemble, including a double casting of young and old versions of the characters, as well as an internal continuity that is constantly being thrown up in the air or disregarded. As opposed to the Marvel Cinematic Universe where the characters are tightly controlled and their arcs planned out years in advance, the X-Men characters seem to change with the whims of the particular creative hand.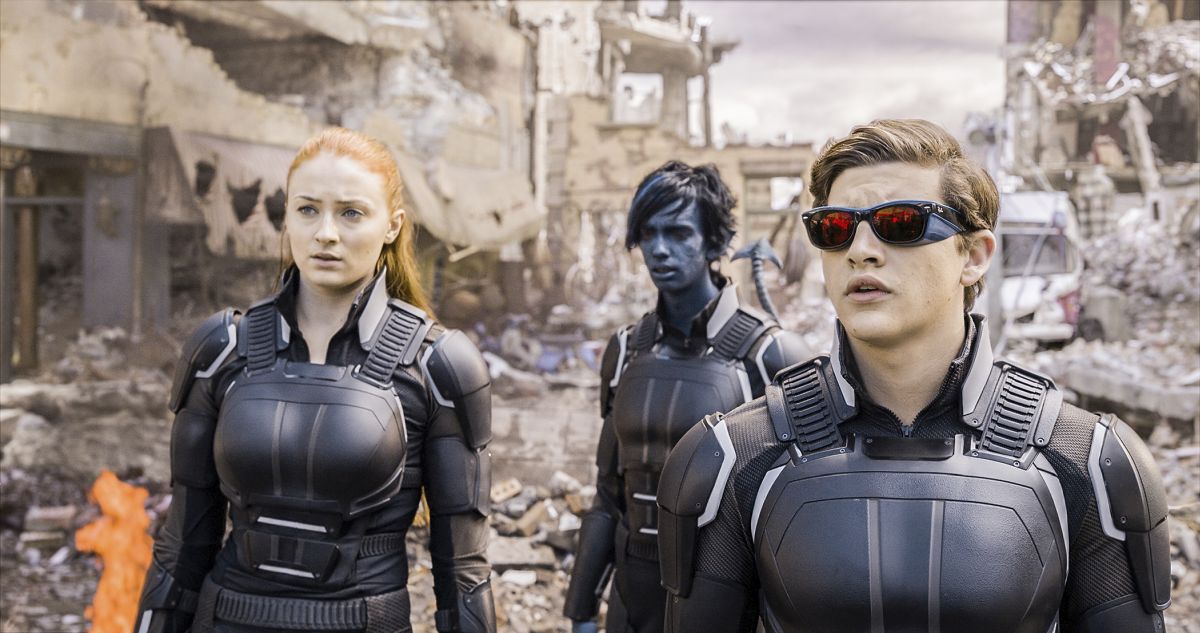 X-Men: Apocalypse has Bryan Singer at the helm, the figure most associated with the X-Men series who delivered the first two films and then returned for Days of Future Past. Singer's presence sits X-Men: Apocalypse in good stead above many of the other entries. There are just little touches – the way Magneto casually uses a pendant to decimate an entire troupe of Polish militia; the way Apocalypse wields sands to eliminate attackers and buries another inside a wall – that shows you you are in the hands of someone who can not only put effects spectacle on the screen but knows how to wield it with effect. Much of Apocalypse has been constructed around the epic mass destruction sequences. There is a good deal of fun to watching the mutants battling one another and Apocalypse at the climax. As in Days of Future Past however, Singer's best set-piece involves Evan Peters' Quicksilver – we get a dazzling sequence here where he manages to save every single person from the school as it is in the process of exploding.
On the other hand, the problems of the X-Men franchise are becoming increasingly evident – there is such a wide cast of characters that each of them get minimal development between episodes and often tend to do little more than make a cameo – I mean have we ever learned anything about Beast other than that he is a technical genius? Despite fleshing out Cyclops and Jean Grey, the only thing we know between their appearing in four films together is that they went out together. The main problem with X-Men: Apocalypse is that, aside from a handful of pieces tying the continuity thread together, most of it involves conflicting superheroes and the film doesn't do anything too different to standard.
Everything is tied together by a nemesis that you feel should be far more threatening than he is. Apocalypse was first introduced in X-Factor #6 in 1986 and is considered the world's first mutant according to Marvel continuity. The film is based on the Age of Apocalypse (1995-6) crossover event, which wound through multiple X-Men titles and concerned an alternate timeline in which Apocalypse had destroyed much of the world. The alternate world angle is dumped here and we just get Oscar Isaac looks more like a wizard from a 1980s B fantasy film. That and another end of the world scenario that comes surprisingly by the book, no matter the degree of visual effects flourish brought to bear on it.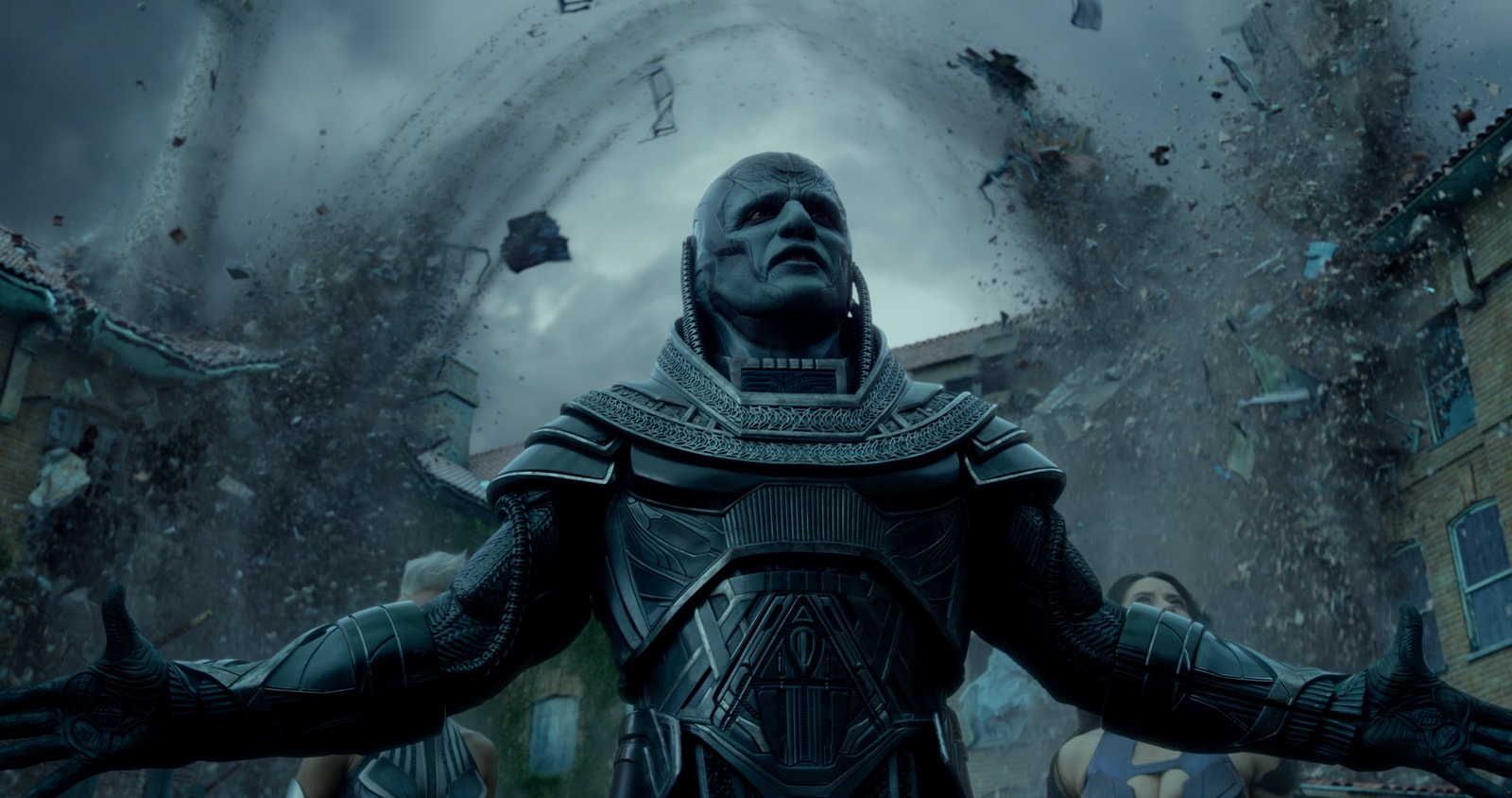 We get the ongoing X-Men story (sort of) – it's been through so many doglegs that it is no longer consistent. Singer has clearly construed Apocalypse as the third chapter in the trilogy of Young X-Men films that began in X: First Class – here we get the introduction of a young Jean Grey, a young Cyclops, a young Orora, where James McAvoy finally gets to lose his hair and so on. I'd like to say I felt inspired about the way the series is threading the character backstories together but I find it hard to invest much in the X-Men as characters.
The other problem is that the storyline ignores continuity whenever the film considers it convenient. For example, in the original X-Men films, Mystique was a Magneto loyalist. However, since being recast with Jennifer Lawrence and she becoming one of the biggest young stars in the world subsequent to First Class, Mystique has been rewritten as one of the good guys. While Rebecca Romijn-Stamos spent 90% of the original X-Men films in blue skin, here Jennifer Lawrence spends 90% of the film in her own skin, only occasionally turning blue because who wants to hire such a name star and bury her under makeup. The film also blows up the Xavier School for Gifted Children and the end where it is exactingly restored feels exactly like a case of Epic Pooh, of the series hitting the magical reset button that allows them to shock audiences by destroying the familiar and then restore the status quo at the end.
Bryan Singer caught attention with his first film The Usual Suspects (1995) and then went onto the Stephen King adapted Apt Pupil (1998) about the relationship between a teenager and a Nazi war criminal. Singer has also directed Superman Returns (2006), the non-genre Valkyrie (2008), the fantasy film Jack the Giant Slayer (2013) and Bohemian Rhapsody (2018). Bryan Singer has also executive produced the tv mini-series The Triangle (2005) about the Bermuda Triangle, and produced the horror anthology Trick 'R Treat (2008), X: First Class, the horror films My Eleventh (2014) and The Taking (2014), and the tv series Legion (2017-9) and The Gifted (2017-9).
---
---