aka Rising Wolf
---
Crew
Director – Antaine Furlong, Screenplay – Antaine Furlong & Kieron Holland, Producers – Drew Bailey, Antaine Furlong, James M. Vernon & Kathy Vernon, Photography – Frank Flick, Music – David Hirschfelder, Visual Effects Supervisors – Christian Debney & Jonathan Hairman, Visual Effects – Stage 23, Special Effects – Dan Oliver SFX (Supervisor – Dan Oliver), Production Design – Fiona Donovan. Production Company – Day Dream Films.
Cast
Charlotte Best (Aria Wolf), Jonny Pavlovsky (Richard Wolf), Alex Menglet (Yaroslav), Karelina Clarke (Young Zara), Tahlia Sturzaker (Young Aria)
---
Plot
Aria Wolf comes around inside an elevator in a Shanghai building over a hundred stories tall. As she tries to find a way out, the elevator begins to rise up and plummet down the shaft at high-speed, throwing her about. A video screen comes on in one of the elevators walls. It shows her father who is a prisoner of Russian mobsters who are demanding to know from him the whereabouts of someone called The Engineer. They brutalise her father while subjecting Aria to a series of torturous rises and falls in the elevator in an attempt to make her give up information she insists she does not know.
---
Ascendant was a directorial debut for Australian director Antaine Furlong.
Ascendant falls into the genre of Imprisonment Thrillers. There is a mini-genre of these based around people trapped inside as small a space as possible. This began with Phone Booth (2002) in which Colin Farrell was trapped in a phone booth by a sniper and Buried (2010) where Ryan Reynolds was locked in a coffin for the duration of the film. We have seen a number of variations on this with the likes of Frozen (2010) with three characters trapped in mid-air aboard a ski chairlift; ATM (2012) with three people trapped in an ATM booth by a killer; both Detour (2013) and Curve (2015) with characters trapped in an SUV; Landmine Goes Click (2015) with a character trapped standing on a landmine; The Shallows (2016) in which Blake Lively is stranded on a rock by the tide and menaced by a lurking shark; 200 Degrees (2017) in which Eric Balfour is trapped inside a heat kiln; Serpent (2017) with a couple trapped in a tent with a deadly snake; Fall (2022) with two girls trapped atop a two thousand foot tv tower; The Ledge (2022) with a girl trapped on a mountainside ledge by a killer; and Shut In (2022) with a woman locked in a pantry by her abusive ex..
Ascendant is essentially a rehash of Buried. Instead of Ryan Reynolds imprisoned in a coffin, it has Charlotte Best imprisoned in an elevator where she is at least able to get up and walk around and even ventures out into the shaft on a couple of occasions. There is a very similar kind of plot to Buried where she interacts with others via phone, while one of the walls in the elevator becomes a video screen where she is able to watch as her father is tortured.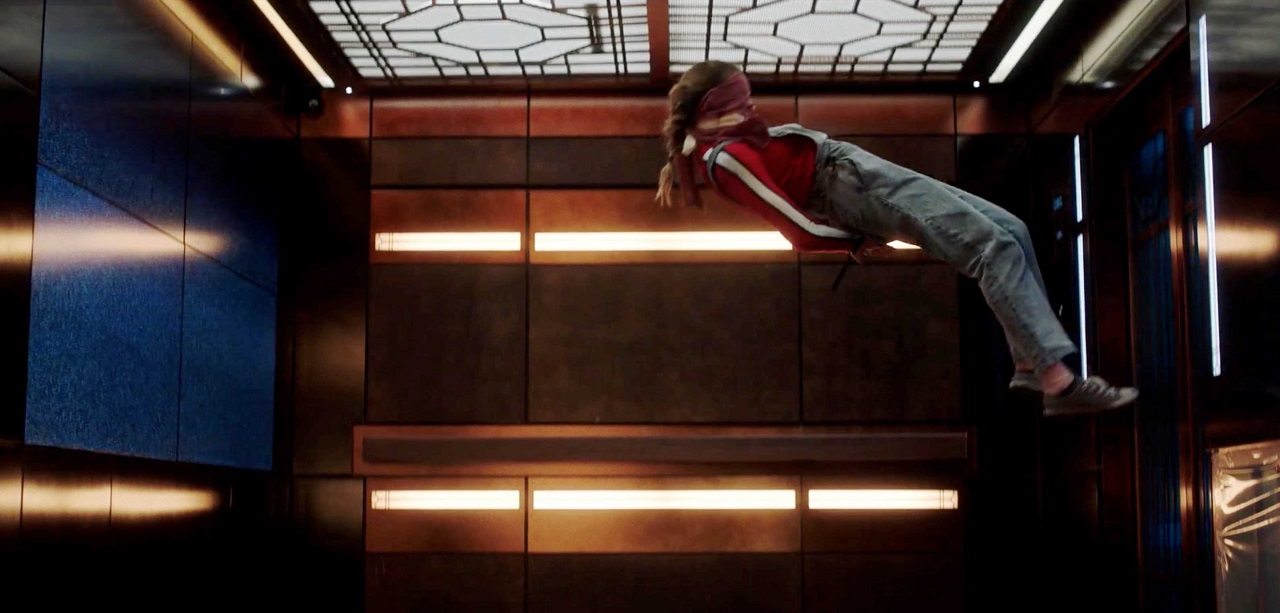 That said, I don't think the film does a particularly good or interesting job with its premise (or even if it is that interesting a premise in the first place). The film mostly consists of people randomly sending the elevator up and down, apparently at speeds that pin Charlotte Best to the roof in a zero g spot – maybe somebody would know how to do the mathematical calculations on this. I have no idea whether you could get an elevator to travel at the speeds where it would lift someone off the ground – my suspicion is that it would be having to travel around 100 mph to do so, which is not something lifts are usually designed to do.
We get a lot of scenes of Charlotte Best being thrown around the elevator (apparently without sustaining any injury or bruises). There are a couple of scenes where she ventures outside into the network of shafts, along with drama about a rescuer from the CIA periodically calling her. This is all interspersed with scenes on the video monitor where Russian mobsters torture her father for information they think she knows. There are a couple of minor twists in these scenes but there is never anything that has you on the edge of the seat.
And then there is the twist that comes at the ending, which goes sideways and turns Ascendant into a science-fiction film. There have been various childhood flashbacks throughout, although I never fully grasped the relevance of these. And then at the end [PLOT SPOILERS] Charlotte Best suddenly develops the ability to dissolve into dust and reconstitute herself. Quite how or why this is happening or what it means is something the film never explains. It could have been something like Higher Power (2018) but it is a bafflingly transcendent ending that leaves you with a collective "huh" in watching.
---
Trailer here
---