(La Belle Endormie)
---
France. 2010.
Crew
Director/Screenplay – Catherine Breillat, Producers – Sylvette Frydman & Jean-Fran'ois Lepetit, Photography – Denis Lenoir, Art Direction – Francois-Renaud Labarthe. Production Company – Flach Film/CB Films/Arte France.
Cast
Carla Besnäinou (Princess Anastasia), Julia Artamonov (Anastasia at 16 Years), Keiran Mayan (Peter), David Chausse (Johan), Diana Rudychenko (Veroutchka)
---
Plot
After Princess Anastasia is born, the witch Carabosse places a curse on her that she will die when she pricks her hand with yew wood. Three fairies transmute the curse to instead make her go to sleep at the age of six and then emerge after a hundred years as a sixteen year-old. After her hand is pricked, Anastasia heads down beneath the castle and emerges into a forest. There she is adopted by a mother and her son Peter. However, Peter gets a shard of ice from the Snow Queen in his eye and turns cruel and nasty, before the Snow Queen takes him away. Anastasia goes on a quest to find him. She wakes in the present-day as a sixteen year-old where she meets Peter's grandson Johan and he tries to seduce her.
---
French director Catherine Breillat has found a certain notoriety with her films. Breillat started directing in the 1970s and gained fame with her film Romance (1999), which attempted to address issues of female sexuality and was one of the first mainstream (non-pornographic) films to depict graphic and unsimulated sex scenes on the screen. Breillat's controversial sexual treatments continued with films such as Fat Girl (2001), Sex is Comedy (2002), Anatomy of Hell (2003), The Last Mistress (2007) and Abuse of Weakness (2013). Her most recent film prior to this was another venture into fairytale with her adaptation of Bluebeard (2009). I have mixed feelings about Breillat's work – while appreciating her desire to push the envelope with sexual material, her writing can often collapse into tedious and pretentious philosophising that dominates much French cinema.
She returns to fairytale in this adaptation of Charles Perrault's Sleeping Beauty (1697). Although the film is as much an adaptation of Sleeping Beauty as it is a melange of elements from other fairytales – Diana Rudychenko wanders around in a red cape a la Red Riding Hood, there are dwarfs and various witches, while the story winds in the essence of Hans Christian Andersen's The Snow Queen (1845).
Deconstructions, parodies and modernisations of fairytales have been popular on cinema screens over the last few years – everything from adult works like The Company of Wolves (1984) to Freeway (1996), Snow White: A Tale of Terror (1997) and Criminal Lovers (1999) to family intended material such as Hoodwinked! (2005) and Happily N'Ever After (2006). Just after The Sleeping Beauty, there was a big box-office fad for fairytales reinterpreted as dark adult fantasies with the likes of Red Riding Hood (2011), Mirror Mirror (2012), Snow White and the Huntsman (2012), Hansel & Gretel: Witch Hunters (2013) and Jack the Giant Slayer (2013) and tv series Grimm (2011-7) and Once Upon a Time (2011-8).
On the other hand, I felt confused what Catherine Breillat was trying to do with The Sleeping Beauty. While it announces itself as an adaptation of Sleeping Beauty, the bulk of the story seems to wander all over the place, taking the young heroine through various picaresque situations. These are crafted with remarkably little rhyme or reason and the film feels like it has no direction during these scenes. There is not the sense that Breillat is deconstructing the fairytale, nor even that she is simply being playful and either spoofing or connecting up various elements of fairytales into a picaresque that takes place in the same world as in works like The 10th Kingdom (2000) or Shrek (2001).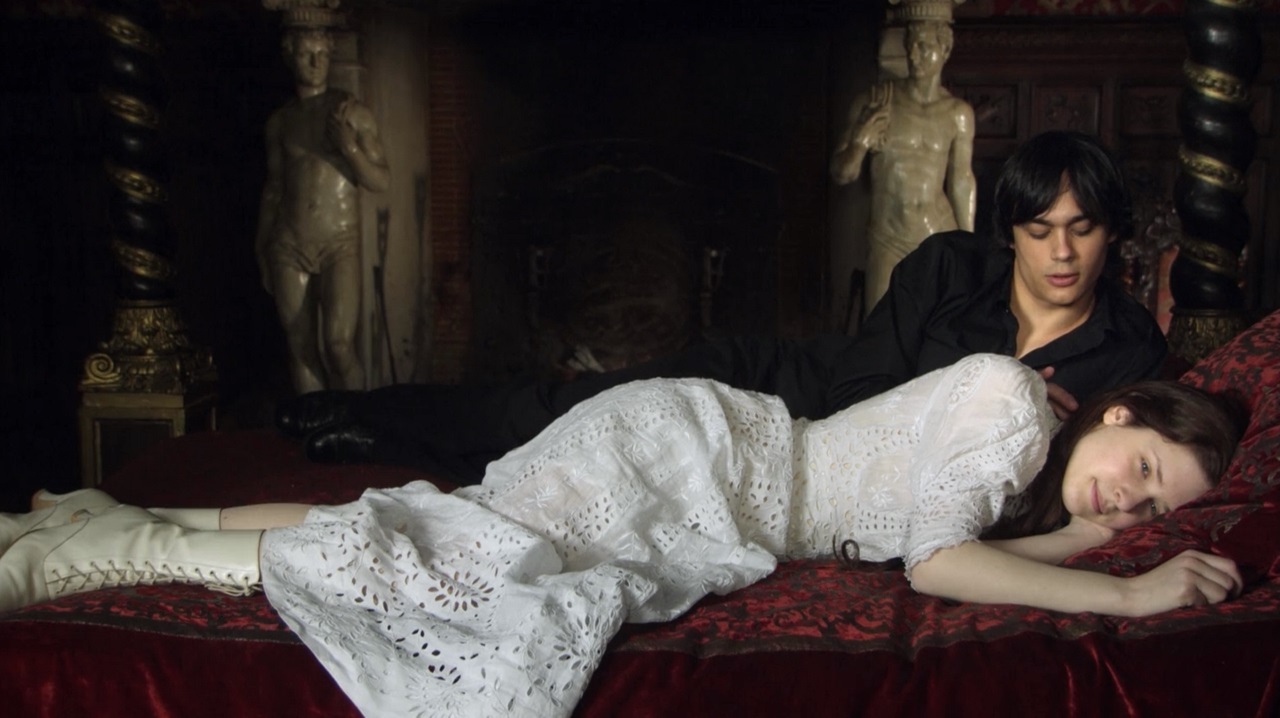 The main other problem with The Sleeping Beauty is that Catherine Breillat's direction is too literalistic and prosaic. Fairytale films usually set themselves in fantasy kingdoms and dress the world and the characters with lush detail. Breillat winds in oddly contemporary elements – Sleeping Beauty walks by a present-day canal, catches a train, has modern alarm clocks in her bedroom – where you are not sure if Breillat is trying to be atemporal, surreal or just wacky.
The film feels not so much threadbare as that the production team did their best by borrowing what they could – more often this results in things like awkward fitting costumes. When Carla Besnäinou makes her way through the palace as it is frozen in time, we can clearly see the bodies that are supposedly petrified moving – it is this lack of care to something as small as reshooting the scene that drags the film down.
More to the point, the film fails to let its fantasy fly. It seems only like a prosaic B-budgeted costume drama whereas fairytale adaptations should dance with lightness and capricious fancy. If they take themselves seriously, they should be filled with pure and simple emotions; those that deconstruct should be either dark or come with a sharp modern irony and wit. The previous French venture into fairytale Donkey Skin (1970) was a perfect example of how this should work.
The other thing that disappoints is the surprising lack of Breillat's usual interest in female sexuality. One expected that she might have found unexpected depths in the story of Sleeping Beauty and brought out an inherent sexuality maybe in the same way that Neil Jordan did with Little Red Riding Hood in The Company of Wolves or perhaps even have pushed the eroticism to the level of something akin to Walerian Borowczyk's The Beast (1975). As it is, the deliberately silly potted telling of Sleeping Beauty in Grimm's Fairy Tales for Adults (1970) achieves a far more adult telling of the story than anything here.
The sole part of the film where Catherine Breillat finally starts to achieve this is in the final section towards the end where Anastasia wakes from her sleep now a teenager (Julia Artamonov) and there is a delightful scene where Johan starts to seduce her in a tease of undoing the buttons on the back of her dress, before she is tempted to explore things with another girl (Diana Rudychenko). These scenes play out with a sense of erotic tease, at the same time as Catherine Breillat launches in with her familiar questions and meditations about female sexuality. It is here that the film comes to life with exactly what we expect from Breillat. However, the film needed far more in the way of these scenes. The rest of the show is largely tedious.
---
---