---
Crew
Director/Screenplay/Photography – Mark Atkins, Producer – David Michael Latt, Music – Christopher Cano, Visual Effects Supervisor – Sasha Burrow, Pyrotechnics – Synapse FX (Supervisor – Joe Cornell), Makeup – Eric Wilson, Production Design – Jason Trinidad. Production Company – The Asylum.
Cast
Michael Jai White (Sergeant Hammond), Randy Wayne (Android Cop/Andy), Larissa Vereza (Helen Jacobs), Kadeem Hardison (Sergeant Jones), Charles S. Dutton (Mayor Jacobs), Duane Avery (Newald Mason), Jay C. Brothers (Porter), Morgan Benoit (Ratchet), George Kokkoris (Sergeant Mills)
---
Plot
Los Angeles, 2037. LAPD officer Hammond is informed that he is to be paired with the newly introduced Android Cop. Hammond and the Android Cop, or Andy as Hammond calls him, are assigned to help Mayor Jacobs find his daughter Helen. She has lapsed into a coma while inhabiting an android body via telepresence. The android has become lost somewhere in the lawless outer zones with Helen's mind trapped in the body unaware of what has happened. They are despatched to retrieve the android, which takes them through the hostile territory inhabited by the Zone's fourteen gangs. Through the course of this, Hammond becomes aware that his superiors have not been honest with him about the true nature of the mission.
---
Android Cop is another mockbuster from the low-budget production company The Asylum. The Asylum specialise in producing films with sound-alike titles that are designed to copy other recent big-budget hits in the hope that people do not look too closely at the title when selecting. Other mockbusters from The Asylum include their own cheap versions of War of the Worlds (2005), Journey to the Center of the Earth (2008), Sherlock Holmes (2009), 3 Musketeers (2011), Grimm's Snow White (2012), Hansel & Gretel (2013), Jack the Giant Killer (2013) and Hercules Reborn (2014) when the respective big-screen versions came out, and other soundalike titles such as The Da Vinci Treasure (2006), Snakes on a Train (2006), AVH: Alien vs Hunter (2007), The Hitchhiker (2007), I Am Omega (2007), Transmorphers (2007), Allan Quatermain and the Temple of Skulls (2008), The Day the Earth Stopped (2008) 100 Million BC (2008), Sunday School Musical (2008), The 18 Year Old Virgin (2009), Abraham Lincoln vs. Zombies (2012), Age of the Hobbits (2012) and Atlantic Rim (2013), among others.
Android Cop was clearly intended as a quickie copy of the remake of RoboCop (2014). This is fairly blatant from the design of the Android Cop to the fact that it even makes the same sound servo whine effect when it moves that the original Robocop did. Unlike most of The Asylum's cheapies, Android Cop works quite likeably. It sets up an interesting future scenario where L.A. has fragmented into a borderland zone ruled over by various gangs – one that is potentially more interesting than Robocop's future, even if Android Cop seems to miss any of RoboCop's satirical potential. The idea of journey through gang territory has been taken from 1990: The Bronx Warriors (1982), which in turn was an attempt to marry Escape from New York (1981) with The Warriors (1978). The idea of the missing mayor's daughter has been lifted from Escape from L.A. (1996), while the relationship between the cop and his straight-laced android partner reminds a good deal of the recent tv series Almost Human (2013-4).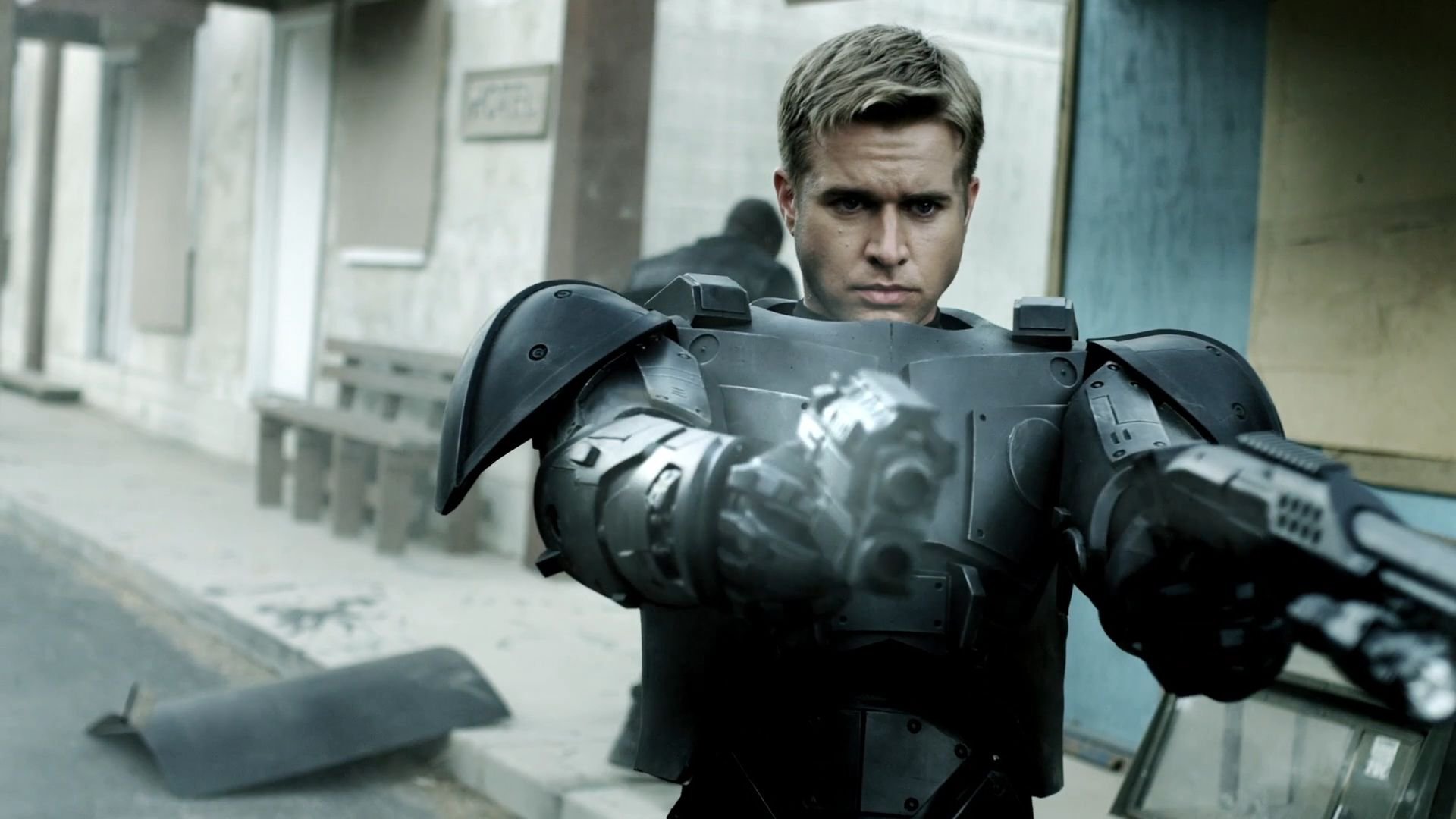 What makes Android Cop work is an undeniable sense of humour. Like the scene where the two are sent to deal with a rooftop jumper and Randy Wayne succeeds in talking him down by approaching and calmly asking him about signing up as an organ donor after his death. There is also a highly amusing scene where Michael Jai White and Randy Wayne play good cop/bad cop with Zone guide Jay C. Brothers where Wayne intervenes in White's roughhouse way of dealing by insisting that Brothers file a complaint of police brutality and between the two of them they end up fooling him into cooperating.
Michael Jai White, never much of an actor – does anybody remember Spawn (1997)? – seems to go through the film with a single glower that makes you remind of Ice Cube's sarcastic, pissed-off way of acting. In his own grumpy way though, White gets into the sense of humour and fits the part.
Mark Atkins delivers some okay low-budget action. On the other hand, the low-budget gets in the way of the science-fiction. When it comes to the streets of L.A., the cars, fashion styles and buildings disappointingly look exactly the same as contemporary L.A. – in other words, a future where minimalist effort has been made to disguise the present.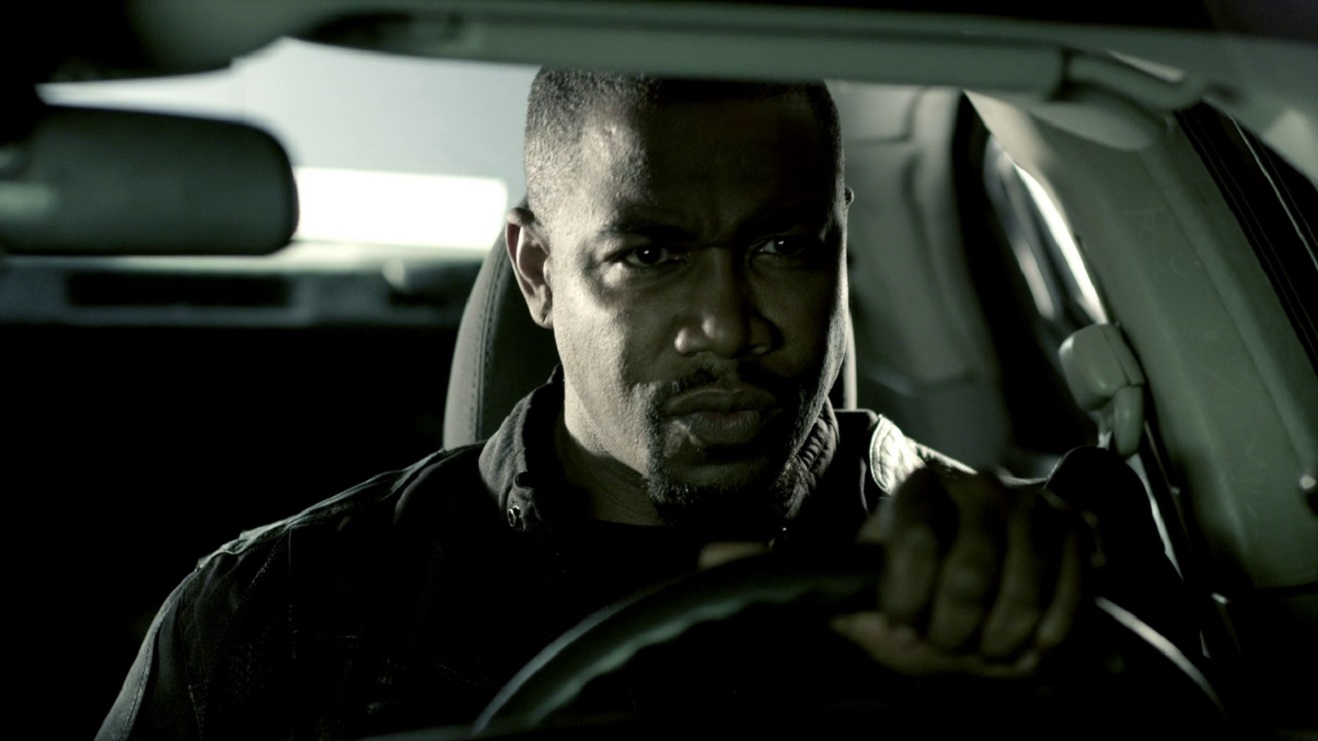 Nevertheless, the film does introduce some intriguing cyberpunk devices – like the improbable idea of the mayor's daughter who has become trapped in an android body via telepresence without being aware of it. Less plausible is the film's big Philip K. Dick-ian twist ending where [PLOT SPOILERS] Michael Jai White's human cop is revealed to have been an android all along without his knowing it.
Mark Atkins is an Asylum regular who has also made Halloween Night (2006), Allan Quatermain and the Temple of Skulls (2008), Dragonquest (2009), The Haunting of Winchester House (2009), Princess of Mars (2009), Battle of Los Angeles (2011), Alien Origin (2012), Sand Sharks (2012), Jack the Giant Killer (2013), Knight of the Dead (2013), Dragons of Camelot (2014), P-51 Dragon Fighter (2014), A Perfect Vacation (2015), Road Wars (2015), Planet of the Sharks (2016), Empire of the Sharks (2017), Jurassic School (2017), 6-Headed Shark Attack (2018) and Monster Island (2019).
---
Trailer here
---