aka Droid Gunner
---
USA. 1995.
Crew
Director/Producer – Fred Olen Ray, Screenplay – William C. Martell, Photography – Howard Wexler, Music – Jeffrey Walton, Miniature Effects – Concorde/New Horizons Studios, Special Effects – Players Special F/X (Supervisor – Kevin McCarthy), Makeup Effects – Obscure Artifacts (Supervisors – Chris Bergschneider & Jeff Farley), Production Design – Candi Guterres. Production Company – Royal Oaks Entertainment.
Cast
Marc Singer (Jack Ford), Matthias Hues (Hawk), Rochelle Swanson (Beth Enright), Robin Clarke (Charles Humberstone), Cal Bartlett (Mr Reginald), Kin Shriner (Walsh), Robert Quarry (Chew'Bah), Ross Hagen (Bartender), Brinke Stevens (Kitten), Meaghan Prester, Bianca Rocilli & Brittany Rollins (Pleasure Droids), Johannes V. Meerkerk (Assassin Droid)
---
Plot
2077, twenty years after an earthquake has sent all the states along the western American seaboard into the ocean. The populace is divided between monied classes living inside domed cities and the poor and mutated in the wastelands outside. In Phoenix City, bounty hunter Jack Ford receives an assignment from a corporation to track down four female pleasure androids that have been stolen from a colony on Jupiter. Jack is reluctantly paired with cybernetic specialist Beth Enright who has never been outside the city before. The two follow a trail that leads through the seedy wasteland underworld to an operation smuggling vice into the morally pure underwater city of New Angeles.
---
Fred Olen Ray is a director who has carved out a unique niche for himself. Fred Olen Ray makes B movies – a great many of them, nearly 200 at current count. (See below for a list of Fred Olen Ray's other films). All of Fred Olen Ray's films steal their ideas from better, bigger-budgeted mainstream films – Cyber Zone is Olen Ray's take on Blade Runner (1982), for instance.
Fred Olen Ray films wear their cheapness as a badge of pride – they are made with cynically faux bad movie titles like Hollywood Chainsaw Hookers (1988), Bad Girls from Mars (1990), Attack of the 60 Foot Centerfolds (1995) and Bikini Girls from a Lost Planet (2006). And of course there are bimbos – a never-ending supply of women who are prepared to throw off their tops and reveal their assets at a moment's notice. What almost makes Fred Olen Ray's films enjoyable is their cheerful cynicism – their ragged defiance and celebration of their own cheapness and the snappily sarcastic one-liners they characteristically come peppered with.
Cyber Zone/Droid Gunner is one of Fred Olen Ray's better efforts. The film is cheaply made – the underwater city, for example, never consists of anything more than scenes shot in the basement corridors of some industrial plant. There are some capable cut-price model effects from the New World studios in-house effects group. There is the usual collection of Olen Ray bimbos – including Scream Queen Brinke Stevens and softcore actress Lorissa McComas – and former exploitation names – Ross Hagen and Robert Quarry from Count Yorga, Vampire (1970) who plays a crime kingpin and is made up like an aging drag queen. In the hero role, Olen Ray casts Marc Singer, a competent actor who is unfortunately too much of a nice guy and not weather-beaten and grizzled enough for the burned-out bounty hunter part he is meant to be playing.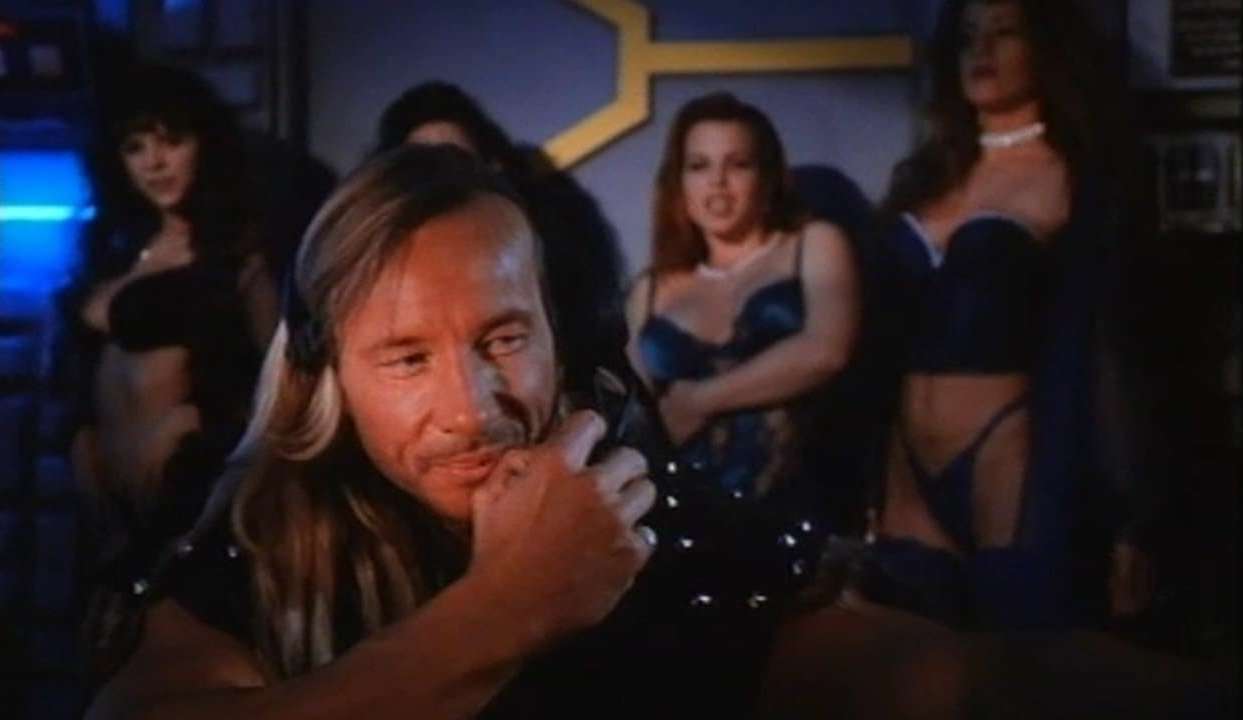 What makes Cyber Zone enjoyable is Fred Olen Ray's clear sense of humour. The sparring relationship between Marc Singer's worldwise bounty hunter and Rochelle Swanson's city slicker is well drawn – "Have you ever been to the surface?" "Not exactly. But I've seen pictures in National Geographic." Or the assassination droid that comes with a perfect mimicry of Arnold Schwarzenegger's accent. Not to mention the pleasure droids who are always stripping their clothes off and trying to pleasure their men at the most inappropriate of times – in one amusing scene, they are dressed as nuns trying to tempt Matthias Hues while he is trying to fly a ship. There is also a drolly amusing scene where Marc Singer bursts into a brothel, interrupting a couple during sex to scan her to see if she is an android and before departing pulls out a photo of the woman he was searching for earlier, "By the way your husband's looking for you."
Fred Olen Ray has made a lengthy list of genre films. These include:- The Brain Leeches (1977), The Alien Dead/It Fell from the Sky (1980), Scalps (1983), Biohazard (1984), The Tomb (1985), The Adventures of Taura: Prison Ship Star Slammer (1986), The Phantom Empire (1986), Cyclone (1987), Beverly Hills Vamp (1988), Deep Space (1988), Hollywood Chainsaw Hookers (1988), Warlords (1988), Alienator (1990), Bad Girls from Mars (1990), Spirits (1990), Haunting Fear (1991), Scream Queen Hot Tub Party (1991), Wizards of the Demon Sword (1991), Evil Toons (1992), Little Devils (1993), Dinosaur Island (1994), Mind Twister (1994), Possessed By the Night (1994), Attack of the 60 Foot Centerfolds (1995), Invisible Mom (1995), Star Hunter (1995), Night Shade (1996), Passionate Revenge/Friend of the Family II/Hell Hath No Fury (1996), Hybrid (1997), Little Miss Magic/Kidwitch (1997), Billy Frankenstein (1998), Dear Santa/My Dad Santa (1998), Illicit Dreams 2 (1998), Invisible Dad (1998), Active Stealth (1999), Fugitive Mind (1999), Invisible Mom 2 (1999), The Kid with X-Ray Eyes (1999), Prophet (1999), Critical Mass (2000), Sideshow (2000), Kept (2001), Stranded (2001), Venomous (2001), Thirteen Erotic Ghosts (2002), Final Examination (2003), Bikini-a-Go-Go/Curse of the Erotic Tiki (2004), Genie in a String Bikini (2004), Haunting Desire (2004), Teenage Cavegirl (2004), Glass Trap (2005), Tomb of the Werewolf (2005), Bikini Girls from a Lost Planet (2006), Bikini Pirates (2006), Ghost in a Teeny Bikini (2006), Bewitched Housewives (2007), The Girl With Sex-Ray Eyes (2007), Nuclear Hurricane (2007), Super Ninja Bikini Babes (2007), Polar Opposites (2008), Solar Flare (2008), Tarzeena, Queen of Kong Island (2008), Voodoo Dollz (2008), Dire Wolf (2009), Silent Venom (2009), Bikini Frankenstein (2010), Bikini Jones and the Temple of Eros (2010), Housewives from Another World (2010), Turbulent Skies (2010), Twilight Vamps (2010), Lady Chatterly's Ghost (2011), Little Witches (2011), Rewind Time Machine (2011), Super Shark (2011), Dirty Blondes from Beyond (2012), Abner the Invisible Dog (2013), After Midnight (2014), Unwanted Guest (2016), Stage Fright (2017), The Twin (2017) and Piranha Women (2022).
---
Trailer here
---