---
Crew
Director – Aleksander Bach, Screenplay – Michael Finch & Skip Woods, Story – Skip Woods, Based on the Eidos Computer Game, Producers – Adrian Askarieh, Charles Gordon, Skip Woods & Alex Young, Photography – Öttar Guönason, Music – Marco Beltrami, Visual Effects – Industrial Light and Magic (Supervisor – Samir Hoon), Special Effects Supervisor – Adolf Wotjinek, Production Design – Sebastian T. Krawinkel. Production Company – Daybreak Films/Giant Pictures/TSG Entertainment/Adrian Askarieh/Ingenious Media.
Cast
Rupert Friend (Agent 47), Hannah Ware (Katia Van Dees), Zachary Quinto (John Smith), Ciaran Hinds (Peter Litvenko), Thomas Kretschmann (Anton Le Clerq), Dan Bakkedahl (Sanders), Rolf Kanies (Dr Delriego), Jurgen Prochnow (Tobias), Angelababy (Diana), Michaela Caspar (Hall of Records Clerk)
---
Plot
Syndicate International is seeking to revive the now defunct Agent program that bred a series of ruthlessly efficient, genetically-engineered assassins. They are searching for Peter Litvenko, the creator of the Agent program, but he has vanished from sight. In their worldwide search for Litvenko's whereabouts, they focus in on his daughter Katia Van Dees in Berlin. As she sets out to find Litvenko, who she only has a vague memory of, not even his name, she is contacted by John Smith. Smith protects her as Agent 47 comes seeking to eliminate her. A furious chase ensues as Katia begins to understand the superhuman fighting abilities that her father has also bred in her. However, as Agent 47 continues a relentless pursuit, it become apparent that all is not quite as it seems.
---
Hitman is a series of computer games from Eidos Interactive. These began with Hitman: Codename 47 (2000) and has spawned seven other follow-up games by the point of this film. The games all centre around the player character of the titular hitman known only as 47 or Agent 47 who has been genetically-engineered to be a lethal assassin. The plot of each game involves him making a series of hits. The games are ones of strategy and can involve the hits being conducted by a variety of methods.
The videogame had previously been filmed as the film Hitman (2007) under French director Xavier Gens starring Timothy Olyphant as Agent 47. This met with a fairly negative reception from critics and gamers alike. Hitman: Agent 47 is an effort to reinvigorate the franchise. It is not exactly a sequel (although there is nothing to prevent it working as such), more the dread term of reboot. The central character is the same but the only holdover from the first film are Skip Woods on script and some of the producers.
Certainly, Hitman: Agent 47 makes a more concerted effort to return closer to what the game was and brings in aspects that were not dwelt on in the first film. Rupert Friend goes through the show in distinctive business suit, scarlet red tie, leather gloves and matching handguns. There is the introduction of his handler Diana (played by the improbably named Hong Kong star Angelababy). There is also the introduction of the background of the Agent program and the idea of 47 being genetically engineered, which oddly appeared in the trailer for the 2007 film but was missing by the time the film was released (although 47's parentage is very different here than it is in the games). There is the introduction of Agent Smith, although he is now 47's nemesis rather than the friend he usually is in the games. The story of Hitman: Agent 47, with 47 being required to protect a girl who is eventually revealed to be genetically bred as well, has a number of similarities to the plot of the fifth game Hitman: Absolution (2012).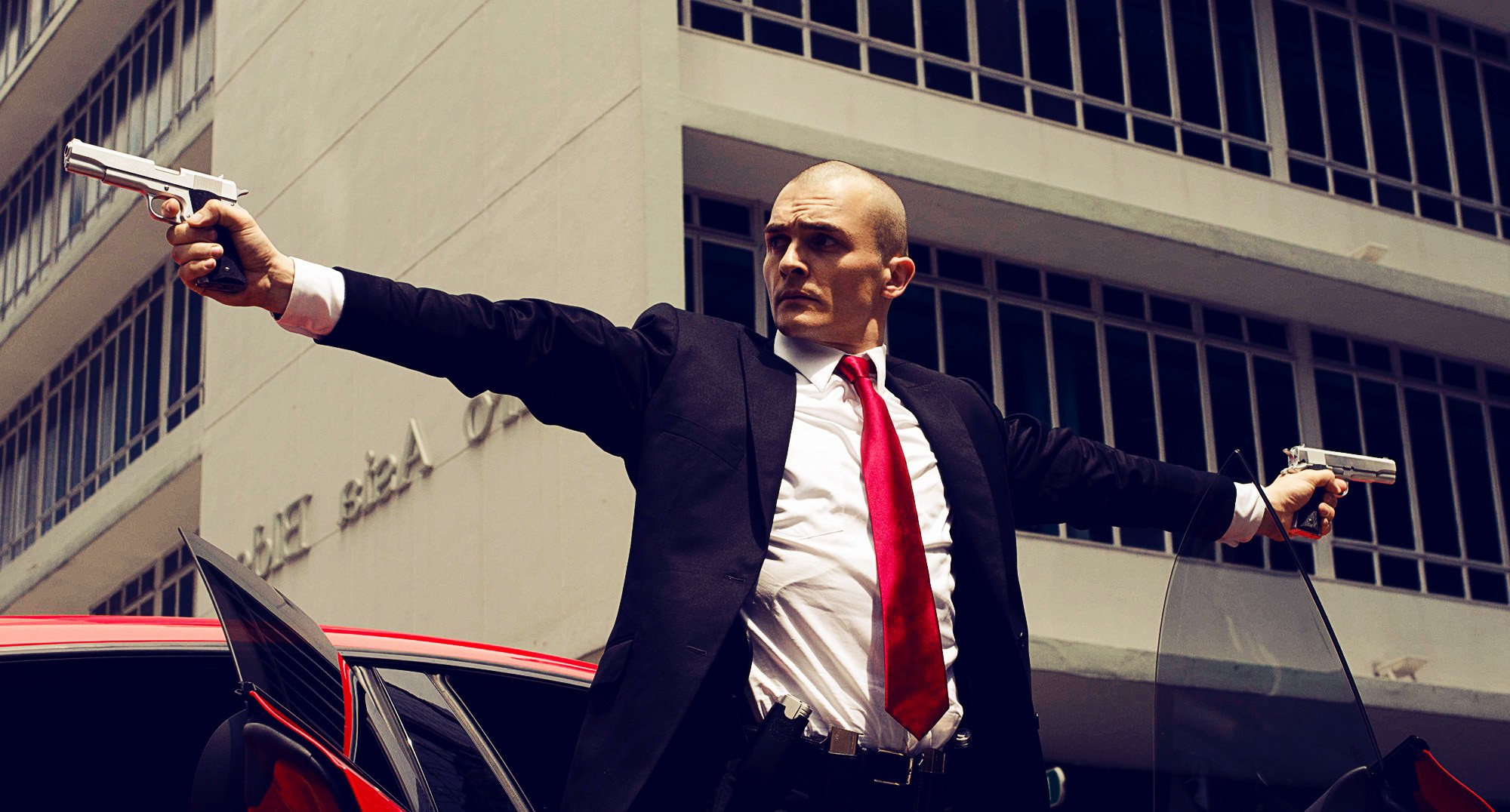 Hitman: Agent 47 received some fairly negative reviews. I tend to regard it slightly better than that. It is a more slickly presented film than the original and certainly better at giving us the essence of the videogame up on screen. In Rupert Friend's performance, there is a far more the sense of Agent 47 as lethally efficient and detached from all emotion and yet of his becoming more human throughout the course of the show, an aspect that never much communicated itself when Timothy Olyphant was playing the part. That said, from a physical perspective, British actor Rupert Friend seems awkward trying to adopt the Agent 47 look – the shaven head and his ungainly features make him look more like he should be playing a goon in a Guy Ritchie gangster film than a lethally efficient and superhuman killing machine.
Debuting director Aleksander Bach does reasonably well with the action scenes. There are some fine scenes racing through the underground garage, fights in an airplane factory and especially the bizarre sequence where the 47's high-end car is pinned by grappling hooks in the middle of a busy intersection. The only complaint about the action sequences is the reliance on CGI rather than physical stuntwork, something that is particularly noticeable in an unconvincing sequence where Hannah Ware crashes a helicopter into an office building.
The other complaint is the type of action filmmaking that has taken over the genre ever since The Transporter films – or perhaps even more so Kurt Wimmer's Gun Katana in Equilibrium (2002) and Ultraviolet (2006) – where the hero becomes an almost superhumanly skilled master of staging scenes and using inherently chaotic elements of the background – like a bullet's trajectory when it is accidentally fired after a gun falls or the way things explode – as part of his scheme. You have to accept this as part of the film's fantasy of action movie physics. As such, Hitman: Agent 47 at least succeeds modestly in being what it sets out to be.
---
Trailer here
---