---
USA/China. 2017.
Crew
Director – Rupert Sanders, Screenplay – Ehren Kruger, Jamie Moss & William Wheeler, Based on the Manga by Shirow Masamune, Producers – Ari Arad, Avi Arad, Michael Costigan & Steven Paul, Photography – Jess Hall, Music – Lorne Balfe & Clint Mansell, Visual Effects Supervisors – John Dykstra & Guillaume Rocherca, Visual Effects – Blacksmith, Framestore (Supervisor – Ivan Moran), lola|VFX (Supervisor – Edson Williams), Method Studios (Senior Supervisor – Greg Steele), Mill+, MPC (Supervisors – Arundi Asregadoo & Axel Bonami), Technicolor VFX (Supervisor – Doug Spilatro), Territory Studio, Special Effects Supervisor – Yves De Bono & Steve Ingram, Specialty Makeup/Props/Miniatures – Weta Workshop Limited (Supervisor – Richard Taylor), Production Design – Jan Roelfs. Production Company – Paramount/Dreamworks Pictures/Reliance Entertainment/Shanghai Film Group/Huahua Media/Arad Productions/Steven Paul
Cast
Scarlett Johansson (Major Mira Killian), Pilou Asbæk (Batou), "Beat" Takashi Kitano (Aramaki), Michael Carmen Pitt (Kuze), Juliette Binoche (Dr Ouelet), Peter Ferdinando (Cutter), Chin Han (Togusa), Danusia Samal (Ladriya), Lasarus Ratuere (Ishikawa), Tawanda Manyimo (Borma), Anamaria Marinca (Dr Dahlin)
---
Plot
The body of a woman damaged in a terrorist bombing is retrieved by Hanka Robotics. The brain is placed inside a cyborg body and now becomes Mira Killian, who is made a major with the government's Section 9 anti-terrorist organisation. As the major and her team go into action, they discover that a shadowy figure known as Kuze is attempting to assassinate the CEO and scientists of Hanka Robotics. As the major pursues Kuze, she finds he is an earlier version of the cyborg designs that eventually evolved into her and is seething with revenge against Hanka for his flawed creation. However, apprehending Kuze means that the major must confront her own erased past.
---
The Ghost in the Shell series began with the manga Ghost in the Shell (1989-90) from Masamune Shirow, which was serialised over an eight-month period in Young magazine. Shirow later revisited the world with the sequels Ghost in the Shell: Man-Machine Interface (1991-7) and Ghost in the Shell 1.5: Human-Error Processor (1991-6). All of the stories concern the cyborg officer Motoko Kusanagi and her partner Batou as they deal with a series of threats in a cyberpunk future. The first manga series was adapted by Mamoru Oshii as the anime Ghost in the Shell (1995), which proved a cult hit, to which Oshii later made a sequel with Ghost in the Shell: Innocence (2004). There was also an anime tv series Ghost in the Shell: Stand Alone Complex (2004-5), which ran for twenty-six episodes and told a series of original stories. The Ghost in the Shell series was subsequently revived in a series of four one-hour theatrical films under the umbrella title Ghost in the Shell: Arise (2013-4), which spawned a further feature-length animated film Ghost in the Shell: The New Movie (2015).
From the 1990s onwards, US filmmakers began a trend remaking classic animated tv series as live-action films on the big screen, beginning with The Flintstones (1994). Here Ghost in the Shell joins a number of Western adaptations of anime tv series and films, which includes the likes of The Guyver (1991), Crying Freeman (1995), Fist of the North Star (1995), Blood: The Last Vampire (2009), Transformers (2007) and sequels, Speed Racer (2008), Dragonball: Evolution (2009) and Kite (2014), while a live-action version of Akira (1988) is now well into its second decade in development hell. The best of these live-action remakes are those that have come from Japan who have produced Casshern (2004), Cutie Honey (2004), Devilman (2004), YatterMan (2009), Space Battleship Yamato (2010), Kiki's Delivery Service (2014), Lupin III (2014), Attack on Titan (2015), Fullmetal Alchemist (2017) and Tokyo Ghoul (2017).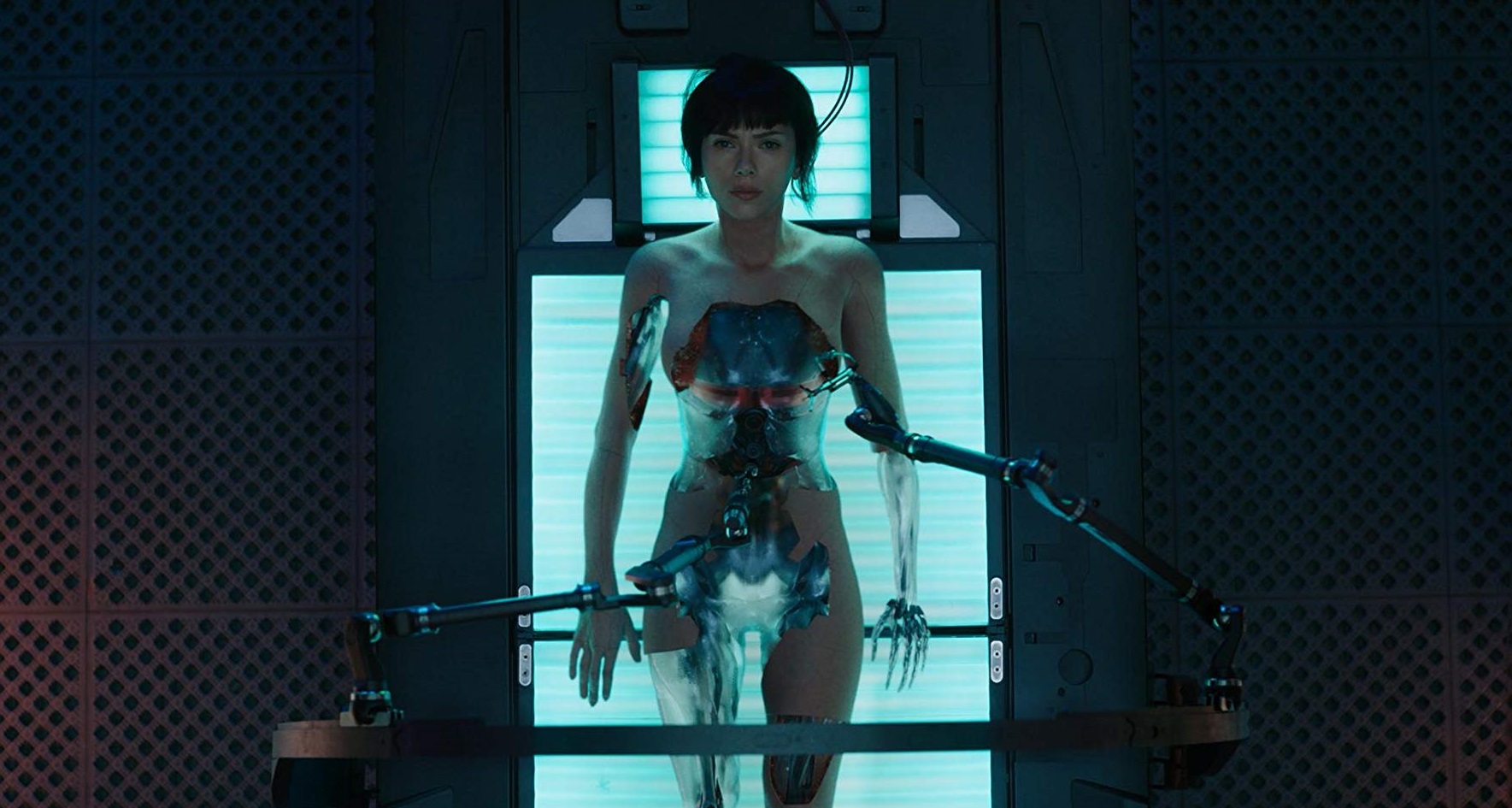 The film plays mix and match with elements of Ghost in the Shell. The most egregious of the changes is the central character who is wiped of her Japanese identity. (When Scarlett Johansson discovers her background, she finds that she used to be Motoko Kusanagi before being incarnated in a Caucasian body, which becomes a diagetic means of both acknowledging and dismissing the whitewashing issue – see below). There is no sentimental quest for her past in the original – as Ghost in the Shell: Arise reveals, she was born as a cyborg, is not the first of her kind. In the film, she becomes another cliche cyborg being trying to rediscover its erased/suppressed human self a la Robocop (1987). While he still gets his artificial eyes, Batou has gone from a taciturn but loyal sidekick to an amiably cuddly figure. Perhaps the biggest disappointment is replacing the fascinating character of The Puppet Master with that of Kuze who is sort of taken from Stand Alone Complex but is no more interesting than a standard terrorist with a background connected to the heroine. There are various nods to elements from the original anime throughout – the spider tank battle, the dive off the building, the geisha robot, the person off the street with the manufactured memories.
Before it even opened, Ghost in the Shell was heavily slammed for its whitewashing. Whitewashing – wherein a character that was originally meant to have a specific ethnicity is recast with white faces and usually an actor with a big box-office name – has dogged if not killed a number of films of late. Look at Aloha (2015), Pan (2015), Doctor Strange (2016), Gods of Egypt (2016) and Death Note (2017). On the face of it, you suspect the great unwashed public don't care about whether a role was intended for one actor or another. Do people really buy tickets deciding "I can't go watch this because they cast someone of the wrong race?" I can understand it is an issue for someone of that ethnicity wanting to protest the film. On the other hand, I think the public going to see Ghost in the Shell are making choices based on things like wanting to see a science-fiction or action film, being fans of Scarlett Johansson and only a few would make their choices based on the issue of cultural/ethnic appropriation. Equally though, the whitewashing controversy has become sufficiently big to become box-office poison in a number of cases, which would suggest that audiences are highly sensitive to these issues. It also seems something that the producers of Ghost in the Shell were oblivious to when they made the film – and not too unexpectedly, the film ended up being a box-office bomb.
Even though Masamume Shirow gave his blessing to the issue, the whitewashing of Ghost in the Shell does irk me – in this case, it represents insensitivity to the original material. It results in a film that seems to be obviously trying to take place in Tokyo (even if it is never named as such) where the population seems to be filled with more white people than Japanese. I suppose even this would have been tolerable if Ghost in the Shell was a halfway good adaptation. But it isn't. It is Ghost in the Shell's themes dumbed down for the multiplex crowd. The Ghost in the Shell anime are filled with haunting meditations on the difference between human and machine with a heroine who can no longer even be sure what parts of her are real or not. The film here is no more than a big action movie where Scarlett Johansson has been given a regular backstory as the protagonist with the erased past on a determined trail to get her identity back. Scarlett Johansson's final line "My ghost survives to remind us that humanity is our greatest virtue," is an utterly banal humano-centric cliche and a total repudiation of Masamune Shirow's ideas.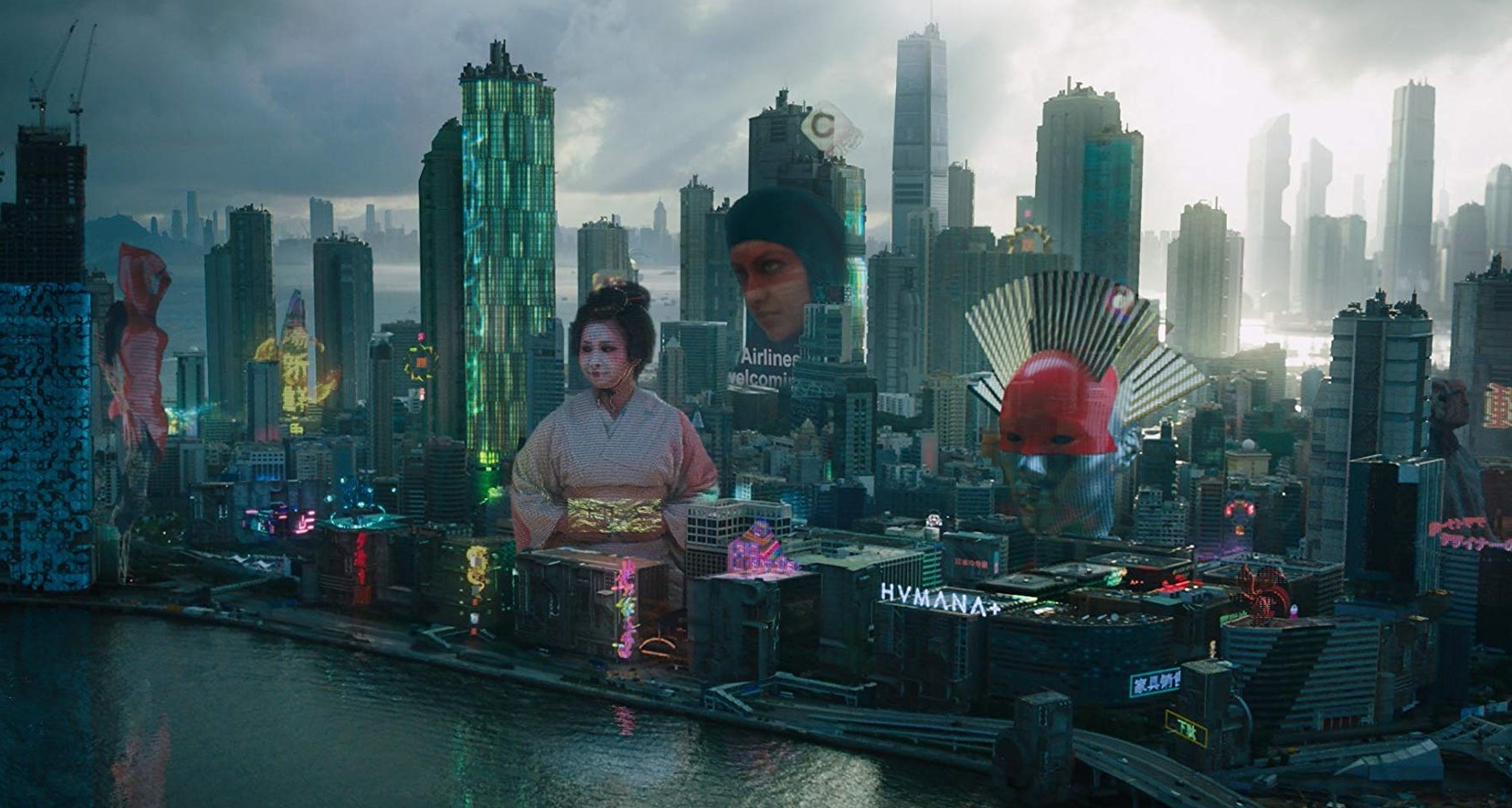 The film goes to town on the Cyberpunk future look, drawing as it does from Blade Runner (1982) with iridescent neon and giant holographic displays (including multiple product placements) filling the cityscape. The original anime never spent a great deal of effort on the look of the future, although this was certainly pumped up a good deal more when it comes to Innocence. It is also a world for which Rupert Sanders has almost no affinity. In Blade Runner, Ridley Scott gave the world texture, grit, made it feel lived in. Here it is just eye candy whipped by us. There are some novelty costumes and devices – people with wraparound VR shades, a cool geisha android that transforms into a spider robot – but little sense that this is a world that lives and breathes beyond the edge of the camera's frame.
With the budget the film has, Ghost in the Shell 2017 could have been the defining work of Cyberpunk cinema that we have been waiting for; instead in Rupert Sanders' bumbling hands and the box-office dumbing down of the story's intellectual content, what we get is one of the great missed opportunities. Even the action element is utterly routine. In fact, both Ghost in the Shell and his previous film Snow White and the Huntsman (2012) give me such a low opinion of Rupert Sanders that he is rapidly entering my list of empty-headed Avoid directors somewhere down there with the likes of Joel Schumacher, Renny Harlin and Stephen Sommers.
(Winner in this site's Worst Films of 2017 list).
---
Trailer here
---