(Toki Wo Kakeru Shojo)
---
Crew
Director – Mamoru Hosoda, Screenplay – Satoko Okudera, Based on the Novel by Yasutaka Tsutsui, Producers – Takashi Watanabe & Yuichiro Saito, Music – Kiyoshi Yoshida, Animation – Madhouse, Art Direction – Nizuo Yamamoto. Production Company – Kadokawa Pictures/Happinet/Memory-Tech/Q-Tec/G.T. Entertainment/Kadokawa Anime Fund.
---
Plot
Makoto Konno is an average Tokyo schoolgirl. Makoto is riding home on her bicycle one afternoon when the brakes fail and she skids out in front of an oncoming train to certain death. Instead, she opens her eyes to find that she has been transported to further up the street before the crash. Her 'Aunt Witchie', an art restorer with the local gallery, suggests that Makoto has the ability to time leap. Makoto experiments with this and after some difficulty perfects the ability to jump through time. She enjoys all the fun possibilities that this offers her. Aunt Witchie warns that Makoto having fun may well mean that someone else will be affected. Makoto and her two friends, Kosuke Tsuda and Chiaki Mamiya, enjoy playing baseball together. Another girl, the shy Kaho, expresses an interest in going out with Kosuke. As she discusses this with Chiaki, Makoto is shocked after he suggests that the two of them go out – and continues to do so no matter how many times she goes back in time and tries to rerun the scene. As she sets everything up perfectly so that Kosuke and Kaho can come together, Makoto finds that they are destined to be the ones that crash into the train. In trying to save them, there comes a startling discovery about where her time leaping abilities come from.
---
The Girl Who Leapt Through Time is an anime based on a popular Japanese young adult's novel that was originally published in 1965. The story has been adapted to film a number of times previously, including as two tv series The Time Traveller (1972) and The Little Girl Who Conquered Time (1994) and most notably as the live-action The Little Girl Who Conquered Time (1983) and a lesser-known remake The Little Girl Who Conquered Time (1997). Only a couple of years later, there was also a live-action sequel to the book with The Time Traveller: The Girl Who Leapt Through Time (2010).
This version comes from Mamoru Hosoda whose previous ventures into anime had been Digimon: The Movie (2000) and One Piece: Baron Omatsuri and the Secret Island (2005). The Girl Who Leapt Through Time and in particular his subsequent films, the superb Summer Wars (2009), Wolf Children (2012), The Boy and the Beast (2015), Mirai (2018) and Belle (2021), would take Mamoru Hosoda to the forefront of anime directors in the late 00s and beyond.
It would not be hard to mistake The Girl Who Leapt Through Time for a typical shoujo anime of the mid-90s. It is drawn in the same limited style with vertically elongated characters and relatively little movement (evidence of low production budget), while CGI animation is kept relatively sparse. Certainly in tone, The Girl Who Leapt Through Time emerges as typical shoujo anime – there is a girlish giddiness to all the running around back and forward through time and a good deal of frequent slapstick comedy. Moreover, the focus of most of the time travel is the not exactly highbrow concepts of getting couples together, avoiding embarrassments, returning to keep singing karaoke within a five minute limit more or repeatedly going back to the day of the week when one's favourite meal was being served up.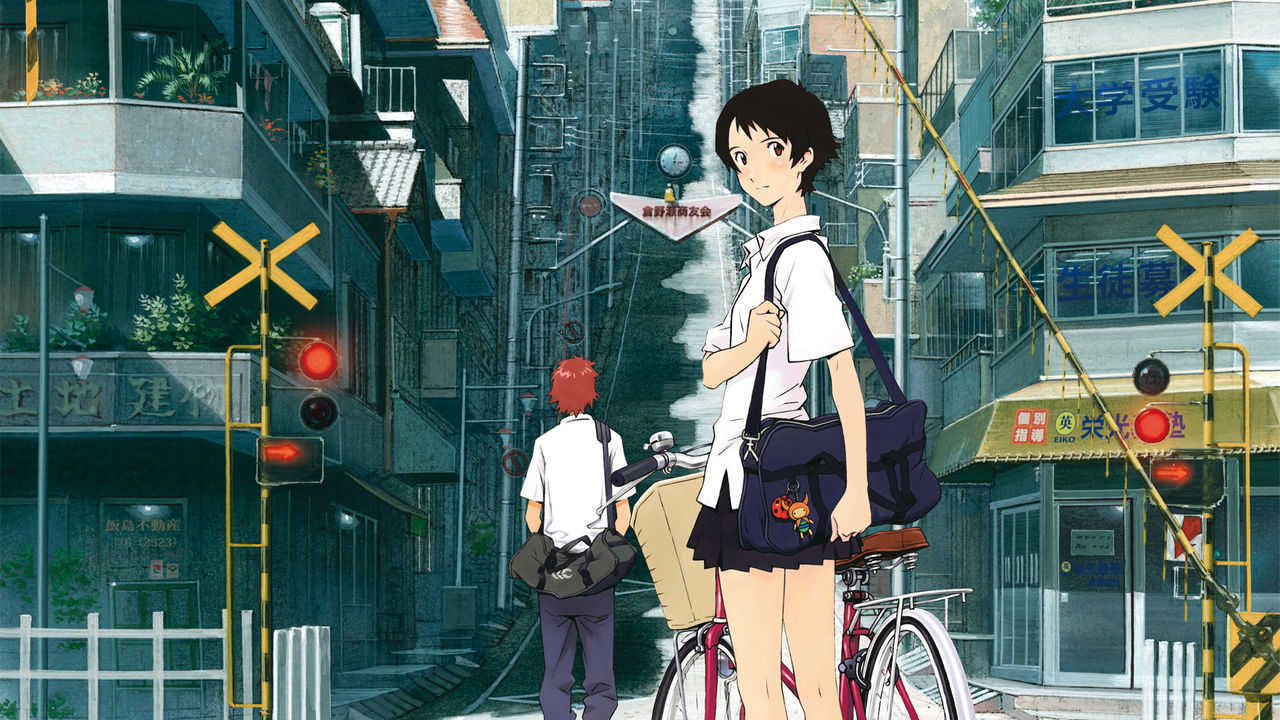 The film comes with an undeniable sense of humour – there is a charm to the scenes with Makoto doubling along on the back of Chiaki's bicycle where the discussion about Kosuke and his new girlfriend suddenly turns into him asking her out no matter how many times she goes back and tries to rerun the scene to avoid the topic.
For much of the running time, you wonder if this light, fluffy and girlish take on time travel is all that there is to the film. If you contrast The Girl Who Leapt Through Time to other films about time travel romance such as Happy Accidents (2000) and to a lesser extent Kate & Leopold (2001), The Girl Who Leapt Through Time seems all about the teenage heroine for the most part trying to avoid romantic entanglements, whereas these others are more mature works concerning themselves with adult relationships.
Around the middle of the film, it becomes confusing trying to work out amid where we are all the time leaps and what has and hasn't changed. Eventually, the film pulls back to coalesce with striking effect in its revelation of what is going on. [PLOT SPOILERS]. There is the considerable beauty of the CGI animated scenes of Makoto and Chiaki moving through a city and crowds of people that have been frozen in motion. There is a lovely melancholy to his explanation of how he came back from a barren future world just so that he can see a single painting. The scenes where she rushes to say goodbye to him before he departs eventually brings the film to a point of sincere feeling and makes for a lovely ending to go out on.
---
---