(Okami Kodomo no Ame to Yuki)
---
Crew
Director/Story – Mamoru Hosoda, Screenplay – Mamoru Hosoda & Satoko Okudera, Producers – Takuya Ito, Yuchiro Sato & Takafumi Watanabe, Music – Masakatsu Takagi, Animation Director – Takaaki Yamashita, Art Direction – Hiroshi Ohno. Production Company – Toho/Nippon Television Network/Studio Chizu.
---
Plot
Hana befriends Ookami, a strange boy in her university class who is not on the official rolls. As they become attached, he reveals his true self to her – as the last of a people who can change form between wolf and human. The two become lovers and Hana soon gives birth to a girl that she names Yuki. Just as she has her second child, a boy Ame, Ookami fails to return home and his dead body is then found. Hana struggles to raise the two children on her own and deal with the chaos caused by them as both human and wolf. With her money dwindling, she makes the choice to move to an abandoned house on the side of a mountain in a remote part of the country. There the children relish the freedom of roaming in whatever form they like and Hana does not have to have to worry about other people seeing them as wolves. She struggles to grow crops in the field and the locals come and teach her the right ways. As Yuki grows old enough, she becomes determined to go to school, and Hana agrees as long as she demonstrates she can keep the wolf contained. She eagerly seeks to fit in but flees when she is teased by a new boy Sohei Fujii and transforms and claws him. Ame meanwhile makes the decision that he is not human but wolf and finds his place amongst the animals that rule the mountainside.
---
Mamoru Hosoda has emerged in recent years to the forefront of Japanese anime directors. Hosoda first appeared on cinema screens with fluff adapted from tv series such as Digimon: The Movie (2000) and One Piece: Baron Omatsuri and the Secret Island (2005). However, it was with The Girl Who Leapt Through Time (2006) and the excellent Summer Wars (2009) that his name began to attract attention and subsequent to this The Boy and the Beast (2015), Mirai (2018) and Belle (2021).
Wolf Children is a werewolf film, although is unlike any werewolf film you have seen before. I am unable to think of any werewolf film – unless you want to go to light-hearted frivolity such as Teen Wolf (1985) or Alfie the Little Werewolf (2011) – that did not treat the wolf as a monster or at the least a dangerous beast that the human half of its' nature was keeping in check. By contrast, Wolf Children has more in common with a work like Hayao Miyazaki's My Neighbor Totoro (1988) than it does a traditional werewolf film. The result may be one of the most original screen treatments of the werewolf theme so far.
Certainly, if Hayao Miyazaki ever decides to finally retire (and not rescind it a few years later), Mamoru Hosoda seems more than ably suited to step in and fill his shoes. (That was almost literally the case as Hosoda was originally set to direct Howl's Moving Castle (2004) but ended up being replaced by Miyazaki after creative differences). Wolf Children feels very much a Miyazaki-modelled film in tone and visual style. Hosoda adopts the rounded ligne claire style preferred by Miyazaki and brings back the large oversized eyes look that has fallen out of favour in anime in recent years.
More so, Wolf Children feels a Miyazaki film philosophically. Hosoda aims for the same genteel theme of harmony with nature and the contemplative beauty of the landscape that Miyazaki does so well. Miyazaki's characters tend to be young women who have to make their way on their own whereas Hosoda seems to opt for the theme of family and the way in which individuals are accepted into a wider, extended community or family. Some of the warmest, most tender scenes here are those where Hana struggles to plant crops in the field and continues to fail until the locals come and give help, in particular the character of the gruff Grandfather Nirasaki who walks by offering taciturn criticism that in its own way becomes strangely affecting.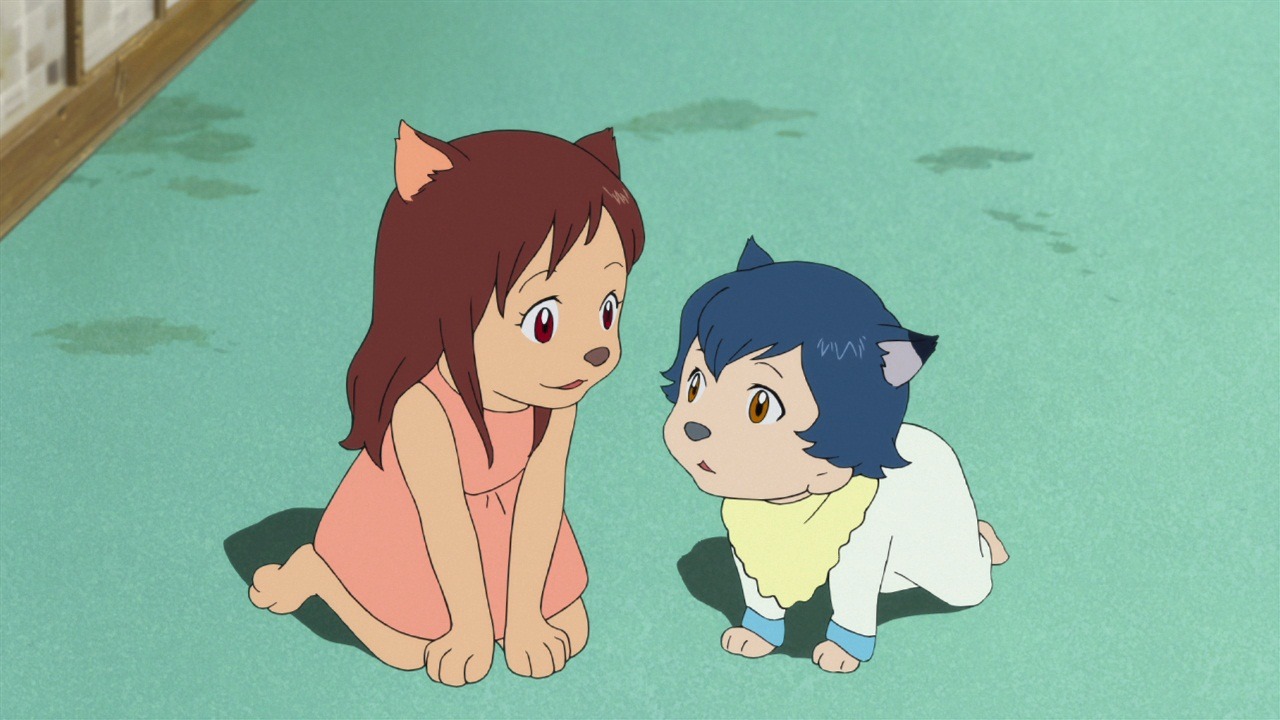 "Heard you'll be crying your eyes out," a friend texted me before the film started. And they were right, Wolf Children is an enormously affecting tearjerker. Mamoru Hosoda has an amazing ability to capture the sense of young children at play, up to mischief, throwing tantrums – and in natural-seeming ways that feel like he is the first director to ever depict these. The two young children are enormously adorable from the moment we are first introduced to them running around the apartment as half-humans, half-wolves, chewing on table legs and causing chaos.
The film is filled with touches of delight in every corner – the way in which Yuki bounds around the property after they first arrive, the charming nonchalance of the way Hana tries to explain off the animal wearing Yuki's dress that runs through the house as neighbours come to visit, or images of Yuki trying to fit in at school, finding that it is not normal to hunt snakes or keep preserved animal bones.
The beauty of Wolf Children comes in the originality with which it treats the werewolf theme. The two children are made into opposites – Yuki, the young girl who decides that she wants to be human and will make all effort to fit in and be normal, contrasted with Ame who decides that his identity is as a beast and finds his companionship among the animals that live on the mountainside. The entire film plays out between these two opposed choices, even if Hosoda does have to resort to the deus ex machina device of a storm to bring the two threads together. There is a beautiful loveliness and majesty to the image Ame departing and climbing his way up the side of the mountain at the end.
---