---
USA. 2013.
Crew
Director/Screenplay – Spike Jonze, Producers – Megan Ellison, Spike Jonze & Vincent Landay, Photography – Hoyt Van Hoytema, Music – Arcade Fire, Additional Music – Owen Pallett, Visual Effects Supervisors – Janelle Croshaw & Ben Gibbs, Visual Effects – Chimney, Digital Domain, Ollin (Supervisor – Charlie Iturriaga) & Savage, Alien Videogame Sequences – Titmouse Inc, Production Design – K.K. Barrett. Production Company – Annapurna Pictures.
Cast
Joaquin Phoenix (Theodore Twombly), Scarlett Johansson (Voice of Samantha), Amy Adams (Amy), Rooney Mara (Catherine), Olivia Wilde (Blind Date), Portia Doubleday (Isabella), Chris Pratt (Paul), Matt Letscher (Charles), Kristen Wiig (Voice of SexyKitten), Brian Cox (Voice of Alan Watts), Laura Kai Chen (Tatiana)
---
Plot
Theodore Twombly is a writer for a company that creates authentic personal handwritten letters for people. Theodore is feeling alone after the breakup with his wife Catherine. He decides to buy OS1, what is advertised as being a computer operating system with an artificially intelligent personality. After choosing a female personality for the OS and it selecting the name Samantha, Theodore begins to enjoy his relationship with it. After a blind date with a girl goes sour, Theodore wishes that he could be with Samantha and the two begin to explore a tentative relationship. This soon blossoms into feelings of love on both their parts and he finds ways to share every aspect of his life with her. Though some regard this as odd, Theodore begins to realise that human-OS relationships are a growing thing.
---
Spike Jonze emerged out of his acclaimed work on music tv with a number of distinctive videos for well-known bands. Jonze's name gained public attention with his directorial debut, the idiosyncratically surreal Being John Malkovich (1999), which became an arthouse favourite and featured in numerous awards nominations and critical Top 10 Lists for its year. Jonze followed this with Adaptation. (2002), ostensibly an adaptation of a non-fiction work that in Charlie Kaufman's mind-bending script was instead spun into a side-splitting meta-fiction about creative angst, before Jonze went on to put his own quirky, melancholic spin on the Maurice Sendak children's classic with Where the Wild Things Are (2009). In between that, Jonze has also produced Michel Gondry's first film Human Nature (2001), the documentary Heavy Metal in Baghdad (2007), Charlie Kaufman's directorial debut Synecdoche, New York (2008), as well as tv's Jackass (2000-2) and its various film spinoffs.
Her is the first film Spike Jonze had made from his own original screenplay. The inspiration came to Jonze in the early 00s when he saw an advertisement for a text messaging service that claimed to offer artificial intelligence and wondering what such would be like in reality. Jonze had previously ventured into themes of machine love with I'm Here (2010), a thirty minute short film made as a promotion for Absolut vodka featuring a romance between two robots in a future L.A. Her accrued a great deal of awards attention and made it onto a number of critics' Top 10 lists for 2013, including winning Best Film with a number of critics' circles and being nominated for several Golden Globes, including Best Musical/Comedy, Best Actor and Best Original Screenplay.
Her is Spike Jonze tackling the world of electronic relationships. This is a genre that has not fared well on screen – think the utter banality of You've Got Mail (1998) or the cliche internet stalker stories that turn up in episodes of shows like CSI: Crime Scene Investigation (2000-15). Part of the problem is the very uncinematic nature of typical internet relationships that consist of two people who spend most of the film apart and communicating only by typing. The best of these was probably the Belgian film Thomas in Love (2000) about a lonely agoraphobic house-ridden man who tries to develop an online relationship.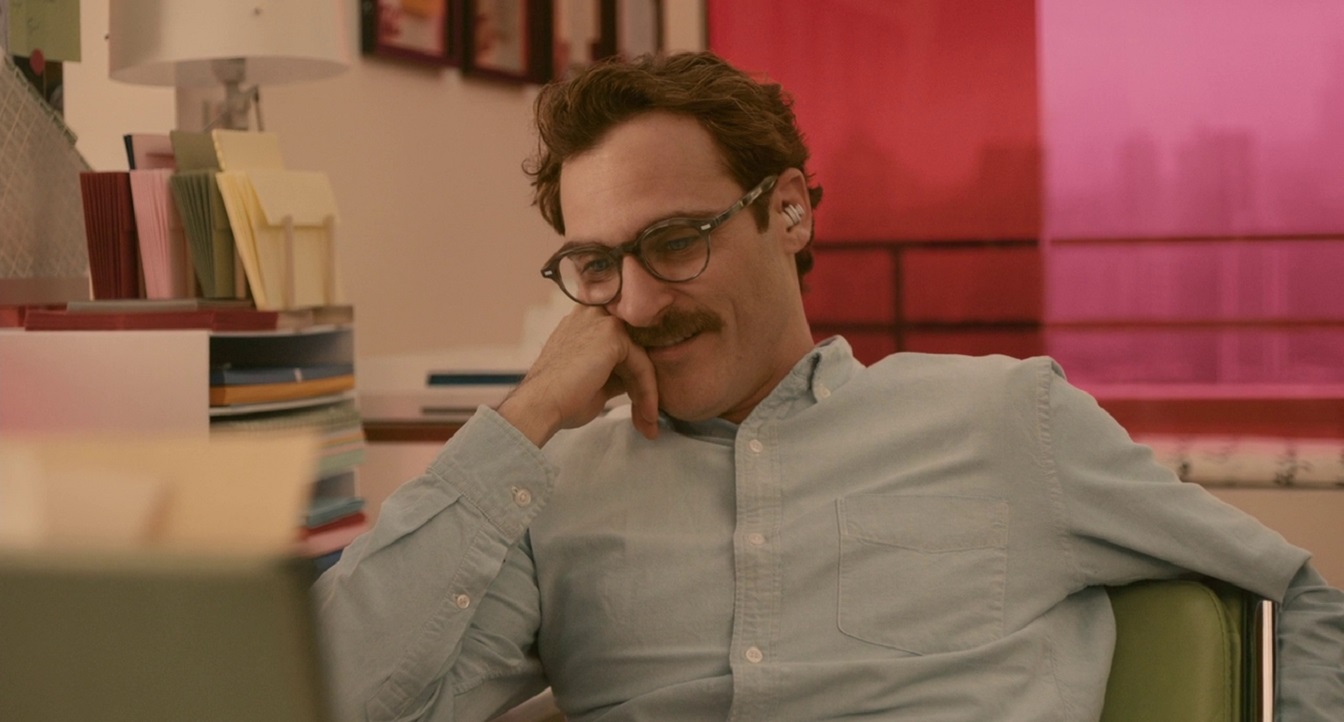 Similarly, the idea of the romantic relationship between human and A.I. has not climbed out of cliche treatments. On one side, there is the silly pop fantasy of Electric Dreams (1984) about a man and his PC in competition for a girl's affections or the android love story of Making Mr Right (1987) and the ridiculousness of the attraction between androids in Logan's Run episode Futurepast (1978) where the machines emit sparks whenever they are aroused. On the other, there is the absurd notion of machine's developing sexual desires such as the horny computers/robots of Demon Seed (1977) and Saturn 3 (1980). The best of these AI romance stories has probably been the Star Trek: The Next Generation episode In Theory (1991) where the android Data decides to engage in a relationship. Subsequently, there was the excellent Ex Machina (2015), which turned the anthropomorphism of this on its head with chill regard. (For a more detailed overview of the genre see Films About Artificial Intelligence).
Compared to all of these others, Her immediately feels like something astonishingly fresh where Spike Jonze avoids all of these cliche treatments. Jonze and Joaquin Phoenix aim for and find a wonderful intimacy. This is a film that never strains at cliches either of machines or romance, it feels natural and freely generated and the results are quite amazing. Joaquin Phoenix – made up in a pair of pants that seem to come up to his chest and with glasses and mustache that make him look like a nerdy Groucho Marx but with more soulful eyes – gives one of his best performances, toning down a good deal of his usual screen persona to play inward. This is a romantic, nice guy Joaquin that we have never seen him play before. Indeed, one actually failed to recognise it was him on first viewing of the trailer. Jonze also gets beautifully natural and unrehearsed seeming performances out of others like Amy Adams and Olivia Wilde.
Her is also Spike Jonze addressing the essential modern question of reality and simulacra and the amazing ways that humanity manages to get the two blurred and entirely twisted on their heads. Again, most film treatments tend to get caught up in cliche treatments of these but Jonze never does – the film regards romance with a machine and romance in the flesh as equally viable alternatives, not something where the humano-centric and emotional is automatically regarded as superior to the artificial.
In truth, what fascinates Jonze is the love of the peculiarity of the mental spaces his protagonists travel into and the very science-fictional concept of how people normalise technological change and the strange oddities that result. This is evident from the opening scene where we see Joaquin Phoenix narrating the composition of one of his love letters and we realise that he is writing the female part and then see it being printed off his computer screen as a handwritten letter and learn the company name is beautifulhandwrittenletters.com.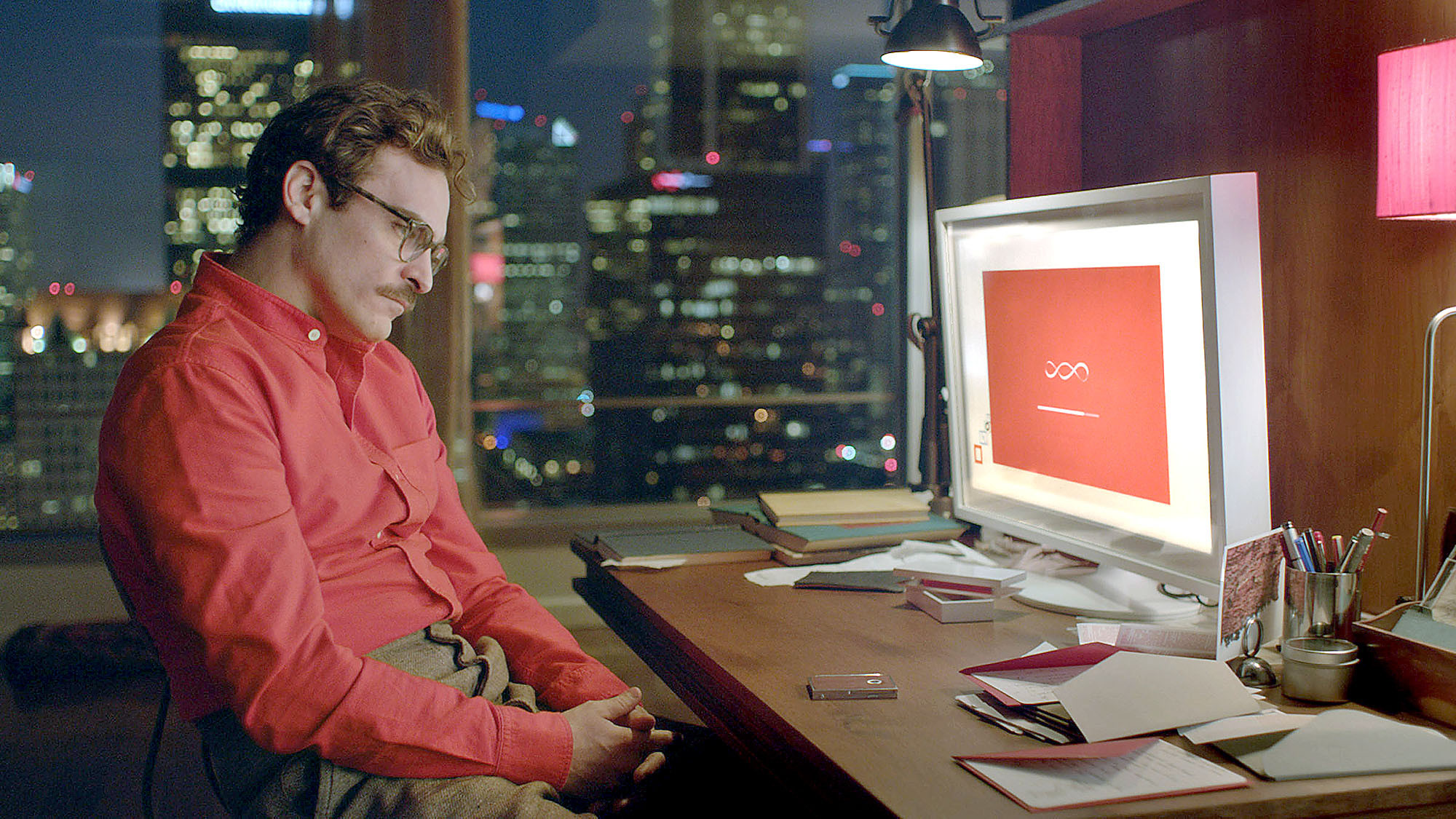 Jonze is determined to completely turn anything normally expected about sexual interactions on their head in the sidesplittingly hilarious scene where Samantha decides to employ a surrogate (Portia Doubleday) so they can physically consummate their relationship – a scene that is not unreminiscent of the wacky identity-bending games that went on in the John Cusack-Cameron Diaz-Catherine Keener love triangle in Being John Malkovich. There is something uncannily on the ball and hilarious about just how Jonze skewers internet dating and relationships in an extremely funny phone chatline scene early on with Joaquin talking to a Kirsten Wiig-voiced caller who abruptly asks to be strangled with a dead cat in the midst of their phone sex fantasy.
A good deal of the appeal of the film is Spike Jonze's wonderfully nonsensical sense of humour. Her is not as surreal a film as his other work, rather it works through its nonchalant naturalism. Jonze has created the setting of a slightly near future world with great detail. Even just a scene where Joaquin Phoenix is in transit and we see him voice scanning through his emails, skipping bills and news headlines and then returning to look at semi-nude pics of a starlet so perfectly exemplifies completely normal behaviour – the way a lot of people look at online headlines – and the very science-fictional – such being spun for technological changes. Especially cute are some of the videogames, like when we see Joaquin sitting at home casually walking with his fingers to move his player character through an alien labyrinth and the side-splitting scenes where he encounters an NPC avatar that greets him with a barrage of "fuck you'"s and then starts offering sarcastic commentary when Samantha interrupts and brings up a profile of his blind date. Equally hilarious is the Perfect Mommy game that Amy Adams plays later in the film.
The film arrives at a unique and unexpected ending – I was wondering how it was going to wrap things up (and do so without entering into cliches) but Jonze ends up surprising us. Maybe the only complaint you could make about a film of so many surprising depths and unexpectedly tender moments is that it seems to exist free from any commercial context. In the real world, the OS that Joaquin Phoenix buys would come with its manufacturers brand-name all over it and/or constant urgings for him to upgrade for a better experience – "get the gold class OS extension to have a full sexual relationship … personalise it with our new range of 3D avatars … Your thirty day free trial period has ended, insert credit card details for continued access." Even the character of the surrogate seems to exist out of any context – you keep wondering why someone would suborn their body to be used by two other people in such a manner and with so little obviously in it for them. We are told it is not a financial service, so what then – a peculiar group of fetishists who exist to act as surrogates for others?
(Winner in this site's Top 10 Films of 2013 list. Winner for Best Original Screenplay, Nominee for Best Actor (Joaquin Phoenix) and Best Supporting Actress (Amy Adams) at this site's Best of 2013 Awards).
---
---