---
Crew
Director/Screenplay – Paul Thomas Anderson, Producers – Paul Thomas Anderson, Megan Ellison, Daniel Lupi & JoAnne Sellar, Photography – Mihai Malamaire, Music – Jonny Greenwood, Visual Effects – Method Studios (Supervisor – Gregory D. Liegey), Special Effects Supervisor – Michael Lantieri, Production Design – David Crank & Jack Fisk. Production Company – Annapurna Pictures/Ghoulardi Film Company/JoAnne Sellar.
Cast
Joaquin Phoenix (Freddie Quell), Philip Seymour Hoffman (Lancaster Dodd), Amy Adams (Peggy Dodd), Jesse Plemons (Val Dodd), Rami Malek (Clark), Ambyr Childers (Elizabeth Dodd), Amy Ferguson (Martha), Laura Dern (Helen Sullivan), Christopher Evan Welch (John More), Kevin J. O'Connor (Bill William), Madisen Beaty (Doris Solstad), Jillian Bell (Susan Gregory), Jennifer Neala Page (Winn Manchester), Patty McCormack (Mildred Drummond)
---
Plot
Returning to civilian life after enlistment in the US Navy during World War II, Freddie Quell is diagnosed with mental disorders. He struggles but fails to maintain a job as a photographer and a field hand, all the time drinking heavily from the moonshine he makes. In 1950, fleeing from an incident where his moonshine may have poisoned someone, Freddie sneaks aboard a yacht. There he meets Lancaster Dodd whose group has commandeered the boat. After drinking his moonshine, Dodd takes a liking to Freddie and draws him into The Cause, a cult that has grown up around his ideas and publishings. Dodd practices a radical therapy that insists that all negative psychological issues relate to past lives from trillions of years ago. To those that criticise his ideas, Dodd's wife Peggy urges attacking back and Quell is employed to beat up critics. Dodd's family then begin to question whether it is wise to keep the frequently drunk Quell on as part of group's inner circle.
---
Director-writer Paul Thomas Anderson – not to be confused with director-writer Paul W.S. Anderson from the Resident Evil series – came to the forefront of US cinema with the critical acclaim of his second film Boogie Nights (1997). This set Anderson on a path where he has gone from success to success with works like Magnolia (1999), Punch-Drunk Love (2002) and then the enormous acclaim of There Will Be Blood (2007), which was nominated for eight Oscars, including Best Picture and Anderson for Best Director and Best Adapted Screenplay, and the subsequent Inherent Vice (2014) and Phantom Thread (2017).
For me, The Master will always be Roger Delgado and to a lesser extent Anthony Ainley on tv's Doctor Who (1963-89) – of the misguided interpretations by Eric Roberts in Doctor Who (1996) and John Simm in the new Doctor Who (2005– ), we will happily pass over. Such disappointment that we are not in for a film based on one of television's greatest super-villains aside, The Master we have here is based on the life of L. Ron Hubbard, the founder of the Church of Scientology, even if Hubbard and the Church are never as such named.
L. Ron Hubbard (1911-86) is a figure of enormous controversy. In describing who Hubbard was, one has to disseminate the self-aggrandising claims he made about himself and the ones readily promoted by the Church, from the biographical actuality. According to Hubbard's own biography, he was a blood brother of the Blackfeet Indians, a nuclear physicist, a medical and psychiatric pioneer, an explorer who had made extensive travels and discoveries, an admiral in the US Navy who fought in five theatres of war during World War II and made a miraculous recovery using the techniques he had discovered after having been blinded and shot, even that he had written a novel that contained information so mind-expanding that it caused everyone who read it to commit suicide.
Much of Hubbard's claims about his own life are contravened by the official record, which show less glorious things such as that he was removed from Naval command for incompetence, that he flunked out at university after only a single term of his nuclear physics course and that he was making claims to the Veterans Administration for ailments after he claimed to have miraculously healed himself of all ills.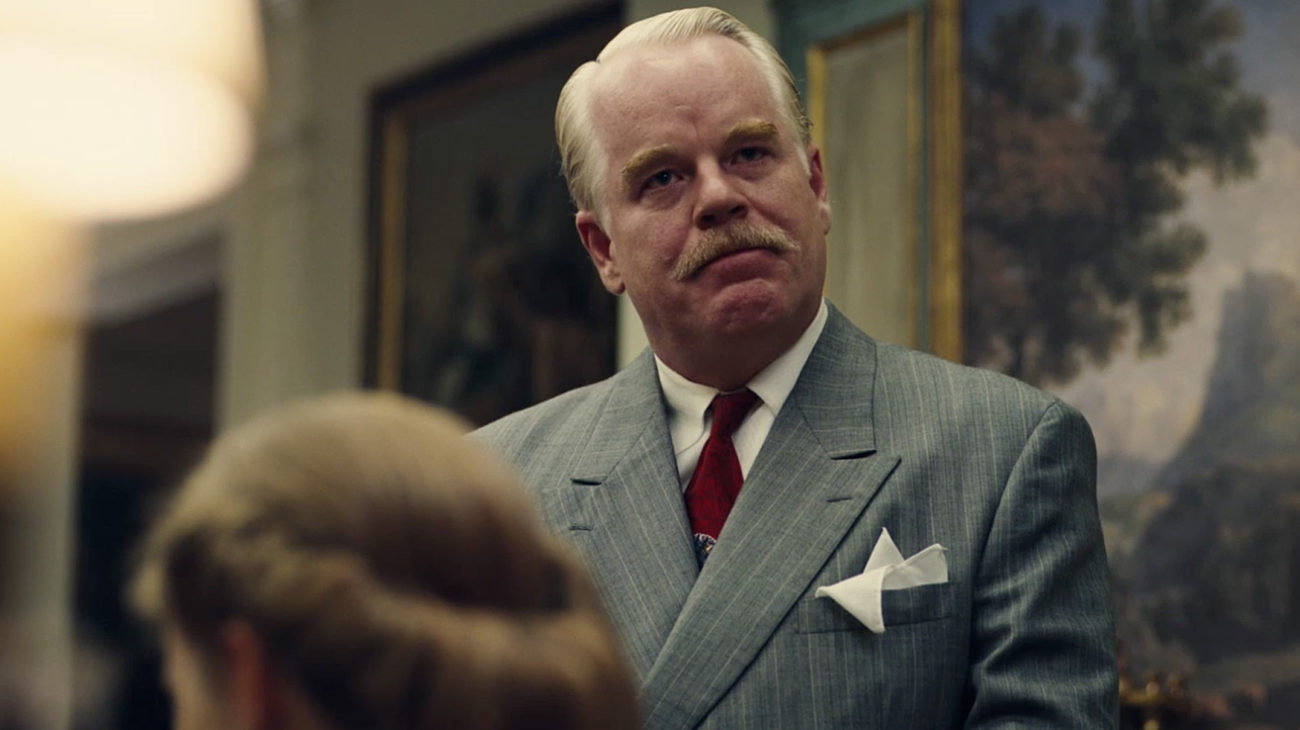 Most of our interest in L. Ron Hubbard here comes from his term as a science-fiction writer (and other pulp genres) during the 1940s where he turned out a series of competently unremarkable stories. Hubbard also wrote a series of books in later life, including the one that was adapted into the notoriously bad Battlefield Earth: A Saga of the Year 3000 (2000).
The story of L. Ron Hubbard is utterly fascinating – far more so than is covered in The Master – the best treatment of it is in Russell Miller's book Bare-Faced Messiah (1987), while the Wikipedia entry also gives a fine breakdown of Hubbard's life and the documentary Going Clear: Scientology and the Prison of Belief (2015) is an excellent examination of the origins and current state of Scientology.
With the publication of the book Dianetics: The Modern Science of Mental Health (1950), Hubbard laid down the basis of his ideas. The book was ridiculed by the psychiatric fraternity for its lack of factual basis and data to back up its claims but became a best-seller nevertheless. Hubbard found himself elevated from penniless hack writer to a counsellor and lecturer. In 1952, Hubbard rebranded Dianetics as the Church of Scientology to fend off debts accrued by the organisation and avoid pressure to prosecute them for unlawfully practicing psychiatry.
The essence of Scientology promotes the idea that a person inherits negative engrams from past lives and that through a process known as auditing (a glorified lie detector) one is capable of overcoming these. As one progresses through the advanced courses, they learn about the true mythology behind Scientology – that humanity is influenced by alien souls that were buried in volcanoes 75 billion years ago by the intergalactic dictator Xenu – and that the individual is capable becoming a Clear by ridding themselves of these negative engrams and in so doing gain perfect health and total recall of present and past lives.
The Church has gained a high profile due to its recruitment of celebrity names in an attempt to give it some type of legitimacy. Notable converts have included Kirtsie Alley, Anne Archer, Beck, Sonny Bono, Nancy Cartwright (alias the voice of Bart Simpson), Jenna Elfman, Jason Lee, Juliette Lewis, Elisabeth Moss, Priscilla and Lisa Marie Presley, Giovanni Ribisi, with the most famous of these being John Travolta and Tom Cruise.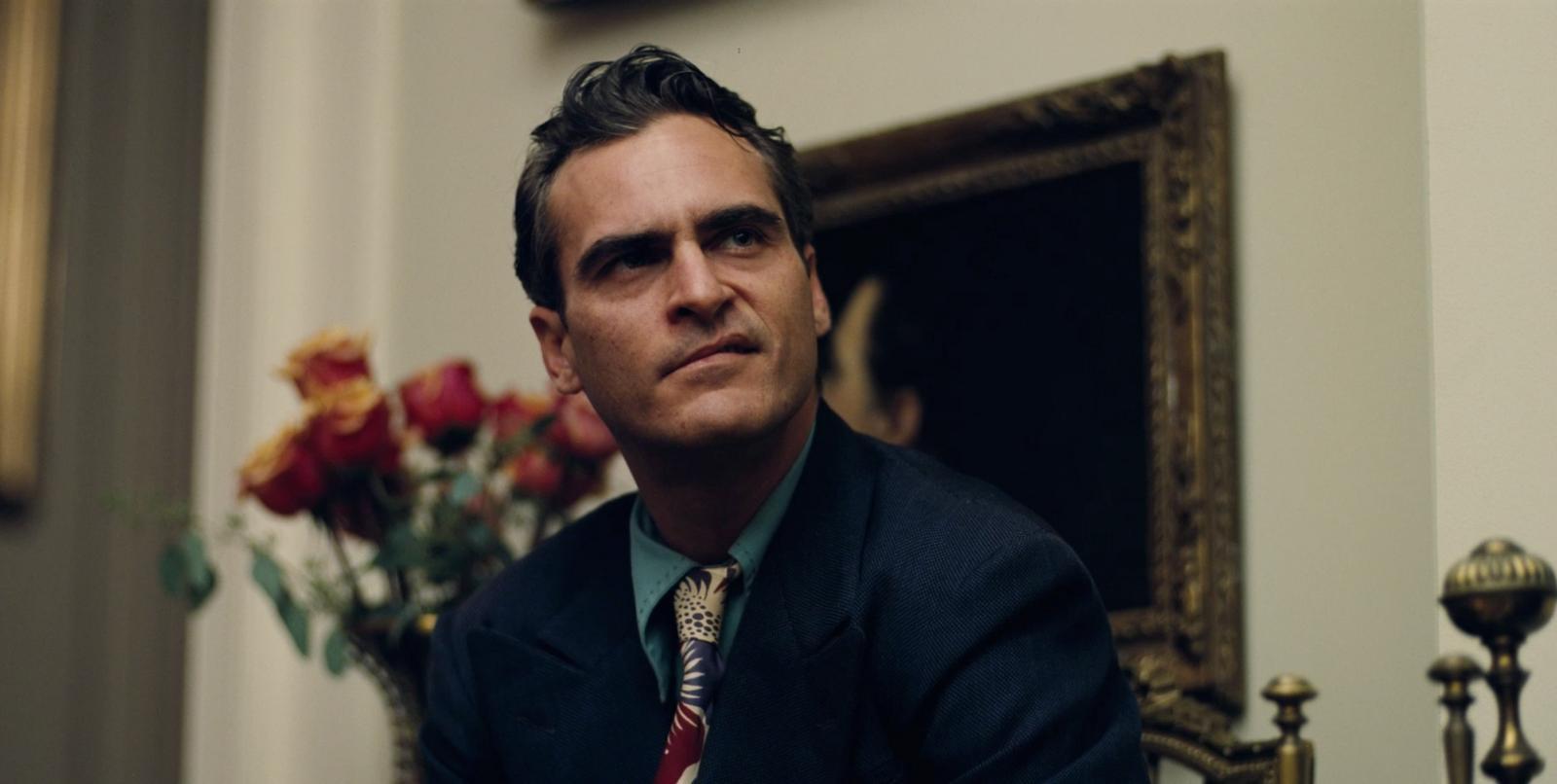 There is however an enormous amount of controversy that surrounds the Church and its tactics. As is somewhat portrayed in the film, the Church advocates a method of attack on critics and ex-members that it calls Fair Game. These have included methods such as spreading smear campaigns against perceived enemies, attempts to fabricate evidence and implicate them in criminal actions, issuing frivolous and malicious lawsuits, even using personal information recorded from auditing sessions against former members.
In 1978, Hubbard's wife was indicted for organising a campaign to steal files about the Church from Federal offices and the IRS. The church's tax-free exemption has been lifted and the church banned in several countries (although it was granted in the US after they conducted a dedicated surveillance and harassment campaign against individual IRS officials), while the ship where Hubbard conducted his sea-based operations in later years was refused entry into various international ports. The Church bankrupted the Cult Awareness Network, which was highly critical of it, through legal action and then brought up the name and runs the organisation themselves today. The group also maintains extensive educational and drug and criminal rehabilitation programs that have been shut down by authorities in a number of places for practicing methods that are regarded as dubious, including being used as fronts for Scientology recruitment.
On the internet, they have been vehement in attempting to shut down websites and usegroups that have been critical of them or have published damning Scientology documents, have even attempted to negatively influence the Google ranking of sites unfavourable to Scientology and force the removal of an embarrassing Tom Cruise promotional video that was leaked to YouTube. In 2009, Wikipedia was forced to issue a blanket ban on the church's IP addresses to prevent their attempts to re-edit pages and remove information critical of the Church.
Paul Thomas Anderson is probably kinder to L. Ron Hubbard than Hubbard deserves. There is a good deal that is downright crazier to the L. Ron Hubbard story that is not covered in The Master – one cannot help but wonder if this was perhaps Anderson's desire not to come under attack by the church. What we get is a portrait of a charismatic individual and how the philosophies he promulgates have attained a following – the real Hubbard has been less charitably described as a complete fraud, a paranoid and an egomaniac. Anderson portrays the techniques that Scientology uses in detail – aspects like the past lives recall, the employment of bullying techniques to build up psychological resistance and the emotionally gruelling initial auditing session that Philip Seymour Hoffman gives Joaquin Phoenix aboard the yacht are all straight from the Scientology playbook.
Anderson focuses less on the blatant falsification and ridiculously self-aggrandising claims that Hubbard engaged in – there is some dwelling on the church's scams and a scene where Christopher Evan Welch voices some of the criticisms of Scientology before being beaten up, although less than you expect going in. Equally, the film's Hubbard is frequently let off the hook – you get the impression that it was others around him (his wife, Joaquin Phoenix's character) who started the intimidation of critics and that Hubbard was a man of peace who did not tacitly approve of these, whereas documented evidence shows that Hubbard was an active instigator. Nor does Anderson ever confront the issue of whether his Hubbard was a fraud or if he sincerely believed what he claimed.
The Master has gained huge critical plaudits and Philip Seymour Hoffman, Joaquin Phoenix and Amy Adams all received Oscar, Golden Globe and BAFTA nominations. On the other hand, I felt less engaged with The Master than I did with Paul Thomas Anderson's previous film There Will Be Blood or the subsequent Phantom Thread. Some of this may have been expectation due to the pre-release accolades and rave reviews heaped on it. There Will Be Blood felt like it has a fervid intensity, where the whole film was driven along by the obsessiveness of Daniel Day Lewis's character. The Master feels like the opposite of that. More than it holds any obsessive drama that drives the film, it feels like a Terrence Malick film that drifts through gorgeously composed period tableaux and character sketches. Where There Will Be Blood built to an explosive climactic confrontation, The Master seems to sidestep any such and comes to an ambiguous fadeout that feels unsatisfying.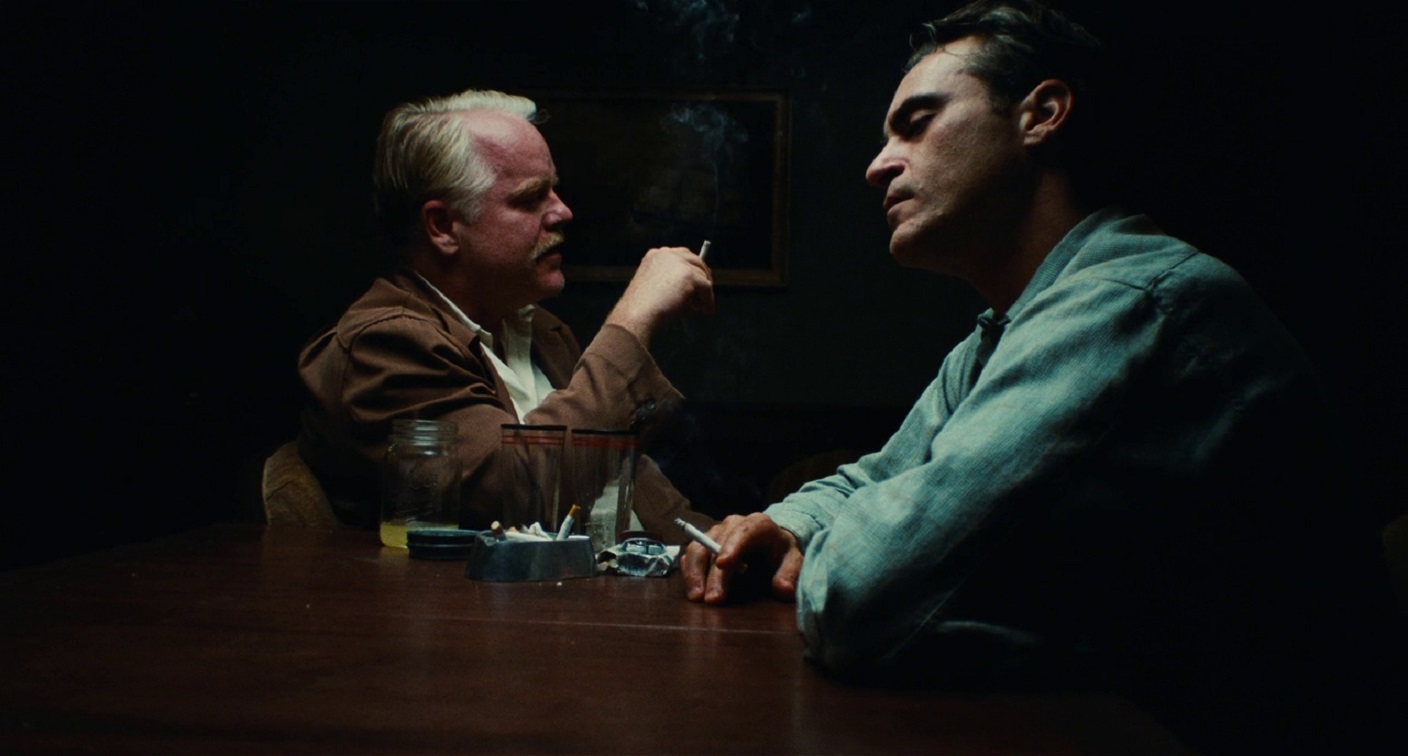 Where There Will Be Blood was powered by a singular character, the motives of the two central characters (Freddie and Dodd) here remain elusive and you feel that essential elements of the story have been eliminated. We are never keyed into much of their background – the film, for instance, never puts its finger on what Joaquin Phoenix is suffering from – PTSD, mental illness, alcoholism, sexual frustration or all of the above. We get almost nothing of Dodd's background. There are hints of things behind the cracks – at one point, we get what seems to be an orgy scene but are not sure if it is a dream/hallucination being had by Joaquin or by Hoffman, as a cryptic scene with Amy Adams masturbating him in front of a bathroom mirror would seem to indicate, and if so what it is meant to mean. This results in a film that seems to take place in isolated pieces of character sketch rather than it ever addresses the controversies surrounding the title character. Indeed, you think maybe the best person for an L. Ron Hubbard biopic would have been an Oliver Stone who would have turned it into a big drama that tackles the issues in bold type and hammers each of the points home.
What we have instead is a soft and elusive film. It is one where Paul Thomas Anderson creates great pieces of individual mise-en-scene but leaves them feeling at the loss of a grander uniting plot. Mostly, the film is anchored by a fine performance from Philip Seymour Hoffman who seems completely at home in the role at which point (only two years before is death) he had established himself as one of the finest contemporary actors, and Joaquin Phoenix who plays complicated and messed-up like only Joaquin can.
Outside of the performances, you search The Master trying to find out what it has to say about Scientology – Anderson shows us that Hubbard was a charismatic and flawed individual, that he was most likely fraudulent, that the church have employed aggressive tactics against critics – but mostly the film leaves you guessing. At most, it seems like a film about the relationship between two men – a man who had some fascinating ideas and an ability to charm and another who was a screw-up in search of something to anchor his life. I am not entirely sure however that that is what I came to watch a film about.
(Nominee for Best Actor (Philip Seymour Hoffman) at this site's Best of 2012 Awards).
---
---