USA. 2018.
Crew
Director/Visual Effects Supervisor – Matthew Charles Santoro, Screenplay – Julia Fair & Matthew Charles Santoro, Producers – Evan J. Choflin, Lorenzo di Bonaventura, Ross M. Dinerstein & Greg Siegel, Photography – Dallas Sterling, Music – Kevin Riepl, Special Effects Supervisor – Brandon Kihl, Production Design – Brandon Kihl. Production Company – di Bonaventura Pictures/Campfire.
Cast
Ron Eldard (Joseph Steadman), Colm Feore (Unknown), Jordan Hinson (Zoe Steadman), Marielle Jaffe (Rhea Steadman), Austin Stowell (Michael Swafford), Mel Melancon (Ms Sabi), Richard Portnoy (Charles Margery), Eric Daniel Cruz (Nico Sola)
---
Plot
Joseph Steadman is a recovering alcoholic now working as a security guard. He tries to reconnect with his daughter Zoe who holds him responsible for the death of his wife/her mother, while his other daughter Rhea has become a drug addict. Zoe decides she wants nothing to do with Joseph after he flares up and punches her boyfriend, physicist Michael Swafford. A mysterious controller who has been observing and filming everything Joseph does hijacks his brain via an implant and talks to him, showing him that they could hurt his daughters. Joseph is directed to break in to his boss's home to get an access code and cut off his boss's thumb. The controller then gets Joseph to after break into the plant where he works and enter the accelerator, causing an explosion. However, Joseph emerges to discover that he now has vast superpowers.
---
Higher Power was a directorial debut for Matthew Charles Santoro who had previously worked as a visual effects artist with credits that include AVPR: Aliens vs Predator Requiem (2007), Fantastic Four: Rise of the Silver Surfer (2007), 300 (2007) and some of the X-Men films.
Higher Power grabs your attention soon into the film. The first 30 minutes are taken up with establishing Ron Eldard as a screw-up. He then abruptly wakes up in an alleyway with an implant and the voice of a controller (Colm Feore) in his head. The voice suddenly demands that he pick up a gun and kill a woman (Mel Malcon) who approaches asking if he is alright, the voice threatening the lives of Eldard's children if he does not – only for the gun to make an empty click and the woman is revealed to be part of what is happening. Eldard is then spun through a series of scenes where he is required to break into several places, hold a former boss hostage to get the pass to his safe and then break in to a vault at his workplace.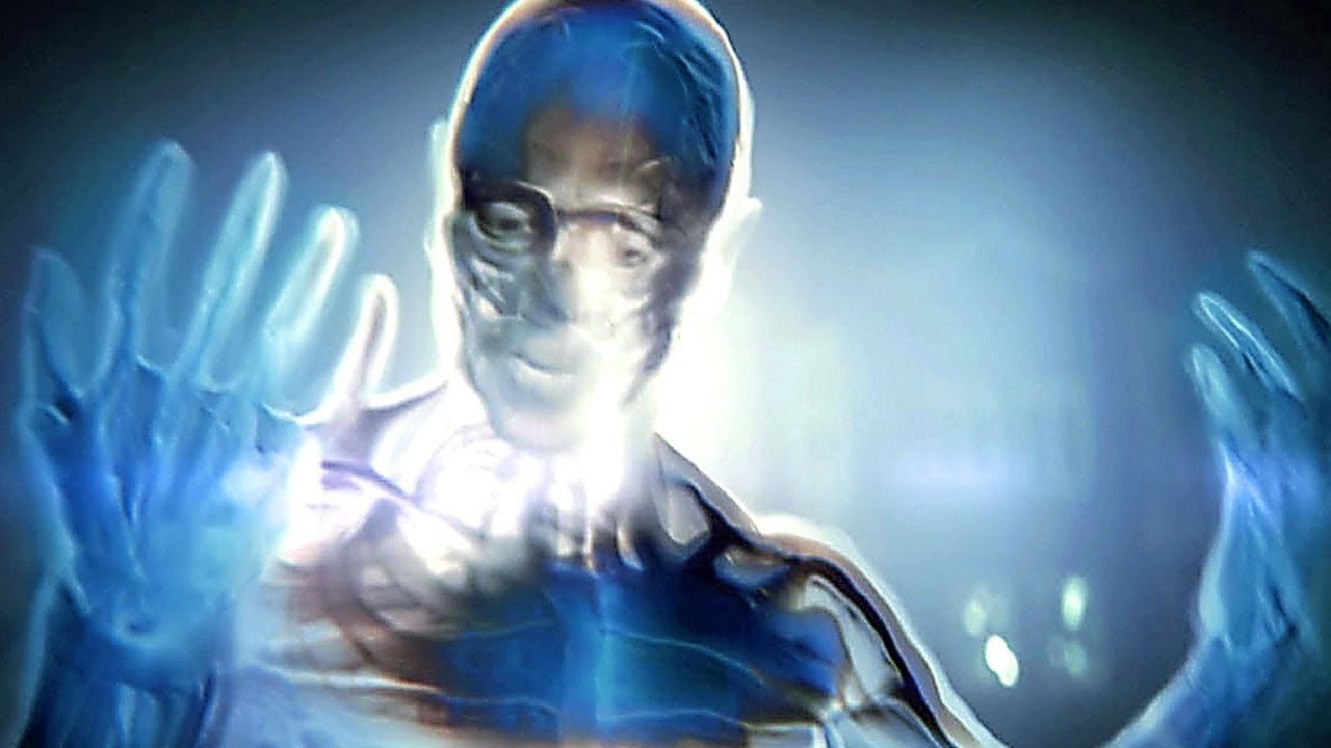 This becomes undeniably interesting – it is one science-fiction film of recent that leaves you wondering where on earth everything is going. On the minus side, Matthew Charles Santoro's direction seems too distractingly frenetic at times, constantly breaking up between blurred camera footage, video screens, text running across the screen, flashbacks and quickly edited glimpses of the watching Colm Feore.
The second half of the film abandons the mind control implant premise. Here Santoro has Ron Eldard affected by his exposure to what was in the vault (what it is or where it comes from is never specified) and gain increasing mental powers, causing explosions and power blasts that demolish buildings and entire city blocks, and the ability to move across the city with a speed usually reserved for The Flash. You are reminded a great deal of a live-action version of Akira (1988) during this scenes and the film reaches a 2001: A Space Odyssey (1968)-like climax with Ron Eldard evolving into a god-like being. Although as the fadeout is reached, it would seem to be that this is a sentimental deity who has (it is not really clear what) merely rearranged things so that his children are in a happier place.
---
---