---
Crew
Directors/Screenplay – Zach Lipovsky & Adam Stein, Producers – Jordan Barber, Zach Lipovsky, Adam Stein & Mitchell Waxman, Photography – Stirling Bancroft, Music – Thomas Michael Wynn, Visual Effects – Atmosphere Visual Effects (Supervisor – Andrew Karr), Special Effects Supervisor – Bill Ryan, Makeup Effects Design – Joel Echallier, Production Design – Moe Curtin. Production Company – Well Go USA Entertainment/Amazing Incorporated/Wise Daughter Films/My Way Productions/Storyboard Capital Group.
Cast
Lexy Kolker (Chloe Lewis), Emile Hirsch (Henry Lewis), Bruce Dern (Grandpa), Grace Park (Agent Cecilia Ray), Amanda Crew (Mary Lewis), Ava Telek (Harper Reed), Michelle Harrison (Nancy Reed), Aleks Paunovic (Robert Kraigen), Matty Finnochio (Steve Reed)
---
Plot
Seven year-old Chloe Lewis lives with her father in a house where he has taped off all the windows and refuses to allow her to go outside. Chloe sees an ice cream truck outside and longs for an ice cream. When neighbour Harper Reed and her mother knock on to offer Chloe an ice cream, her father hurriedly closes the door on them. At the same time, her father rehearses Chloe to claim that Harper's parents are her own. One day, her father returns to the house having been attacked. Chloe uses the opportunity to go outside where she meets the strangely friendly old man who drives the ice cream truck. He takes her for a ride, pressing her with questions about whether she has abilities, while also claiming that he is her grandfather. Under his urging, she is able to order a cop who pulls a gun on them to go away. As maintaining their secret life in the house becomes too much for her father, Chloe's growing psychic abilities threatens to expose them to the government agents who are hunting all of their kind, nicknamed Freaks, with the intention of eliminating them.
---
Freaks comes from Adam Stein and Zach Lipovsky, who had both worked together as writers and directors on the tv series' Ingress Obsessed (2014) and Mech X4 (2016-8). The two had previously co-directed a short film Itsy Bitsy Spiders (2012). Lipovsky went on to separately make a handful of genre films with Tasmanian Devils (2013), Leprechaun: Origins (2014) and Dead Rising (2015), while Stein solo directed the vampire film Forever Boys (2016). The two subsequently collaborated on the live-action film version of Kim Possible (2019). Nothing in Zach Lipovsky's oeuvre suggested that Freaks would be anything remarkable. That said, the film had received some good word of mouth.
Freaks starts out with a real "WTF is going on here?" quality as we are introduced to Emile Hirsch and daughter Lexy Kolker living in a boarded-up house. Things seem decidedly odd – the two of them gambling with stacks of hundred dollar bills; Emile starting to bleed from one eye but dismissing it; the constant fear of her going outside; his rehearsing her for a series of responses to everyday questions and insistence that she is normal. Or the scenes where she is wanting ice cream and the girl and then her mother outside comes to the door with a melting cone in her hand and they react in perfect friendliness, while Emile tries to shut the door as quickly as possible – at the same time as we realise that they have the same names as the ones that Lexy introduced as her mother and sister in the opening voiceover. In the glimpses we get outside, we see birds stilled in the sky. When Emile returns from getting supplies wounded (but assuring Lexi that most of the blood isn't his) and collapses, the lights and tv suddenly come on and the birds start moving.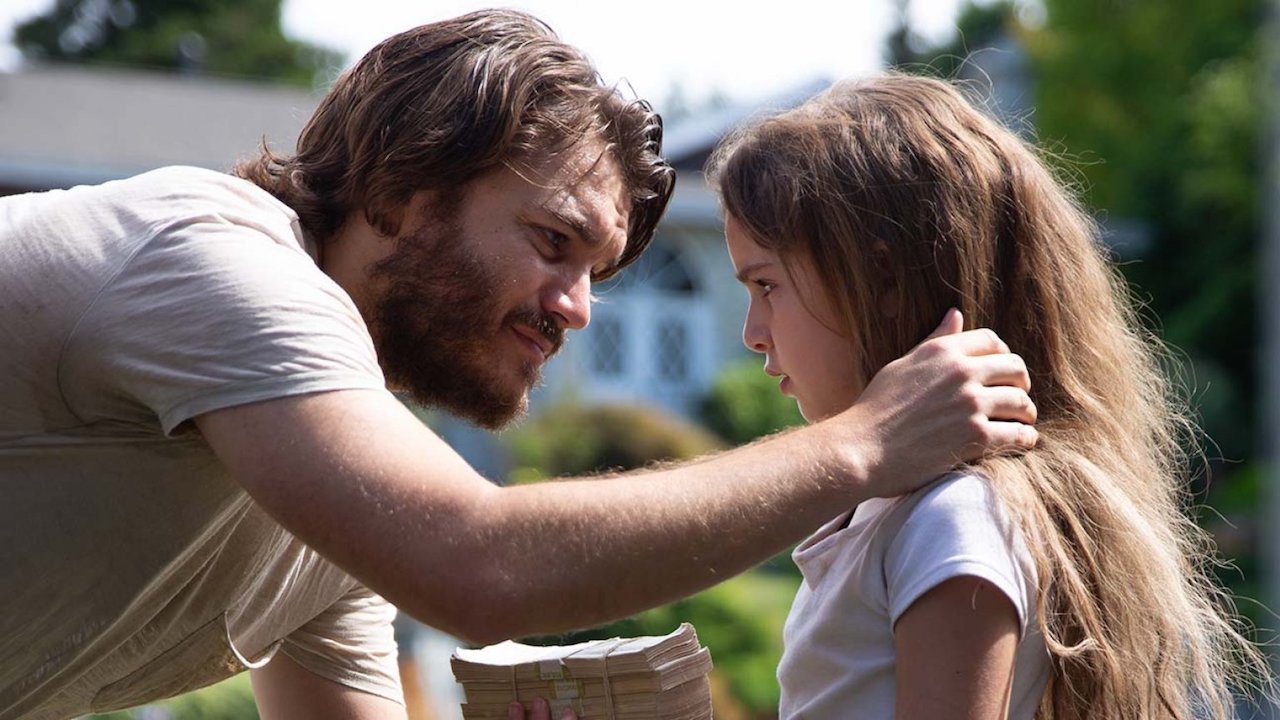 There is the weird progression of scenes that go from the hand-drawn Mr Snowcone children's book delivered through the mail slot of the door, contrasted with Emile's insistence that Mr Snowcone keeps the bodies of dead children in his truck. This is followed by the decidedly creepy scenes where Bruce Dern (giving one of the best performances one has seen him in in some time – all at the age of 82) takes Lexy away with him to the park in his ice cream truck where he starts questioning if she is 'special' and pushing her to get angry, before a police officer comes and pulls his gun while Dern urges Lexy to tell him to go away whereupon the man just does.
At the outset, you have really no idea what the film is about or where it is going. You expect something that could be anywhere between It Comes At Night (2017) to Lunatics: A Love Story (1991). As what is going on starts to become apparent, you realise that 'Freaks is an ingenious Conceptual Breakthrough story. One that starts depicting a puzzlingly strange domestic scenario, before opening the door to contrarily reveal a perfectly everyday world out there and then starting to put twists on this. Every weird anomaly eventually slots into logical place in ways where you can only applaud the cleverness of the script.
From A.E. Van Vogt's novel Slan (1940) onwards through to the X-Men, there has been the regular theme of psychics, often children, persecuted and on the run from human prejudice. We have had a bunch of films on this subject with the likes of Children of the Damned (1964), The Power (1968), The Fury (1978), Scanners (1981), Firestarter (1984), Akira (1988), Sole Survivor (2000), Push (2009), The Mind's Eye (2015), The Darkest Minds (2018), The Witch Part 1 – Subversion (2018) and Seobok (2021).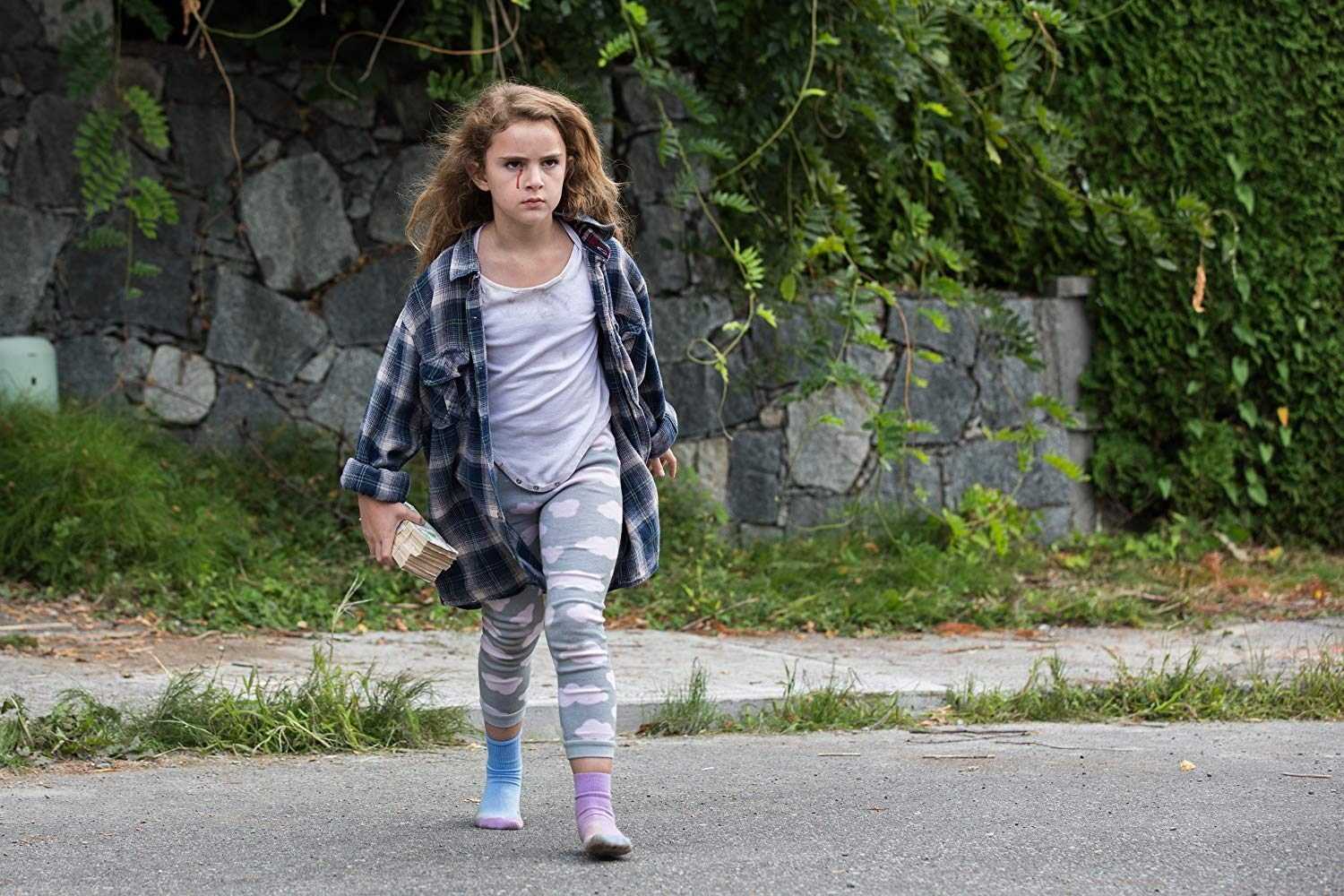 As you become aware that this is the type of story that Freaks is telling, it also becomes one of the most ingenious of these. And even when we become aware of what is going on, Lipovsky and Stein keep placing a series of mind-boggling twists on it. Everything from time bubbles to weird scenes where we see Lexy manifesting neighbouring kid Ava Telek in the closet and insisting she be her mother to appearances from her actual mother (whom we had been told is dead).
[PLOT SPOILERS] The film progresses through astonishing scenes that leave your jaw gaping like where Bruce Dern takes Lexy to meet agent Grace Park in a cafe insisting that he is a priest and Lexy his ward, which ends with the diner cook being forced to stab himself in the eye and a massive shootout while they escape invisible. Or where Emile tries to send Lexy to the neighbours who react in fear before Lexy uses her abilities to make the mother say she loves her, which is promptly turned on its head in horrible ways a few scenes later. Or the equally amazing climax with agent Grace Park coming to the house at the same time as Lexy tries to help her mother escape execution, both of which intertwine in positively ingenious ways.
Freaks is no relation to nor should be confused with Tod Browning's cult shock classic Freaks (1932) featuring real-life circus deformities.
(Winner in this site's Top 10 Films of 2018 list. Winner for Original Screenplay, Nominee for Best Supporting Actor (Bruce Dern) at this site's Best of 2018 Awards).
---
---