(Les Prodigies)
---
France/Luxembourg/Belgium/Poland. 2011.
Crew
Director – Antoine Charreyron, Screenplay – Alexandre de la Patelliere & Matthew Delaporte, Based on the Novel La Nuit des Enfants Rois by Bernard Lenteric, Producers – Olivier Delbosc, Marc Missonnier, Aton Soumache & Alexis Vonarb, Music – Klaus Badelt, Production Design – Viktor Antonov. Production Company – Onyx Films/Fidelite Films/Luxanimation/Scope Pictures/Nexus Factory/Studio 57/DQ Entertainment Ltd.
Cast
Jeffrey Evan Thomas (Jimbo Ferrar), Lauren Carter (Ann), Jacob Rosenbaum (Gil), Isabella Van Waes (Liza Everton), Dailly Monira (Melanie Killian), Nilton Martins (Sammy Goldberg), Dante Bacote (Harry Sparks), Sophie Shen (Lee Mishon), Dominic Gould (Charles Killian)
Voices
Jeffrey Evan Thomas (Jimbo Ferrar), Stephanie Sheh (Ann/Lee Mishon), Ben Schiller (Gil), Lauren Ashley Carter (Liza Everton), Cindy Robinson (Melanie Killian), Dick Smallberries Jr. (Sammy Goldberg), Ogie Banks (Harry Sparks), J.B. Blanc (Charles Killian), Bob Buccholz (Jenkins), Rene Rosado (Lorenzo Carvahal), Ben Disken (Diaz Arnesto), Michael Sorich (Lieutenant Jack McKenzie), Chris Marlowe (The President)
---
Plot
Abused teenager Jimbo Ferrar is taken into psychiatric custody after being found in the basement of his home along with his parents who have hung themselves. He is approached by Charles Killian who says he knows what happened and the power that Jimbo has. Several years later, Jimbo is a physics lecturer at the Killian University and a key figure with the Killian Foundation. He has set up an elaborate online game to test for others such as himself. All at once, five kids from around the US each independently break through to the top levels of the game. Jimbo sets out to find each of them and test their potential. Charles Killian then dies and his daughter Melanie is appointed head of her father's industries. She immediately wants to close the Foundation down but Jimbo persuades her to back a tv gameshow called 'American Geniuses' to select the brightest minds in the country. He uses this to bring the five children together. After they are attacked by thugs, the five kids begin to discover their psychic potential to control other people's minds. Jimbo is then horrified to discover that the five of them are banding their minds together to use their powers for revenge and destruction.
---
The Prodigies is a French-made animated film from videogame designer Antoine Charreyron. Charreyron had previously directed such videogames as Kill.Switch (2003), Lara Croft, Tomb Raider: The Angel of Darkness (2003), Terminator 3: Rise of the Machines (2003), Godzilla: Save the Earth (2004), Shadow Ops: Red Mercury (2004) and Wheelman (2009). The film was shot in the motion capture animation process and received an international release in 3D.
Not too surprisingly given Antoine Charreyron's background, The Prodigies emerges feeling more like it is a videogame than a film. The graphics lack the lavish high-end look that we have come to expect of modern animated films and seem more like those that you might expect from a videogame. To his credit, Antoine Charreyron does occasionally direct with a nice eye for artistic detail – shots like the shadows of the sun moving across the Manhattan skyline from afternoon to evening in a matter of seconds. The film also draws various US locations with authentically realistic detail, although there is the oddity of seeing the White House surrounded by police cars from the NYPD at one point.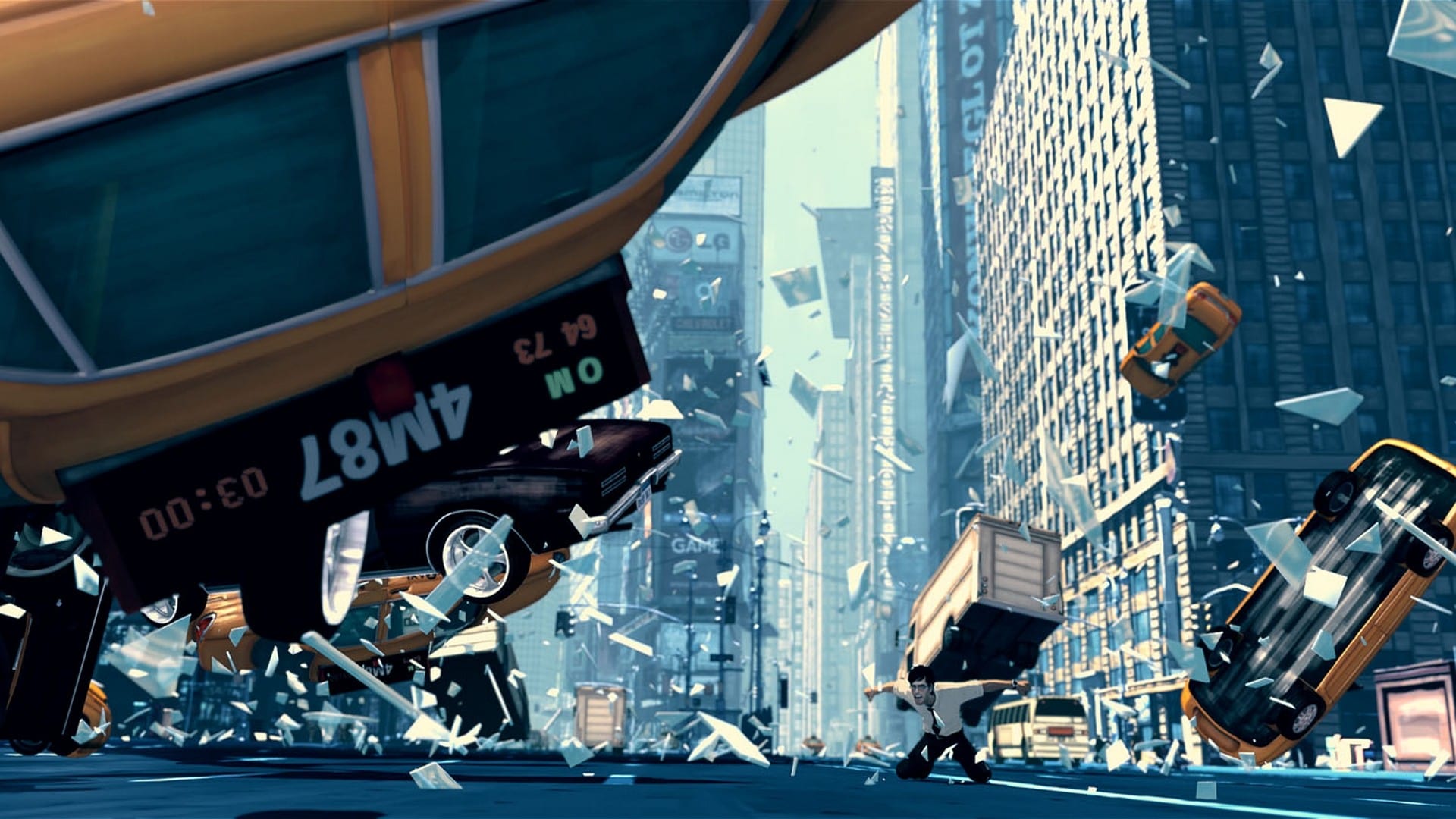 There is also the plot. You are not entirely sure where the show is starting to go – the film keeps the nature of the kids' psychic powers hidden from us for a large part of the running time. You start to wonder if you are in the midst of some anime equivalent of X-Men (2000). What the film eventually emerges as is like an animated version of Children of the Damned (1964) – a group of diverse kids are brought together as part of an educational program that spots their potential where they then gang together, using their united powers against the rest of the world as it masses military threat to destroy them. After putting us in the picture, the film follows a generalised arc that is not any different from other psychic powers amok films like The Fury (1978), Akira (1988) and Chronicle (2012) in building towards an apocalyptic showdown.
The Prodigies works okay, but most of it seems to have had its thunder stolen by works like Akira and in particular Chronicle, which came out on US cinema screens a matter of weeks before The Prodigies went into international release. Both of these build to epic-sized climaxes and play the psychic powers out on a far more spectacular scale than The Prodigies does. When you compare a film about a group of teenagers who can control the minds of others to works that offer up a massive wreak of psychokinetic destruction, this emerges as decidedly tamer. Moreover, the surprise about The Prodigies is that there is almost nothing here that could not have been conducted as a live-action film with little difference.
---
---