---
Crew
Director – Jennifer Yuh Nelson, Screenplay – Chad Hodge, Based on the Novel by Alexandra Bracken, Producers – Dan Levine & Shawn Levy, Photography – Kramer Morgenthau, Music – Benjamin Wallfisch, Visual Effects Supervisor – Bjørn Mayer, Visual Effects – Buf (Supervisor – Remy Normand), Crafty Apes (Supervisor – Steve Dinozzi), Exceptional Minds & MPC (Supervisor – Kevin T. Hahn), Special Effects Supervisor – Michael Lantieri, Production Design – Russell Barnes. Production Company – TSD Entertainment.
Cast
Amandla Stenberg (Ruby Daly), Harris Dickinson (Liam Stewart), Skylan Boroks (Chubs/Charles), Patrick Gibson (Clancy Gray), Miya Cech (Zu), Mandy Moore (Dr Cate Begby), Gwendoline Christie (Lady Jane), Mark O'Brien (Rob), Bradley Whitford (President Gray), Lidya Jewett (10 Year Old Ruby), Wade Williams (The Captain), Wallace Langham (Dr Viceory)
---
Plot
The country is struck by an unknown disease called Idiopathic Adolescent Acute Neurodegeneration that affects children. Among those that are not killed outright, the survivors exhibit strange psychic abilities. Ten-year-old Ruby Daly wakes up one morning to find her parents no longer recognise her. She is taken into custody into one of the rehabilitation camps. There she learns that all of the children are given colour codings based on their abilities – she is labelled as orange, considered one of the most dangerous and subject for immediate extermination. However, she uses her mental abilities to change the doctor's mind and be relabelled as a harmless green. Six years later, Ruby is detected in a sweep but the camp's doctor Cate Bebgy manages to smuggle her out. Cate reveal she is part of The League that is fighting against the government. However, Ruby becomes suspicious of their motives after touching Cate's colleague Rob and reading his mind. She flees and is aided by a group of young escapees who are travelling across the uninhabited parts of the country. Accepted by the group and attracted to leader Liam Stewart, Ruby joins their trek to find an encampment of free children.
---
The Darkest Minds is a series of Young Adult books from Arizona-based author Alexandra Bracken. The Darkest Minds (2012) was Bracken's second novel and she followed with three other works in the series Never Fade (2013), In the Afterlight (2014) and The Darkest Legacy (2018), plus several spinoff short stories and novellas.
The film adaptation was taken up by Jennifer Yuh Nelson, a South Korean-born immigrant to the US who became a storyboard artist at DreamsWorks Animation and graduated to direct Kung Fu Panda 2 (2011) and co-direct Kung Fu Panda 3 (2016). The film is produced by Shawn Levy, the director of assorted comedies like Cheaper By the Dozen (2003), The Pink Panther (2006), Night at the Museum (2006) and sequels, Real Steel (2011), Free Guy (2021) and The Adam Project (2022), among others.
There have been a good number of psychic powers films over the years. The common theme in many of these is of people (often children) with psychic powers being hunted and persecuted by an outside world – see the likes of Children of the Damned (1964), The Fury (1978), Scanners (1981), Firestarter (1984), Akira (1988), Sole Survivor (2000), Push (2009), Freaks (2018) and The Witch Part 1 – Subversion (2018). Indeed, the X-Men comics are fairly much a variation on the theme (although their powers extend well beyond the psychic).
Here the standard theme of persecuted psychic children has been thrown together with a standard set of Young Adult dystopian tropes a la The Hunger Games (2012), Divergent (2014) and various sequels to either. We get a not terribly well defined dystopian setting in the not-too-distant future and children on the run from its security forces, being torn between various rebel factions in their flight.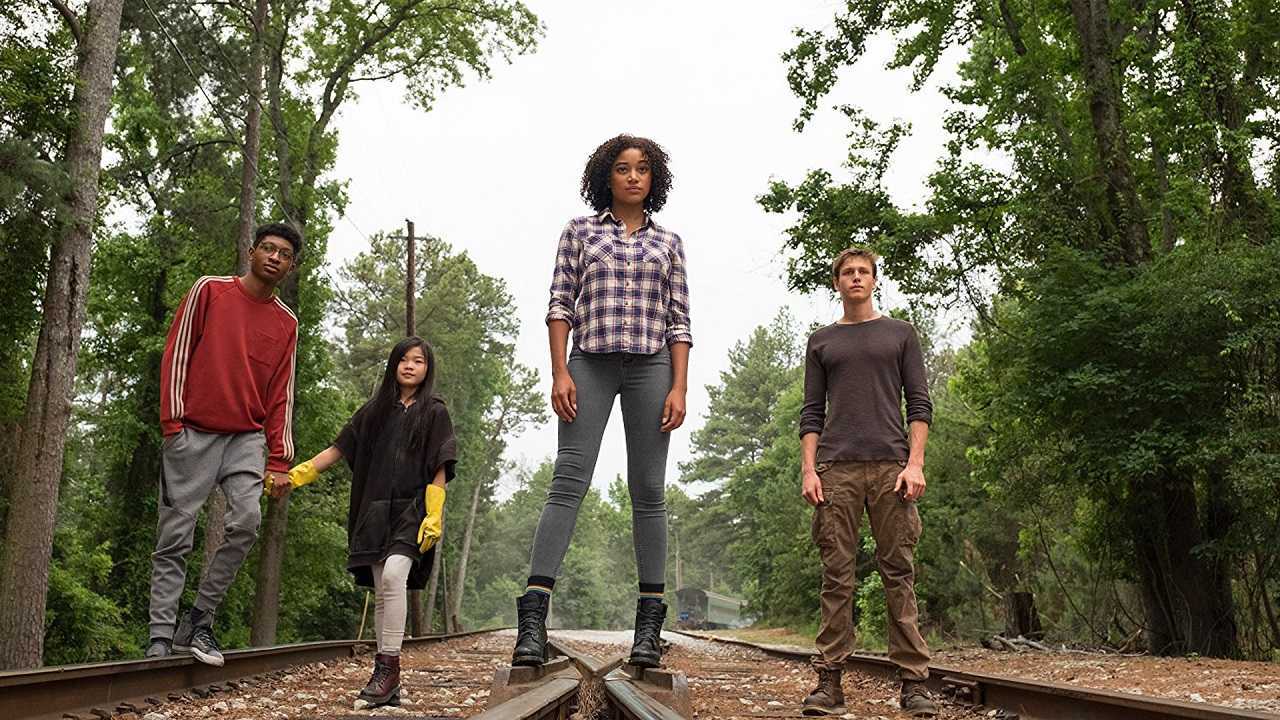 The Darkest Minds ticks all the boxes that are requisite for the modern YA film – there is the young heroine with far more powers that people really understand and a defiance against the system; there's just a touch of romance; there's suitably charming bad guy; there is the range of kids that she falls in with who form a team; it ticks all the boxes for diversity representation in its casting.
On the other hand, there is nothing in the film that feels like it is not a carefully calculated package aimed at the YA demographic. There a singularly bland lack of affect to Jennifer Yuh Nelson's direction. She is a capable organiser of the show taking place around her, passable with the big flashy visual effects. On the other hand, there is nothing she does that does not feel like it is a cliche that she has lifted from another YA film – in one cringeworthily slavish scene, we even get the kids comparing things to Harry Potter.
When you look at scenes like the montage where the kids find an abandoned mall and spend their time racing around on tricycles or the line-up of innocuous pop songs on the soundtrack, you realise what a bland film this is. Indeed, when I watched Amandla Stenberg using her powers, I found it hard to stifle a set of the giggles and think of Alec Guinness in Star Wars (1977) waving his hand and saying "These are not the droids you are looking for".
---
---