---
Crew
Director – Xavier Gens, Screenplay – Skip Woods, Based on the Eidos Computer Game, Producers – Adrian Askarieh, Charles Gordon & Pierre Ange Le Pogom, Photography – Laurent Bares, Music – Geoff Zanelli, Visual Effects – Duboi (Supervisor – Thomas Duval), Special/Makeup Effects Supervisor – Olivier Afonso, Special Effects Supervisor – Philippe Hubin, Production Design – Jacques Bufnoir. Production Company – Europacorp/Charles Gordon-Adrian Askarieh/Dune Entertainment, LLC.
Cast
Timothy Olyphant (Agent 47), Dougray Scott (Mike Whittier), Olga Kurylenko (Nika Boronina), Robert Knepper (Yuri Marklov), Ulrich Thomsen (Mikhail Belicoff), Michael Offei (Jenkins), Henry Ian Cusick (Udre Belicoff), James Faulkner (Smith Jamison), Joe Sheridan (Captain Gudyanev)
---
Plot
Interpol agent Mike Whittier enters his study to find a nameless assassin he has been hunting across several continents waiting for him. The assassin, known only as 47, comes from the covert group The Organization who have bred him from genetic material taken from the worst criminals and trained him to become a hitman for hire. Three months earlier, 47 accepted an assignment to assassinate Russian President Mikhail Belicoff in St Petersburg. However, after making a perfect hit, 47 discovered that Belicoff was still alive. Puzzling over what happened, 47 found himself hunted by Whittier's Interpol agents, his colleagues from The Organization and the Russian secret service FSB. Pursued across Russia and Turkey in the company of Belicoff's mistress, the prostitute Nika Boronina, 47 tried to get his life back. In doing so, he discovered that Belicoff had ordered the hit on himself but had substituted a double.
---
Hitman is based on the computer Hitman: Codename 47 (2000) from Eidos Interactive. Hitman is a third-person shooter game where the player must play the role of Agent 47 as he is directed to make a hit. The game is one of strategy as much as it is of killing people, with one gaining higher points for being able to make their kill using stealth and disguise rather than indiscriminately shooting everything in the way. The game was successful enough that seven follow-ups were produced, along with this film adaptation.
Going by the advance promotion and the film's trailer, Hitman looked to be a stylish action film in the offing. The trailer seemed to suggest Xavier Gens, a newcomer whose only other film had been the blood-drenched horror film Frontier(s) (2007), was a director that had absorbed some of the most stylishly cool moves of the past decade. (Moreover, Xavier Gens has Luc Besson, who has made some incredibly stylish films, also coincidentally about hitmen, with Nikita/La Femme Nikita (1990) and Leon/The Professional (1994), as executive producer).
Only upon sitting down to watch the film, Hitman turns out to be a considerable disappointment. It seems a triumph of slick and exciting promotion over content delivered. I was expecting a film that kept the adrenalin pushed to such a level that one left the theatre exhausted or wowed with the stylish cool of its moves. Xavier Gens sets up some okay poses and at least one reasonable action sequence with Timothy Olyphant escaping from a hotel hunted by various forces. However, most of the action content in Hitman seems disappointingly unremarkable.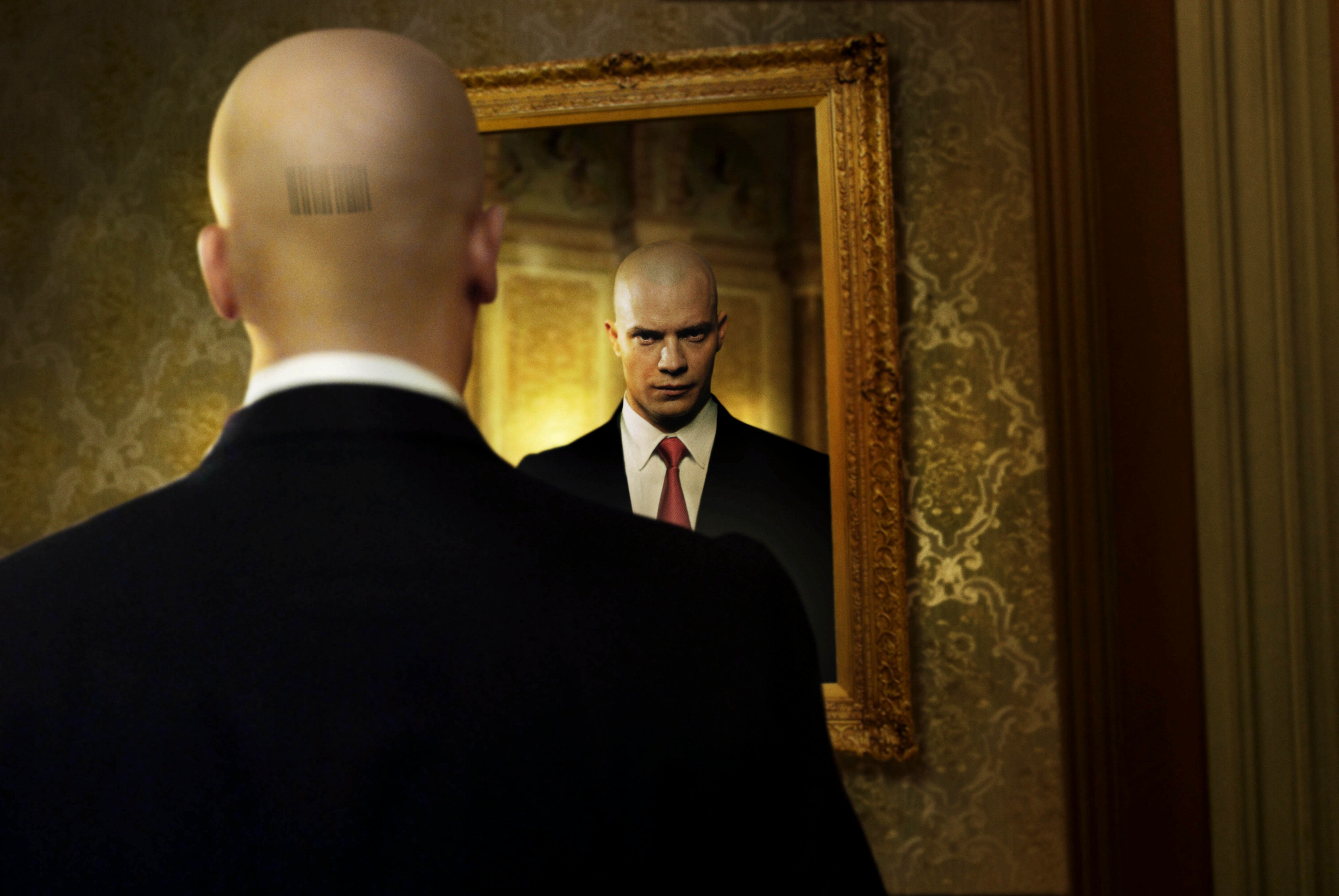 It seems that between the time the trailer was released and the film came out, Hitman had gone from a film that I would have reviewed here as science-fiction – the trailer explicitly spoke of how Agent 47 had been bred from the genetic material of top criminals – to one that is a mundane non-fantastical action film except perhaps by dint of some of the slightly technologically advanced gadgetry and weaponry on display. The trailer hinted at a title character of extraordinary skills and superhuman proficiency who came from an ultra-shadowy organization, which we were left with the impression was Catholic in nature from the operatic score and glimpses of ritualistic scenes. Yet beyond a couple of mentions, nothing is made of this background throughout the film. Indeed, the trailer is in the peculiar position of telling us more about the origin of the character than the film it accompanies does.
The downside of this is that in failing to explore the set-up and with an absence of wall-to-wall action to keep everything busy, this only serves to show up a number of gaping inanities in the script. It is never made clear why the Russian president hires Agent 47 to assassinate his double, letting 47 think it is himself that he has killed and then turns around and sends his own men to eliminate 47. It is not even clear for that matter why the shadowy The Organization turns against Agent 47 because of this. Equally, it is not even clear why 47 is directed to determine if Olga Kurylenko's Nika is a witness and why he subsequently drags her into the action. As a substantial part of the plot hangs on these questions, it feels that there is a gaping vacancy in the script in failing to even give us a credible explanation as to why these things are happening. A good part of the reason can be seen in that the filmmakers have unwisely chosen the services of Skip Woods who wrote one of the most laughable films of recent years, Swordfish (2001) and subsequently the big-screen remake of The A-Team (2010) and A Good Day to Die Hard (2013).
Another minus against the film is Timothy Olyphant. I have nothing against Timothy Olyphant as an actor – he was superbly tight and controlled as the sheriff in Deadwood (2004-6) – it is just that he seems wrong for the role of Agent 47. I was surprised when the name of Vin Diesel turned up on the end credits, credited as an executive producer. But then it made perfect sense. 47 is a role that feels tailored to the presence of Vin Diesel, particularly his performances as the lethally superhuman killer in Pitch Black (2000) and The Chronicles of Riddick (2004). For whatever reason, Vin Diesel is not present in front of the camera and Timothy Olyphant is cast as substitute where he attempts to do his best to stand in for Vin Diesel with his head shaved bald and projecting a deep mellifluous voice. However, rather than someone lethal and dangerous, Olyphant more than anything looks like someone sitting in a corner with a shyly mocking smirk and trying badly to give the impression he is keeping a big secret. When Olyphant tries to do the deep mellifluous Vin Diesel voice, this seems completely mismatched to the much quieter character being projected via his body language.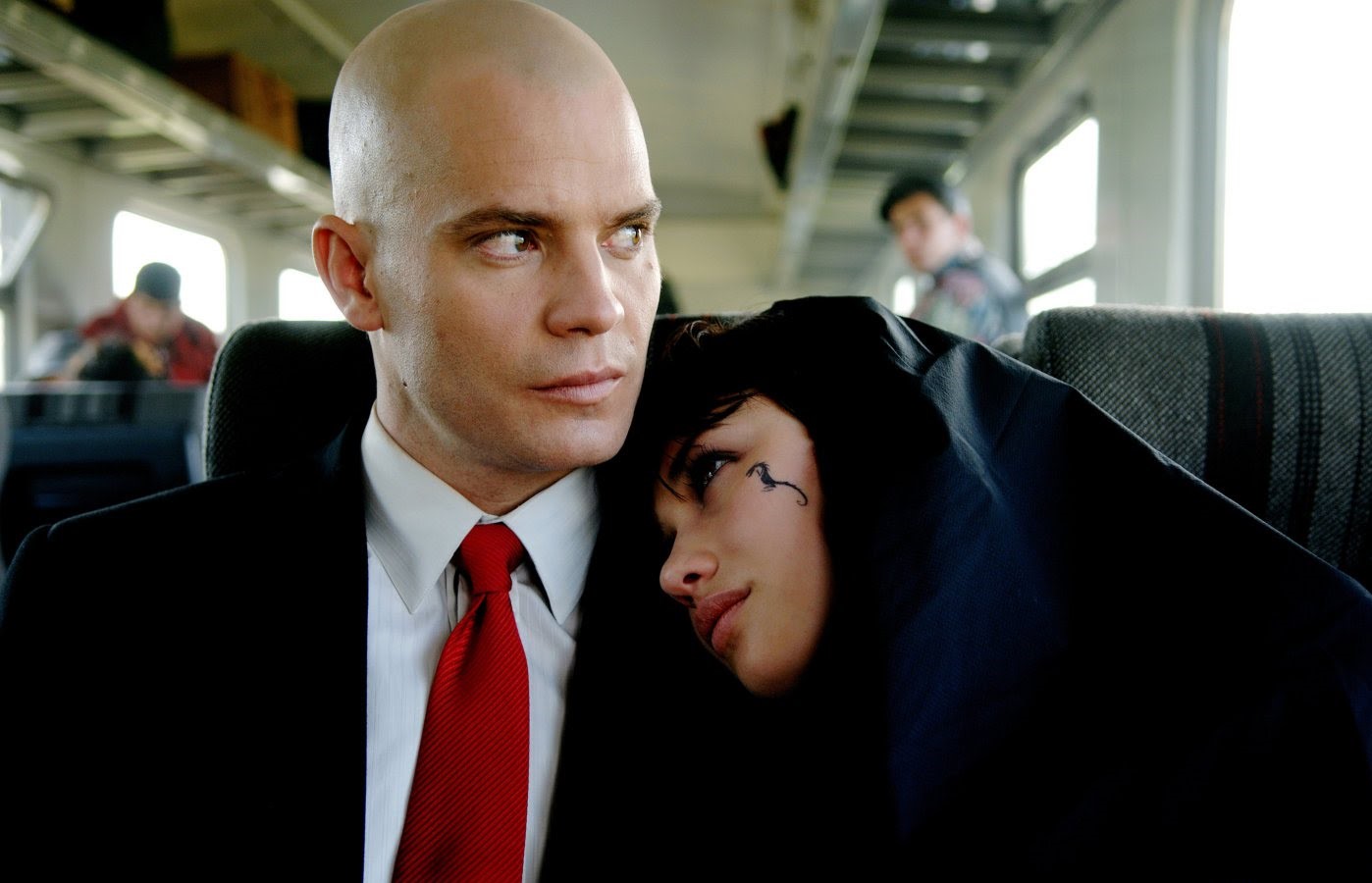 Hitman: Agent 47 (2015) was a sequel with Rupert Friend taking up the role of Agent 47.
Xavier Gens next went onto make the harrowing The Divide (2011) about the survivors of a nuclear holocaust slowly descending into barbarism trapped in a fallout shelter, the X is for XXL segment of The ABCs of Death (2012), the exorcism film The Crucifixion (2017) and Cold Skin (2017) about people of a lighthouse at siege from amphibian creatures. He has also produced Cell (2016).
Other films based on videogames include:- Super Mario Bros. (1993), Double Dragon (1994), Street Fighter (1994), Mortal Kombat (1995), Wing Commander (1999), Final Fantasy: The Spirits Within (2001), Lara Croft, Tomb Raider (2001), Resident Evil (2002), House of the Dead (2003), Alone in the Dark (2005), BloodRayne (2005), Doom (2005), DOA: Dead or Alive (2006), Silent Hill (2006), In the Name of the King: A Dungeon Siege Tale (2007), Postal (2007), Far Cry (2008), Max Payne (2008), Prince of Persia: The Sands of Time (2010), Tekken (2010), Angry Birds (2016), Assassin's Creed (2016), Warcraft (2016), Rampage (2018) and Pokemon Detective Pikachu (2019).
---
---