---
Crew
Director – Matthew Vaughn, Screenplay – Jane Goldman & Matthew Vaughn, Based on the Comic-Book The Secret Service by Dave Gibbons & Mark Millar, Producers – Adam Bohling, David Reid & Matthew Vaughn, Photography (3D) – George Richmond, Music – Henry Jackman & Matthew Margeson, Visual Effects Supervisor – Angus Bickerton & Barrie Hemsley, Visual Effects – Buf (Supervisors – Pierre Buffin & Geoffrey Niquet), Framestore (Supervisor – Chris Lawrence), MPC (Supervisor – Sheldon Stopsack), The Senate (Supervisor – Alex Guri), Sony Pictures Imageworks (Supervisor – Mark Breakspear), Special Effects Supervisor – Steven Warner, Prosthetics – Waldo Mason Effects Ltd (Supervisor – Waldo Mason), Production Design – Darren Gilford. Production Company – 20th Century Fox/Marv/Cloudy Productions/TSG Entertainment.
Cast
Taron Egerton (Gary 'Eggsy' Unwin), Colin Firth (Harry Hart), Mark Strong (Merlin), Julianne Moore (Poppy Adams), Pedro Pascal (Whiskey), Halle Berry (Ginger), Channing Tatum (Tequila), Edward Holcroft (Charlie Hesketh), Hanna Alström (Princess Tilde), Jeff Bridges (Champ), Elton John (Himself), Bruce Greenwood (President of the USA), Thomas Turgoose (Liam), Tobi Bakare (Jamal), Calvin Demba (Brandon), Björn Granath (The King of Sweden), Poppy Delevingne (Clara), Tom Benedict-Knight (Angel), Emily Watson (Chief of Staff Fox), Keith Allen (Charles), Sophie Cookson (Roxy), Michael Gambon (Arthur), Lena Endre (The Queen of Sweden)
---
Plot
Eggsy is attacked by former agent Charlie Hesketh, now rebuilt with a cyborg arm, in a furious car chase through the streets of London. Eggsy gets away but Charlie's severed cyborg arm hacks into the Kingsman network. This provides information about all the Kingsman agents to Poppy Adams, who manages Golden Circle, the top drug dealing operation in the world from a secret base in Cambodia. She launches a missile attack that wipes out Kingsman headquarters and all the agents. Eggsy avoids the attack on his flat because he is meeting with Tilde's parents. Only he and Merlin survive to make it to the safe house where they are puzzled to find that the emergency safe contains simply a bottle of Statesman whisky. Seeing that it comes from Kentucky, they head there to find Statesman, a US equivalent of Kingsman, hidden beneath the distillery. They also discover that Harry Hart is alive, having been revived by Statesman but with no memory of his career in Kingsman. Meanwhile, Poppy announces to the world that she has created a new drug that is a distillation of all other narcotics but contains a fatal toxin that will kill all users unless all drug manufacturing is turned over to her and all drugs are made legal. With the US President seeking this as an opportunity to eliminate all drug addicts, this leaves Eggsy, Harry, whose memory Eggsy manages to erratically restore, and Merlin having to tackle the threat posed by Poppy.
---
Kingsman: The Secret Service (2015) was a smart and funny parody of the spy film. The spy parody was popularised for a time during the late 1990s/early 2000s by the Austin Powers films. The smartness of Kingsman was that it took the image of the gentleman spy and pushed it wholly over-the-top, while marrying it to the action film with a highly engaging results. The film was based on a comic-book by Mark Millar that ran between 2012-3. Director Matthew Vaughn, screenwriter Jane Goldman and most of the cast are back with a sequel in Kingsman: The Golden Circle in what they promise is the second entry in a trilogy.
Matthew Vaughn creates an opening sequence that leaves you completely exhausted before the film even starts – one with Taron Egerton fighting with a cyborg-armed Edward Holcroft in a taxi while being fired at by pursuing vehicles in a chase through the streets of London, resulting in him hanging out the door and on the roof of the cab, being dragged behind on a torn-off door before eliminating his pursuers with missiles and evading pursuing police in a move that requires him to hold his breath as he drives the cab into the lake to get to an underwater hideout. It's a sequence filled with so much energy and throwaway wit that one feels like they have had a full workout before the film begins. It is notedly also a sequence that seems to be homaging its models – the chase sequences in James Bond films like Goldfinger (1964) and especially The Spy Who Loved Me (1977).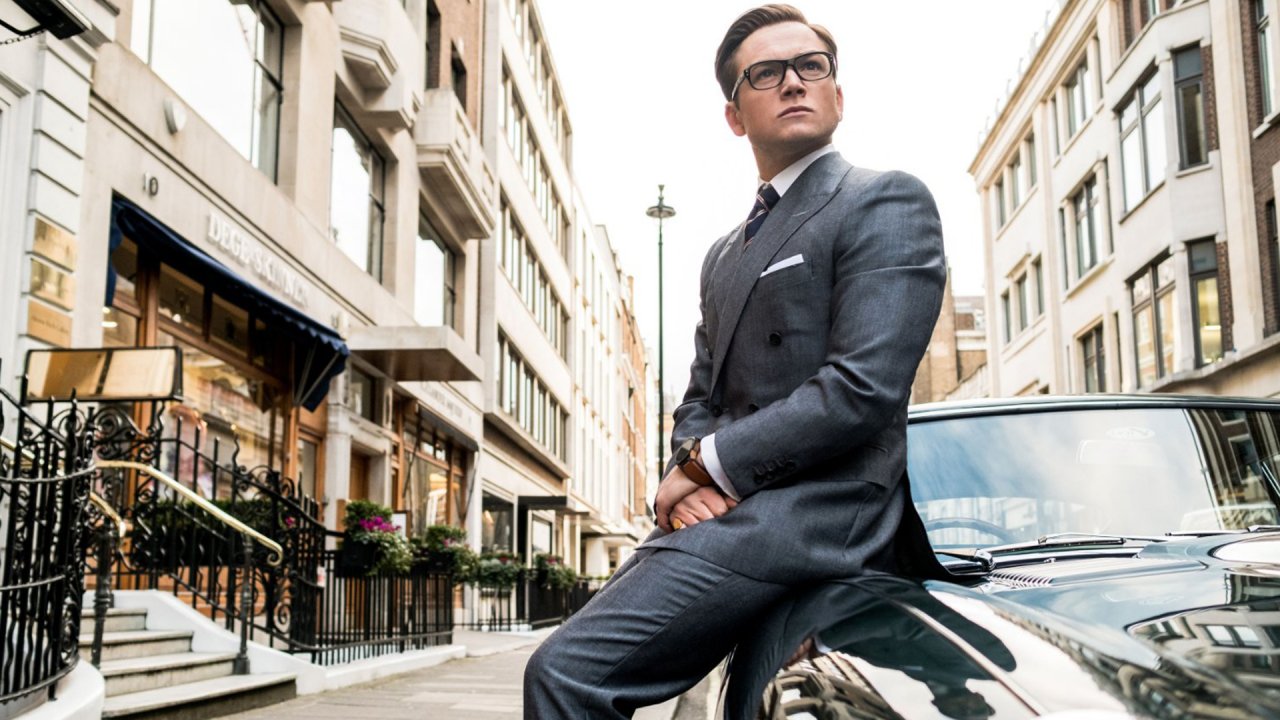 On the other hand, Kingsman: The Golden Circle is not as smart and funny as Kingsman: The Secret Service was. The first film was an origin story – it was driven by the arc of the hero's induction into a secret society and struggling to prove himself in a punishing training regimen. Here this is replaced by a series of over-the-top action sequences, while the parody of British gentlemanliness has largely been dropped.
The Golden Circle does try to substitute a parody of Americanness, although this is nowhere as near as amusingly sharp and over-the-top – The Statesman headquarters is located beneath a whisky distillery and the agents go into action in cowboy hats and their arsenal contains items like nifty collapsible bullwhips, baseball bats that double as mine detectors, baseballs that are hand grenades and so on. It is a broad caricature of Americana but nowhere as amusing as Kingsman was in parodying the bowler hatted gentleman spy as personified by Patrick MacNee in The Avengers (1962-9).
The other disappointment during these scenes is that the publicity made a big thing of introducing Channing Tatum, considered one of the hottest actors in the world, as the American equivalent of Tamson Egort. However, after a great entrance, Tatum is then sidelined infected with the drug and the rest of the show, bar one or two scenes, plays out with the far more anonymous Pedro Pascal as the Statesman agent who joins the others.
The main problem with the plot is that in not being anchored by an origin story it only occasionally stumbles towards the cleverness of the first film. Most of the middle is a series of extruded action sequences that feel more overblown – a gigantic and exhausting one that involves a runaway ski gondola – than necessarily enthralling. Between The Secret Service and The Golden Circle, it feels like what we have has gone from the wry parody of a spy film we had in Austin Powers, International Man of Mystery (1997) – albeit a less adolescent, more grown-up Austin Powers – to the bloated excess of the worst of the Roger Moore era say around the time of Moonraker (1979) where it is hard to tell if the over-the-top action sequences are intended as parodies or not.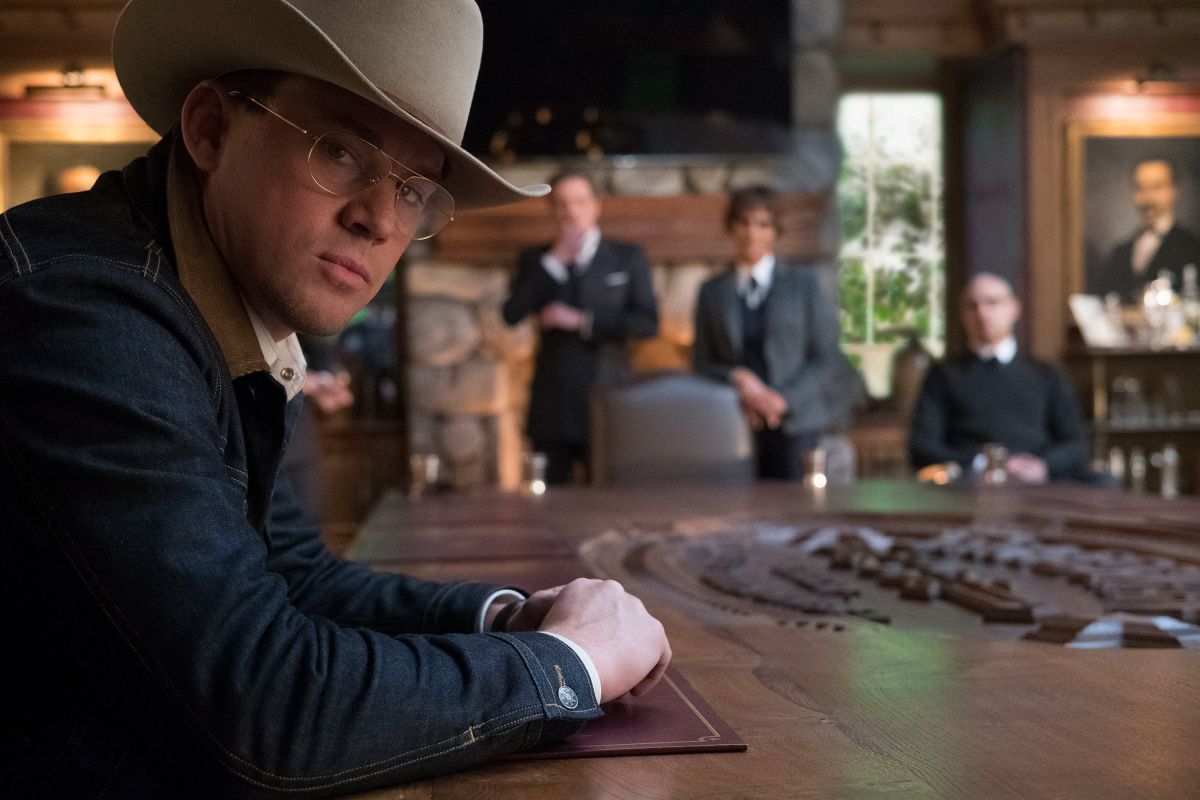 It is only occasionally that The Golden Circle stumbles back towards the smart and funny puncturing of spy cliches that Kingsman: The Secret Service offered. One of the wittiest scenes is one that spoofs the James Bond superstud myth where Taron Egerton has to bed Poppy Delevingne in order to plant a bug inside her but in the midst of doing so has a crisis where he has to call up girlfriend Hanna Alström and beg her permission to do for the sake of the mission.
That said, you do have to admit that Matthew Vaughn has an ability to direct action sequences that far surpasses any of his American contemporaries. Pedro Pascal has a showstopping scene taking down several rednecks in a bar, an Americanised spin on the one where Colin Firth demolished a barroom of drunken idiots in the first film. There is an exhilarating scene where Colin Firth, Tamson Egort and Pedro Pascal tackle various of Julianne Moore's minions in her diner where Matthew Vaughn completely shows off what he can do.
Beneath what might otherwise be a regular action film and spy parody, Matthew Vaughn has a rather dark sense of humour that keeps coming through. Where in another spy film, the villain might feed recalcitrant acolytes into a pit of crocodiles, here we have rather blackly funny scenes where Julianne Moore (whose headquarters is a replica of a 1950s diner) feeds lackeys into a meat grinder and serving them up as burgers.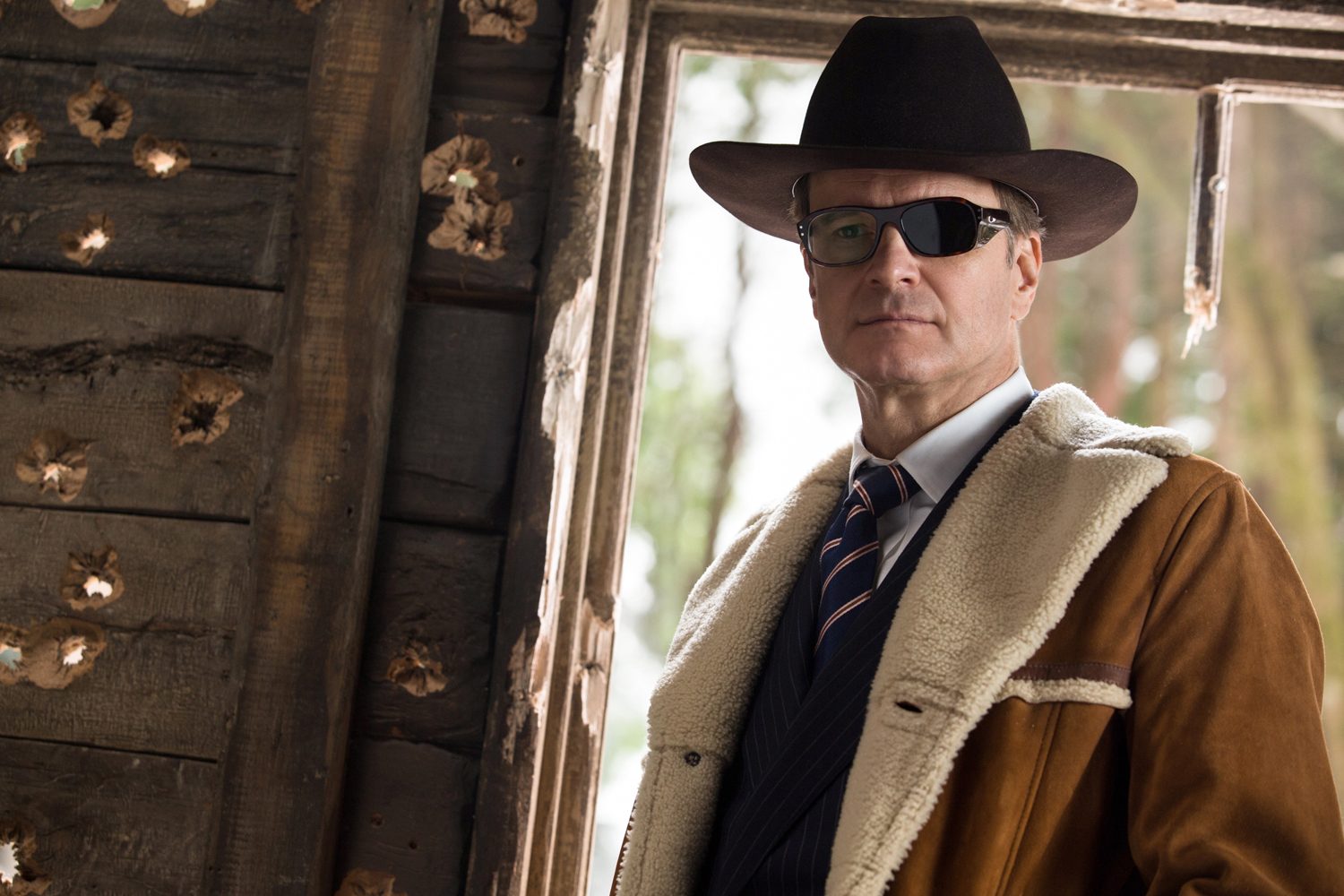 On the other hand, what kills the smartness of Kingsman: The Golden Circle is a series of real-world intrusions that rupture the fantasy world the film exists in. One of these is that super-villain Julianne Moore's hideout in the jungle comes with a theatre that has a billboard that is blatantly plugging distributor 20th Century Fox's Captain Fantastic (2016) – seen not just once but on multiple occasions. Furthermore, all of the news bulletins we see throughout are presented by Fox News – a news channel that has become notorious for the degree of wholly biased spin it places on news to slant it to conservative America.. The film is a principally British-made work and what kept dragging me back to the real world was the intrusion of this news channel that has a notoriety in the real world for the absurd degree of blatant bias they give to news. It is something that considerably ruptures the fantasy that the first film created for itself.
Matthew Vaughn is due to make a third film in the series with the prequel The King's Man (2021).
Matthew Vaughn first appeared as a producer on several of Guy Ritchie's early films before making his directorial debut with Layer Cake (2004), a British crime film in the Ritchie mould. He first gained genre attention here with the fine adaptation of Neil Gaiman's Stardust (2007). This set Vaughn on a Hollywood career where he has made Kick-Ass (2010), also adapted from a Mark Millar comic-book, and X: First Class (2011). Vaughn has also acted as producer on other comic-book adapted properties such as Kick-Ass 2 (2013), X-Men: Days of the Future Past (2014) and Fantastic Four (2015), as well as Silent Night (2021).
---
---