---
Crew
Director – David Butler, Screenplay – Lew Brown, G.G. DeSylva & Ray Henderson, Photography (b&w) – Ernest Palmer, Music/Lyrics – Lew Brown, G.G. DeSylva & Ray Henderson, Special Effects – Ralph Hammeras & Kenneth Strickfaden, Art Direction – Stephen Goosen. Production Company – Fox.
Cast
El Brendel (Single O), John Garrick (J21), Maureen O'Sullivan (LN18), Frank Albertson (RT42), Kenneth Thompson (MT3), Marjorie White (D6)
---
Plot
A man who was struck by lightning while playing golf in 1930 is revived in New York City in 1980. The man finds himself in a bewildering world of technological marvels where air vehicles have replaced traffic, food comes in pill form, babies come from vending machines and people are now known by letters and numbers. J21, a man he befriends, proposes to a girl LN18 but is rejected as unsuitable by the authorities. And so J21 decides to pilot the first manned expedition to Mars to prove himself worthy of LN18.
---
Just Imagine contains the distinction of being the first and, for some time, the last science-fiction musical. The film was a big flop and when one sees musical numbers like Never Swat a Fly, choreographed with fly swats, one may gain some indication as to why. Although, in terms of sheer bizarreness, this was followed by the even wackier It's Great to Be Alive (1933) about a post-holocaust battle between women for the last fertile man, which flopped even more resoundingly than Just Imagine. After that, one had to wait nearly half-a-century until The Rocky Horror Picture Show (1975) before filmmakers summoned the courage to venture into the science-fiction musical again.
1930 was only three years after the pioneering of sound cinema and the medium was still in a transitional state. Filmmakers were taking their lead from other sound forms – radio and particularly Vaudeville. Just Imagine's producers-writers-musicians, Lew Brown, G.G. DeSylva and Ray Henderson, had come from enormous success as a song-writing team for various Broadway shows, before they made their screen debut with the smash hit Sunny Side Up (1929). It is the stage musical tradition that Just Imagine owes its origins to rather than any purist science-fiction form. Indeed, Just Imagine is fairly much Metropolis (1927) reimagined as a Broadway musical.
The film has a trippy futurism – this was the era of futurist world expos and the boom in skyscraper building and where Henry Ford had revolutionised the concept of the production line automobile. Just Imagine embraces a concept of modernism, of industrialism and automation – for that matter, it embraces the future and the thought of technological change far more than Metropolis does.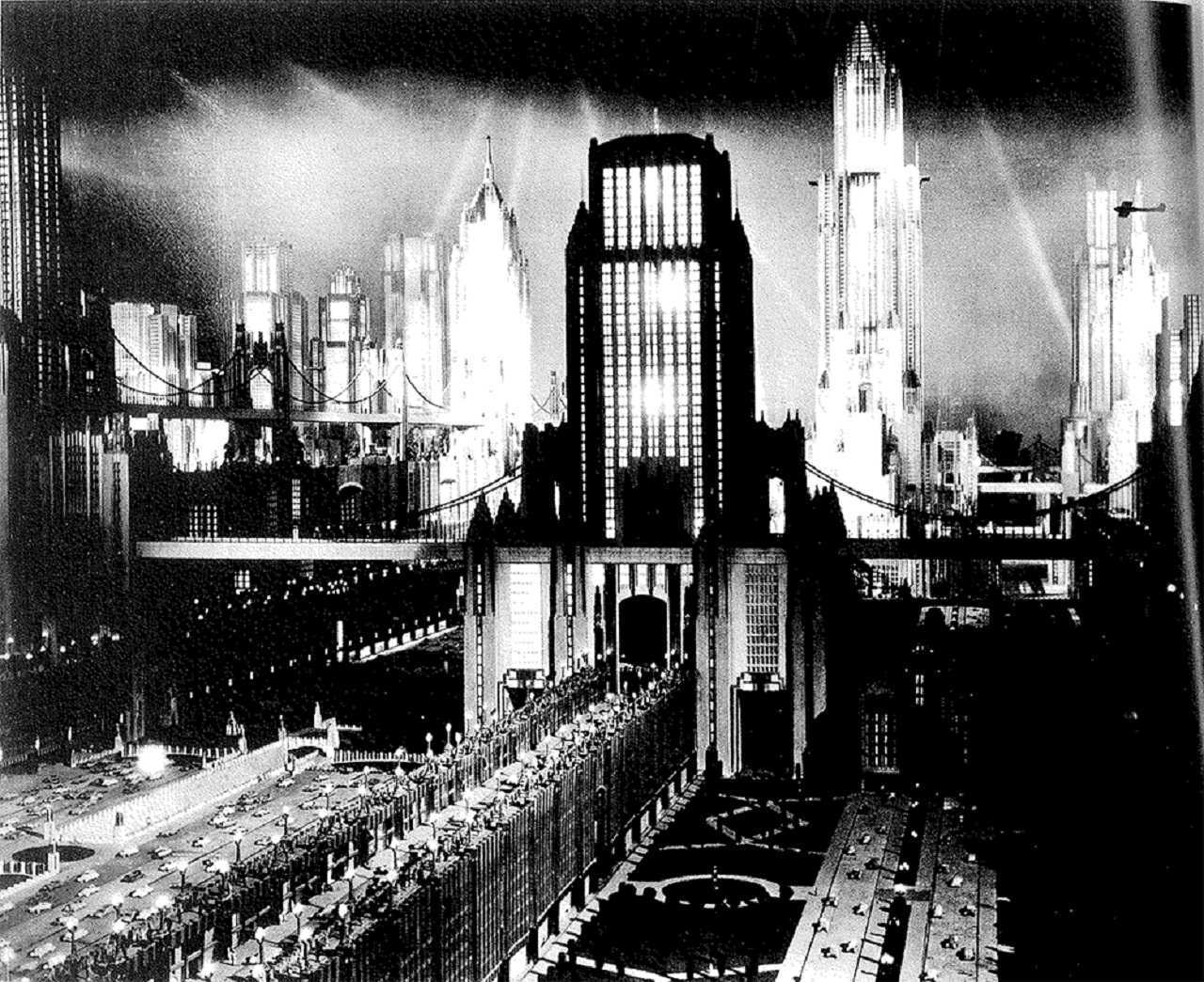 Understandably, there is a jokey 1930s cosiness to this vision of the future – one that makes fun of automation and Prohibition – food comes in pill form, manufacturing lines now makes planes instead of automobiles (there are even gags about Henry Ford's notorious anti-Semitism – in the future, all cars have Jewish names), while even babies come out of slot machines.
The jokes are lame, some of the puns excruciating (although surprisingly for the era, the film manages to get away with a number of gay jokes). The plot holding it all together is entirely trivial. In terms of science-fiction, little thought is given to the realistic construction of the future – for example, a society where letters and numbers are used instead of names could only have a total population of less than 3000.
For all its silliness, Just Imagine has been lavishly made. The film's effects and Art Deco sets are certainly impressive – with some quarter-of-a-million dollars, a whopping sum for the day, spent to build a dazzling city model that took up an entire zeppelin hangar. The Martian sequences contain some fascinatingly oversized dance routines, while the Martian costumes have a bizarreness that has to be seen to be believed.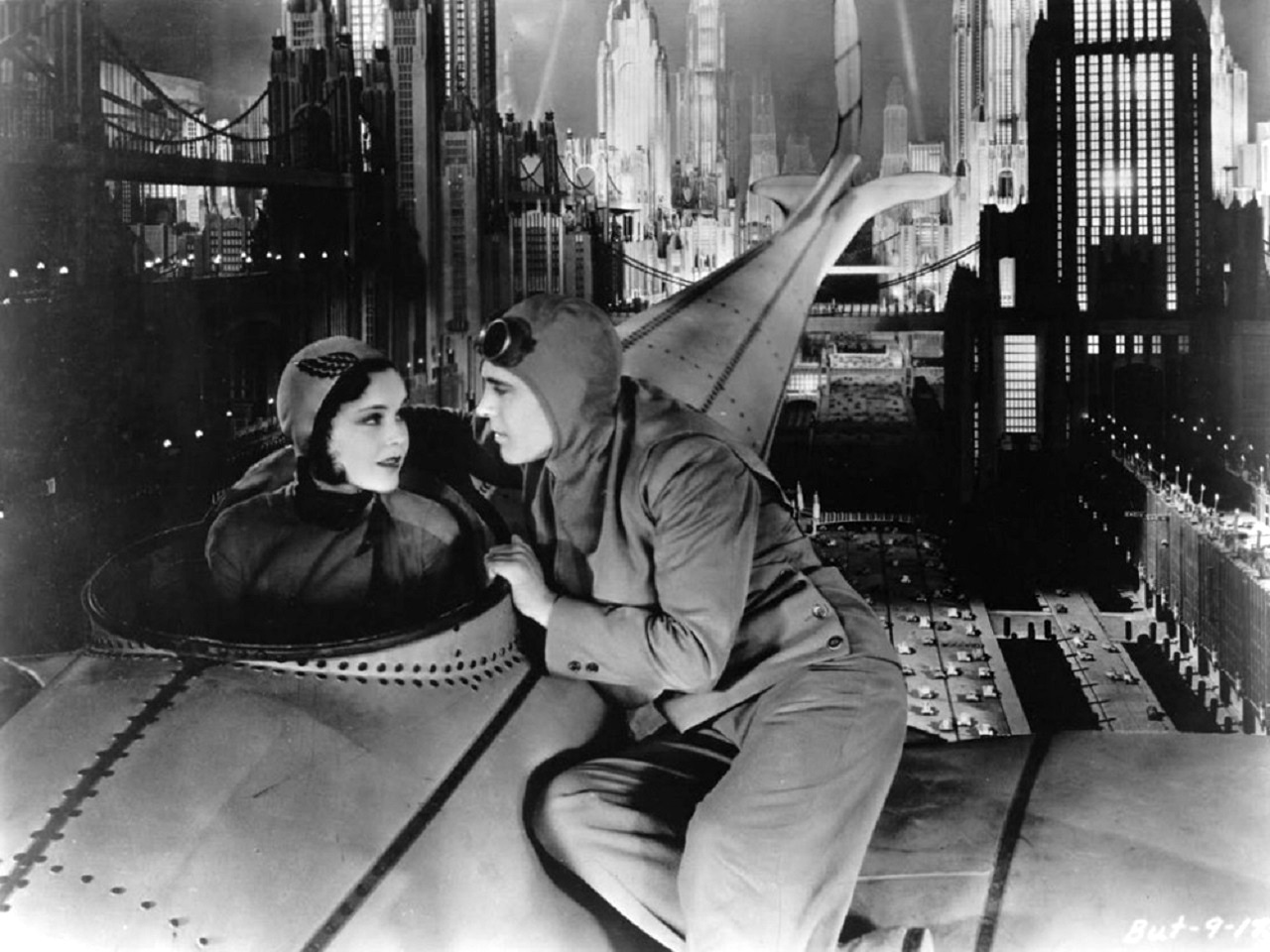 The comic lead El Brendel was a stand-up performer who toured during the era with a purportedly excruciatingly bad Swedish accent routine. Here Brendel gives a performance of infuriating witlessness. The most notable name among the rest of the cast is Maureen O'Sullivan, two years before she gained immortality as Jane in the Johnny Weissmuller Tarzan the Ape Man (1932) and sequels and later as the mother of Mia Farrow.
Director David Butler was a specialist in musicals and comedies in a career ranging between the 1920s and 1960s. In genre material, Butler also made an adaptation of A Connecticut Yankee (1931); the Old Dark House comedy You'll Find Out (1940); and the Bob Hope-Bing Crosby screwball comedy Road to Morocco (1942).
---
---