---
Crew
Director – Alice Waddington, Screenplay – Brian DeLeeuw & Nacho Vigalondo, Story – Sofia Cuenca & Alice Waddington, Producers – Adrian Guerra & Nuria Valls, Photography – Josu Inchaustegui, Music – Lucas Vidal, Visual Effects Supervisor – Alex Villagrasa, Special Effects Supervisor – Esther Ballesteros, Production Design – Laia Colet. Production Company – Nostromo Pictures/Colina Paraiso AIE/RTVE/creA S.G.R..
Cast
Emma Roberts (Uma), Danielle MacDonald (Chloe), Eiza Gonzalez (Amana), Milla Jovovich (Duchess), Awkwafina (Yu), Jeremy Irvine (Markus), Arnaud Valois (Son)
---
Plot
Uma wakes up on a palatial island. It comes back to her how she had refused to consummate the marriage to Son, the husband who had been arranged for her. She learns that she, and the other girls on the island, are children from the society of Uppers and have been sent there to be reformed. As they are instructed in proper behaviour by The Duchess who runs the facility, Uma befriends the other girls and plots a means of escape. Markus, the guy she was secretly in love with, has snuck into the facility and obtained a job as one of the attendants. He has hidden a boat in a cave but making an escape requires Uma to uncover the secrets of the island.
---
Nacho Vigalondo is a director whose name has risen over the last decade with genre offerings like Timecrimes (2007), Extraterrestrial (2011), Open Windows (2014) and Colossal (2016). Paradise Hills was announced as a film he was to direct – I suspect this was just mislabelling in the press – and he in fact only writes the script. The director's chair has been given over to Alice Waddington, a Spanish commercials director who gained acclaim with her short film Disco Inferno (2015) and makes her full-length debut here.
It takes a long time to get a grip on Paradise Hills. The film takes place with an over-the-top ornamentation in the visuals, production design and costuming department. For a long time, the film made me think we were in some kind of virtual reality scenario or dreamscape. I was particularly reminded of The Cell (2000) – the two films have a very similar kind of extravagantly arty flourish in the visuals.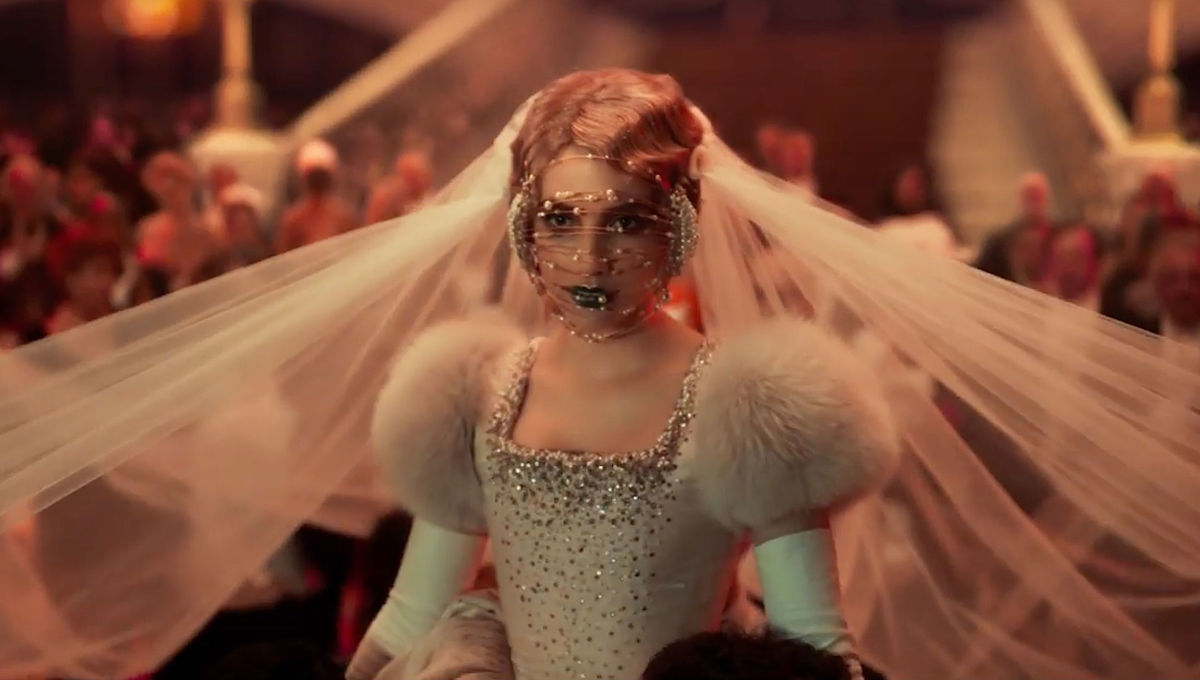 We are first introduced to Emma Roberts at her wedding, a gaudy affair that involves her wearing a metal cage over her face and green lipstick, before being dropped off at a palatial mansion by a hover Rolls Royce. Emma wakes up in a room where sunlight comes in through a big circular window in the roof and her bed is dwarfed by a giant relief on the wall. The world outside is a luxurious island filled with impossibly hyper-real gardens and giant sets of stairs with trees lining the way. Emma converses with Eiza Gonzalez in a bathroom with gold ornamented fittings and a wall that is painted green with giant flamingos on it. Milla Jovovich is outfitted in a dress with lace trails that extend twice her body length. For no particular reason, Emma is placed on a merry-go-round horse that then ascends some thirty feet into the air like an elevator and is forced to watch a holographic simulation of scenes of her life play out around her. For much of the film, the girls wear bucklers with puffed sleeves, while the guards wear morion helmets like Spanish Conquistadors.
You sit drinking all of this in and amazing at the creativity of the costuming and design people. And for this Paradise Hills gets top marks. On the other hand, I kept trying to get a handle on this world. It seems to take place in a future setting, although this is never particularly clear – the details given about the future are under-sketched to the point of frustration where about the only thing we learn is that the world is divided between the Uppers and the Lowers and that families of privilege can send their errant children to the island for re-education.
It feels that we are in is something akin to a girls' boarding school film – I kept being reminded of the recent Down a Dark Hall (2018) – mixed with an SF film like The Island (2005) where people inside a closed-off society slowly become aware of the true nature of their reasons for being there. Although it becomes apparent [PLOT SPOILERS] that the real reason is a sort of variant on The Stepford Wives (1975) and has to do with their being replaced by doubles from among the Lowers who are surgically altered and behaviourally trained to become their replacements. (Although this is not an explanation that makes much sense – would an upper-class family really want someone of lower-class breeding to replace their child and heir? Not to mention that the potential for rebellion and subversion amongst this must be enormous).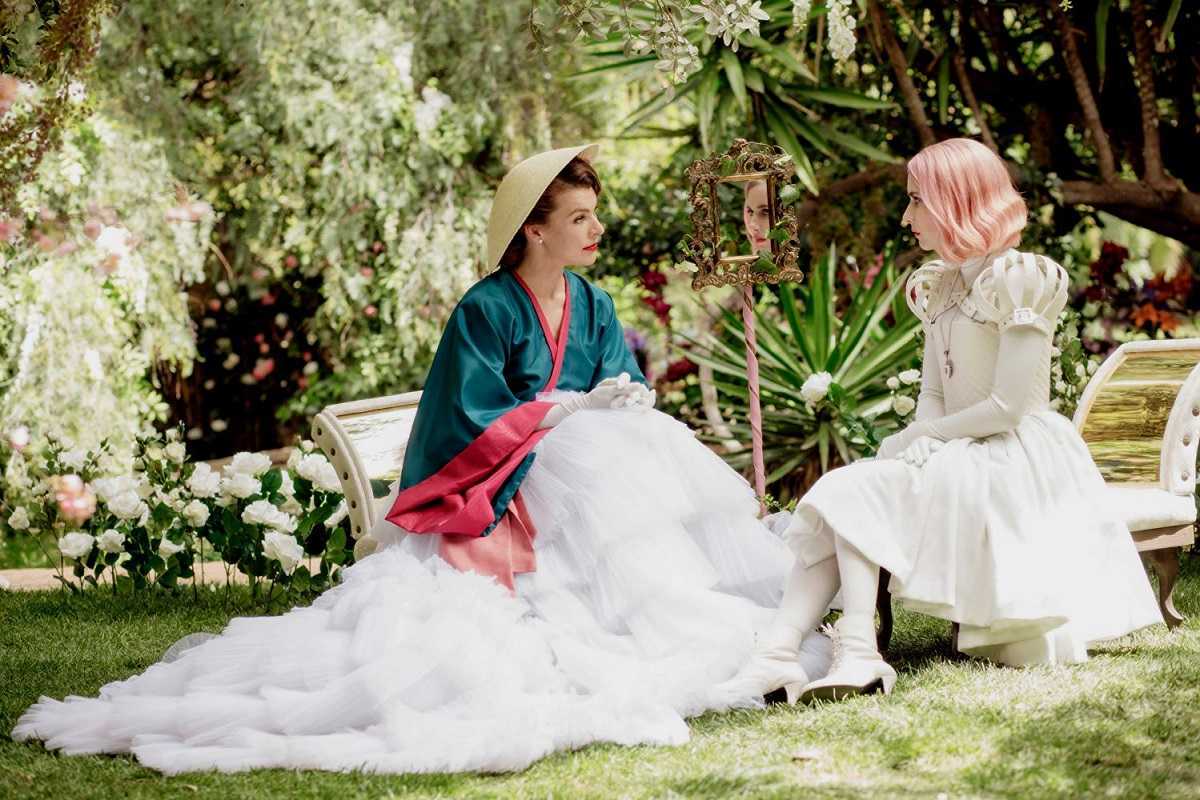 I just didn't get into Paradise Hills. You are so distracted by the over-ornamented visuals and costuming – one that makes no difference between the outside world and the palatial island – that the story never engages. You are never absorbed in Emma's struggle to escape. Emma's love interest come to rescue her is a figure so pushed to the periphery and with so little emotion devoted to their relationship that he signals that something is wrong from the moment he turns up on the island. Indeed, the film seems to invest more in the relationship between Emma and Eiza Gonzalez where for a time it almost seems to suggest it is going to be the interesting idea of a lesbian lovers-against-the-totalitarian-system film but that is abruptly curtailed and Eiza written out. When the big revelation about what is going on comes, it seems a letdown.
And there are just bizarre and nonsensical parts of the film. Milla Jovovich is miscast in a role that should be played by Emma Thompson or maybe Judi Dench where Milla struggles to convey a society lady of manners with her limited acting abilities. At the climax, she bizarrely turns into a figure made up of plants like some kind of weird mashup between Poison Ivy and a wicked witch – no explanation is ever given for this. For equally puzzling reasons, the script also has Emma Roberts wake up with partial amnesia about how she came to be on the island where surely being abducted and carted away is something that would be incredibly vivid in memory, where the only reason this seems written in for is the purpose of having a character unfamiliar with the world discover it for us.
(Nominee for Best Production Design at this site's Best of 2019 Awards).
---
---