USA. 1984.
Crew
Director – Nick Castle, Screenplay – Nick Castle & Jonathan Betuel, Producers – Gary Adelson & Edward O. Denault, Photography – King Baggot, Music – Craig Safan, Visual Effects Supervisor – Jeffrey A. Okun, Digital Simulation – Digital Productions, Optical Effects – Apogee Inc, Pacific Title and Optical & Van Der Veer Photo Effects, Special Effects – James Dale Camomile, Michael Lantieri, Kevin Pike, Darrell E. Pritchett & Joseph G. Sasgen, Design Makeup – Terry E. Smith, Mechanical Effects Makeup – Lance Anderson, Production Design – Ron Cobb. Production Company – Lorimar/Universal.
Cast
Lance Guest (Alex Rogan), Dan O'Herlihy (Grig), Robert Preston (Centauri), Catherine Mary Stewart (Maggie Gordon), Chris Herbert (Louis Rogan), Barbara Bosson (Jane Rogan), Norman Snow (Xur)
---
Plot
Alex Rogan is a frustrated teenager living in a trailer park. His one joy in life is the videogame 'Starfighter'. When he achieves the game's high-score, a man called Centauri, who claims to be the game's creator, arrives and offers to take Alex for a ride. However, Centauri is an alien and his car a spaceship and he takes off with Alex to the planet Rylos. There Alex learns that the game was designed to recruit starfighter pilots that are desperately needed to defend the Intergalactic League against the onslaught of the warlord Xur. Alex is sent back when it is found that he was illegally recruited. However, when Xur's assassins blow up the Rylosian military base, Alex is the only starfighter pilot left to defend the entire galaxy.
---
Young boy dreams of intergalactic heroism instead of down-to-earth drudgery. After encountering an old man, he is provided with an opportunity to join an intergalactic war and become a starfighter pilot. The fate of the entire universe is ultimately dependent on the boy's inner abilities in a last-ditch series of dogfights defending against an evil warlord who has launched his own fleet of fighters from a huge base ship. Excuse me if you have heard this plot before. One might be forgiven for mistaking the synopsis for a rehash of Star Wars (1977). That is exactly what The Last Starfighter is – and is clearly hoping that you notice it.
The Last Starfighter feels like someone had taken the plot of Star Wars, shaken it up and grafted it onto the early 1980s Space Invaders fad. (For those too young, Space Invaders, which came out in 1978, was the earliest of the intergalactic shoot-'em-up videogames). The film's Star Wars copies prove tiresome – Craig Safan's score even rehashes John Williams note for note, while Centauri's flying car seems lifted from the design of the Lotus Esprit in The Spy Who Loved Me (1977).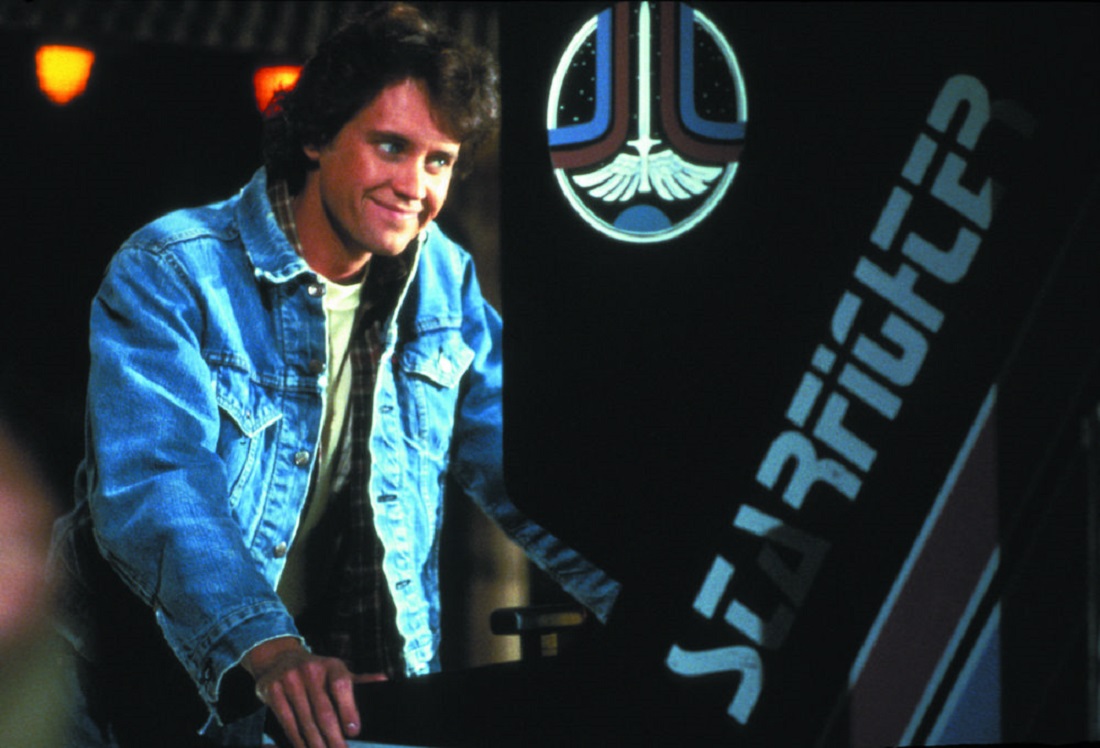 One interesting aspect is that the film sets itself in trailer-park America, a much more socially realistic realm than the perpetual middle-class suburban dreamland that Steven Spielberg kept returning to Close Encounters of the Third Kind (1977) and E.T. – The Extra-Terrestrial (1982). Even so, it is still a mythically nice neighbourhood – like anybody else in trailer park community would care let alone gather around when a teenage boy gets the high-score in a videogame!
Star Wars was certainly not an original film but it served its borrowings up with an enthusiasm that made audiences feel like they were discovering them for the first time. By the time we get to The Last Starfighter however, all that we have are third-hand cliches. There is no heart to them. What we have is merely a naive fantasy of adolescent triumph and heroism made by people who assume that the audiences for Star Wars were all around the age of ten. The film is pitched to simplistic caricatures and for anyone over that single digit mental age, the juvenility of the exercise is pathetic.
Moreover, The Last Starfighter tends to highlight the pro-militarism that unconsciously underlies the naive enthusiasm of Star Wars and Space Invaders-type games. At times, the film almost seems like an army-recruiting short – join the Starfighter Corps, make friends, save the universe. It celebrates mindless, unthinking militarism – xenophobia and gee-whiz shoot–'em-ups are regarded as triumphal, even enforced conscription is regarded as a salutary act.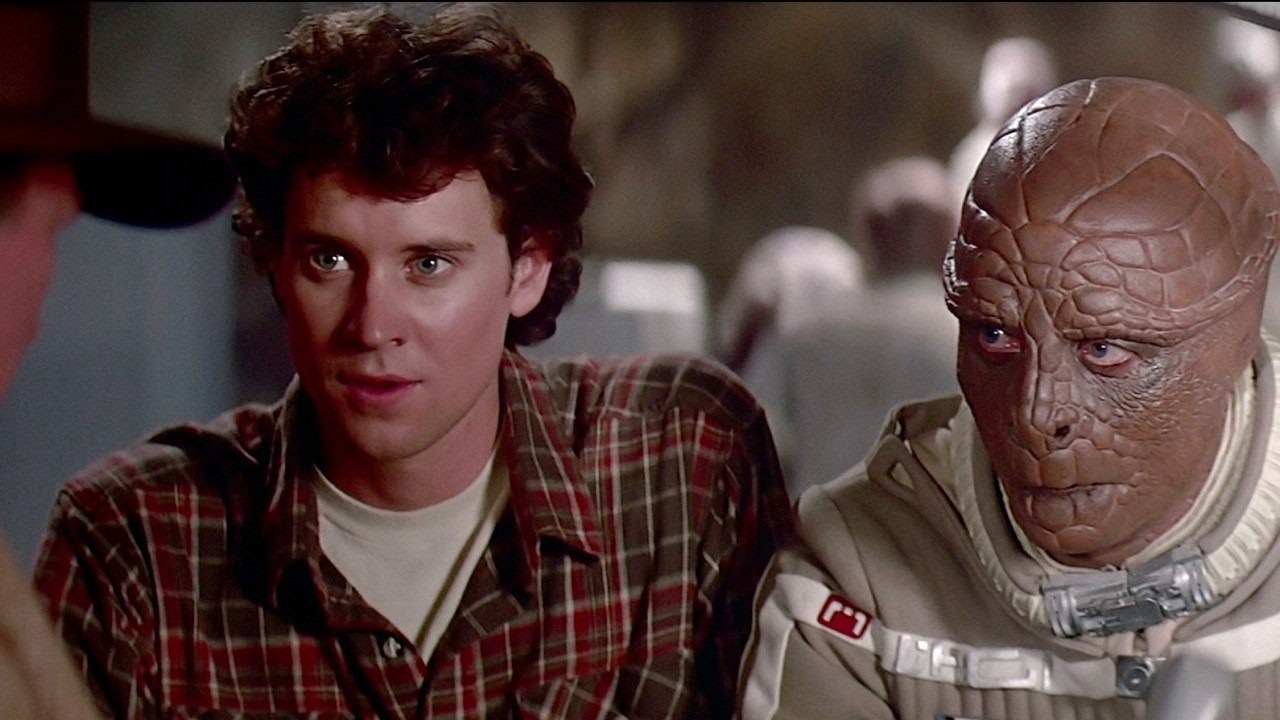 The juvenile fantasy that The Last Starfighter operates on is not much above that of a children's cartoon – where nobody is allowed to truly die if they are good and the youthful hero wins out against overwhelming odds. Take the death of Centauri:- the film makes decent attempt to engender our sympathy when he dies but at the end we learn he is not dead after all. This is bogus drama – if George Lucas had done this with Obi-Wan Kenobi there would have been an outcry. It teaches us that dying does not matter, war is fun and, just like a videogame, nobody ever dies for real, they always have a second life.
Indeed, the entire film is ersatz science-fiction. It has no concept of science and especially of spatial distances. The battle for the universe seems even smaller in scale than the Pacific Theatre of War during WWII – the universe is protected by a series of beacons placed in a line with each about 100 metres apart, while the evil warlord sets out to conquer the entire universe with a fleet of around 30 warships.
The Last Starfighter was one of the first films, following the groundbreaking Tron (1982), to make substantial use of computer-generated visual effects. Although they look primitive more than a decade later following the widespread CGI revolution, they were perfectly competent and regarded as groundbreaking back in the day.
In 2008, Nick Castle and Jonathan Betuel were reported to be working on a sequel Starfighter, which features a return performance from Lance Guest, although this has yet to be greenlit. More bizarrely, the film was turned into an off-Broadway musical The Last Starfighter: A New Musical (2004).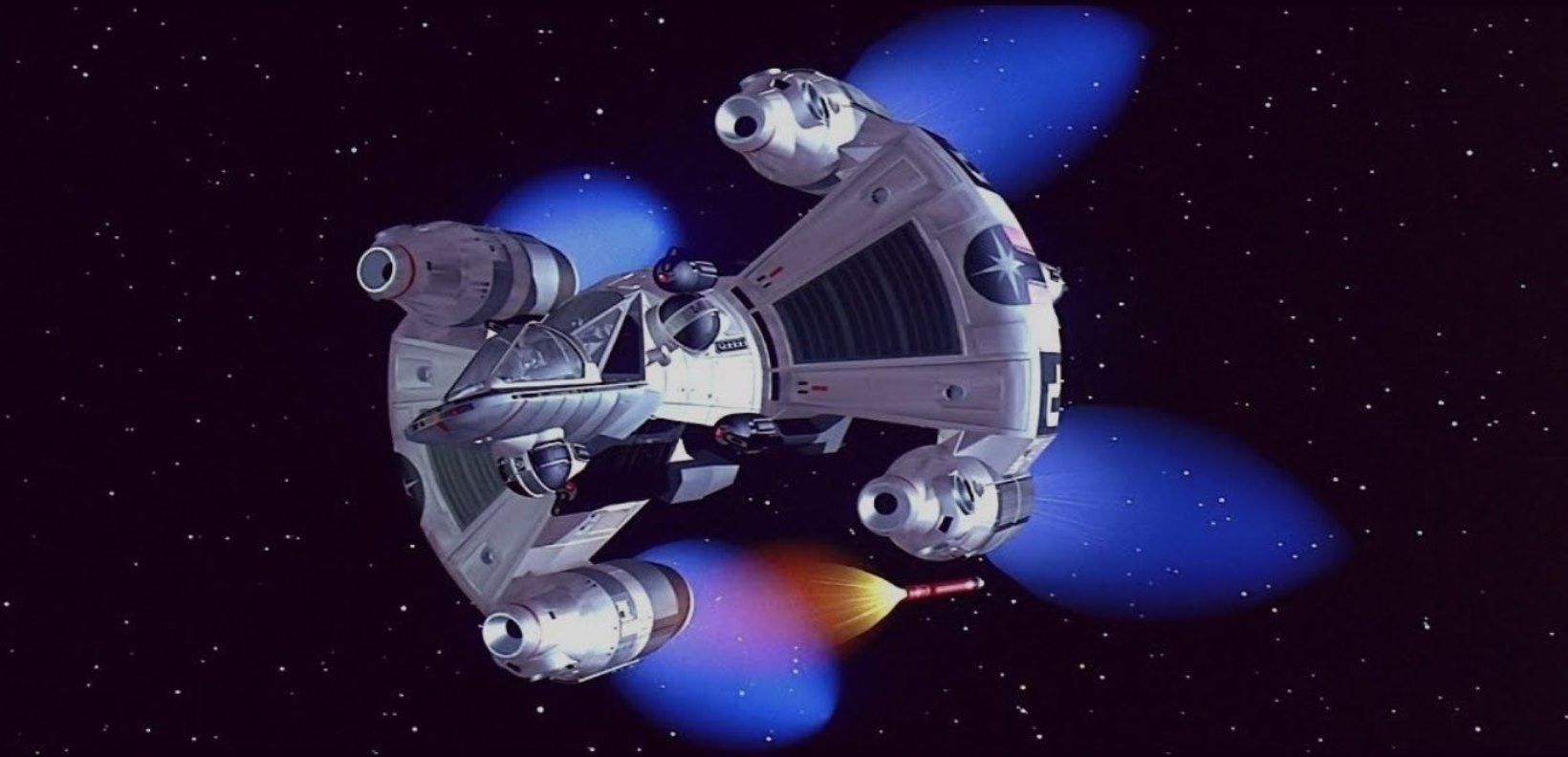 Director Nick Castle began working with John Carpenter – he was as an assistant cameraman on Dark Star (1974) then went on to play Michael Myers in Halloween (1978) and co-wrote Escape from New York (1981) with Carpenter. Castle made his directorial debut with the low-budget TAG: The Assassination Game (1982), a psycho-thriller set around campus mock killing sports. After The Last Starfighter, Castle made the lovely fantasy film The Boy Who Could Fly (1986), his best work. He went onto make banal, middle-of-the-road comedies such as Dennis the Menace (1993), Major Payne (1995) and Mr Wrong (1996). He has made several other minor ventures back into genre material with the angel fantasy Delivering Milo (2001), the Christmas tv movie Twas the Night (2001) and the sf/action film Connor's War (2006), as well as co-writing the screenplay for Steven Spielberg's Hook (1991).
Screenwriter Jonathan Betuel later went onto direct/write two other genre films – My Science Project (1985) about teens discovering an alien timewarp device and the cop-and-dinosaur-partner pairing Theodore Rex (1995). Betuel also produced the tv anthology series Freddy's Nightmares: A Nightmare on Elm Street – The Series (1988-9).
---
Trailer here
---