---
Crew
Director – Colin Trevorrow, Screenplay – Derek Connolly, Producers – Derek Connolly, Stephanie Langhoff, Peter Saraf, Colin Trevorrow & Marc Turtletaub, Photography – Benjamin Kasulke, Music – Ryan Miller, Visual Effects – Dive Visual, Special Effects Supervisor – Sherril Johnson, Prosthetic – Matthew W. Mungle, Production Design – Ben Blankenship. Production Company – Big Beach Productions/Duplass Brothers Productions.
Cast
Aubrey Plaza (Darius Britt), Mark Duplass (Kenneth Callaway), Jake Johnson (Jeff Schwensen), Karan Soni (Arnau), Mary Lynn Rajskub (Bridget), Jenice Bergere (Liz McHollis), Tony Doupe (Agent Smith), Xola Malik (Agent Jones), Kristen Bell (Belinda Saint), William Hall Jr (Shannon), Basil Harris (Restaurant Manager), Jeff Garlin (Mr Britt)
---
Plot
Darius Britt is an intern with Seattle Magazine who feels unhappy with her nowhere life and at being treated as the lowest rung on the ladder at work. The magazine decides to do a story on someone who has placed a newspaper ad requesting a companion for a time travel expedition. Reporter Jeff Schwensen volunteers for the job and asks for two interns. Darius and the nerdy Arnau volunteer. They travel to Ocean View, Washington and wait to track the owner of the post office box listed in the ad. This turns out to be Kenneth Callaway who works at a local supermarket. When Jeff goes to get an interview, he is dismissed by Kenneth, and so Darius is sent in to use sex appeal. She succeeds in piquing Kenneth's interest and he agrees to take her on. He puts her through a training regimen and enlists her aid in breaking into a medical facility to steal lasers for his time machine. They also find that Kenneth is being followed by government agents. As Darius is going about her mission, Jeff, who grew up in Ocean View, reunites with Liz McHollis, who he has regarded as his ideal woman ever since a childhood liaison. Jeff also tries to get the nerdish Arnau to loosen up and get laid. Darius finds herself attracted to Kenneth but cannot decide whether he is a deluded fool or genuinely has built a time machine.
---
Safety Not Guaranteed is a surprise find that emerged onto the indie and arthouse scene after premiering at the 2012 Sundance Festival. It gained some fine word of mouth, despite not being widely seen. Almost all of the cast are unknowns – the biggest names among them are Mary Lynn Rajskub, previously known from tv's 24 (2001-10), and Kristen Bell of tv's Veronica Mars (2004-7) and Heroes (2006-10), both in minor supporting roles.
Safety Not Guaranteed was a debut feature for Colin Trevarrow who on the basis of this was immediately snatched up to make Jurassic World (2015). One of the driving forces behind the film is actor Mark Duplass. Mark usually directs and writes with his brother Jay, as well as stars in their films, beginning with The Puffy Chair (2005) and the horror movie parody Baghead (2008), before gaining attention with Cyrus (2010) and Jeff, Who Lives at Home (2011), as well as writing the script for his wife Katie Aselton's Black Rock (2012), producing Bad Milo! (2013) about a man with a demon that emerges from his ass, writing/starring in the Found Footage horror Creep (2014), producing/starring in the strange doppelganger film The One I Love (2014), as well as producing the tv series Room 104 (2017-20).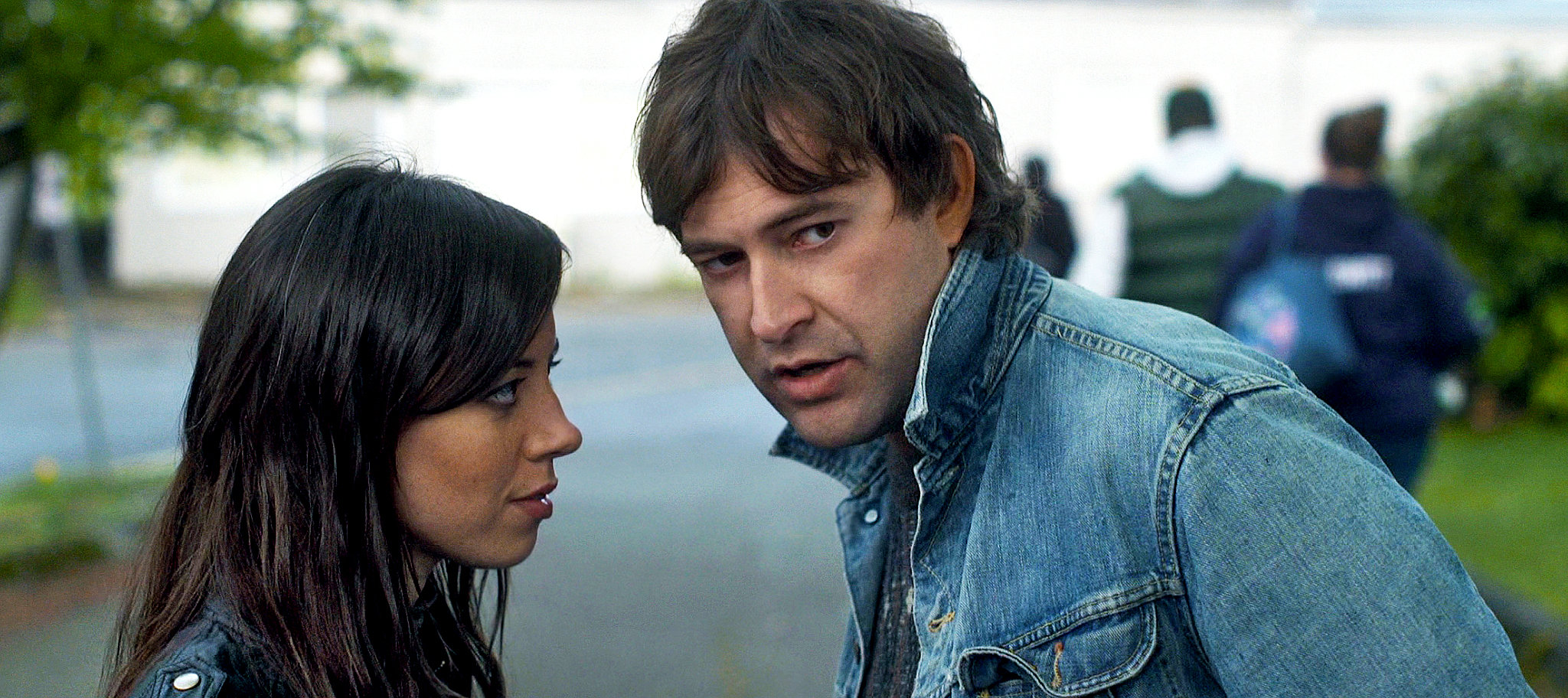 Safety Not Guaranteed has a time travel premise, although you are not sure for much of the running time if it actually is a science-fiction film. For the greater part, it is a quirky indie romantic film of sorts. The plot follows two strands – intern Aubrey Plaza as she joins a group to track down and investigate Mark Duplass who claims to be a time traveller and is advertising for a companion, much discussion of whether he is deluded or for real, and her eventual realisation of an attraction to him.
The other plot deals with journalist Jake Johnson, his return to his hometown and reuniting with the girl of his dreams (Jenice Bergere). There is also a lesser plot about how Jake Johnson gets ultra-nerdy Karan Soni to loosen up and lose his virginity. All of this is conducted with some fine writing and played out with characterisations that have a considerable freshness and sincerity. (The film is apparently based on an ad that was placed in Backwoods Home Magazine in 1997 by John Silveira, which then proceeded to go viral and was optioned by Colin Trevorrow).
Aubrey Plaza, previously known for tv's Parks and Recreation (2009-15), kicks the film off with an appealing line in deadpan sarcasm. Yet for all its apparent wry irony in this department, Safety Not Guaranteed is a surprisingly sincere film. It is one part a work about people hanging onto the past – Jake Johnson and his ideal of the perfect woman; both Aubrey Plaza and Mark Duplass wanting to time travel to erase personal tragedies – and about moving on and rediscovering how to live. Aubrey Plaza in particular is a great find – her unwavering deadpan manner makes the film, and she does a great job in the scene when it comes to using her wiles to seduce Mark Duplass. The lantern-jawed Duplass maintains an adorable sense of seeming bewildered and slightly lost that any mother would instantly want to adopt. There is excellent support from the world-weary and cynical Jake Johnson who you would swear is a younger brother of Mark Ruffalo.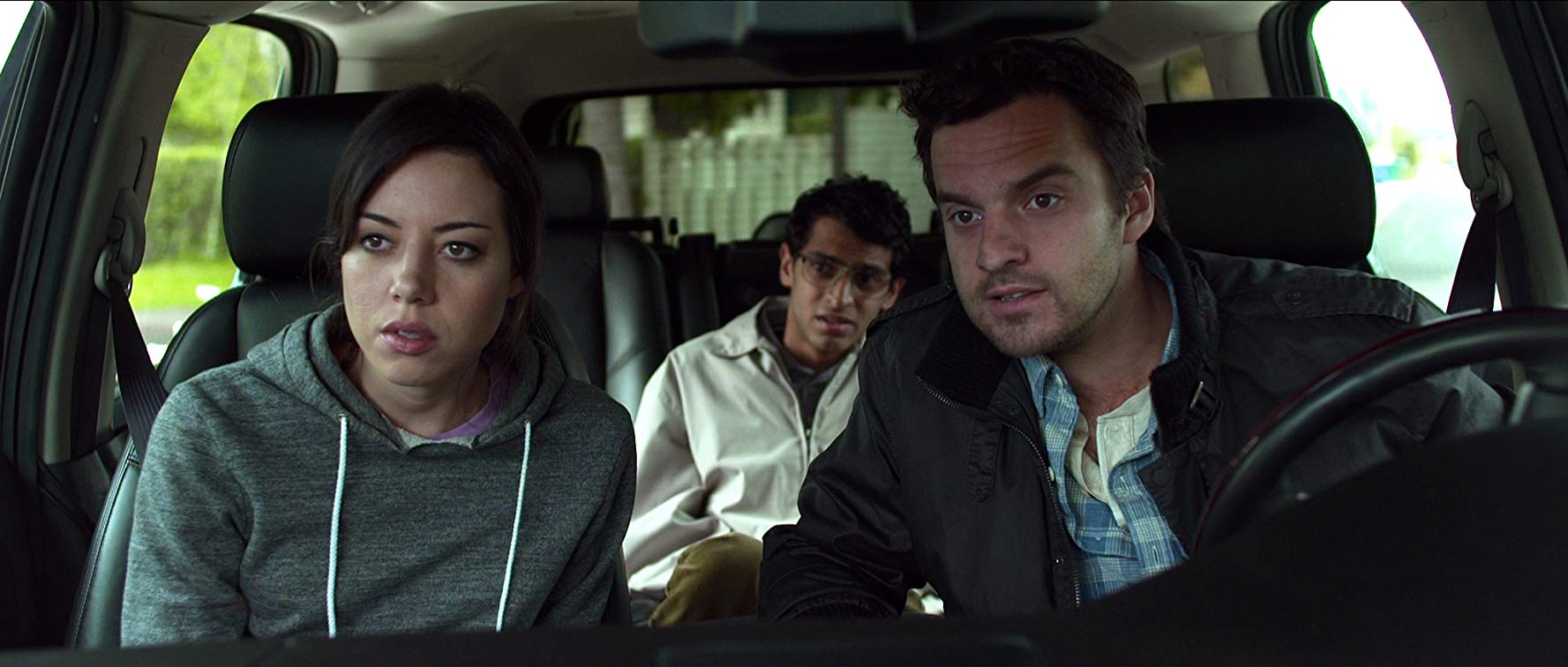 Much of the film is focused around these various character interplays rather than the time travel element. Another time travel work might focus around the culture clashes, the adventures had by the traveller or the conundrums afforded by time paradox, whereas here such issues are pushed to the side altogether. The time travel element is regarded comically as the probably delusionary imaginings of one individual and the entire film hangs on the question of whether there really is a time machine or not. In this respect, Safety Not Guaranteed resembles less classic time travel works like The Time Machine (1960), The Terminator (1984) or Back to the Future (1985) than it does Happy Accidents (2000). The latter was another indie film where Marisa Tomei was engaged in a relationship with a man (Vincent D'Onofrio) who claimed to be a time traveller and her uncertainty as to whether he is deluded or genuine. Similarly here, we never know whether Mark Duplass is genuine or eccentric right until the last scene of the film.
Director Colin Trevorrow next went on to make Jurassic World (2015). He followed this with the non-genre indie film The Book of Henry (2017), which was critically trashed. Trevorrow was announced as director of Star Wars Episode IX: Rise of the Skywalker (2019) but departed after creative differences, retaining story credit on the final film. Trevorrow returned to direct Jurassic World: Dominion (2022) and also co-wrote Jurassic World: Fallen Kingdom (2018).
(Nominee for Best Actress (Aubrey Plaza) at this site's Best of 2012 Awards).
---
---