---
Crew
Director – Zal Batmanglij, Screenplay – Zal Batmanglij & Brit Marling, Producers – Brit Marling, Hans Ritter & Shelley Surpin, Photography – Rachel Morrison, Music – Rostan Batmanglij, Production Design – Scott Enge. Production Company – 1737 Films/Skyscraper.
Cast
Christopher Denham (Peter Aitken), Brit Marling (Maggie), Nicole Vicius (Lorna Michaelson), Davenia McFadden (Carol Briggs), Kandice Stroh (Joanne), Richard Wharton (Klaus), Avery Pohl (Abigail Pritchett), Alvin Lam (Lam), Constance Wu (Christine), Christy Meyers (Mel)
---
Plot
Peter Aitken and Lorna Michaelson join a cult led by the charismatic Maggie who claims to come from the year 2054. She explains that she awoke nude and with no memory of who she was until she pieced together clues that showed she had been sent back through time to guide a select few from this era. What Peter and Lorna have not told the group is that they are secretly making a documentary about the cult, using a camera hidden inside Peter's glasses. They are dismissive of Maggie's claims. However, Maggie manages to dig emotionally inside Peter's buried childhood hurts and this causes a rift in his relationship with Lorna. Next, Maggie asks as a token of his loyalty that Peter brings one of the students he teaches to her. At the same time, the FBI approaches Lorna with news that Maggie is a dangerous wanted fugitive.
---
Sound of My Voice gained quite a reasonable degree of acclaim in independent release. After its appearance at Sundance that year, it did the rounds of international film festivals and received a good deal of critical acclaim. It was a directorial debut for Zal Batmanglij, an American national born of Iranian parents. Batmanglij previously made the very similar short film The Recordist (2007) in which Brit Marling meets an old woman who insists that Brit is of alien origin. Batmanglij and Marling, who originally met while students at the Georgetown University School of Economics, later reteamed for the environmental thriller The East (2013) and the enigmatic sf tv series The OA (2016-9).
Sound of My Voice is a venture into a type of film we have occasionally seen – the examination of the behaviour and mindset of cults. There have been a number of films about cults with wacky beliefs and among these there is a certain subset that sit on an ambiguous line as to whether the beliefs they hold might actually be true as can be seen in the comedy Uforia (1985), the British tv series Imaginary Friends (1987) and Believers (2007) from Blair Witch co-director Daniel Myrick, which has many similarities to Sound of My Voice but operates at a far less interesting level. Sound of My Voice deals with a time traveller as opposed to a UFO cult but the examination of the mindset and the ambiguity about the cult and their beliefs is the same in all essential ways.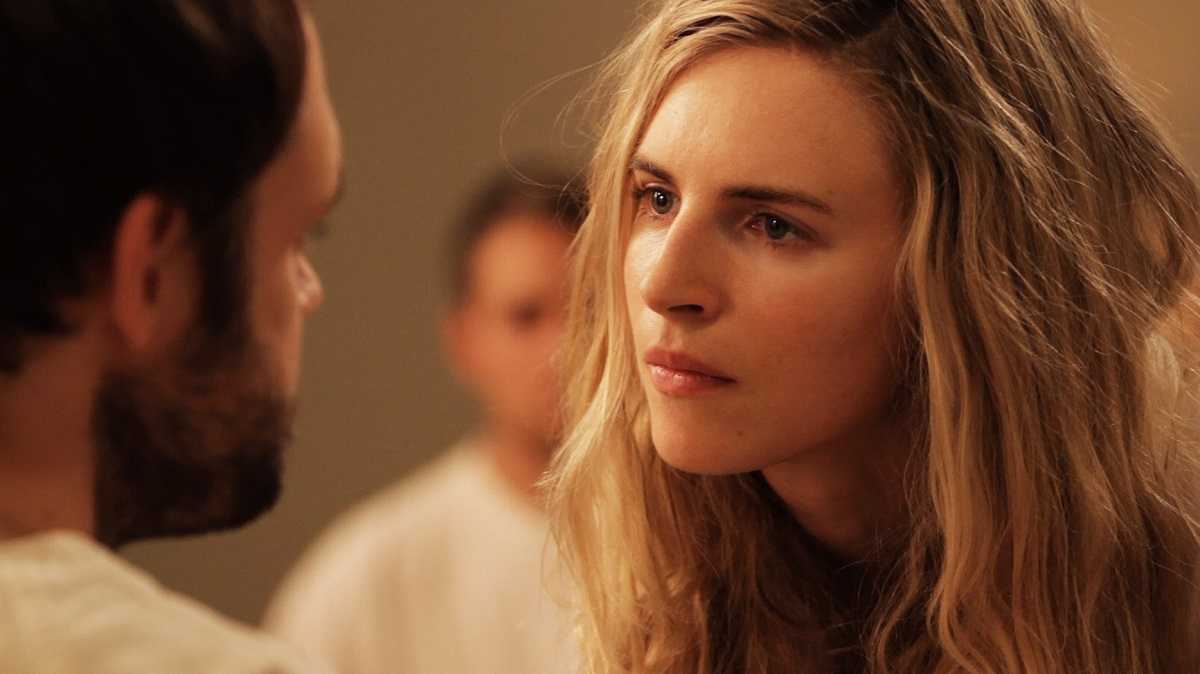 Sound of My Voice is structured like a mystery, drawing one in before twisting things on their head – like the introduction of Christopher Denham and Nicole Vicius to the group amid much secrecy before the revelations about hidden cameras. It is a strong film that comes less driven by its plot and its twists and turns that it is an indie film that has been shot digitally and built around the actors – it seems at times less a script than a series of scenes that the various cast are given to play out between each other. The film sits on a subtle line of ambiguity the entire way, creating a good deal of doubt about Brit Marling's claims before reaching a tiny ambiguous uplift at the end that reveals that this may not be the case after all.
Brit Marling, who was an unknown at the time the film was made, subsequently became a double threat both starring in and writing her films with the likes of this, Another Earth (2011) and The East and the cult tv series The OA (2016-9) gives a performance of ethereal luminosity. She demonstrates an eerily prescient power whenever she talks and you can see just what it is that the people around her are drawn to.
There is a particularly raw and emotionally gruelling scene in the middle when she forces Christopher Denham to throw up, he offers reasons as to why he can't (all to mask the fact that he has swallowed the broadcast antenna for his camera in order to hide it) and she digs down through these, uncovering very real secrets about abuse as a child (which subsequently also drive a wedge between he and Nicole Vicius).
(Nominee for Best Original Screenplay and Best Actress (Brit Marling) at this site's Best of 2011 Awards).
---
---