---
Crew
Director – Jake Schreier, Screenplay – Christopher D. Ford, Producers – Lance Acord, Jackie Kelman Bisbee, Sam Bisbee & Galt Niederhoffer, Photography – Matthew J. Lloyd, Music – Francis and the Lights, Visual Effects – Artjail & Method Studios (Supervisor – Martin Lazaro), Robot Effects – Alterian Inc (Supervisor – Tony Gardner), Production Design – Sharon Lomofsky. Production Company – Park Pictures/White Hat Entertainment/Dog Run Pictures.
Cast
Frank Langella (Frank Weld), Rachael Ma (Robot), Peter Sarsgaard (Voice of Robot), James Marsden (Hunter Weld), Liv Tyler (Madison Weld), Susan Sarandon (Jennifer), Jeremy Strong (Jake Fenn), Jeremy Sisto (Sheriff Rawlings), Bonnie Bentley (Ava Fenn)
---
Plot
Cold Spring, New York, in the near future. Frank Weld is an aging former cat burglar who has done time in jail. He now lives on his own and is losing his memory but insists that nothing is wrong. His son Hunter comes to visit regularly, while his daughter Madison travels the world on behalf of charity work. Hunter now brings a robot to tend Frank and do his housework. Frank resents the robot being there, although gradually warms to it. The robot urges Frank to take up a project to keep his mind agile. When Frank sees that the robot has not been programmed against breaking the law, he decides to return to his old ways and starts planning a heist with the robot's aid.
---
Robot & Frank is one of the surprises that emerged out of the 2012 Sundance Festival. Sundance and the indie film genre it promotes is not something that you automatically associate with science-fiction – indie film is more realism and human drama based, whereas science-fiction as a genre tends to be conceptual and idea based.
Robot & Frank is very different to what you expect of a science-fiction film. It is not big theatrics involving a race to save the world or lots in the way of visual effects and explosions. It is a small simple drama about the relationship between a man and a robot. The robot is not even an android in the vein of Star Trek: The Next Generation (1987-94)'s Data, Bicentennial Man (1999) or A.I. (Artificial Intelligence) (2001). Nor is there any big story here about its gaining artificial intelligence or discovering feelings. (See Films About Robots).
Instead, the film is closely modelled on the current state of robotics. The robot's intelligence and capacity has been extrapolated a few years in terms of advancement but none of its depiction ever goes beyond what a robot would be credibly expected to do – in fact, you could say this is one of the most realistic portraits of a robot to have been placed on screen to date. To emphasise the realism of what is being portrayed, several video clips of the current state of robotics play out over the end credits – even if the actual robot on screen is not performed mechanically but by dancer Rachael Ma. Certainly, Robot & Frank does not neglect the usual ephemera of science-fiction – it never lavishes a big budget on things but there are small touches in the design department such as the cars and holographic cellphones.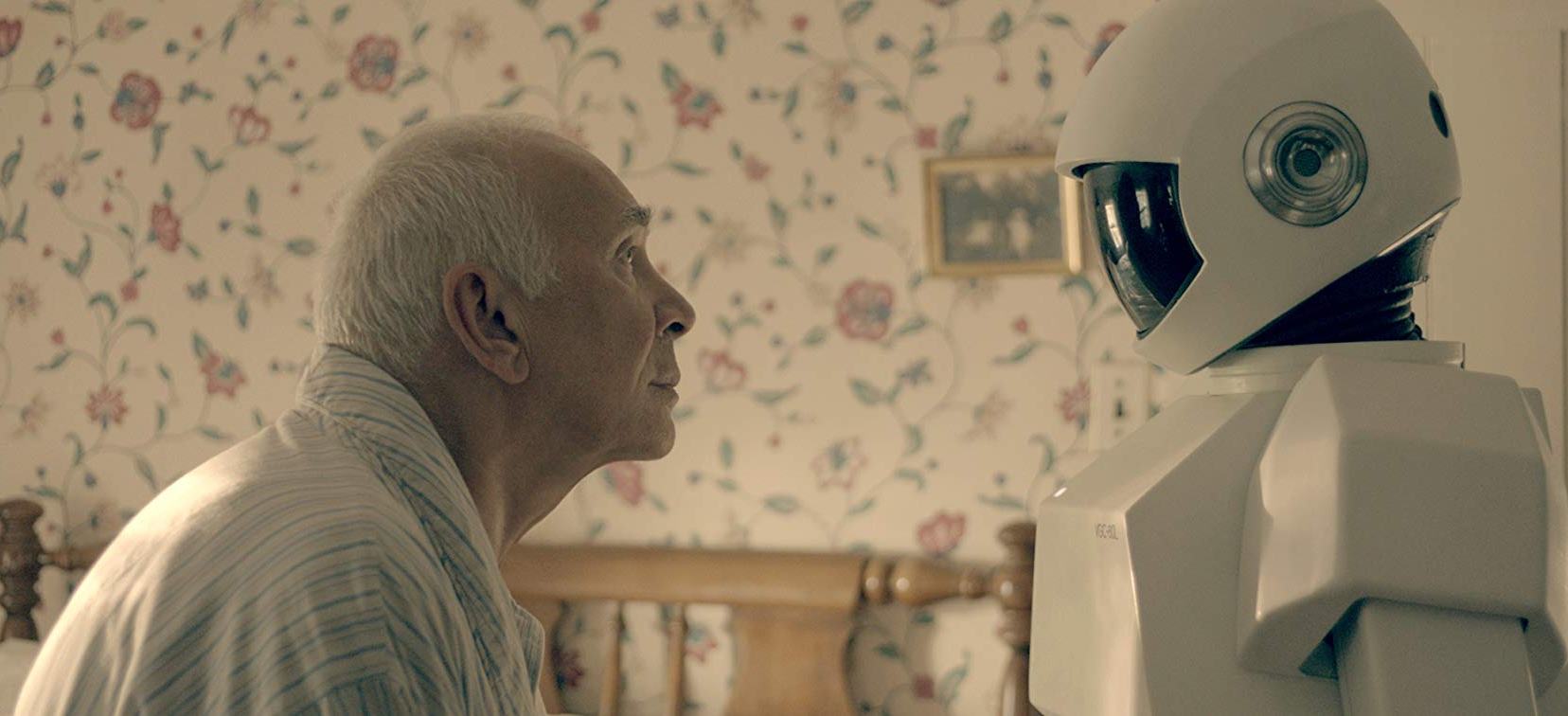 At heart, Robot & Frank is an Isaac Asimov Robot story. There is certainly more that adheres to Asimov's Robots here than there was in the official film version of I, Robot (2004). The difference might be that Asimov was never much concerned with the human characters in his stories, which were always stock and one-dimensional; rather his Robot stories deal with the logistical problems involved in creating a series of laws to control robot behaviour. Indeed, with its background theme of nostalgia and anti-progress – represented by the library of books being rendered obsolete in the technological age – Robot & Frank resembles more of a Ray Bradbury story. Maybe you could call it an Isaac Asimov Robot story as rewritten by Bradbury. If you were to look to a cinematic example, you could perhaps go with something like the lovely Asimov-influenced anime Time of Eve (2010).
True to its indie film nature, the film's focus is the relationship between the two characters, where its virtue is in playing this with a genteel and simple strength. Frank Langella gives a fine performance as the cantankerous aging burglar who refuses to admit he is losing his wits and eagerly leaps into the opportunity to conduct a big scheme again. The robot is simply a reactive presence, aiding and responding with a calm manneredness. Despite this, Jake Schreier manages to craft an endearing and warm relationship between the two of them.
The rest of the cast all play capably and the film gets in solid appearances from James Marsden and Liv Tyler. The great Susan Sarandon, too often absent from screens these days, gives a sparkly performance as the love interest.
The film moves out of its genteel relationship drama somewhat towards the end where there is the need to throw in a certain amount of running around, schemes with Frank Langella outwitting the authorities and twist revelations where it almost feels that the film was trying to hurry to wrap itself up.
Jake Schreier next went on to make Paper Towns (2015). This was also the first screen credit for writer Christopher Ford who subsequently went on to pen several Jon Watts films with Clown (2014), Cop Car (2015), Spider-Man: Homecoming (2017) and Chaos Walking (2021), as well as the excellent serial killer film The Clovehitch Killer (2018).
(Nominee for Best Actor (Frank Langella) at this site's Best of 2012 Awards).
---
---