---
Denmark/Germany/Sweden. 2015.
Crew
Director/Screenplay – Anders Thomas Jensen, Producers – Kim Magnusson & Tivi Magnusson, Photography – Sebastian Blenkov, Music – Franz Bak & Jeppe Kaas, Visual Effects Supervisor – Peter Hjorth, Visual Effects – Chimney Group, Filmgate, The Gentlemen Broncos, Zentropa Post Production Sweden, Special Effects – FX Team (Supervisors – Christian Kitter & Søren Haraldsted), Makeup Effects – Soda Aps (Supervisors – Thomas Foldberg & Morten Jacobsen), Production Design – Mia Stensgaard. Production Company – M&M Productions A-S/Studio Babelsberg/DCM Productions/Filmfyn by Bo Damgaard/Film I Vast/ZDF-Arte/Nadcon
Cast
Mads Mikkelsen (Elias), David Dencik (Gabriel), Nikolaj Lie Kaas (Gregor), Søren Malling (Franz), Nicolas Bro (Josef), Ole Thestrup (Flemming Abbott), Bødil Jorgensen (Ellen Abbott), Kirsten Lehfeldt (Ingrid Abbott), Lisbeth Dahl (Susan)
---
Plot
After the death of their father, his two sons Elias and Gabriel are told that he was not their real father. They view an old videotape among his belongings where they learn that their real father was the scientist Evelio Thanatos. They travel to remote Ork Island to visit the 91 year-old Thanatos. After arriving at the crumbling sanatorium where Thanatos lives, they are beaten and driven away by three other men, Gregor, Franz and Josef, who also claim to be his sons. Eventually pushing their way into the sanatorium, they discover that Thanatos has been dead for many years. He also engaged in a series of experiments to genetically blend animals and many of these hybrids roam the asylum and grounds. Settling down with the other misfit brothers, Elias and Gabriel try to establish a normalcy and create a sense of family.
---
Men & Chicken was the fourth directorial outing for Danish director Anders Thomas Jensen. Jensen had previously written screenplays for a number of Danish films. He made his directing/writing debut with Flickering Lights (2000) and went on to The Green Butchers (2003) and Adam's Apples (2005) and Riders of Justice (2020). In addition, Jensen subsequently co-wrote the screenplay for the Stephen King adaptation The Dark Tower (2017). All of these are black comedies that centre around the lives of social misfits. Jensen also frequently reuses cast members – the now internationally high-profile Mads Mikkelsen has appeared in all of his films so far and we get reappearances here from other regular actors such as Nicholas Bro and Nikolaj Lie Kaas.
It is soon into Men & Chicken that Anders Thomas Jensen hits a sense of pitch black humour – the rather funny scene with Mads Mikkelsen on a date with a woman in a wheelchair and insisting that he doesn't date psychologists so he can get free therapy before he proceeds to launch into a recount of his recurring dream – and fairly much stays there for the rest of the film. This sense of perfectly deadpan black humour is not always one that American audiences easily get, although is common to Scandinavian audiences. The nearest you can point to is the surreal humour of Giorgos Lanthimos in films such as Dogtooth (2009) and The Lobster (2015).
You are not really sure where the film is going – I wasn't even certain until well over halfway in whether Men & Chicken was going to be a work I would have to write up here or not. Anders Thomas Jensen keeps amping the blackness of the humour with hysterical regard. There are conversations where the brothers at the sanatorium admit to having sex with chickens – "It's only practice until we find a girl" – or the dinnertable argument over which of the plates with animal prints on them tastes better to eat from and who gets to have the dog plate.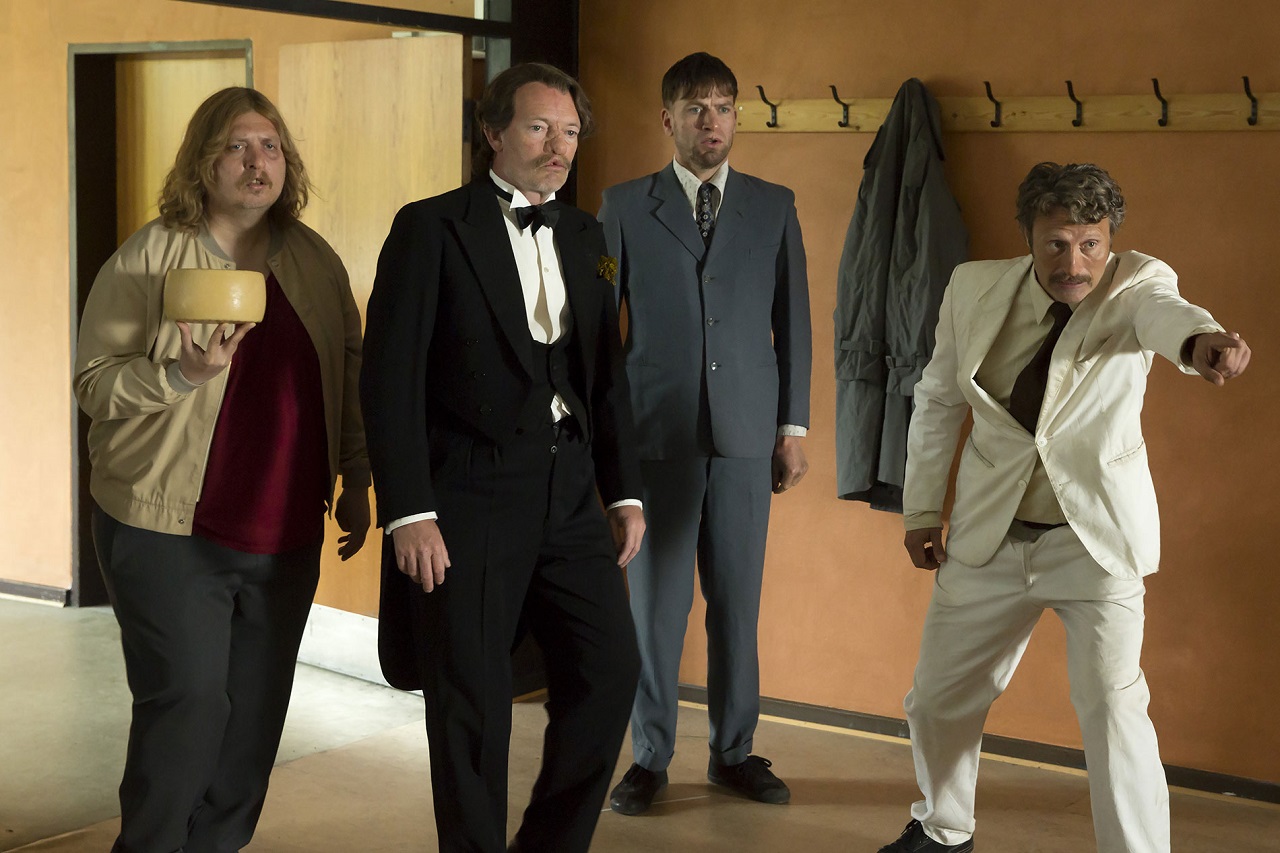 Some of the funniest scenes come towards the end with the brothers trying to read bedtime Bible stories, ending up in an argument as they insist on interpreting everything literally and have the most sympathy for the sacrificial lamb, or the scene where Mads Mikkelsen sets out to introduce the brothers to some girls and promptly takes them to a geriatric home as though it were a singles bar.
In terms of genre material, the film plays out almost like rambling, black comedy version of H.G. Wells' The Island of Dr Moreau (1896). We see some queasy images of animal hybrids – chicken with feet and hooves. This all leads up to the big revelation about the brothers' paternity – although one that never seems to be the big surprise than what Anders Thomas Jensen seems to want to make it (or perhaps it is just that one has watched far too many genre films). At the fadeout, the film settles down to a parody of a sentimental ending with its oddball outsiders coming together in the semblance of a family.
---
---